Midway District martial-arts team shows its chops with two world titles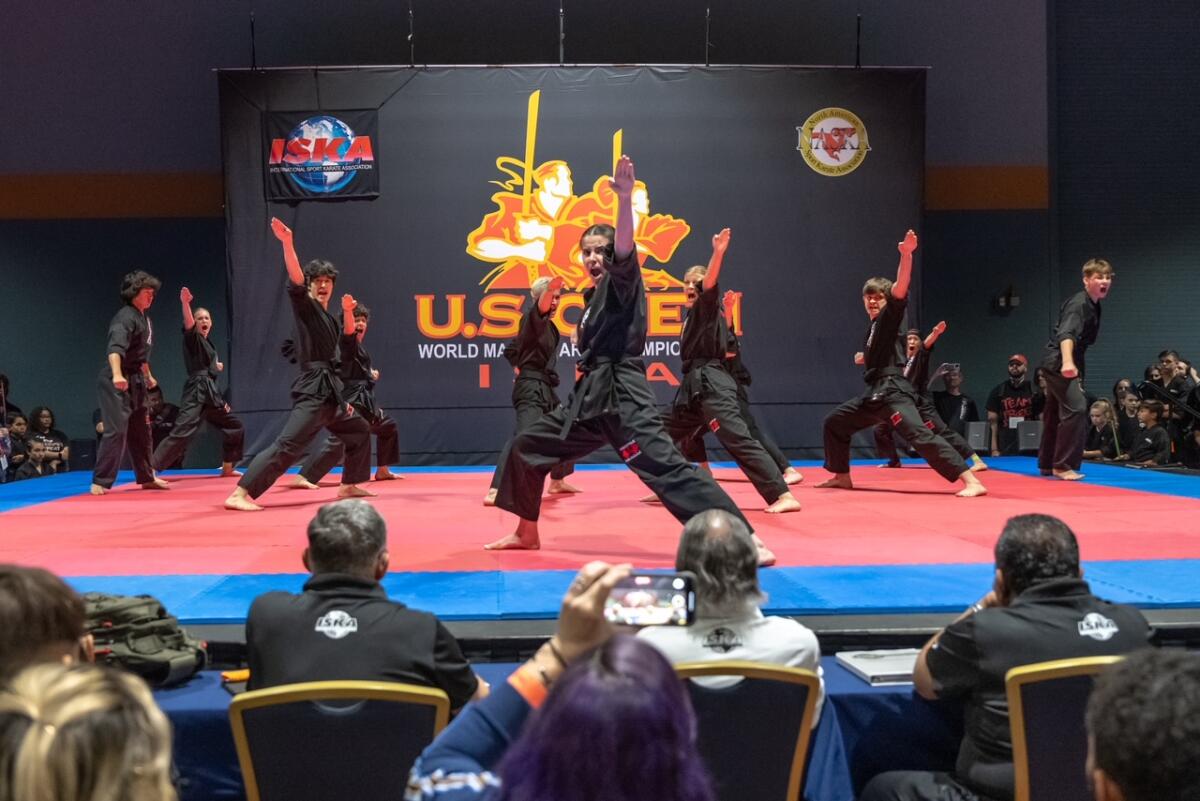 The 'best of the best' performance team from Freestyle Martial Arts captures the ISKA U.S. Open in Orlando, Fla., and the Adrenaline Worldwide in Las Vegas.
The demonstration performance team from Freestyle Martial Arts in the Midway District won two world titles in July, clinching the International Sport Karate Association's U.S. Open World Martial Arts Championships in Orlando, Fla., and the Adrenaline Worldwide competition in Las Vegas.
The team is composed of the dojo's top athletes.
"Our main focus is mixed martial arts; we have a whole rank and belt system and we also have our demo team, which is an invite-only performance team," said Kennedy Isbell, a student at Helix High School in La Mesa who has competed with the demo team for three years. "It's a little bit intimidating at first. You see so many good people and you ask how you can get to that point."
Coach Will Jackson, the head instructor at Freestyle, said the team is "the best of the best."
"Generally speaking, the peewee team is a little bit younger, the junior is a little older than the peewee, and our elite team is generally older than both, but we do have some students that are exceptional," Jackson said. "There are some 11-year-olds that are world-class athletes."
Get Point Loma-OB Monthly in your inbox every month
News and features about Point Loma and Ocean Beach every month for free
You may occasionally receive promotional content from the Point Loma-OB Monthly.
The team participates in competitions in Chicago, Los Angeles, Minneapolis and other places across the country. All cumulative points carry over to the International Sport Karate Association world championships in Orlando.
"It's karate, but it's performed at the absolute highest level," Jackson said. "It's the most extreme demonstration of martial-arts capability. Our team competes against other teams that do the same thing, and the team that performs with the best precision at the highest difficulty at the highest technique level will be the one that wins."
Isbell said the Freestyle team was determined to win, given that the dojo already had two ISKA titles from previous years.
"We were not the defending champions. Last year we were the runners-up," she said. "We practiced for a month and a half straight. By the time we went to Florida, I was feeling very confident in what we were doing. But we had to be absolutely perfect to make it to the top spot.
"Every good team in this sport has three ISKA titles, and this would [be] our third, so we definitely wanted to put our best foot forward. When we performed our first eliminations, we had a couple of mess-ups ... so when we went to the finals, I knew we had to be perfect."
"When we won it was a cool experience," Isbell said. "This is our main goal and we wanted to win this for us, for our parents, for everyone. It was such an emotional roller coaster."
The team carried the momentum from the win in Orlando to victory at the Adrenaline Worldwide competition in Las Vegas.
"Adrenaline is kind of like the X Games of martial-arts competitions," Jackson said. "It's high-level acrobatics integrated with martial arts. It was our first time competing as a team in that arena."
Freestyle faced the champions from the American tae kwon do circuit, which offered a different challenge.
"Fundamentally, the judges are still judging on the difficulty of technique and precision of execution, but they definitely have a very different style." Jackson said. "We went out there with 11 athletes and they had 20. From a technical perspective, they do things more along the lines of group formations and posing, and where we try to beat them is with higher difficulty level, precision, more impressive movements. It's really difficult to overcome when they have 20 people and we only have 11."
"Adrenaline was a bit of a newer experience; it was more 'tricking'-oriented," Isbell said. "At the other tournaments like the ISKA, it's the same kind of thing but more open-hand forms and weapons. We focus mainly on our open-hand forms and individual forms."
Despite the differences and having a smaller team, Freestyle was able to pull off the win and its second world title of the month.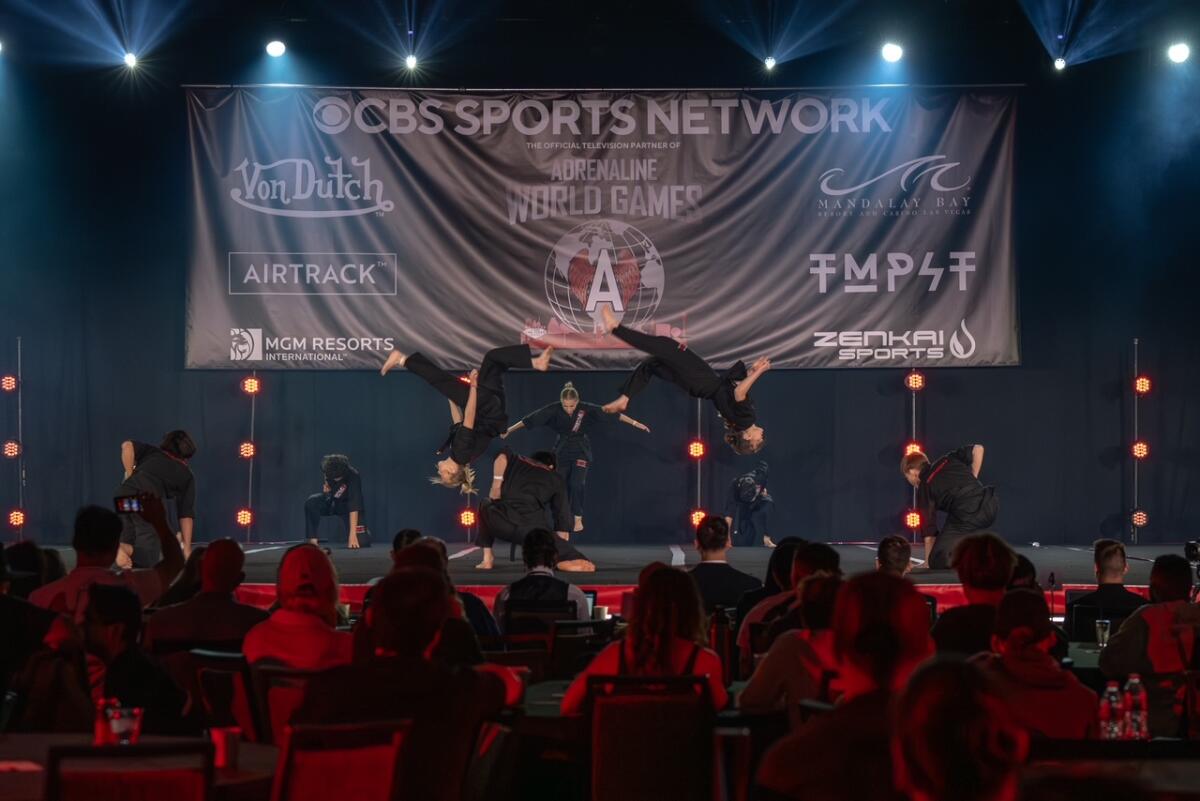 When Freestyle athletes aren't traveling the country for performances or training in their craft, they make appearances in the local community.
"We try to get involved with the schools in any way we can," Jackson said. "If we get the opportunity to participate in a field day or a jogathon or a fundraiser, we try to be a part of those. One of the things we did this year was we participated in the Celebration of Champions, which is basically an auxiliary unit of Rady Children's Hospital. It's a cancer fundraiser. We played with the kids, we performed. Those are things we do pretty regularly."
The opportunity to pay it forward is something Isbell doesn't shy away from.
"We are super lucky and fortunate to have what we have, and we are aware of that. So any way we can go and make an impact on others in our community, we jump on it," she said.
The next tournament season starts in January, and the demo team plans to be in Orlando next summer to defend its title.
Freestyle Martial Arts, at 3760 Sports Arena Blvd., accepts registrations through its website, freestylesd.com.