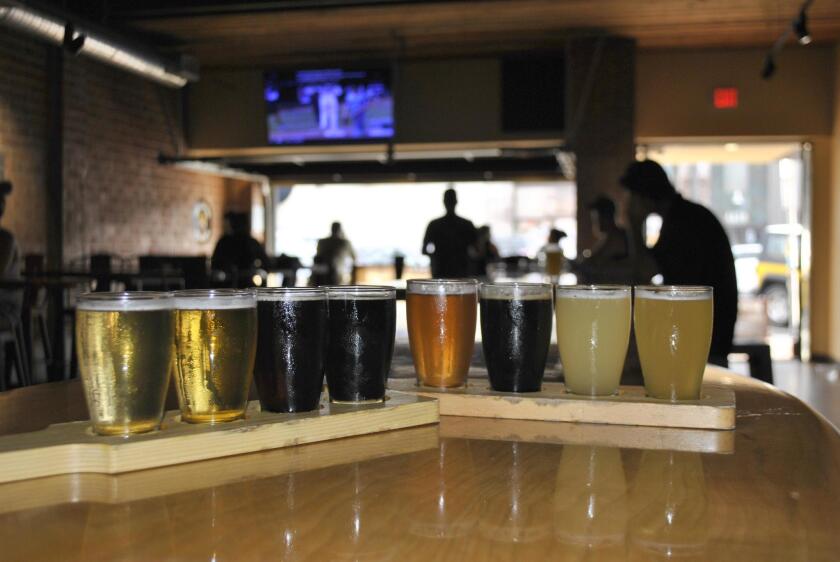 BLONDES ON BEERS:
In a city where you could find an IPA on every corner, Belching Beaver Brewery Ocean Beach has made a name for itself with its stouts — milk stouts, stouts on nitro, stouts with peanut butter, sweet stouts, imperial stouts ... you get the idea.
While the OB tasting room has several types of beers, including fruited ales and IPAs, brewmaster Tyler Smith said the ebony brews are what gave them a leg up in the highly competitive beer market.
"One of our first beers was a milk stout, which is a beer brewed with lactose (an un-fermentable sugar derived from milk) that has an inherent sweetness. I had one a few years ago and fell in love with it. I realized no one was making them out here, so when we opened, that was one of the first ones we did," he said. "We offer an array of dark beers and there is not a lot of companies in San Diego that feature that as staple."
The milk stout, still on draft today at Belching Beaver as the Beaver's Milk, is a style known among beer critics and connoisseurs, but not so much to the general public. So the brand grew from there.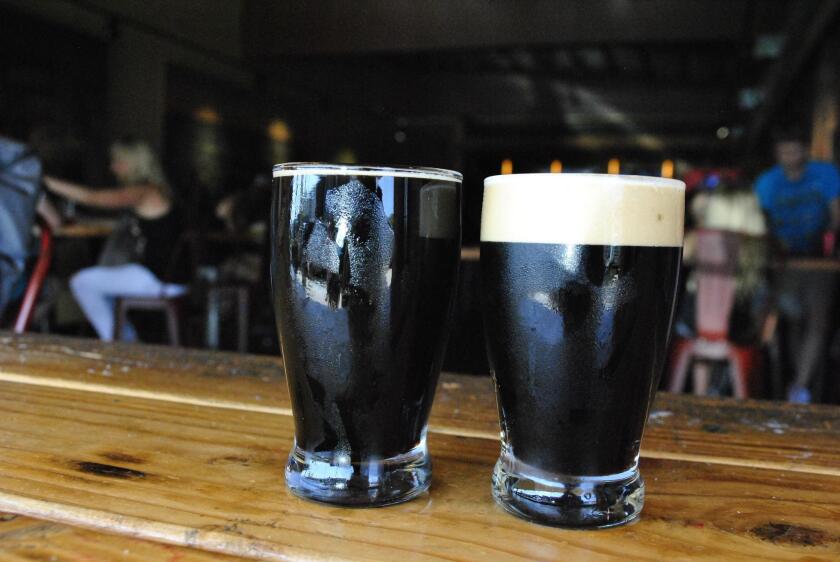 "We added peanut butter to one of the kegs and boom! It put us on the map," Smith said (he notes because the peanut butter added to the beers is synthetic, those with allergies can drink it). Other incarnations have — in the past — included Horchata spices. In present day, they add Mexican Chocolate flavors.
In addition to changing the flavors and additives, Belching Beaver often offers two versions of the same beer: one carbonated with Carbon Dioxide and the other with Nitrogen (labeled as being "on nitro").
"The main difference from a CO2 beer and a nitro beer is when you pour a nitro beer it looks like foam slowly settling to the top, but without the fizzy feeling like a soda that comes with a regular CO2 beer. When you drink a nitro beer, it's like a frothy latte. The foam is different. To me, I enjoy darker beers done on nitro because it smooths out and rounds out the flavors. I mean have you ever had a carbonated coffee?" posed Smith.
However, nitro beers do not travel as well, so the Carbon Dioxide equivalents are going to be packable and have stronger flavor.
"A lot of people don't approach dark beers because they have formed an opinion about them already. Then you give one of ours to them, they find something different about it and changes the way they think about it," he said.
But when they are not making stouts, they are making experimental IPAs and pale ales, some in partnership with the alternative band The Deftones.
"The lead singer (Chino Moreno) is really into beers, IPAs specifically, and he's been invested in each one we've made together. He tells us the hops he enjoys and we take what he says and we make different renditions of it," Smith said. There were two Deftones beers on tap during our visit.
Calling themselves a "non-pretentious brewery," Smith concluded they take their beers seriously, just not themselves. "We have a gimmicky name, it's funny, and beer is supposed to be fun. With a name like Belching Beaver, we can't be the most serious brewery out there, that's not possible," he said. (Read on for some examples.)
But, he argues, "I think we make the best beers in San Diego if not the world, so we're not just a funny name."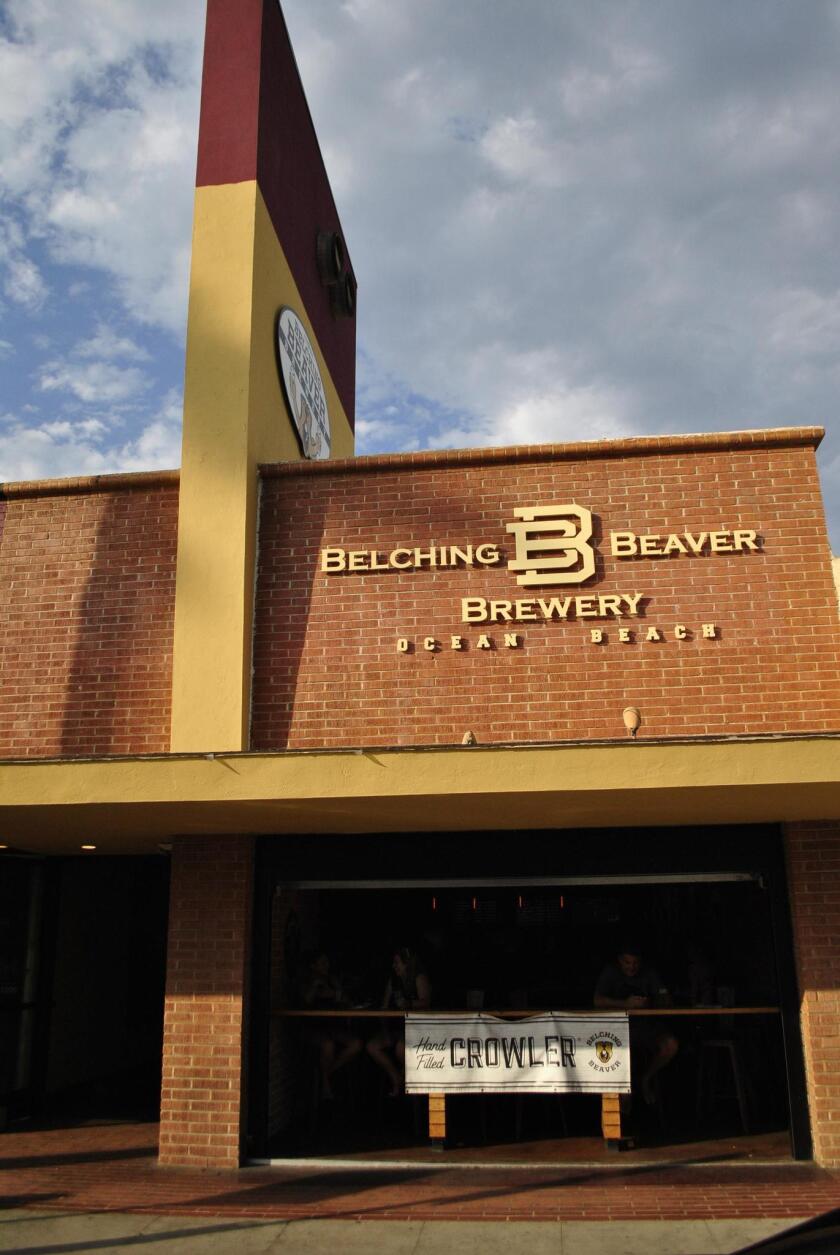 First Impressions of the Venue
Crystal: Belching Beaver is located on busy Newport Avenue, but closer to Sunset Cliffs, so it's away from the crowds a bit. The tasting room is really open, with very large and very gorgeous wooden tables. It has oversized historical OB photos as wall art illuminated by small art lights. There's always seats available, but we swung by on a Thursday (which is Trivia night) so it was full of visitors by 7:30 p.m.
Ashley: This is a really simple space, just tables and a few decorations. You almost forget, unless you sit at the window, that you are in a beachfront neighborhood. I love that at the bar, there are games, chips and dip for purchase, and a picture of a beaver.
Impressions of the Beer
Crystal
Luke I am your Lager (3.7%): A classic lager with a light body and medium carbonation. I was hoping for more crispness but the flavor was well balanced with a dry finish.
Jason Schwarzbier (5.1%): It has all the typical flavors you'd want in a black lager: roasted malts, chocolate and lightly smokey. It's dark like their famous stouts but much lighter in body.
ODB (10.3%): Ol' Dirty Barrel is a Russian imperial stout that's aged in oak rye whiskey barrels. The ODB boasts a smokey, dark chocolate maltiness with a hint of burnt sugar. A great sipping beer.
Deftones Phantom Bride IPA (7.1%): This beer has a nice earthy, citrusy aroma and flavor to match. The Amarillo, Citra, Simcoe and Mosaic hops blend well together and provide a slightly bitter but very tropical, citrus peak.
Ashley
Orange is the New Vanilla (6.5%): This beer has a really sweet smell that is slightly citrusy, but when you taste it, it's all vanilla. After a few sips, it balances out and tastes exactly like a creamsicle, but has almost no hop flavor. This "milkshake IPA" is 6.5 percent, which is a little surprising.
Digital Bath (6.8%): This is one of the partnership beers with The Deftones, and the smell takes me to my Hazy IPA happy place. The Citra, Mosaic, Galaxy and Nelson hops blend perfectly together in that just right way that makes for some great IPAs.
Mexican Chocolate Peanut Butter Stout (7.5%): This smells incredibly good, and the cinnamon and chocolate flavors are definitely present. The taste is bitter, but not hop bitter, it's that rich cocoa biter. I do find it a bit ironic that it is labeled a "sweet stout" considering it is so bitter, but really good.
Peanut Butter and Jelly Blonde (5.5%): This is a blonde ale that, as silly as it sounds, smells just like a peanut butter and jelly sandwich. It has a thick, malty mouthfeel. But I question whether this is just weird for the sake of weird, and I know I couldn't have more than a taster of this.
Out of Our Wheelhouse
Considering stouts are not really our forte, we consider all three of the following to be out of our wheelhouse, and we wanted to try three similar beers in different incarnations side by side by side.
Beaver's Milk Stout (5.3%)
Ashley: This beer is surprisingly easy drinking. It's very light and does not have the density its color would suggest.
Crystal: Very dark with a coffee aroma. It's incredibly smooth and creamy, not as thick as I would've thought, which makes it easy to drink. It tastes like lightly roasted malts and milk chocolate.
Peanut Butter Milk Stout (5.3%)
Ashley: It smells like Reese's peanut butter cups, but, and oddly enough, it's one of my favorites of the day. I can see why this is such a best-seller. (Noticing Crystal's stunned face) I'm as shocked as you are!
Crystal: The peanut butter really brings this milk stout to life. You can taste roasted peanuts and milk chocolate; it's creamy with a thick mouthfeel.
Peanut Butter Milk Stout on Nitro (5.3%)
Ashley: This is a much softer version, some of the flavors are still present but the creaminess that comes with it being on nitro is the most dominant.
Crystal: Visually, the nitro has a thick latte-like foamy head. This version tasted sweeter, creamier and slightly flatter to me.
———
Belching Beaver OB by the numbers
Open since: 2016
No. of taps: 22
Prices: $2 - $7
Alcohol by Volume: 3.7% - 10.3%
Hours: 3-10 p.m. Monday - Wednesday; noon - 10 p.m. Thursday; noon - 12 a.m. Friday - Saturday; noon - 10 p.m. Sunday
Address: 4836 Newport Ave., Ocean Beach
Contact: (619) 223-3116. belchingbeaver.com
———
• Coming next month: The Blondes on Beers visit Point Loma's Bay City Brewing Co.
• To contact the Blondes on Beer: E-mail Ashley Mackin-Solomon at ashleym@lajollalight.com
---