Blondes on Beers: OB Brewery offers award-winning brews and award-worthy views in Ocean Beach/San Diego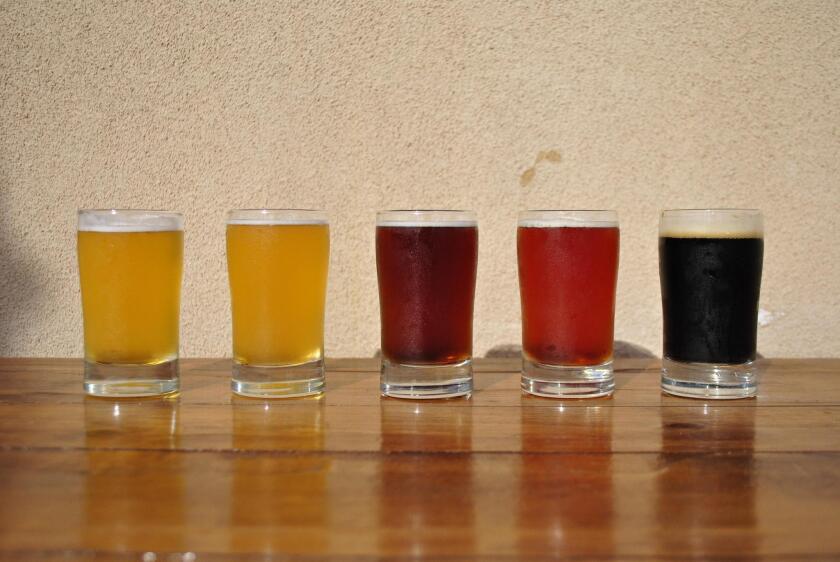 BLONDES ON BEERS:
OB Brewery, the namesake for Ocean Beach , is no stranger to winning awards. But this year had to feel particularly good. OB Brewery took home the Small Brewpub of the Year award at this year's Great American Beer Fest (and was the only representative of San Diego to place in the category); its head brewer, Jim Millea, claimed Small Brewpub Brewer of the Year; and its B. Right On pale ale won a gold medal.
Reeling from the competition and award ceremony, which took place in Denver this September, Millea was unable to speak with Blondes on Beers during our recent visit, but he e-mailed us with the following statement about what makes the brewery and restaurant unique:
"I do my best try to brew beers that are clean, balanced, drinkable and that fit within the style guidelines for what it is. … OB Brewery is a unique place to visit because it is among the very few places where you can get yourself a beer, order some delicious food from our kitchen, and enjoy it up on our rooftop deck with 360 degree views of OB — the beach, the pier, the waves, the hillside, the view north toward La Jolla, and people-watching down on Newport Avenue," he said.
Unlike the other tasting rooms that line Newport Avenue, OB Brewery and Kitchen is a restaurant with options that span the culinary spectrum with burgers to veggie wraps. Further, OB Brewery only brews five house beers at any given time — but boasts an expansive list of guest beers and wine — so we decided to really explore each one in depth.
The B. Right On pale ale (an insider's nod to nearby Brighton Street, get it?) taps on Oct. 17, but other award winners on tap during our visit were the Hidden Gem Dunkelweizen (Great American Beer Festival 2017 silver medal) and The Elevator Red IPA (San Diego International Beer Festival 2018 bronze medal).
Impression of the venue
Crystal: You can't go wrong with amazing views of the ocean and award-winning beers. I love how there are three levels, depending on what you want to experience during your visit. The third floor is the crème de la crème. The views of the ocean, the sun shining on you, plenty of room to eat and drink, a large covered cabana in the back ... what more could you want?
Ashley: This location is somehow surprisingly hidden. Despite it being three stories tall, it's narrow and wedged between two other beachfront businesses. The bottom floor has a small bar with just a few tables; the second floor is an open space with games, but no taps for beer; and the third floor has a small bar and tons of tables. I can appreciate that diversity, it seems whatever your preference is there is something that appeals to everyone.
The beers
Hop on Board: West Coast-style IPA, 7.3% ABV
Crystal: Smelling piney and clean, this hoppy beer is different from other IPAs currently flooding the San Diego market. Using Calypso, Cascade, Golding and Simcoe hops, Hop on Board shies away from the citrusy, tropical flavors that West Coast-style IPAs are known for. The Cascade hops give the beer a fruity bitterness from grapefruit. The use of Golding hops, typically used in English-style ales, adds to the subtle bitter and gives the beer a very English flavor.
Ashley: This really is a step back from the fruiter, herbier IPAs. The bitter flavor that comes from it is from those more unique hops and has more of a resin quality to it. I could see someone that needs a break from the sea of Citra-based IPAs really appreciating this. But for me, as a Citra-loving girl, this is almost a shock to the system in that it's hard to identify the now-unfamiliar type of piney bitter.
Hidden Gem: Dunkelweizen, 5.2% ABV
Crystal: A Dunkelweizen is similar to a hefeweizen but brewed dark and with lots of malt. The Hidden Gem smells and tastes of delicious banana bread. It's sweet, bubbly and smooth. You can taste roasted malts with hints of clove and caramel.
Ashley: I'm not a fan of the banana and clove flavors often found in this type of wheat beer, so the four-ounce flight size beer is a perfect sample for me. While these flavors are common in wheat beers, Dunkelweizens are dark wheat beers, so it brings some of those roasted, banana, bready qualities right to the forefront. There is almost no hop quality to it, true to form.
Elevator: Red IPA, 6.6% ABV
Crystal: A red IPA is defined as an American-style black ale. Brewers will add dark malts to a hoppy IPA base giving it a deep reddish brown color. The Elevator is fairly smooth, very hoppy with lots of delicious malt flavor and an earthy, bitter aftertaste. I tried this red after the sweet Dunkelweizen, which gave it a certain savoriness.
Ashley: I agree the bitterness comes through more aggressively after trying something on the sweeter or lighter side. This has a complex bitterness in that it's hard to identify whether it comes from the hops, the roasted quality that gives it its color, or some combination. Red IPAs can be on the malty side, but this one is much hoppier.
Couples Therapy: Jalapeño Saison, 6.9% ABV
Crystal: Saisons are pale ales light in color and body and sometimes flavored. This beer boasts a strong aroma of spicy jalapeños. Once you taste it though, there's only a subtle but lasting heat. There's a hint of malty sweetness that balances out the warmth of the pepper flavor. It was surprisingly easy to drink and I could've easily taken down a pint of it.
Ashley: This was a winner for me! The smell is much more intimidating that the taste, as there is no burn when you drink it. Instead, you get the fruity complex flavors of a jalapeños. To boot, it does not at all taste like a 6.9 percent ABV beer. I'm astonished at how much I like this beer.
Night Moves: Oatmeal Stout, 5.2% ABV
Crystal: Oatmeal stouts, as you can guess, are made with a high proportion of oat malt. Night Moves has a light body with a roasted malts and bready flavor. The aromas are more predominant than any of the flavors. It smells bitter, thick and malty with a hint of chocolate.
Ashley: This has a really comforting, roasted cocoa smell and while it is medium bodied (by my preference), still boasts a burnt quality to it that lingers for just a bit. The strongest qualities of this beer are what you remember, but as an oatmeal stout, what would otherwise come through as a mild flavor is softened.
———
OB Brewery by the Numbers
• Open since: July 2016
• No. of Taps: 5 house; 13 guest
• Prices: $6-$11
• Alcohol by Volume: 4.7% to 9.5%
• Hours: 11 a.m. to 10 p.m. Monday-Thursday; 11 a.m. to 10 p.m. Friday; 10 a.m. to midnight Saturday; 9:30 a.m. to 10 p.m. Sunday
• Address: 5041 Newport Ave., Ocean Beach
• Contact: (619) 955-8053. obbrewingco.com
———
San Diego Beer Week 2018
It's the most wonderful time for a beer! San Diego Beer Week is back Nov. 2-11 for its 10th year. The week will be filled with more than 500 beer-centric events throughout San Diego County, including special events in Point Loma and Ocean Beach breweries and tasting rooms. San Diego County will kick off the week the 2018 Guild Fest on Saturday, Nov. 3 at Embarcadero Park South in downtown San Diego, and closing the momentous occasion with The Beer Garden at The Lodge Torrey Pines on Sunday, Nov. 11. To find an event, beer fans may download the SD Beer App, available for Android and iOS devices. Learn more and download at sdbeer.com/app
Get the full listing of beer releases, food pairing events, celebrations and more at sdbeer.com
———
• Coming Next Month: Blondes on Beers visit Stone Brewing World Bistro & Gardens Liberty Station in Point Loma.
• To contact the Blondes on Beer: E-mail Ashley Mackin-Solomon at ashleym@lajollalight.com
---