Royale: Where organic meets Americana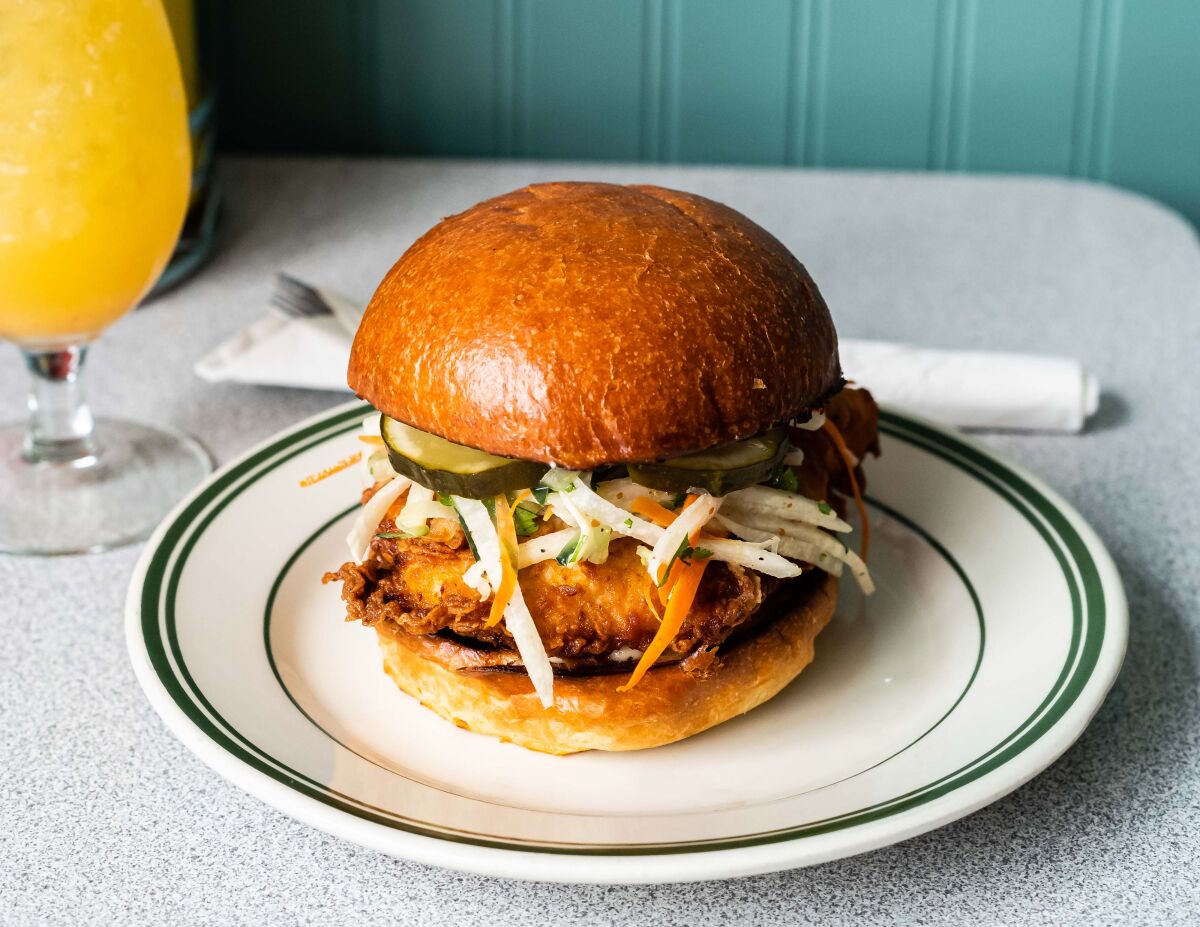 Tucked into the busy corner of Voltaire Street and Famosa Boulevard, you'll find a cozy neighborhood spot called Royale Cocktails & Hamburgers. Complete with a vintage CD jukebox, the family-owned-and-operated diner offers burgers (beef and fish) and farm-to-shaker cocktails using ingredients from the Nopalito Farm and Hop Yard in Valley Center.
Owner Jordan Brownwood visits the farm several times a week, bringing its bounty back to Royale to incorporate into the menu.
It all fits the vision Brownwood has had since he was a kid — to blend his passions with an Americana-style diner. "Growing food, and making food and drinks was always a passion of mine," he told Point Loma-OB Monthly. "Both have always followed me, and here I am."
San Diego native Brownwood, who owns Royale with his wife, Mariah, said it is the "third iteration" of their dream. The first was a food truck called "Royale with Cheese," which he and Mariah ran for five years in one of the food-truck capitals of the country — Austin, Texas. "We did sliders, grilled-cheese sandwiches, that sort of thing. We did a lot of catered events and music festivals. And then we were stationary basically, in the backyard beer garden of a bar in Austin, for about a year. We decided to move back here."
When the couple returned to San Diego, the second iteration began. Friends opened a bar in University Heights called "Park and Rec," and needed a food vendor onsite. "They didn't want to do food themselves," Brownwood explained, "so they got a hold of us and we ended up being the burger stand within that space. We did that for a little over a year, and then we outgrew that space and started looking for something else. And this is what that something else was."
He said choosing the OB/Point Loma location was a decision of preference and timing: "It was one of a handful of areas we were looking at. We wanted it to be neighborhood spot, and we also wanted to be in a somewhat busier area, and this kind of hit both of those things." So when the former establishment in the space, Sessions Public, closed, the couple and a third partner made their move. Royale has been flourishing now for five years.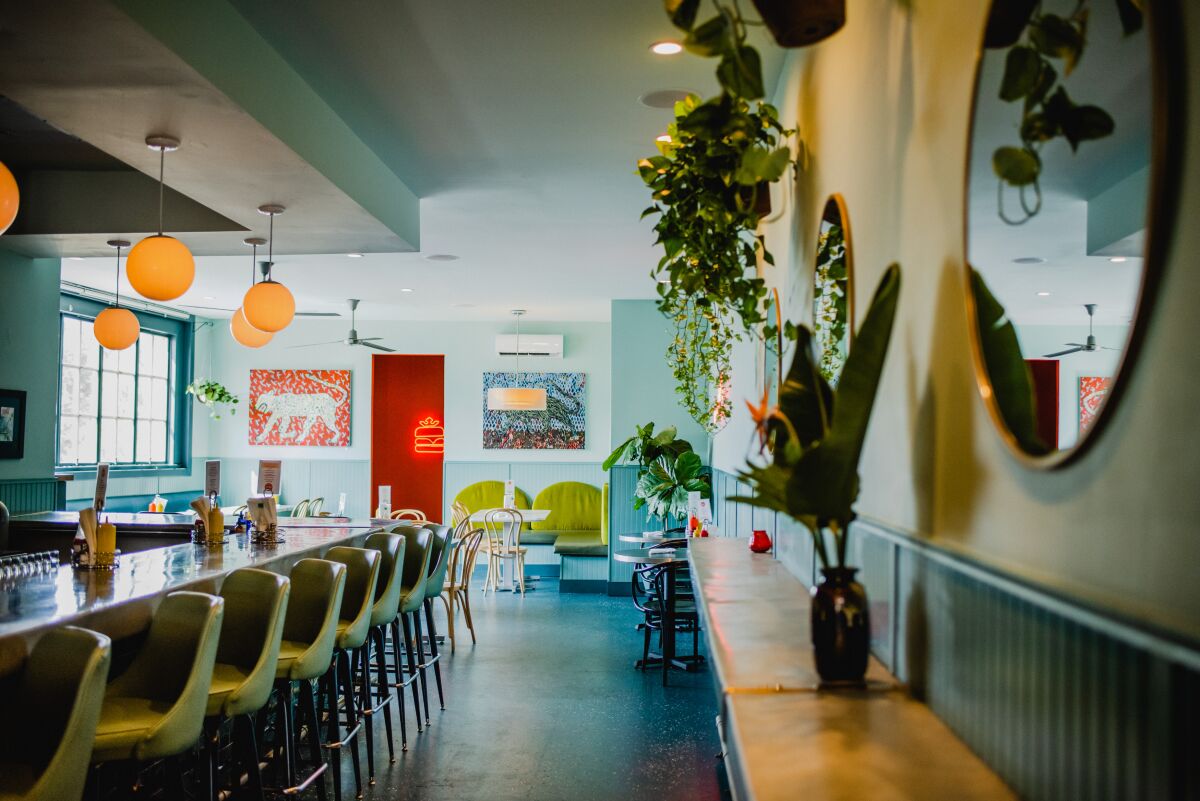 The family connection is more than husband and wife; Brownwood's brother works there and his father runs the farm in Valley Center. "It makes it relatively easy for us to be farm-to-table when we have our own farm," Brownwood laughed. "We just take as much as we possibly can from the farm and then we're also able to grow the particular vegetables we want to grow."
For every season, the family sets up a planting schedule. "Let's say eight weeks from now, I really want to have broccoli rabe on the menu," he mused. "So, we'll plant that out right now. Then, in eight to 10 weeks, we'll have it to put in our dishes." All of those seasonal vegetables end up on the menu — sautéed or fried — in combinations that change sometimes daily, sometimes weekly.
The family also grows varieties of fruit trees — avocado, lemon, lime, grapefruit, oranges, kumquats, mandarins, guava, passionfruit, peaches, plums, apples, pears, nectarines, apricots, strawberries and even chestnuts. And they grow hops to sell to the local breweries.
The family gets their grass-fed, organic beef from a cattle ranch in Brawley. "Burgers have always been a thing of mine, and then once we actually started farming, we were like, 'Well, people don't really think of burgers as like a farm-to-table thing, but it can be.' Why not, you know?"
The quirky combo seems to work — enticing diners from as far as Oceanside on a regular basis. The most popular burger on the menu is the Royale with Cheese, the restaurant's signature. "We're also very known for our grilled fish sandwich," Brownwood pointed out. "It's delicious, and I would say it's probably the freshest fish you can get in San Diego. Our fisherman is sitting at the bar right now. I buy directly from the guy who actually catches the fish! It's like a trade thing, I give him a little bar tab, and he knocks off the cost of the fish a little bit."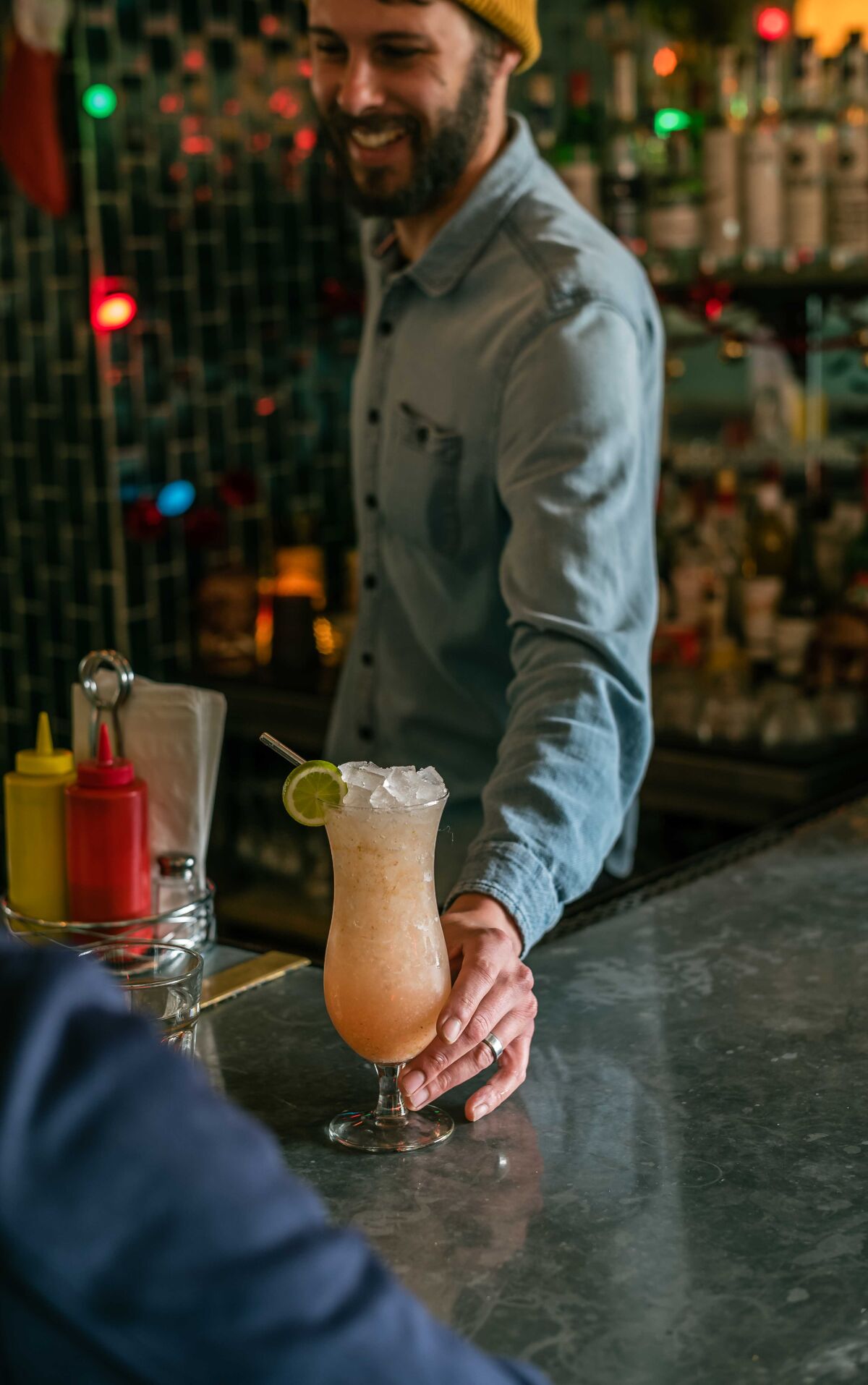 The "farm-to-shaker" cocktails are also wildly popular. "There's never a single cocktail on our menu that doesn't have something that comes from the farm ... and we'll can fruit syrups so they have a very long shelf life. Or we'll make shrubs, which is an old way of preserving fruit juice. It's equal parts fruit and sugar, and then you add a vinegar after to stabilize it. Right now, we have a couple of cocktails on the menu with shrubs in them; the watermelon shrub and the tomatillo shrub. They're sweet and tart and a little bit savory, just a really well-balanced flavor."
— Royale! Cocktails & Hamburgers is open daily from 4 p.m. during the week, 10 a.m. Saturday and Sunday at 4204 Voltaire St. "Animal Style First Fridays" offers food and drink specials and live entertainment. Find limited parking behind the restaurant. (619) 431-5653. royalesd.com