Blondes on Beer: Modern Times - A standout in the craft-beer era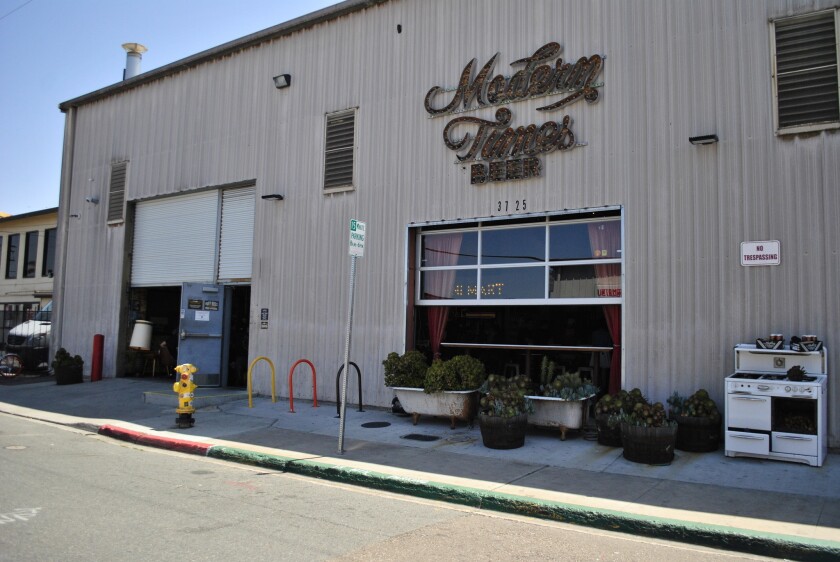 OK, we get it. Modern Times Point Loma isn't technically in Point Loma, but we would be remiss if we didn't visit the Midway/Point Loma area brewery that has developed a cult following since its opening five years ago. And with good reason: a visit to the Modern Times tasting room (aka the Lomaland Fermentorium) is the place to go to learn more about what really makes different types of beer.
We visited on what would become a busy Saturday, and full disclosure, we didn't get to talk to the brewers, but culled a lot of information from the beertenders and the very informative blog: moderntimesbeer.com/about
On this particular Saturday, there were nine India Pale Ales (IPAs) on tap. When asked what differentiates the Point Loma tasting room from their other four locations, our beertender explained that people travel from all over to visit "The Mothership." He went on to say the beer selection is heavily customer/trend-driven, hence the many hazy IPAs on the menu.
What can — and in this case does — make each one different is the hop priority. On the menu, Modern Times outlines which hops is most present for that particular beer. So if you are drawn to a flavor profile, you'll know what to choose. If not, you can learn about what each hop brings to a particular beer, and choose accordingly next time.
The Orderville IPA and Double Dry Hopped Orderville IPA focuses on the Mosaic hop, credited as an aroma hop with earthy, slightly bitter tones. The Game Impact beer focuses on the coveted Nelson hop, which has minimal bitterness but provides a mildly citrusy mouthfeel. The Quickly Open in Portland beer is loaded with Citra hops, which, as the name suggests, provides a fresh citrusy bite and often balanced with other hops. In some cases, complimentary fruit flavors are mixed in to bring new depth to the beers: some have rich stone fruits (like apricot) and others have bright fruit-forward elements also found in a rosé wine.
But in addition to the IPAs, there are chances to learn about sours, saisons, pilsners, goses, barleywines, farmhouse-style ales, pale ales, barrel-aged beers and more.
OUR EXPERIENCE
First impression of the venue
Crystal: It's not hard to see why people love to come here to drink and relax. There's a cozy, home-like vibe with couches, games and bookcases with kitschy decor: old typewriters and vintage radios. The crowd varies between families, couples of all ages, and a few big groups. The staff is super friendly, offering suggestions about their favorites to indecisive patrons.
Ashley: I've had the pleasure of being here a few times, and while the space itself is super welcoming and entertaining, it quickly gets dwarfed by the quality of the beer. The walls are distract-ably, but adorably adorned — one with comic-book pages, one with regular book pages and one with a floor-to-ceiling mural of Michael Jackson and his pet monkey Bubbles made from Post-Its.
Beer impressions
Because there was no input from the brewers, we selected a flight-and-a-half of 5-ounce pours. We also tried an IPA to compare it to a Hazy IPA, and encourage you to do the same!
Crystal: My first time trying something like the Super Compiler, I find it's a beer with the same flavor profile as a rosé wine. I love red wine and beer, so this was the perfect compromise without sacrificing flavor.
Light not heavy, this IPA's dominant "rose" is well-balanced, with no bitterness.
I'm a fan of mosaic hops and that's the first thing I noticed with the Dragon Song. This beer is hoppy with a smooth finish, leaving a citrusy aftertaste.
Tradition is the Illusion of Performance, I ordered this because it's made with juniper and I was told by a friend that it was reminiscent of gin. It did not smell like beer, it was more floral and perfume-y, yet tasted very savory. This beer is not for me.
The flavors of Eye Spy are front forward without the normal bitterness associated with IPAs and heavy hops. Definitely malty with vanilla and almond flavors. The Eye Spy is smooth going down with little to no aftertaste. Very easy to drink for 7.4 percent abv.
Ashley: Orderville focuses on the mosaic hop, which I generally don't go for, but I wanted to try it in comparison to the Double Dry Hopped Orderville. It's bitter and earthy, but not piney.
The Double Dry Hopped Orderville brings the hop profile to the front of the palate, rather than leaving it as an aftertaste, and rounds it out really well.
The Fountain of Paradise is a lot more in line with my flavor preferences. There is minimal, if any, smell, and I love the balance. It's not too sweet, not too bitter, just fruity and citrusy enough. It's a delight.
A currant sour beer that reminds me a bit of an exotic mimosa, New Atlantis, is just sour enough to let you know it's a beer, just effervescent enough to be fun and the color is hypnotic.
Out of Our Wheelhouse Beer: Speaks with Planets, an imperial stout with cocoa nibs.
Crystal: It smells like cinnamon toast with Nutella; and tastes like strong, black coffee. I've never been big into stouts nor black coffee.
Ashley: As someone who heavily relies on her morning cup of coffee, the smell is enticing, but the follow through is boozy, bitter and bold. You can tell work went into making this beer, but it is not for beer-beginners. And it doesn't taste like a beer.
We both also tried — for a recommended head-to-head — the Tortuga, a Berliner Weiss with tangerine and apricot.
Crystal: The Tortuga is sweet and sour, citrusy like a tangerine but without the tangerine flavor. To me it tastes more like a sour than Berliner Weiss. It's light, refreshing and has a higher alcohol by volume than most sours! (My favorite of the beers we tasted).
Ashley: It has a distinguishable citrus aftertaste, but not specifically tangerine. It has a lot of great sour notes, and is a great choice for those who like that flavor profile.
—Next: The Blondes on Beers visit Mike Hess Brewing in OB.
---