Savor the sights on a Shelter Island stroll: Do you recognize these art works on Shelter Island?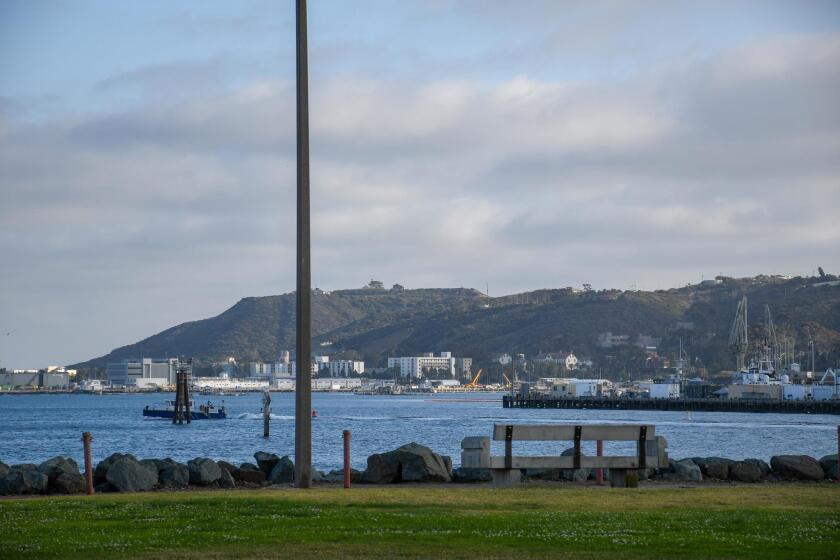 Spoiler alert: Shelter Island is not, in fact, an island.
But if you've been in San Diego longer than a week, that's probably not surprising information.
What might be more unexpected, is just how much there is going on along Shelter Island. This 1.2-mile-long stretch of road, under the auspices of the Port of San Diego, is dotted with restaurants, hotels, resorts, marinas, park benches shaded by flower-covered trellises, and a variety of public artwork.
Point Loma -OB Monthly talked with Port marketing rep Marguerite Elicone to learn about the best Shelter Island has to offer and how it all came to be.
Gateway to the Pacific
The Shelter Island Boat Launching Ramp (boasting the closest launch to the Pacific Ocean in San Diego), was deemed the busiest launch ramp in all of California, making it the perfect spot to relax and watch boats enter and exit the harbor. Elicone refers to it as "the gateway to the Pacific."
The Port of San Diego undertook re-vamping the ramp and in December 2018, the project was completed, making it a state-of-the-art launch facility with an enlarged basin; new, longer boarding floats; a pedestrian platform with viewing areas; and new signage and lighting.
But Shelter Island isn't just for boat-enthusiasts. It's also for art-lovers, tourists and locals alike (see related quiz below).
On the Fourth of July, Shelter Island offers a clear view of the Big Bay Boom fireworks extravaganza, and in December, the San Diego Bay Parade of Lights illuminates the harbor from Shelter Island to the Ferry Landing on Coronado as boats sail through the water, decked out in the best-and-brightest theme-appropriate lighting. (The anticipated 2019 theme will be announced later this year; the event is set for Sunday nights, Dec. 8 and 15). After the parade, a vote is held for best-decorated.
Sleep, dine and drink
One of Shelter Island's hidden gems is a little hole-in-the-wall taproom located on the dock. It's called Fathom Bistro, Bait and Tackle, and you may recognize it by the octopus painted on the side. Hidden in plain sight, this cozy bistro sells tackle and bait on the outside, but the inside features craft beers and delicious house-made sausages, along with sandwiches, burgers and weekend brunch. Ocean-themed 1970s movies play throughout business hours, and old National Geographic magazines lay about for those interested in reading about the good ol' days.
Humphreys and its Concerts by the Bay (2241 Shelter Island Drive) is perfect for an evening of fun, with performances that encompass everything from rock and jazz to comedy, blues, folk and international music.
Weary travelers looking for a place to stay — or for anyone who just wants to get away and relax — may check-in to any one of the beautiful bayside hotels: Best Western Plus Island Palms & Marina (2051 Shelter Island Drive), The Bay Club Hotel & Marina (2131 Shelter Island Drive), Humphreys Half Moon Inn (2303 Shelter Island Drive), or for an extra luxurious experience, the Kona Kai Resort & Spa (1551 Shelter Island Drive).
Bali Hai Restaurant (2230 Shelter Island Drive), Kona Kai's Vessel Restaurant (1551 Shelter Island Drive) Brigantine Seafood Restaurant, and Ketch Grill & Taps (2614 Shelter Island Drive), offer a variety of dining options.
Elicone added that while people typically recognize the restaurants, hotels and marinas at Shelter Island, the history is what often goes overlooked.
An Internet search reveals that Shelter Island is man-made from material that was dredged up from the ocean floor to accommodate the larger Navy vessels traveling through the harbor channel during World War II. Zoning laws ruled that all buildings and restaurants be Polynesian-theme, as "tiki culture" was all the rage during the 1950s and everyone wanted to feel like they were in a tropical paradise.
Now, while zoning laws are not quite-so-strict on the Polynesian theme, Shelter Island features artwork that sheds a light on another historical aspect: the tuna fishermen who sailed San Diego Bay, taking advantage of the water's plethora of "chicken of the sea."
San Diego was once considered the tuna fishing capital of the world, shared Elicone, prompting the design of the Tunaman's Memorial. Many families of Italian, Portuguese, Japanese and Hispanic descent earned their livelihoods through the tuna fishing industry. An inscription on the sculpture reads: "Tunaman's Memorial honoring those that built an industry and remembering those that departed this harbor in the sun and did not return."
___
Do you recognize these art works on Shelter Island?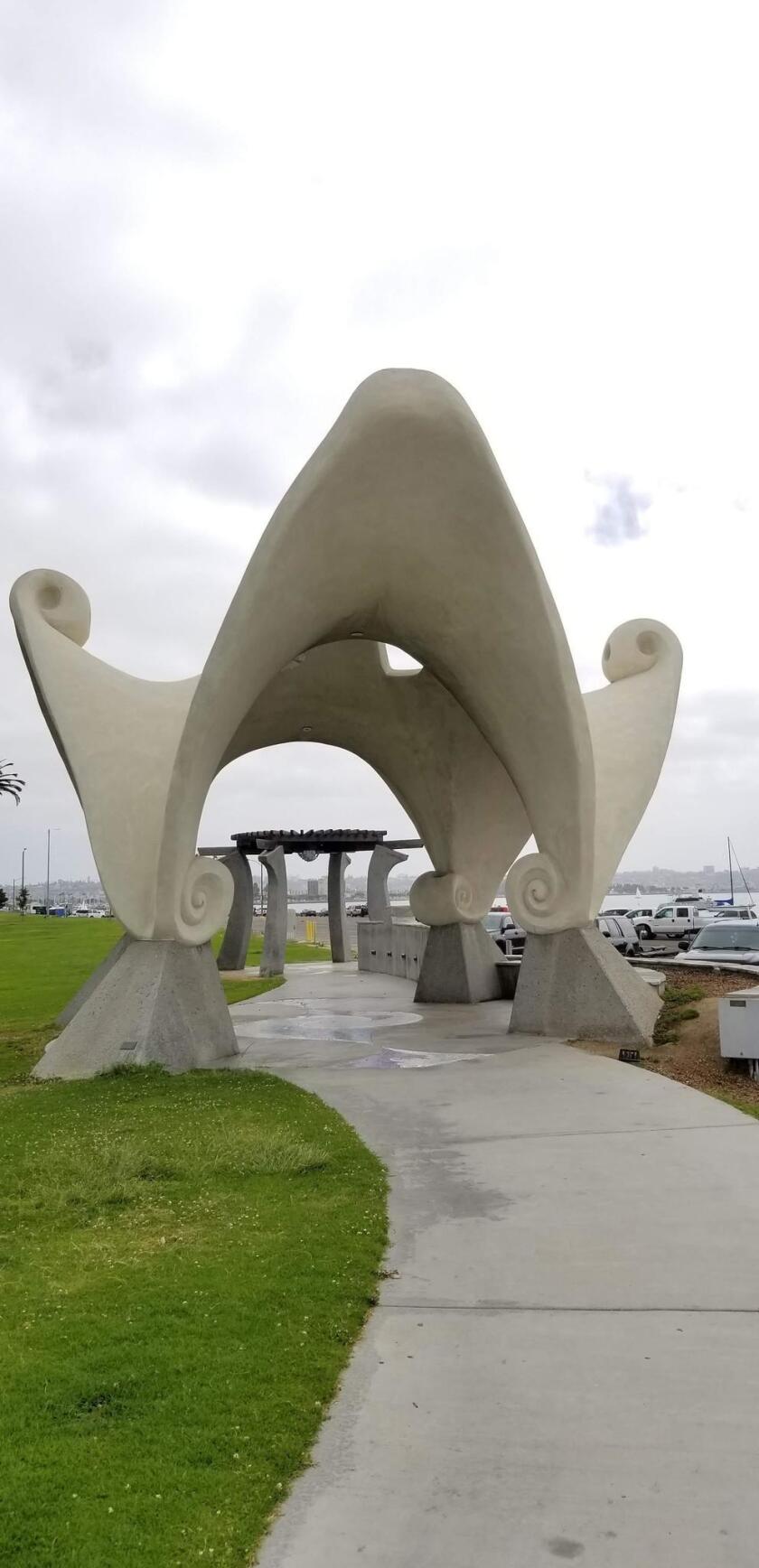 ---