Peninsula News Briefs: New performance center coming to Liberty Station, Ocean Beach's portable pool program, improvements being made to Point Loma High School and more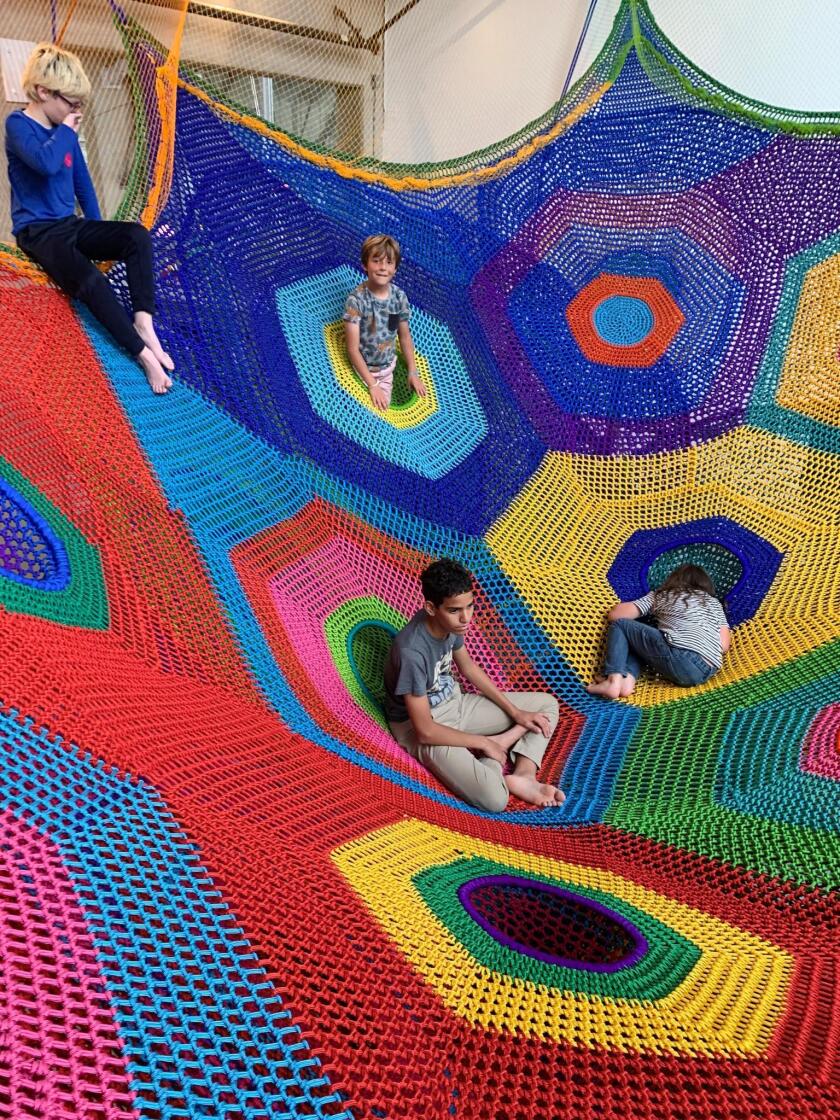 NTC Foundation will create performance center at Bldg. 178
The Naval Training Center Foundation is slated to receive the largest grant in its history to begin renovation of the long-empty Building 178 at 2800 Roosevelt Road in Liberty Station into a major performing arts center, announced State Senate President Pro Tempore Toni Atkins and State Assemblymember Todd Gloria.
The $9 million in one-time catalyst funds is in the state's 2019-2020 budget, which was approved recently by the State Assembly and Senate, and will be funded through the California Arts Council. The budget must be signed by Gov. Gavin Newsom .
"We are grateful beyond words to Assemblymember Gloria, who requested the funds in a March 28 letter to the Committee on Budget, and to Senate President Atkins, who made it one of her budget priorities," said Lisa Johnson, NTC Foundation CEO. "This truly was a team effort and a major win."
And looking ahead, NTC Foundation executive director Alan Ziter added: "We hope to have another major announcement in the next few months." ntcfoundation.org
Portable Pool program on its way to Ocean Beach
The City is launching its Portable Pool program at select recreation centers — including Ocean Beach Rec Center, 4726 Santa Monica Ave. — to help children learn important water safety skills. The sessions will be available Monday-Friday, Aug. 5-9, Aug. 12-16 and Aug. 19-23. During this time, the City will provide free safety skills classes to ages 3-15.
Classes can accommodate as many as 100 children per week, with six to 10 children in each class. "Drowning is one of the leading causes of death in ages 1-14 and is the leading cause of accidental injury death for ages 1-4," said Nicole McNeil, supervising recreation specialist for the City's Aquatics Program.
To enroll, parents must fill out an ActiveNet form at bit.ly/32asJaS and return it to the desired rec center. For more information, visit sandiego.gov/pools or bit.ly/obreccenter
Surfrider takes out 4,000 lbs. of trash
More than 774 volunteers helped the Surfrider Foundation remove 3,916 pounds of trash and recycling from five San Diego beaches the morning after July 4. The annual "Morning After Mess" cleanup — also hosted by I Love a Clean San Diego, the San Diego River Park Foundation and San Diego Coastkeeper — took place from 9 a.m. to noon July 5 at the Ocean Beach Pier, Ocean Beach Dog Park, Belmont Park at Mission Beach, Crystal Pier in Pacific Beach and the Oceanside Pier.
"The beach is a perfect place to celebrate July 4, but our 'Morning After' cleanups show the disastrous consequences (that) our reliance on single-use plastic wreaks upon the environment," said Mitch Silverstein, manager of Surfrider's San Diego chapter. "Most of what our volunteers pick up could be avoided if we chose reusable items instead of disposable ones."
Single-use plastic — which persists for hundreds of years as a wildlife toxin — exacerbates an already-critical pollution problem devastating marine life in the world's oceans.
Whammock! opens at The New Children's Museum downtown
The New Children's Museum at 200 W. Island Ave. welcomes Whammock!, Toshiko Horiuchi MacAdam's first large-scale work at a museum in the United States and the museum's most recent commission. The colorful 28-foot by 20-foot interactive, three-dimensional textile environment resembles a giant hammock of crocheted circles, open pockets and dangling pendulums.
The two-ton structure took nearly 3,600 hours to construct from more than 40 miles of braided nylon. The 14 hand-dyed colors reflect MacAdam's impressions of the San Diego environment and landscape, including references to California poppies, the ocean and Mexican cultural influences.
The installation will be open for play at the museum for five years.
"To me, the concept of Whammock! is to connect with others through the waves of vibration in the net," MacAdam shared at the recent ribbon-cutting. "If a child climbs, jumps or crawls in one place then another child will feel the vibration and respond with their action, and in this way, they are naturally communicating to one another."
For museum hours, call (619) 233-8792 or visit thinkplaycreate.org
Solar panels installed on key City-owned facilities
As part of the effort to reach 100 percent renewable energy used citywide by 2035, Mayor Kevin Faulconer announced June 19 that the City of San Diego has installed new solar panels at 17 city-owned facilities to reduce energy consumption, save millions in taxpayer dollars and protect the environment for the next generation.
Solar panels have been installed at the Western Division Police Station parking lot, Point Loma Library rooftop, Mission Valley Library parking lot, Balboa Park 's Inspiration Point parking lot and 13 other locations — making up a total of 42 solar power installations at City facilities. Another 10 solar projects are in various stages of planning and design at police stations, recreation centers, libraries and other facilities.
San Diego is a national leader in solar, ranking second nationally in overall solar installations behind Los Angeles, according to Environment California's 2019 annual rankings. To further encourage the use of solar energy, the City's Development Services Department has taken a number of streamlining measures to ease the permitting process for solar projects including reducing turnaround time for permitting of single-family residential roof-mounted solar projects to 3-5 days, as opposed to the previous 10-day wait period.
Variety of improvements coming to Point Loma High School
Construction is taking place at Point Loma High School, 2335 Chatsworth Blvd. to: 1) increase onsite parking with reconfiguration of the Clove Street parking lot; 2) secure the campus perimeter and build a new visitor entrance; 3) upgrade athletic facilities and provide a new bus turnout; 4) upgrade mechanical and electrical systems in Buildings 200, 300 and 400, and 5) update technology infrastructure throughout the campus.
The work is estimated to be completed in late 2021.
Additionally, Proposition S-funded i21 Interactive Classroom Initiative has delivered a suite of new digital tools to PLHS, designed to create an engaging and personalized learning environment. The main components include an interactive whiteboard, audio/visual cabinet, teacher's presentation station, wireless voice-amplification system, an advanced model document camera and a DVD player.
The interactive classroom suites were installed according to a five-year plan that started in summer 2009.
For more details about classroom technology, visit sandiegounified.org/technology or e-mail SDUSDFacilitiesInfo@sandi.net
For other information, contact construction manager Justin Devers at jdevers@sandi.net or visit fpcprojects.sandi.net
FAA/City finish first half of drone pilot program
The City of San Diego has reached the half-way point in a pilot program that aims to safely integrate drones into the national airspace. San Diego was among 10 agencies nationwide chosen by the Federal Aviation Administration and the U.S. Department of Transportation to participate in the Unmanned Aircraft System Integration Pilot Program.
The FAA aims to craft new policies that support more complex low-altitude drone operations.
In the first half of the program, San Diego's team operated more than 640 flights using 17 different types of aircraft in both military and controlled airspace, among other classifications of airspaces. Program partners have received various approvals and authorizations from the FAA for complex drone operations ranging from package delivery to using drones as a first responder, including the first Beyond Visual Line of Sight provision to a public safety agency.
The City continues to collect public feedback on drone use, stating it is committed to maintaining open dialogue with residents. To learn more, visit bit.ly/2JmJLto and bit.ly/2FQ3P6D
To join or not to join? Shakespeare workshop set
Director, actor, choreographer Jeanette Knight is offering an eight-week Point Loma Playhouse course to help actors with techniques for personally connecting to Shakespeare's monologues. After the eight sessions, participants have the opportunity to perform their monologue for an audience in the annual "Summer Shakes 2019." Meetings run 7-10 p.m. Mondays July 8, 15, 22, 29 and Aug. 5, 12, 19, 26 at Liberty Station, 2590 Truxtun Road. Maximum class size is 16 and minimum age is 16. The cost is $225 for new workshop members, and $195 for returning members. Register online at pointlomaplayhouse.com or call (619) 800-5497.
New Mexican restaurant eyes old Nati's site
Social Syndicate, a San Diego restaurant group that includes Wonderland Ocean Pub, OB Surf Lodge and The Local Eatery & Drinking Hole, announced that it would be opening its newest restaurant, La Doña, a block away from the pier in Ocean Beach at 1852 Bacon St. (formerly Nati's).
Debuting in fall 2019, the cantina-style restaurant will feature homemade tortillas and a variety of creative tacos with locally-sourced seafood. Guests will have the option of outdoor or indoor seating, with the venue boasting more than 4,100 square-feet of space.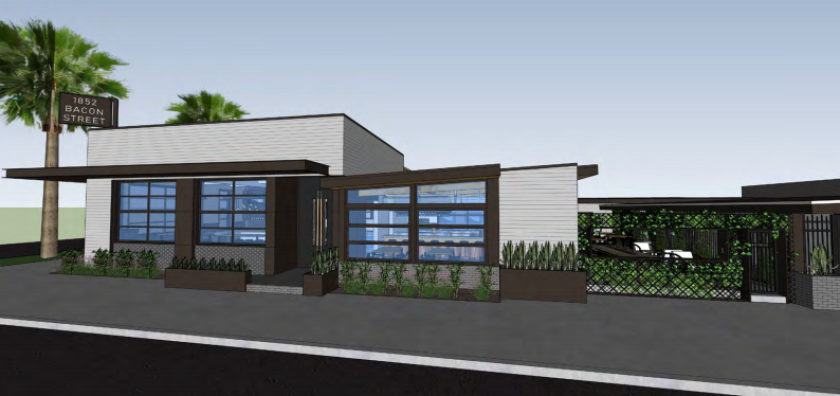 In partnership with design firm Tecture, La Doña's concept and décor will be inspired by the culture and energy of Mazatlán and mid-Mexico, using natural and sustainable materials. "We are looking forward to bringing La Doña's upbeat vibe to Ocean Beach," said Brendan Huffman, Social Syndicate CEO. "The neighborhood has always been welcoming, and we are proud to introduce our newest restaurant concept to this community." socialsyndicate.com
Battle Axe aims for fun at Goodbar tavern
Every Thursday, from 7:30-10:30 p.m., Battle Axe San Diego will be offering their services in the Goodbar tavern parking lot, 1872 Rosecrans St. in Point Loma.
Before participants aim their axes at the targets, Battle Axe staff will go through safety rules and guidelines for how to throw, and then offer follow-up guidance while players are throwing. Inebriated individuals may not play. The cost is $10 for 10 throws, with two lanes available. goodbarsd.com
Landscape grant available to assistnon-profit projects
Local non-profits are invited to apply for the San Diego Chapter of the American Society of Landscape Architects' annual grant of up to $5,000 to design or construct landscape architectural improvements in locations such as parks, schools and neighborhoods. Any non-profit recognized by the IRS and located in San Diego County that has existed for at least three years is eligible to receive the grant.
Applicants must prove they have the support and involvement of their community and/or environmental interests within the County and applications must show a clear benefit to the wider community. The application deadline is Aug. 17 and the application is available online at asla-sandiego.org/events or by calling (619) 283-8818.
Maritime Museum debuts oceanography class for Scouts
Maritime Museum of San Diego will host the first Oceanography Merit Badge Days (Saturdays, July 27, Aug. 3 and Aug. 10) at the museum, 1492 N. Harbor Drive. Led by Boy Scouts of America instructors, Scouts, ages 9-18, may enroll to earn their Oceanography Merit Badge through attendance at one of the six classes offered.
Participants may choose from sessions at 10 a.m. to 1 p.m. or 2-5 p.m. One completed class is required to earn the badge.
The content of the program focuses on an understanding of the ocean's influence on the Earth. Lessons include an in-depth, hands-on group study of weather, soil, air and the geography of our community.
Tickets are $40 per participant, and include general admission to explore the museum after class. Register at sdmaritime.org or call (619) 234-9163 ext. 122 for more information.
— Send news briefs for inclusion in next month's Point Loma-OB Monthly to editor@lajollalight.com
---