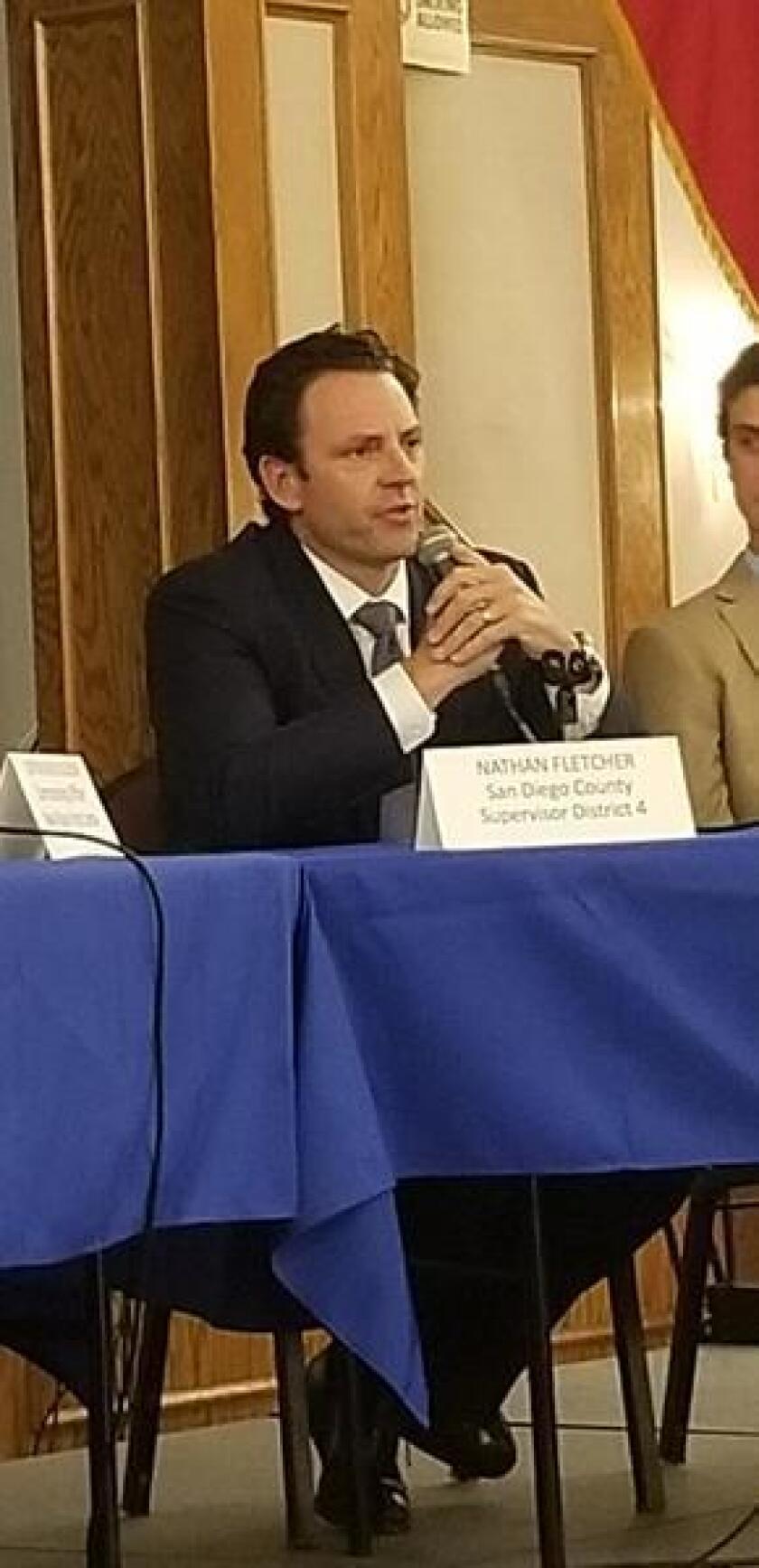 It was all about transportation and traffic — both on land and in the air — at the mid-year Community Conversation in the Portuguese Hall, May 14, which ended with a brief discussion on homelessness in the Peninsula. Community members crowded the hall to partake in food provided by Raglan Public House, Dirty Birds, OB Surf Lodge, Miguel's Cocina and Mr. Moto Pizza House and sip on drinks from the cash bar before sitting down to hear from the panel of leadership voices.
On hand were Commanding Officer Naval Base Point Loma, Captain Brien Dickson; San Diego Police Chief David Nisleit; Miller Saltzman, filling in for District 2 City Council member Jennifer Campbell; San Diego County Supervisor District 4, Nathan Fletcher; Airport Authority CEO, Kimberly Becker; and rep from Midway Community Planning Group, Dike Aniwo, filling in for its chair Cathy Kenton.
Point Loma Association's vice president Clark Burlingame and president Dave Martin emceed the event. Burlingame kicked off the conversation by asking the panelists for their perspectives on the ever-burgeoning traffic situation in San Diego.
Traffic Troubles
Fletcher wasted no time in addressing congestion, stating that in order to reduce it, San Diego needs to get more vehicles off the roads. The way to do that, in his opinion, is not to expand freeways.
In Houston, he explained, they built a 26-lane freeway for traffic relief. Unfortunately, the mega freeway had the opposite effect; morning congestion went up 30 percent and the afternoon traffic went up 50 percent. Fletcher argued the way to get vehicles off the road is to have more transportation options, such as a robust trolley or bus system.
Air quality was Fletcher's next concern. Reporting on a study that found a child born in Barrio Logan is eight times more likely to have asthma than a child born in La Jolla, "That's morally wrong," he opined, "One group of children should not be eight times more likely to have asthma."
Burlingame gave the floor to Dickson as he quipped that whenever there's traffic on Rosecrans Street, people tend to think, "It's the Navy's fault!"
Dickson informed the audience that two-thirds of the 15,000 people who work at the Navy base are civilians, and the Navy has no authority to order civilians to take a bike or public transportation to work.
The good news is, Dickson said, is that the Navy is seeking a solution with ExpressBox from the Old Town Traffic Complex to provide those civilians with alternative transportation, since the MTS bus stopped coming on base.
Saltzman reported that Campbell's office is working with MTS and the Navy to figure out how to increase traffic flow on Rosecrans Street and she'd like to see more transportation opportunities, including expanding the trolley and bus routes throughout the City, as well as adding more protected bike lanes.
Nisleit added that the police department is working toward zero traffic fatalities on City streets by 2025, by way of a two-prong approach: Driver and scooter education. Police are also working with the State Office of Traffic Safety to examine dangerous intersections.
Audience Questions
The first query of the evening was: Why isn't the road work done (from Talbot Street to the Navy base)?
Saltzman responded that contractors made the wrong slurry mix, and are now having to re-do the streets they paved, free of cost. Campbell's office is looking into ensuring there is more oversight going forward. He later clarified to Point Loma-OB Monthly that road work along that stretch should be finished by the end of summer and the rest of Rosecrans Street should be finished by the end of the year.
Next, someone asked how the City can approve putting in bike lanes when traffic is already so congested?
"There's a misconception that I can clear tonight," Saltzman said, stressing that the decision to paint protected bike lanes along West Point Loma Boulevard was not "passed in the dead of night," without discussion from the City and local planning boards, as many people thought.
The City took the proposal before the OB Planning Board once and it went before the Peninsula Community Planning Board three or more times, over the span of a year, Saltzman explained. Meetings between members of PCPB and the City were also held to examine what the lanes would look like and what effects they would have. PCPB finally approved the Cycle Tracks plan in a 12-3 vote.
Saltzman added that according to City data, the bike lanes should not have an impact on motorist traffic, just make it safer for those who choose to bike.
Fletcher added: "Every time the issue comes up, we face the same opposition — 'Nobody bikes,' and then we build dedicated bike lanes and we see a significant increase in the number of people who bike." He went on to argue that though there will always be people driving their cars, the people of San Diego need to be given options.
It was Becker, on behalf of the Airport Authority, who received the most backlash of the evening when some particularly unhappy Point Loma residents took a stand to complain about aircraft noise.
Noisy Aircraft
The first complaint came from a resident who said arriving flights have been circling over areas not on the flight path because they cannot land due to departing flights still on the runway, suggesting airport operations are nearing their capacity. She stated concern about the decision to add 11 new gates to Terminal 1.
Becker responded that San Diego Airport only has one runway, and it's the runway that drives capacity. She said terminals or gates don't affect air traffic capacity and explained: "When we hear of an issue, we work with it — if it's that the flight turned too soon — we work with that pilot, we work with the airlines to show them what happened, remind them that they have a very sensitive community right at the edge of our airport, and try to educate and train them."
Becker added that the airport also works with the Federal Aviation Administration's subcommittee, Airport Noise Advisory Committee (ANAC), which tries to find other ways to direct traffic. ANAC will narrow down path options and present them to the FAA for consideration.
Burlingame asked Becker what the conditions are that cause aborted landings. She described a "decision height," where at pilots must decide if they can land safely or not. If there's something on the runway (or another issue that makes the pilot question the landing safety), he or she will end up circling the airport until the issue is resolved. The decision for a pilot not to land could come from the pilot or the FAA.
This response tied into a comment later in the conversation: "I'd like to talk specifically about last Saturday morning," said one woman, as the room erupted into applause. Clearly not the only one concerned with the aircraft noise produced in the early hours of May 11, the woman stated there were 12 flights circling over Point Loma that Saturday and the voicemail box for the airport was full, and the website wouldn't load the e-mail option.
Becker explained that on that Saturday morning, a thunderstorm four miles offshore caused severe turbulence for one aircraft, which reported the storm, causing a number of pilots to turn early until flying circumstances were safer. A combined 200 messages via e-mail and voicemail box unfortunately prohibited anyone else from leaving comments.
Becker emphasized the importance of community's calls: "If anybody asks for a call back or an e-mail back, we get back to you."
When another resident asked if aircraft traffic is increasing air pollution — and another pointed out that many residents in Point Loma have cardiovascular health issues — Becker reported that manufacturers are working toward improving aircraft emissions as technology evolves.
Burlingame shifted the conversation to Dickson, saying that "submarines are wonderfully silent," but not-so-much the souped-up Osprey aircraft that is scheduled to arrive at the Navy base in the next decade.
Though the aircraft and military helicopters are indeed noisy and may inconvenience the community, Dickson informed the audience that a study was done showing the new Ospreys would have no significant environmental impact. (Read it at bit.ly/2W3PVrG)
Fletcher, an ex-Marine, re-iterated the importance of military aircraft with a heroic story from his personal history in the service. He recalled being in a minefield, with two Humvees on fire, and children bleeding out of their ears. He said he and his fellow Marines were certain no one would come when they called for backup, but helicopters from the San Diego region came to their aid.
"I think there's a component of this where the Navy has to be good partners," began Fletcher, "and they have to do what they can to alleviate this (disturbance), and there's a part of us as a community that has to accept that this is part of our community and it's something that saves lives, and I think we have to be accommodating of their training concerns as well."
Regional Task Force on Homelessness
As the conversation shifted to homelessness, Nisleit discussed the Neighborhood Policing Division, created as part of the Homeless Outreach Team (HOT) to ensure coverage seven days a week. HOT works in partnership with Psychiatric Emergency Response Team to evaluate an individual's needs for immediate resources. "My belief is nobody should be living on our streets," he said. "We're a better community than that, we're a better nation than that."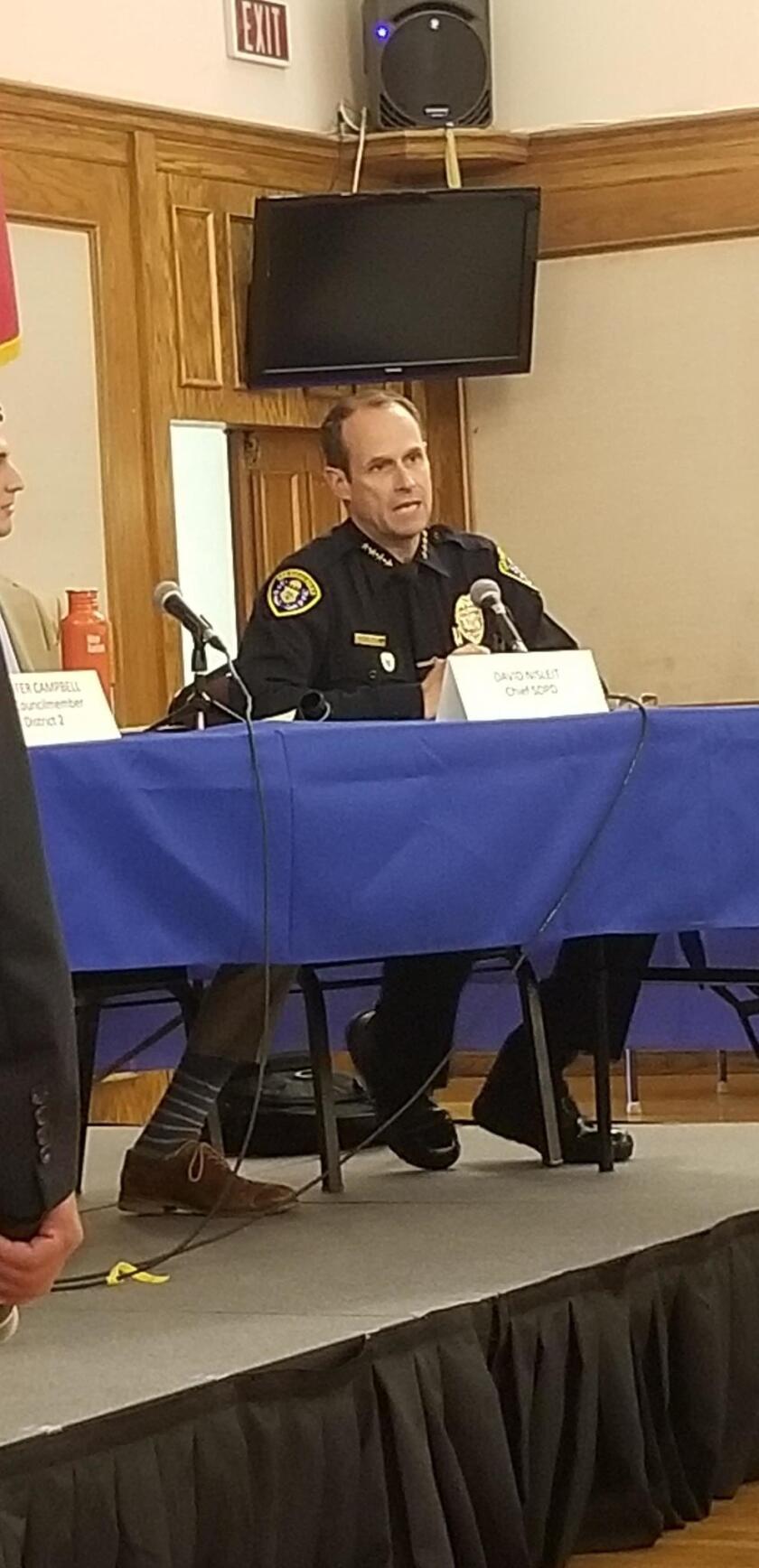 When asked if it's ever challenging for officers on HOT to offer help and continuously hear "no," Nisleit admitted it can be a struggle, but there's still hope for those who initially reject assistance. He said, similar to offering help to someone with an addiction, it can take between 10 and 15 asks before someone is willing to accept help, so police officers just keep asking.
Fletcher chimed in that San Diego had thousands of Single Resident Occupancies, but the City destroyed them to build larger condos. He pointed out the irony in the City wondering where all the homeless people came from.
"We destroyed their homes and we didn't replace them," he said. "When someone on the street has a serious psyche issue, we take them to the ER. They get the highest form of care and when they're stabilized, we discharge them back onto the streets. According to a study done in Newhaven, Connecticut, 60 percent of the people discharged were back in the ER within 10 days. This back-and- forth of being on the streets and going to the ER costs all of us money. So Newhaven put in a discharge policy where individuals are put in a crisis stabilization unit after going to the ER to find the most appropriate level of care before being discharged."
In response to those who might not want their tax dollars to go toward such measures, Fletcher said, "The reality is you pay for it (either way)." He said Sheriff Bill Gore once told him they arrested one man 69 times. For the cost it took to book and incarcerate that individual for short amounts of time, "We could have built him a $10 million house, and he could have had five of his own doctors, and it would have been cheaper for us all," he opined.
Fletcher said the Board of Supervisors wanted to build luxury condos, but he argued instead that the money and space should be used for a behavioral services hospital, which was approved. Upon hearing the audience's applause, Fletcher quipped, "Y'all clap until we find somewhere out here," and everyone laughed. The behavioral services hospital is on an 8-acre lot in Hillcrest , adjacent to UCSD Hillcrest ER and a quarter mile from Scripps Mercy ER — exactly the kind of location where services for those struggling with homelessness should go, he said.
"The shortage is not an availability of places we can put it (services to fight homelessness), the shortage is a lack of political will to confront this challenge," he said.
Burlingame closed the evening by asking Saltzman if Campbell is still fighting homelessness from a housing-first vantage point. He affirmed that she's working toward more housing, and she's doing it through collaboration with the providers, and working with non-profits and the police department — he reprized her support of the HOT force — to continuously reach out to those struggling with homelessness.
Saltzman told the audience he had shadowed a member of People Assisting the Homeless. As they approached a homeless individual, the PATH member told Miller that he had already reached out to the man 10 times. The man used to earn six figures and lived in La Jolla until an addiction led him down the wrong path. Miller said that eleventh time PATH approached that man, he accepted help and they got him to a shelter that same day.
The evening closed with Burlingame and Martin thanking the panelists as the audience provided a big round of applause.
---