Scouts launch geocache scavenger hunt in Point Loma--Community invited to find troop's treasure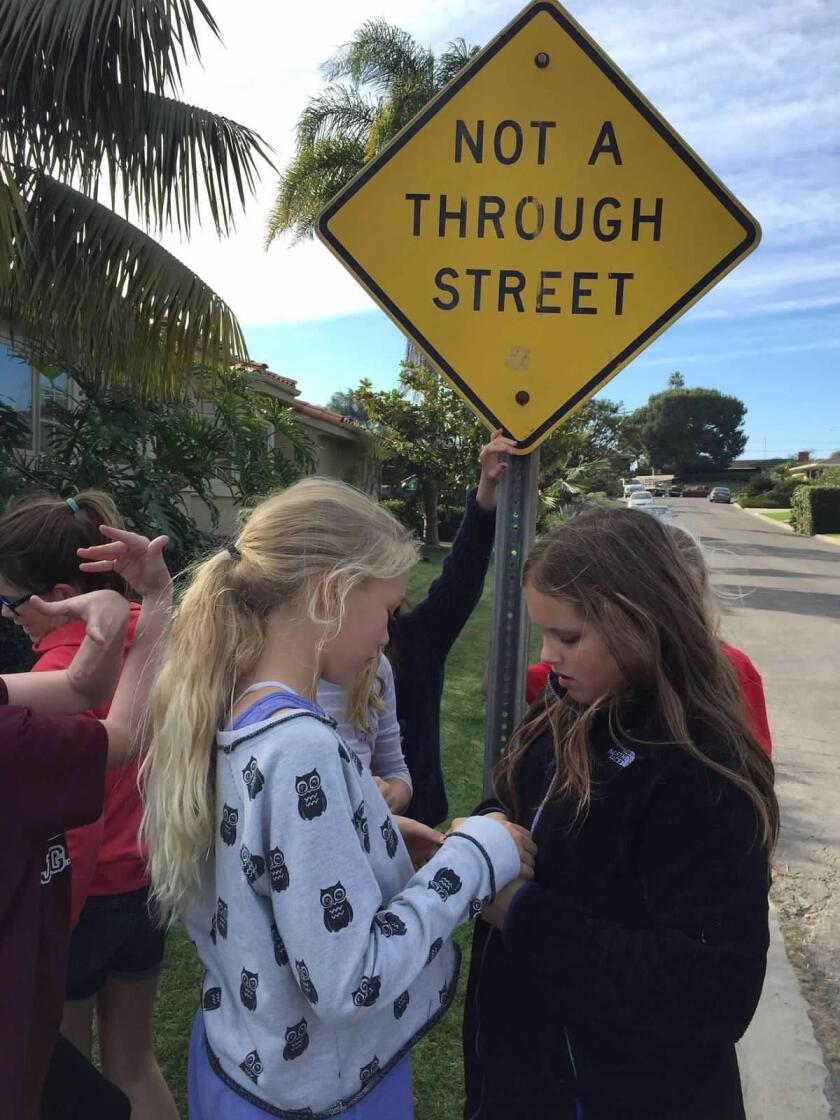 Scavenger hunts are a fun activity for a birthday party or an educational tool for a classroom activity, and now technology has put a new twist on the old way of scavenging, making such hunts the perfect outdoor challenge for kids and adults.
It's called "geocaching."
While some may have never heard of geocaching, it's safe to say that Girl Scout Troop 4579 has mastered this technology-based navigational activity.
First, they accomplished their geocache badge. Then, they incorporated geocaching into their Bronze Award project, taking all 13 girls — Abi Berger, Ella Edson, Sienna Gray, Kennedi Giletti, Mercedes Howard, Marina Jacoway, Sofia Mang, Macy Mooradian, Lilah Morris, Ella Seidel, Zoe Storm, Hayley Vileta and Samantha Wade — from being Scout juniors to Scout cadettes.
The goal of the project was to create something with lasting effects for the betterment of future Girl Scouts as well as the community.
One of the difficulties of geocaching, as Troop leader Jeanne Howard explained, is that without a hand-held Global Positioning System (GPS), people relying on their phones and can end up at a dead end if they lose service in rural or secluded areas. It's also difficult to do without purchasing a geocache account.
To help (using the money from the sale of Thin Mint and Samoa cookies) Troop 4579 bought a $200 geocaching kit, complete with informative booklets available for check-out to all registered Girl Scouts at the Girl Scout Center, 1231 Upas St.
To ease the hassle of figuring out how to work the GPSs, the Scouts included the cheat sheet they wrote for using the hand-held location devices.
Both username and password are "troop4579" and all are encouraged to visit the Geocache website (geocaching.com) and start their own adventure.
Troop member Zoe Storm, who attends Dana Middle School and has been a Girl Scout for almost four years, sees geocaching as more than just a scavenger hunt. "We think it will be like a team-building activity for troops and it will help them get their badge," she said.
Part of the fun of geocaching is the variety of the adventure — multi-caches involve at least one stage that leads to the next or final destination; mystery caches require solving a puzzle to reach the next or final destination; EarthCaches consist of an Earth Science lesson that involves a visit to a unique geological feature; and that's not even the full list.
Some caches have prizes you can take and replace with a prize of your own, and all caches have a sign-in log (a way to say "so-and-so was here").
The Point Loma hunt
Troop 4579 has six of the classic caches hidden around Point Loma. The caches vary in size and shape — from a birdhouse with a removable part where the sign-in log is hidden — to a fake wad of bubble gum with a magnet on the back to stick to metal objects like stop signs or park benches.
But Troop 4579 ramps up the geocaching endeavors with another kind of cache as well: Trackables.
Trackables are items to which the owner attaches a "Groundspeak Travel Bug," allowing them to track the whereabouts of the item. Owners of the bug may give the bug whatever task they desire. Howard's daughter, Mercedes, who goes by CreeperCat2006 on the geocaching website, gave these instructions to whoever found her hidden travel bug: "Please send this to a big cat sanctuary. Or maybe Australia! Maybe both!"
The current location of Mercedes' trackable? Marlborough, New Zealand. Distance: 8,519.1 miles. Within the course of four months, the bug, attached to a small clasp with an adorably big-eyed skunk painted on it, traveled from San Diego to British Columbia, Canada; to New Zealand.
"I was pretty surprised that we could even have a trackable in New Zealand; I didn't know we were able to do that," said Storm. "I thought we could only do (trackables) in the United States or in California. I hope it can be used a lot because I don't even know if there are that many other caches in NZ."
The troop has hidden a total of 13 trackables.
As exciting as it is to earn the Bronze Award, Howard says her girls are already looking ahead to the Silver Award, which requires a minimum of 50 hours of work — accomplished individually or in small groups.
Possible future Silver Award projects for the troop include acquiring a flag for a Scout whose school doesn't have a flagpole, working with Balboa Park in the Spanish Village to create something educational for kids, and pushing for a "family section" at the OB Parade. (An excessive amount of marijuana smoke in the air at the 2018 parade resulted in a young girl having an asthma attack.)
Howard said, typically, girls will be Scouts until about grade 4 or 5, then get busy with other things and quit the program.
But Storm doesn't plan to be typical. "I want to continue being a Girl Scout," she said. "It's really fun and I get to be with my friends and learn new things. I definitely want to do it through high school and, if I can, maybe become a troop leader later on."
---
About Geocaching
• It's an outdoor recreational activity in which participants use a GPS receiver or mobile device and other navigational techniques to hide and seek containers, called 'geocaches' or 'caches,' at specific locations marked by coordinates all over the world.
• A typical cache is a small, waterproof container containing a logbook and pencil. The geocacher signs the log with their established code name and dates it, to prove they found the cache. After signing the log, the cache must be placed back exactly where the person found it. —wikipedia
---