The pride of Point Loma--Beautification projects gain community support
Point Loma 's natural beauty and maritime history is celebrated and maintained by community volunteers who know a good thing when they see one. Capitalizing on the spring theme of rebirth, various groups are busy taking care of business and planning for the future. Here's some of what's going on:
The Mean Green Team
The trees that were once overgrown and blocking pathways are now neatly trimmed. Blown-off palm branches that once littered gutters and sidewalks are now gone. Graffiti-covered walls and fences have been transformed by fresh coats of paint. Street medians that were merely concrete and asphalt have been greened up with large, beautiful succulents.
Navy submariners are welcomed back to dry land with banners of appreciation.
The people responsible for all these seemingly overnight makeovers can usually be found wearing work gloves and bright green vests, or sipping coffee in Liberty Station late on a Friday morning. They are the Mean Green Team. They're a branch of the Point Loma Association (PLA), and among their ranks are retired lawyers, doctors, school principals, accountants and other professionals, who are passionate about the community and keeping Point Loma nice and shiny for everyone else's enjoyment.
"Team members have found, that by working, we not only do the tasks that need doing, but we have new friendships and we get things done for the community," said Cecilia Carrick, MGT president, "and it's a community that most of us really do love."
One of the MGT's biggest accomplishments has been the median beautification project on Nimitz Boulevard. Carrick said while most projects cost under $50,000, the Nimitz median cost nearly $130,000, due to unforeseen complications that caused the price to keep increasing.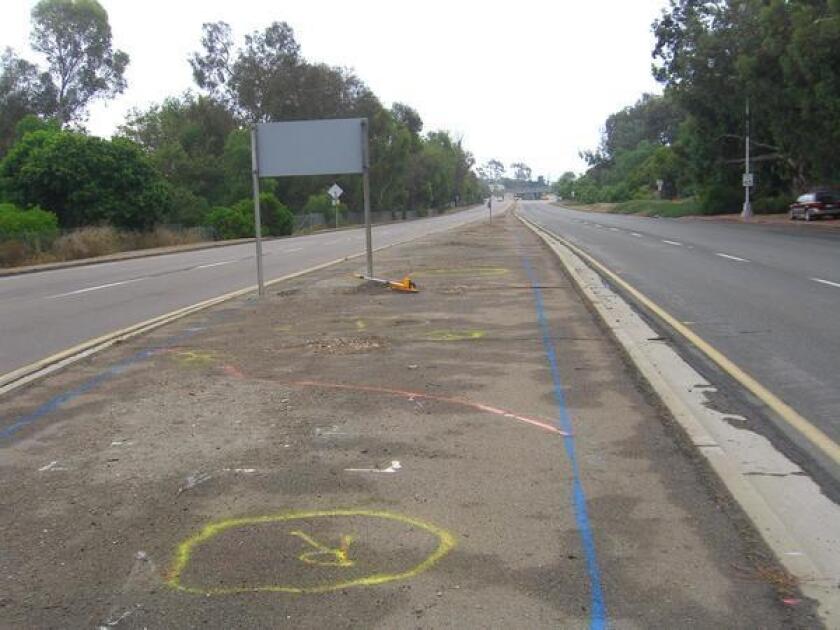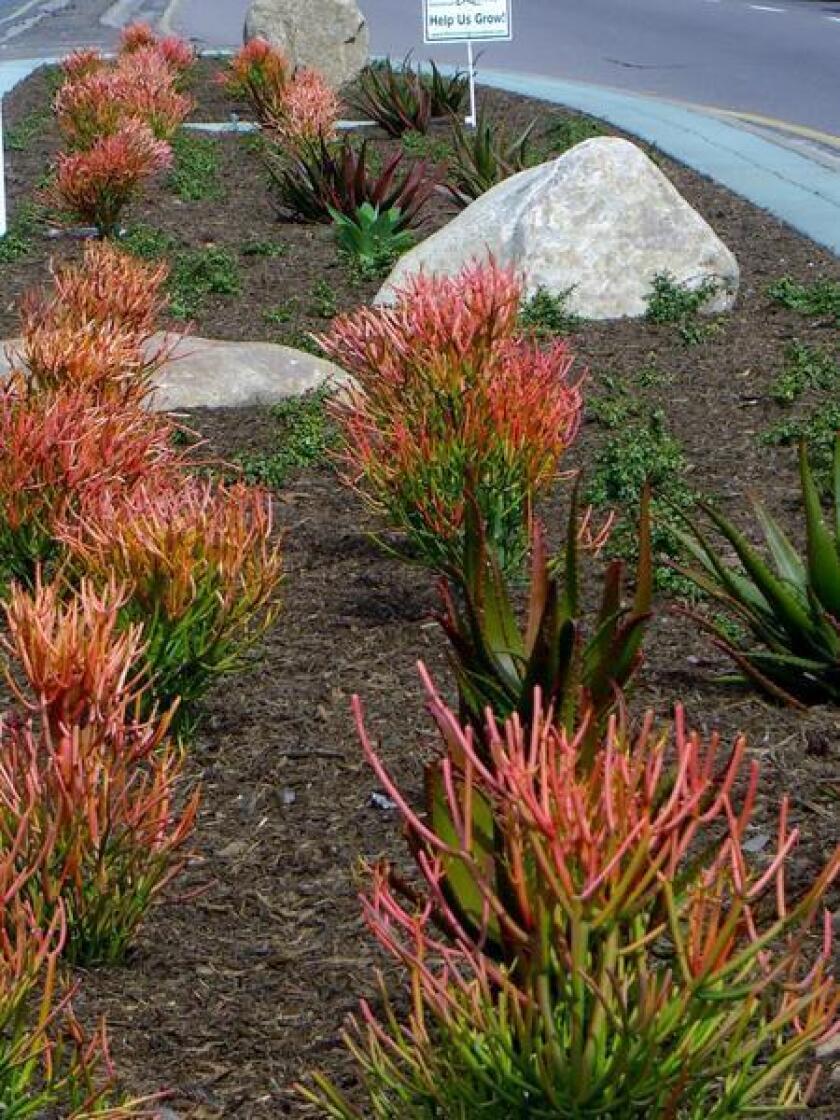 With the help of optimistic Nancy Peckham — and her insistence that PLA write a letter to virtually every person in her Rolodex asking for donations — the project was able to be completed. "She (Peckham) was convinced that we could raise the money," Carrick said. "The community really rallied for the median."
The hard work done by the MGT doesn't go unnoticed — quite the opposite in fact.
"We think we probably get more recognition even than the PLA," said Carrick. "Everybody knows the Mean Green Team and when we march in the parade, everyone shouts out, 'Yay! Mean Green Team!' "
The volunteer group also receives grants from area businesses. On two occasions, Peet's Coffee and Tea has awarded the MGT its matched donations from customers, raised during a specific time period.
"Businesses really do recognize us as being the real do-ers in the community," Carrick said.
Utility Boxes and Murals Project
Since 2005, the Point Loma Association has funded the original "murals" that transform utility boxes from unsightly bores into street art. To expand the project, PLA board member Sandy Hanshaw has requested — and been granted — $3,750 to have a mural painted on the Sand 'n' Sea liquor store, corner of Garrison and Rosecrans streets.
It's just the first of what will be limitless new murals painted on prominent peninsula buildings that depict scenes celebrating the historical and cultural aspects of the coastal village.
This one will be painted by Linda Churchill, who has painted utility boxes in the past and may be recognized for her "Evolution of a Yacht" mural on Eichenlaub Marine on Shelter Island Drive. According to Hanshaw, the Sand 'n' Sea mural will take three to four weeks to complete. It will show three Portuguese fishermen in a boat, struggling to hoist in a huge tuna that appears to be fighting to return to the sea.
"We hope to tell the story of this area via these murals," Hanshaw explained. "I think children will get a lot out of it, being able to see what the history of this little Point Loma village is, with all the Portuguese influences."
Looking ahead, she said the Ralphs grocery store on Rosecrans Street may be next in line for a mural. However, funding is up in the air. The PLA is accepting donations.
An Art Installation
Point Loma resident and artist Garrett Goodwin is showcasing his latest sculpture at Point Loma Assembly hall, 3035 Talbot St. It's a 13-foot replica of an Ocotillo cactus made from stainless steel, brass, copper and glass. The glass blossoms light up using LEDs. Titled "Boojum," it replaces the urban tree sculpture Goodwin made in 2007 and donated to the Assembly.
"I wouldn't be able to do this without the help of the Point Loma Assembly and (its) wonderful leaders who support local artists in the community," Goodwin told Point Loma-OB Monthly, via e-mail. He explained that a road trip from San Diego to Cabo led him through "an amazing display of Dr. Seuss-like cacti" and inspired him.
"I hope the community... experiences a feeling of excitement from my new sculptural display of light and texture ... and remembers that we live in a special community that supports artists and has faith in their designs."
Goodwin said "Boojum" will be for sale after six months on display.
The Anchor Lights Project
Another of the peninsula's new beautification projects also involves light — Point Loma Association's Anchor Lights Project. Headed by J.T. Barr, principal of Schmidt Design Group, the project will feature a series of lights strung across two blocks of Rosecrans Street, from Talbot to Cañon streets. The lights will be supported by poles flying small nautical flags with Point Loma's initials "PL" on them.
Barr said "anchor lights" is a nautical term for a light situated on a boat that's able to be seen from far away. The project committee is hoping to replicate that concept to draw people to Rosecrans to "help bolster and literally shine a light on the historic village and the peninsula."
How is the project being funded? "We're winning the lottery," Barr joked.
Setting the pricetag at around $200,000, Barr said funding will come through benefactors and private contributions. The project committee is also working with local politicians to garner grants. Considering the time it will take to get the funds and receive design approval, the process should take 12 to 18 months to complete, he added.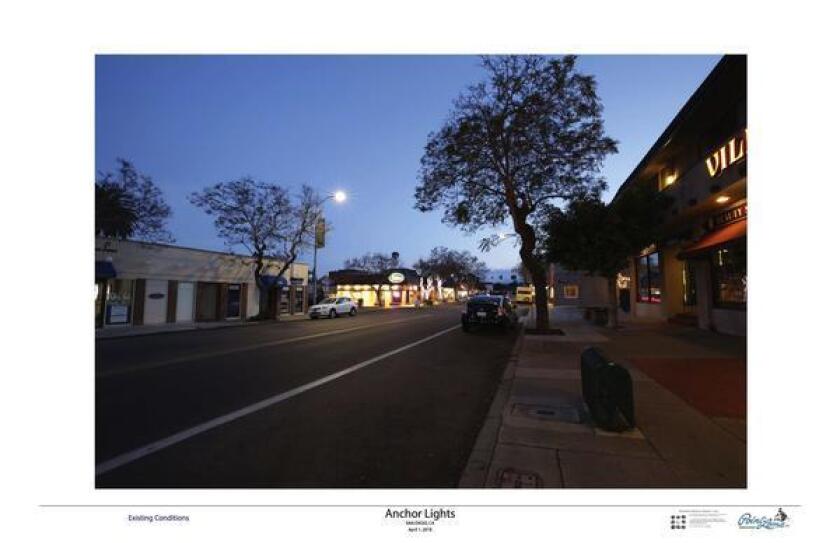 At this point, PLA has worked with The Peninsula Alliance, Mayor Kevin Faulconer, and the District 2 City Council office to gain support, held an open house for business owners along the lights' route, and initiated engineer drawings. The next step is to develop more tangible drawings to be approved and secure funding.
But this may be just the tip of the iceberg: Barr has hopes to expand the project throughout Scott Street and the peninsula, if the expansion costs prove to be within reach.
"(We see Anchor Lights) as an opportunity to draw attention to the historic village, and also tie into the maritime history and heritage of the peninsula and Point Loma," he said.
Donations are being processed through pointloma.org
---