Point Loma/Ocean Beach News Briefs: Junior sailors accomplish longest distance yet; Remodeled OB kitchen wins award, Phil's BBQ sets fundraising record and more San Diego news
Junior sailors accomplish longest distance yet at Dutch Shoe Marathon
On July 20, more than 150 sailors, both junior and senior from several Southern California clubs, celebrated the 49th annual Dutch Shoe Marathon (DSM) with a long, fun race from San Diego Yacht Club to Coronado Yacht Club in sabots.
The DSM started with an ideal 0.5 knot current and steady breeze around 8 knots from the south, creating an even course for late starting fleets. As the sabots sailed out of Shelter Island, the clouds broke and the wind shifted to the west, making for a fairly quick race. Sailors of all experience levels participated in the Marathon after a summer of preparation. Coaches advised them to stay hydrated, relaxed and focused during their trek down Coronado Roads and through Glorietta Bay.
SDYC Commodore Michael Dorgan was out on the water with his family to report: "A huge thanks goes out to SDYC Junior Sailing director John Fretwell and coaches for preparing the sailors to be able to travel such a long distance. The kids, and parents, all conducted themselves alike to launch over 150 sabots with associated gear and all. Like Fretwell has said, it takes a village to run this event, but this year there was nothing but success and smiling faces. Watching the race from the power boat and seeing the kids having a great time really gets your heart racing. It's fantastic to see so many young sailors participate."
Awards were announced at the Coronado Yacht Club, where the large red wooden shoe "trophies" were presented. For race results, visit sdyc.org/dutchshoe — Casey Allocco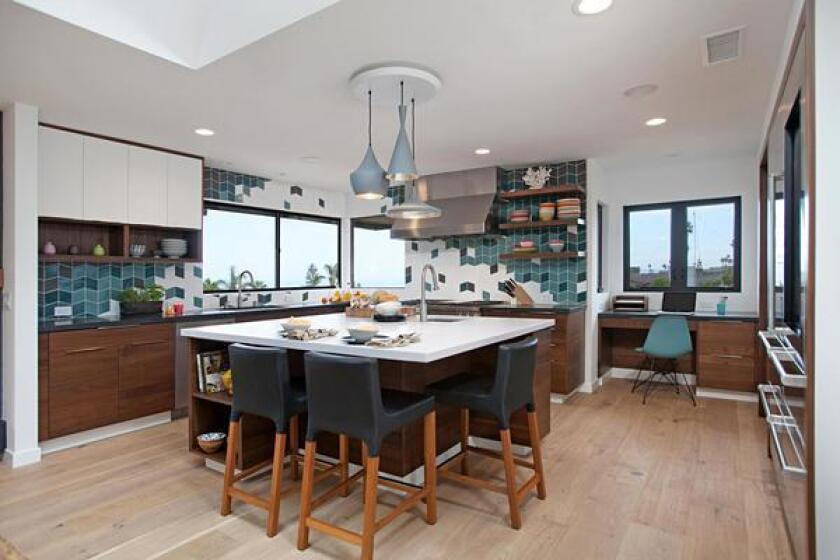 Remodeled OB kitchen wins design award
A Jackson Design & Remodeling (JDR) design for an Ocean Beach couple is one of five winners in the 27th annual San Diego Home/Garden Lifestyles Magazine Kitchen of the Year competition. Designed by JDR senior interior designer, Rosella Gonzalez, the kitchen, according to a press release, "is a fresh and rustic take on a Mid-Century Modern sensibility. The bold handmade-tile backsplash in vivid shades of turquoise was customized with exacting attention to detail. Updated classics, such as a stainless steel hood and minimalist cabinet pulls, complement a balance of natural woods and gleaming white surfaces. The design captures ocean views and natural light while communicating colorful style in an open and airy layout."
Designers from across San Diego submit their best projects to this annual contest, which is judged by an independent panel of editors and design industry leaders. jacksondesignandremodeling.com
Phil's BBQ benefit sets record raising funds for Operation Bigs
For the first time and for its 10th year, Phil's Big BBQ at the Ballpark reached its goal of raising more than $100,000 for Operation Bigs, a Big Brothers Big Sisters one-to-one mentoring program for military children. Nearly 3,000 people came out to Petco Park, July 29 to support the event that included food, drinks, live music, a kids zone and more. The 2018 Big Brothers Big Sisters "Bigs of the Year," "Volunteers of the Year," "Liaison of the Year," were recognized for their contributions.
Operation Bigs was launched in 2004 to meet the increasing demand for BBBS from military families. Since its inception, Operation Bigs has served more than 2,638 Navy and Marine Corps children. The program operates at eight schools in four communities throughout San Diego County including Camp Pendleton, Point Loma, Coronado and Murphy Canyon. Operation Bigs enrolls military dependents, ages 7-17, at no cost to families. Volunteers are in high demand. To learn how you can positively impact a child's life, donate or volunteer today at sdbigs.org or (858) 536-4900. sdbigs.org
Gianni Buonomo Vintners earns 'best of' award
After winning gold and double gold medals from coast to coast this year, Gianni Buonomo Vintners has been crowned Best of San Diego by San Diego Magazine. (August 2018)
"It's been a heck of a season and being recognized as San Diego's best winery is a great honor," said winemaker and Minnesota native Keith Rolle, whose tasting room at 4836 Newport Ave. in Ocean Beach.
How does a small winery like Gianni Buonomo compete against the biggest players in the world of wine?
"I'm not totally sure," Rolle continued. "I just know I don't rush anything to market and I stick to sound, fundamental wine-making. All the wines spend two years in oak and one year bottle aging before they're released. I'm sure that has something to do with it. Plus, I source some really nice fruit (from both El Dorado County, California and Washington State)." GBVintners.com
San Diego Veteran's Coalition to offer Entrepreneur Summit
The San Diego Veteran's Coalition and its community partners will host the second annual Military, Veterans & Spouses Entrepreneur Summit, beginning at 8 a.m. Saturday, Sept. 15 at Liberty Station.
Attendees will learn about starting, financing and growing a business, doing business with the government, and franchising. The summit will provide extensive resources to help veteran's stay connected and be inspired. There will be a "Pitch Off Competition" in front of angel investors where the winner could walk away with a $10,000 prize. The event is expected to sell out with 300-plus in attendance.
The registration fee is $25 at veteranentrepreneursummit.vet (Free for military active duty, use discount code: Msummit2018) Registration includes continental breakfast and lunch.
Have a local news tip?
E-mail the details (and include a related photo, if possible) to Point Loma-OB Monthly editor Susan DeMaggio at editor@lajollalight.com or call (858) 875-5950.
---