At one of San Diego's oldest strip clubs, the Rock Church takes over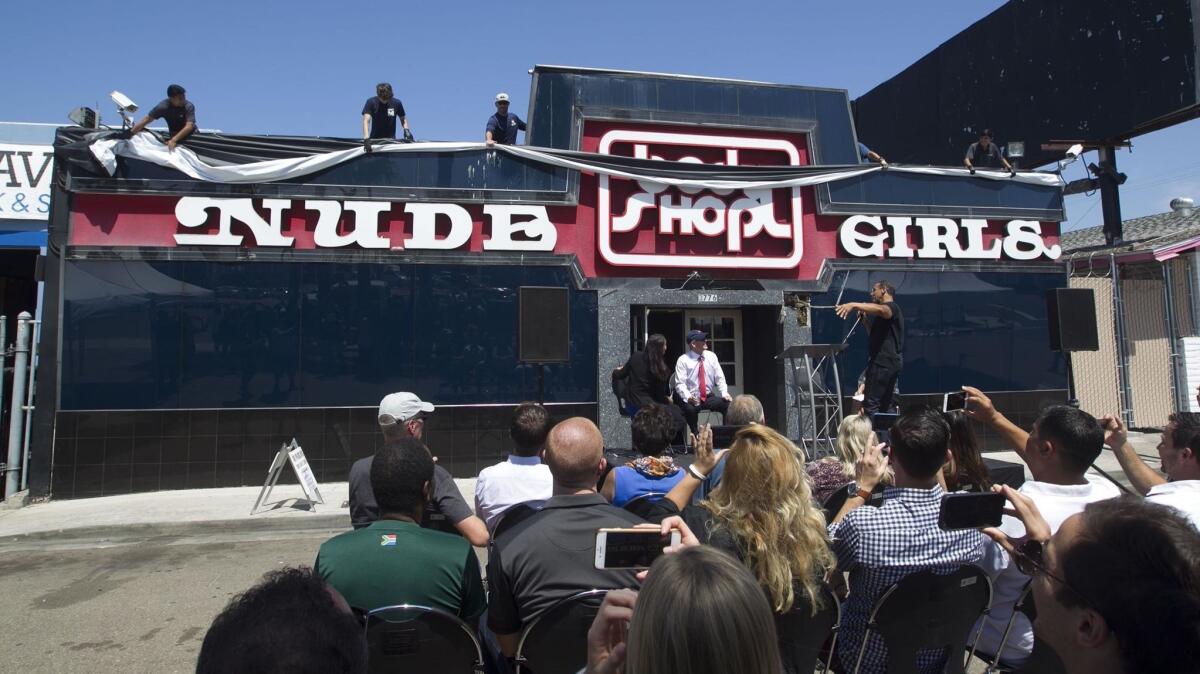 Before enthusiastic congregants and skeptical neighbors, the Rock Church on Thursday morning took over one of San Diego's oldest strip clubs.
"We'd definitely love to use this to help reverse the pain that this building has caused," said Miles McPherson, the Rock's senior pastor, addressing a crowd outside the Body Shop.
In that Midway district landmark, generations of dancers had taken it off, taken it all off, from 1964 until it closed in late 2017. In June, the Point Loma megachurch and several outside investors bought the property — and its adult entertainment permit — for $1.2 million.
McPherson said the church has not determined a precise use for the building, but he expressed pleasure that the city has one fewer strip club.
"We know the pain and the brokenness of families that this kind of lifestyle can bring. So we are here to help those women and those men," McPherson said. "This is not about a building, this is about lives, about the gospel of Jesus Christ."
The club, and its all-nude neighbor, Les Girls, occupies a location at the main eastern entrance to Point Loma. Rock Church faithful pass it regularly, as do locals and tourists bound for Liberty Station, Fort Rosecrans, marinas and other destinations.
"I'm just so excited," said Lorie Zapf, the council member whose district includes the club. "We all knew something had to be done here for a long time."
Inside the abandoned club, red and blue spotlights shone down on the dancers' stage, empty now except for three stripper poles.
The rise of internet porn, and the closure of the nearby Naval Training Center, coincided with a steady decline in Body Shop business. While Les Girls is still alive and stripping, the Rock Church has expressed interest in buying it with the goal of shutting it down.
"I will never sell to the Rock Church," said Kathleen Morgan, Les Girls' owner, blaming a recent rash of vandalism and graffiti on church members.
On Thursday, McPherson attempted to allay those fears. "We would definitely not do that," he told Morgan. "That's not what we're about."
Chuck Leslie, another church pastor, promised to hire security to prevent future incidents.
"We hope to be good neighbors," he said.