San Diego water bill audit finds thousands of errors, meter readers can bypass accuracy checks
A major, months-long audit of the city's utilities department, sparked by a public outcry over high water bills, concluded that 2,750 water bills sent to San Diego residents last year were incorrect and had to be readjusted while discovering that 10 meter readers accounted for 71 percent of the errors.
The city audit released Thursday also found that meter readers figured out how to bypass an accuracy check required when meters are read and the city's Public Utilities Department doesn't measure the performance of its 36 meter readers.
While the errors represent about one-fourth of 1 percent of the 1.3 million meter readings in calendar year 2017, they often amounted to hundreds of dollars, the report from City Auditor Eduardo Luna. A separate report by an outside utility consulting firm found similar problems.
The audit was ordered after hundreds of San Diego residents complained last year of surging water bills, in some cases two or three times the usual amount. Furious ratepayers packed public hearings earlier this year demanding answers.
San Diego Mayor Kevin Faulconer pledged to undertake a comprehensive reform of the department to make it more focused on customer service, and to take complaints more seriously.
"Our customers must be able to trust when they receive their bill that it accurately reflects how much water they use — no more and no less," he said. "We have to change the culture of this department in order to consistently deliver the excellent services that San Diegans expect."
In all, the auditor made 10 recommendations to improve performance, and the department adopted all of them, the report stated.
These include:
-- Twice-yearly reviews of "implausible readings"
-- Re-evaluation of meter reading routes
-- Increased review of meter-reading accuracy
-- Notifying customers in advance of changes that will raise their bills, so they have time to prepare.
A major source of error came from one meter reader who officials said earlier this year is no longer a city employee. That person had misread 343 meters in November and December, largely in the northern part of the city.
The audit didn't discuss whether any action was taken against the 10 other meter readers disproportionately responsible for the corrected bills.
So-called "smart meters," were not the cause of billing increases, the audit found.
Besides the city of San Diego, the department provides water to Del Mar, and through California-American Water Company, to Coronado and Imperial Beach.
The audit found that such apparently anomalous bills are often accurate, reflecting factors such as a water rate increase, a one-time extended billing system, warmer winter months, and unidentified water leaks.
But when errors occur, they're usually big. The report illustrated this with a hypothetical example of a typical bill and a typical error.
The example used a single-family home with an average water use per billing period of 1,800 cubic feet, or 13,465 gallons. That usage results in a bill of $141.41 when correctly read.
But if incorrectly read, the bill would most likely jump to $408.56, an overcharge of about $267. This was calculated by using the average corrected error.
Meanwhile, customer complaints of errors continue.
On Thursday, Tim Wilson of Carmel Valley said he received a water bill this month for $2,028.02, more than four times his typical charge.
According to the bill, he used 2,321 gallons a day, Wilson said, which isn't feasible.
"We're very, very careful with our water usage," Wilson said.
Wilson said the department re-read the meter, and he is waiting to get a corrected bill.
At a press conference, Faulconer said "even one wrong bill is too many," and directed the public utilities department to change how it monitors meter readings, handles customer complaints, and communicates with the public.
"The department needs to rebuild the trust that has been lost," Faulconer said.
Responsibility for ensuring that trust is rebuilt goes to Johnnie Perkins, the city's new deputy chief operating officer for infrastructure and public works.
Perkins said he will make sure the recommendations in the auditor's report are carried out, and that the Public Utilities Department becomes the "gold standard" across the country, both in operations and in customer service.
To reduce errors, the report recommended the department monitor the use of "supervisor codes" used to bypass controls on reporting abnormal meter readings.
In addition, the department should develop ways to measure the performance of meter readers, the report stated.
The Public Utilities Department already catches most potential errors before customers are billed, the report found.
A total of 57,117 meter readings, or 4.43 percent, were flagged as abnormal. The department corrected 18,728 of them before billing customers. That left 2,750 bills that were adjusted after they were sent to customers.
But even if there were no errors, customers will continue to see bills climb due to yearly rate increases already approved by the San Diego City Council. A five percent rate increase for fiscal year 2019 takes place this month. A seven percent rate increase for fiscal year 2020 is to take place next July.
Related reading
San Diego city water billing audit (PDF)
San Diego officials: New testing ensures future accuracy of water meters
Reporter's notebook: Seeing a water meter reader in action, kind of
Meter readers face public backlash as water bills continue to surge across San Diego
Hundreds turn out to public forum to discuss skyrocketing water bills
City probe finds 'human error' responsible for spiking hundreds of water bills
Skyrocketing water bills in San Diego prompt internal city investigation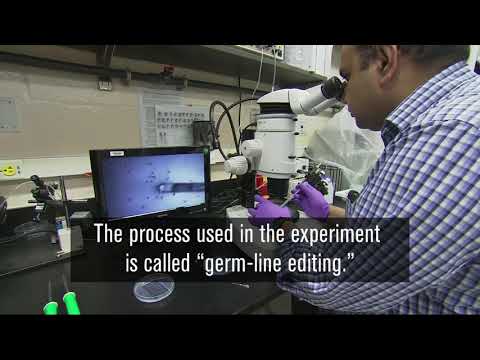 On Now
In a first, scientists rid human embryos of a potentially fatal gene mutation by editing their DNA
On Now
10 interesting facts about Mars
On Now
Kids can add years to your life
On Now
LA 90: SpaceX launches recycled rocket
On Now
Ocean temperatures warming at rapid rate, study finds
bradley.fikes@sduniontribune.com
(619) 293-1020