Peninsula planners vote against Pendulum's North Chapel plans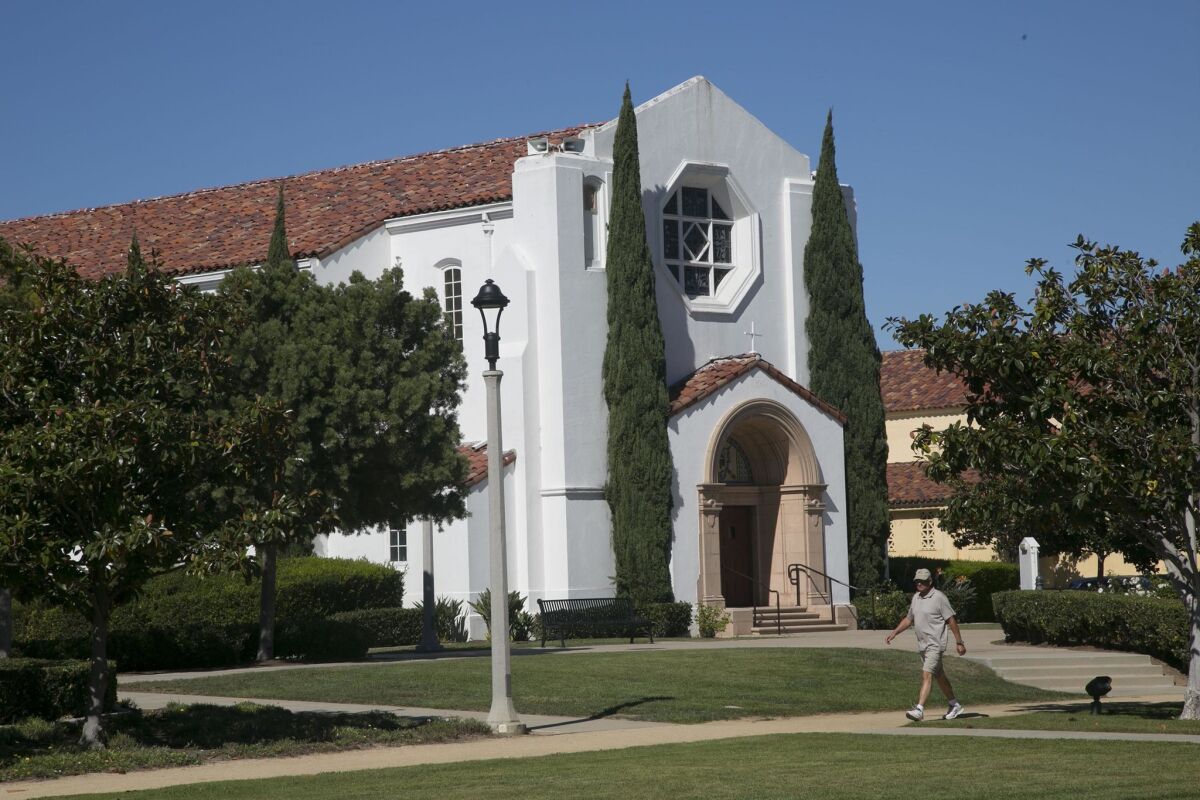 Despite a visit from Pendulum Property Partners to the Peninsula Community Planning Board (PCPB) meeting Jan. 16 — intended merely to provide the board with an update on their plans to re-purpose the historic North Chapel in Liberty Station as an events venue — the board passed a motion to draft a letter to City officials stating Pendulum's plans are inconsistent with the Naval Training Center San Diego Guidelines for the Treatment of Historic Properties.
PCPB member David Dick said the board had addressed the topic about a year ago and had requested Pendulum keep trustees updated on their plans for North Chapel.
Chair Robert Goldyn added that the board had taken similar action in June 2018 to draft a letter in support of preserving the historic character and integrity of the North Chapel, including its pews.
Dick went on to say that Pendulum had not come to the meeting to ask for approval for its plans as the permit they need to renovate North Chapel is a permit "by right," meaning as long as Pendulum complies with any building and zoning codes, and historic resource limitations, they will be entitled to the permit. Regardless, the topic was worth discussing, he said.
Joe Haeussler, executive vice president of Pendulum Property Partners, who has been active in commercial properties in Liberty Station since 2003, explained its plans are to renovate the chapel to be re-purposed as a venue for weddings, religious gatherings, performances, receptions and other events. He pointed out that 828 Venue Management Co. — North Chapel's tenants with whom Pendulum signed a lease — meticulously researched other chapels throughout the country that have been re-purposed. With that information, he said, Pendulum submitted draft plans to the Department of Interior Regulations on Historic Preservation for feedback, which were then seen by the National Park Service. Pendulum's plans were approved, with conditions.
"So with that, it made quite a statement that we are complying with the regulations set before us, for the NTC Precise Plan on Use, and as a historic use as well," said Haeussler.
The plan is to "do some minor modifications to the interior, with pews stored off-site — probably about two thirds of them — and then use the remaining third on the premises. The whole goal is to have flexible seating so the property can be used throughout the week."
Pendulum Property Partners team submitted those approved plans for preliminary review with the City, which responded with comments.
Goldyn opened the discussion to the community, with comments adamant that North Chapel maintain its historic character. Said a former Marine who had attended services in the chapel: "To me, it's going to be a desecration of holy ground… these people want to go through and sterilize it … but sailors and marines worshiped there for years. Then they went off to war. And some of them came back, and some of them didn't ..."
When the conversation turned to board comments, Dick asked a few specific questions, prompting Haeussler to assure all gathered that both the altar and the pulpit will be preserved in their present places. He was unsure about what would happen to the stained glass windows, but expressed confidence they would be displayed respectfully.
Dick made a motion to re-iterate the board's June 2018 position and draft a letter that states Pendulum Property Partners North Chapel plans are inconsistent with the Naval Training Center San Diego Guidelines for the Treatment of Historic Properties, and any such plans require an amendment to the 2001 NTC Precise Plan and therefore must be vetted through PCPB for public input. The letter will be addressed to Mayor Kevin Faulconer, District 2 City Council member Jennifer Campbell, the City Attorney and other City officials.
The motion passed unanimously.
Dick concluded: "This building is a shrine. A shrine to people who have served and given the ultimate sacrifice. Whether you're a Christian, Jew, Muslim or atheist doesn't really matter. This is a place that has been built with the purpose of recognizing the sacrifice made by members of the military… of recognizing all those people who have made sacrifices."
PCPB elections
The board voted to postpone the formation of the PCPB Election Subcommittee to process the March elections until February's meeting, due to division among members regarding who will chair the Election Subcommittee and absence of other board members.
•Reporter's Note: After Point Loma-OB Monthly went to press, chair Robert Goldyn and vice chair Scott Deschenes tendered their resignation to the Board of Directors of the PCPB effective immediately following the March 19, 2020 Board meeting and general elections. They will both serve the remainder of their current terms. In the letter of resignation, Goldyn stated: "Our tenure of service to the PCPB has been troubled with continual turmoil, slander, animosity, personal attack, false accusation, formal complaint, and a civil rights action suit amongst and between two factions of board members ... We each have important personal and professionallives and no longer desire to exhaust our valuable time and effort mediating, resolving and working through these conflicts, nor have our attempts been successful at bringing these hostile actions to termination. We wish the PCPB great success and encourage that the boardmembers work together to support the Peninsula Community."
— The PCPB next meets 6 p.m. Feb. 20 at the Point Loma Library, 3701 Voltaire St. Board members can be reached via pcpb.net