News Briefs for Point Loma-Ocean Beach April 2020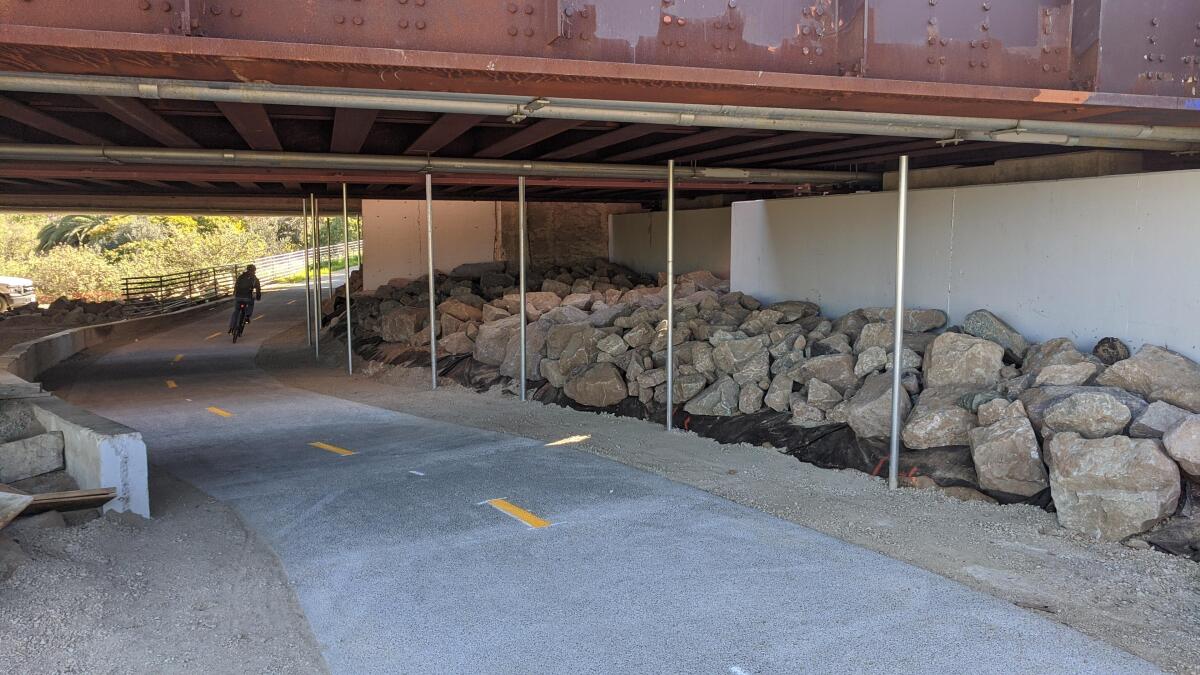 Got a recipe for OB Library's cookbook?
OB Library Friends will publish a cookbook to raise funds for the library expansion project. Organizers hope book sales generate about $1,000. To this end, the community is invited to send in recipes that fall into these categories: Appetizers. Relishes and pickles. Soups, salads and sauces. Main dishes. Vegetables. Breads, rolls and pastries. Cakes, cookies and desserts. Beverages. Microwave and miscellaneous. There are pages for dog and cat treats, as well.
According to editor Ellen Bleecker Liversidge, all published recipes will include the name of the sender and (if applicable) the title of their organization or business. Not all submitted recipes will be used. E-mail recipe(s) to: OBFriendsoftheLibrary@gmail.com or slow mail to: OB Library Cookbook, 4801 Santa Monica Ave. San Diego, CA 92107. The deadline is April 1.
Additionally, OB Library Friends need catchy title suggestions for the cookbook by 9 p.m. Saturday, April 4 that convey the laid-back OB community feeling. E-mail suggestions to: OBFriendsoftheLibrary@gmail.com The prize for having your title chosen? A gift certificate to one of OB's most famous restaurants.
Arts & Culture funding available to nonprofits
The City of San Diego's Commission for Arts & Culture annually offers two funding opportunities to San Diego's arts and culture nonprofits, available through two competitive application processes: Organizational Support Program (OSP) for activities taking place July 2020-June 2021, and Creative Communities San Diego (CCSD) for projects taking place July 2020-June 2021. For questions on how to apply, e-mail Tracy Dezenzo at tracyobpb@gmail.com or visit sandiego.gov/arts-culture
Public Defender seeks remarkable students
Do you know any teens in San Diego County who deserve recognition for something remarkable they do? The San Diego County Public Defender is seeking nominations, through April 1 for ages 13-19 who are doing something extraordinary in 25 non-traditional categories, many of which showcase creativity or social activism.
"Young people who are motivated, committed to their community, inspiring in their talents and skills, or who have shown the courage to confront and overcome adversity deserve to be recognized," said Public Defender Randy Mize. "Kids doing remarkable things are often left in the shadows. I absolutely love this program."
The categories this year include youth activism, art, campus leadership, community service, courage to overcome adversity, public speaking, fashion design, writing, technology, photography, innovation and personal determination. Details at bit.ly/2TFl1mU
OB Bike Path re-opens to the public
After one month of temporary closure, the Ocean Beach Bike Path reopened on the morning of March 3. The path closure began Feb. 3 and was necessary to make improvements to the path following impacts caused by Mid-Coast Trolley construction at the San Diego River. Improvements included repaving the bike path and installing a handrail.
Work on the bike path was initially scheduled to conclude Feb. 28 but was postponed due to unforeseen circumstances including inclement weather. Learn more at keepsandiegomoving.com/midcoastnotices
Environment-minded, Point Loma teens create special lip balm
A group of hard-working seventh-graders at High Tech High Middle Media Arts in Point Loma are learning how to run a business by creating and selling their own product: strawberry-flavored Mayurtle Lip Balm. They started the business after they got "tired of seeing trash on the beach," and wanted to make a difference.
The lip balm is made entirely with natural ingredients; everything is biodegradable and 100 percent plastic-free. 10 percent of profits go to I Love A Clean San Diego.
"If you buy our product, you will save the turtles and be a good person," said Ingo, one of the founders via e-mail. The cost is $5. Order via, e-mail: sdlipbalm@gmail.com
MTS kicks off essay contest for students to win laptops
Forty high school students will win a laptop computer as part of the 17th annual Laptop Scholarship Essay Contest. The contest is a partnership between MTS, Coca-Cola Refreshments of San Diego and the San Diego County Office of Education.
To be eligible to win, students in grades 9-12 must submit an application form along with a 750- to 1,000-word persuasive essay about their vision for transit in San Diego. As MTS develops the Elevate SD 2020 plan to expand and improve public transportation, students must research the potential projects, and think critically about the future and what their generation considers top priorities.
All entries are due by Friday, April 10 at 11:59 p.m. PST. They can be e-mailed to scholarship@sdmts.com or mailed/delivered to MTS, Attn: Laptop Scholarship, 1255 Imperial Avenue, Suite 1000, San Diego CA 92101. Find rules and guidelines at bit.ly/mtscocacolacontest
Audubon Society welcomes new director
The San Diego Audubon Society welcomes Travis Kemnitz, who has been hired as the organization's new executive director, concluding a comprehensive recruitment process. Kemnitz takes over from long-time San Diego Audubon executive director Chris Redfern, who relocated with his family to Boston.
Kemnitz has served more than 17 years with the San Diego-based Ocean Discovery Institute, most recently as director of talent and culture, where he worked as an advocate for the environment, addressed inequities in access to science, conservation education and careers for underserved youth.
"There is nothing like seeing the spark of curiosity in a child's eye, and the sense of belief rise inside them that they can make a difference in our world," said Kemnitz. "I'm delighted and honored to utilize my background to make a broader impact with the San Diego Audubon Society."
Kemnitz began his job as executive director Monday, Feb. 17 He can be reached at kemnitz@sandiegoaudubon.org
Point Loma Garden Walk will benefit Rady Children's Hospital
The Dana Unit of Rady Children's Hospital Auxiliary will present the 19th Point Loma Garden Walk from 10 a.m. to 4 p.m. Saturday, April 25. Net proceeds benefit the Department of Plastic Surgery-Craniofacial Services at Rady Children's Hospital-San Diego.
This year's tour will feature homes and gardens in Point Loma Heights and include a boutique at All Souls Church, 1475 Catalina Blvd., featuring local vendors and food trucks.
Tickets are $30 at pointlomagardenwalk.com and Walter Andersen Nursery, 3642 Enterprise St. or Armstrong Garden Center, 1364 Morena Blvd. Tickets available day-of at the boutique and 4268 Del Mar Ave.
Pacific Hwy. lane closures coming through 2021
Beginning March 1 and continuing through summer 2021, intermittent lane closures will be in place on Pacific Highway, Taylor Street and Rosecrans Street as crews perform various construction activities for transit-related improvements.
During the first phase of construction, which began March 1 and will continue for six weeks, Pacific Highway will be reduced to one through lane in each direction at the intersection with Taylor Street/Rosecrans Street. Current turn lanes will not be impacted. Additional reductions will be needed on an intermittent basis through summer 2021.
Lanes will be permanently reconfigured at the intersection of Pacific Highway and Taylor Street/Rosecrans Street to widen the roadways and add turning lanes.
The intention is to ease traffic flow in anticipation of increased Trolley crossings at Taylor Street upon completion of the Mid-Coast Trolley project, which includes the construction of nine new stations. Service is anticipated to begin in late 2021. Improvements will also be made to the Old Town Transit Center, such as new bus passenger platforms and improvements to the Park & Ride.
Both daytime and nighttime work will be required at various stages.
Learn more at keepsandiegomoving.com/midcoastnotices
Bridge 2 over San Diego River opens to rail traffic
Early morning Feb. 24, a second bridge over the San Diego River opened to rail traffic. The Coaster 630, heading south from Oceanside, was the first passenger train to travel over the newly completed bridge at 5:56 a.m. The San Diego River Double Track project, funded through a combination of federal and local sources, began construction in fall 2016. The first bridge over the San Diego River was completed in February 2018.
The $93.9 million project is a critical part of ongoing efforts by SANDAG to double track the Los Angeles-San Diego-San Luis Obispo (LOSSAN) corridor, the second busiest passenger rail line in the nation and a vital link in connecting the San Diego region with the rest of the country.
This project completes double tracking along the southernmost segment of the LOSSAN corridor.
Passenger and freight trains can now travel continuously in each direction along the seven-mile stretch of railway that runs from Garnet Avenue/Balboa Avenue to the Santa Fe Depot in Downtown San Diego.
The bridges over the San Diego River were constructed concurrently with the Mid-Coast Trolley project.
When complete, the Mid-Coast Trolley project will extend UC San Diego Blue Line Trolley service from Downtown San Diego to the university community.
— Compiled by Point Loma-OB Monthly staff from local reports.