Point Loma-Ocean Beach briefs: New mural; awards for Arts District work and PLHS grad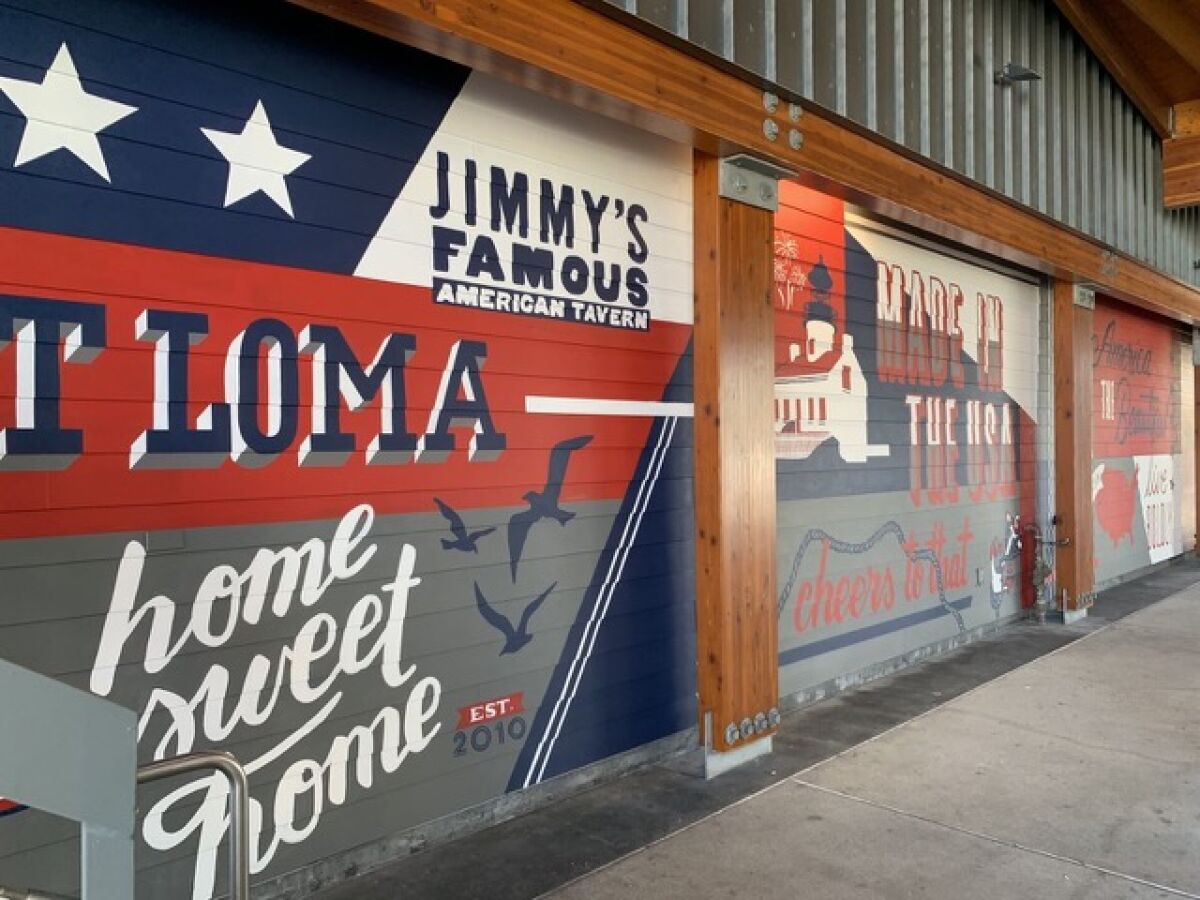 Jimmy's Famous American Tavern celebrates 10th year with mural
Jimmy's Famous American Tavern, located at 4990 N. Harbor Drive at the Point Loma Marina, celebrated its 10th anniversary as well as the Fourth of July holiday by commissioning artists to paint a patriotic mural on the east-facing side of the building. It was completed the last week of June.
"The mural is meant to inspire and connect the community and visitors to the area as only art can in a time when hope may seem fleeting," Peyton Robertson, a representative of the family-owned restaurant, said via email.
Point Loma landscape architecture firm wins award for Arts District work
Work at the Arts District at Liberty Station won the 2020 President's Award for Point Loma-based landscape architecture firm Schmidt Design Group Inc. at a July 9 awards event presented by the San Diego chapter of the American Society of Landscape Architects.
Schmidt Design Group was chosen in 2016 by The Corky McMillin Cos., the San Diego developer that remade the former Naval Training Center into a housing, business and entertainment hub, to improve the Arts District's visitor experience. The work included an "arrival plaza" and signature art installation at the main entry, a streetscape promenade with dining decks to support the adjacent Liberty Public Market, and enhanced paving to allow for pedestrian flow between the outdoor gathering areas and the restaurants, markets and shops.
Other changes include an outdoor lounge area with a fire pit, custom furniture, shade structures and a flexible turf area.
"The site now stands as a testament to the power of landscape architects to connect a community with its history through design," according to a statement from the awards jury. "They rose to the occasion, creating a vibrant and engaging outdoor experience for the San Diego community."
Cox Charities awards scholarship to PLHS graduate
Cox Charities awarded a total of $77,000 in scholarships to 25 students this year, including recent Point Loma High School graduate Thavanh Pais. Cox Charities is the philanthropic arm of Cox Communications.
Pais intends to study animal science in the hope of becoming a veterinarian.
Cox Charities Advisory Board members invited students to participate in video calls to learn about their post-graduation plans and what a scholarship would mean to them. The students were unaware at the start of the calls that they had already been selected as Cox Scholars and were surprised to learn that Cox would be awarding each of them a scholarship for college.
The students were selected based on their academic success, community service, leadership and commitment to education.