Peninsula locations featured in '100 Things to Do in San Diego Before You Die'
When travel writer and San Diego native David Swanson sat down to write the second edition of "100 Things to Do in San Diego Before You Die," a flood of places came to mind. Some familiar, like the San Diego Zoo; some known only to a select few, like where to sail on a yacht that was used in the America's Cup race.
And while part of the intent of the book is to encourage readers to look beyond San Diego's weather, its coastal amenities could not be left out. As such, several locations in Point Loma and Ocean Beach are included.
"I'm a lifelong San Diego resident; my mother lives in the house she was born in, believe it or not," he said. "It's a city I have come to appreciate, having traveled the world and lived in other places. I have learned to appreciate the city in ways I didn't growing up.
"The city has also grown tremendously in terms of its culture and diversity. It's hard when you have a city with weather as wonderful as we have to not have that be a calling card for us. But the city has grown as new voices have come in. It's developed an identity that goes well beyond the weather."
There are two audiences for the book: those who have never been here and are looking to spend a vacation, and those who live here but might want to take a closer look.
"There are many of us, and I will use myself an example, who take the city for granted," Swanson said. "It's easy to overlook some of its unique aspects. How many San Diegans know one of the greatest architectural masterpieces is in La Jolla? It's at the Salk Institute and designed by Louis Kahn. It's something that, under normal circumstances, is easy to tour. I love to find things ... that many San Diego residents don't know about."
Here are some examples of peninsula locales that "100 Things to Do in San Diego Before You Die" highlights, along with Swanson's comments about them:
Cabrillo National Monument: Named for Juan Rodriguez Cabrillo, who in the 1540s led the first European expedition that explored what is now California, the monument in Point Loma features expansive views of San Diego.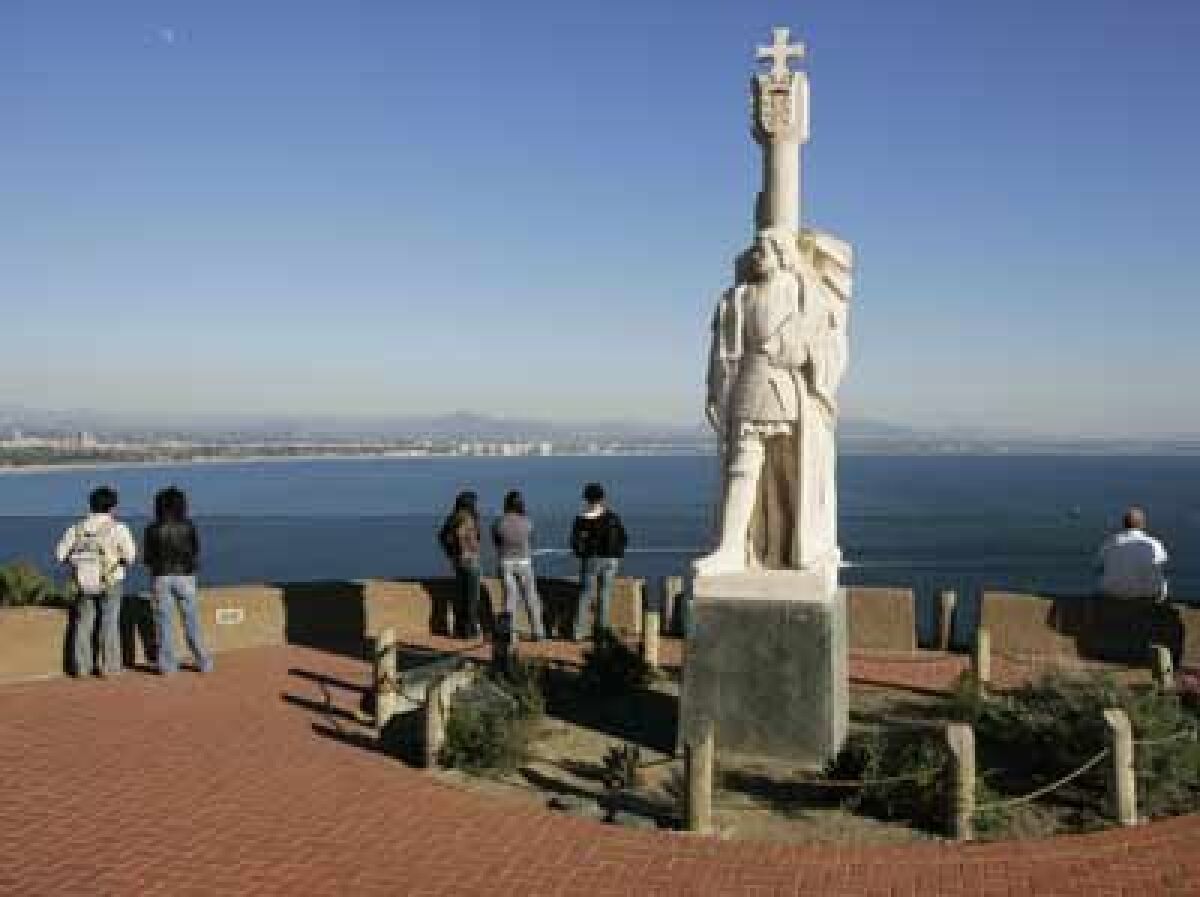 Sunset Cliffs and Ocean Beach Dog Beach: "The walk along Sunset Cliffs and the OB Dog Beach [are] on there because there are not many beaches that are dog-friendly like that," Swanson said. "And Sunset Cliffs isn't really anyone's secret, but it's beautiful."
Liberty Station: The former Naval Training Center in Point Loma is now home to art galleries, restaurants, breweries and park space. According to its website, "With the end of the Cold War, the Navy gradually wound down activity at NTC and officially closed in 1997. Then the grounds gradually transitioned into the Liberty Station we know today. The city of San Diego gained ownership of the property in 2000, repurposing the site into a center for commerce, history and arts."
Sailing the Stars and Stripes: An authentic America's Cup racing yacht is anchored in Point Loma harbor and available for public charter.
Grunion run: "Grunions [a type of fish] don't believe in social distancing," Swanson said. "So two nights before/after a full moon or new moon during the season [peak spawning is March to June, but the season goes into September], thousands of fish come onto the shore to do their mating dance. That is a very SoCal thing. You don't find it out of the area."
"I have a lot of pride in my city," he said. "I've written other guidebooks and stories for other outlets, and it's easy to live in a city like this and write about just the tourist attractions. But to bring out some of its lesser-known qualities is something I really enjoy. I don't think San Diego has been given its proper due. People think of it as an outdoor city with a great climate but don't give us credit for arts and culture. We have an opera and a symphony. We have a restaurant scene that doesn't get the credit it deserves. So I love shining the light on my hometown."
The book was published in May and is available online and at bookstores. Learn more at 100sandiego.com.