City Council member finds doubters at OB Town Council meeting on proposal for short-term rental regulation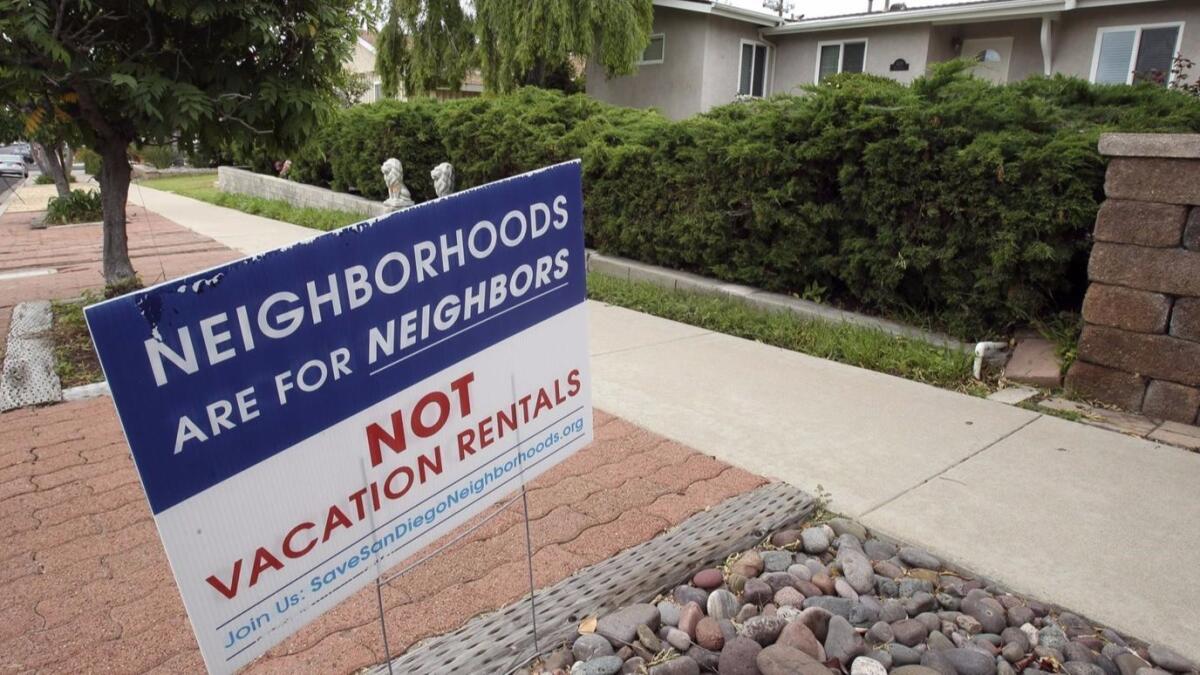 San Diego City Council member Jennifer Campbell encountered resistance at the Ocean Beach Town Council's July meeting as she tried to rally community support for her push for an ordinance to regulate short-term vacation rentals.
Her efforts came on the heels of an agreement facilitated by her office and announced at the beginning of the month between Expedia — which owns VRBO and HomeAway, two online platforms for renting STVRs — and the local chapter of the hospitality industry union Unite Here outlining a framework for short-term rental regulation.
Many in the audience for the online Town Council meeting greeted the presentation with skepticism derived from what they called a lack of direct community input in the agreement.
But Campbell argued that community participation would be crucial in drafting a final ordinance that would pass muster after years of failed attempts.
"I like to hear everybody's side on every issue and figure out what is the best compromise that everybody can agree to so that we can get these things regulated and under control," said Campbell, whose District 2 includes Ocean Beach, Point Loma, Pacific Beach and Mission Beach. "What we have to do is grow up, take the issue by the horns, deal with it, come to a compromise and let's find an answer that works for all of us, and mostly all of us who are San Diegans."
The meeting opened with Campbell explaining the terms of the memorandum of understanding and its potential benefits. Under the agreement, whole-home STVRs in the city outside of Mission Beach would be capped at 0.7 percent of the total housing stock, reducing that number to 3,750. The city has estimated total short-term rentals at 16,000, and Campbell has said that 80 percent to 90 percent may be whole-home rentals.
Because of its long history of STVRs, Mission Beach was treated separately, with a 30 percent cap, or 1,080 units, roughly half the current number.
Some critics of vacation rentals say platforms such as Airbnb and HomeAway create financial incentives for renting out properties for short-term stays instead of long-term residential use, thus reducing the housing supply and driving up prices.
"This should help with our housing crisis and hopefully even lower the prices," Campbell said. "We're hoping to get at least 10,000 units back onto the market when this goes into effect."
Campbell said only one STVR permit would be provided per entity, whether an individual or a business.
"Very few cities have whole-home rentals like we do," she said. "That's our big problem. ... A lot of cities have home sharing. We don't have that. We have companies coming in, buying buildings that are apartment houses, throwing people out and turning the whole ... building into an Airbnb."
While generally receptive to the concepts of the MOU, the OB Town Council audience voiced concern that it was created without their input. Campbell contended it included ideas from community groups like the Ocean Beach Planning Group and members of the Town Council.
But Town Council member Corey Bruins said, "As far as I know, from the Town Council perspective, when this MOU came out publicly on Facebook, it was the first that we had heard about it."
Campbell said the community input reflects all discussions about STVRs since her election to the District 2 seat and not a specific meeting. She argued the focus should be on drafting an ordinance based on the MOU and not on its origins.
"Don't get so stuck on how did this come about," she said. "This is not the city's memo. This is not District 2's memo. This is between two private entities that we helped to get together. ... The important thing is that we've come up with a bipartisan — nonpartisan — compromise that we will have to get all the details ready [for an ordinance], and then you will hear them."
The meeting turned fiery when Campbell asserted that time had elapsed for prohibiting STVRs outright. Though she acknowledged that they are still technically illegal under the municipal code, she said the city practice of licensing and taxing STVRs has made their legitimacy a fait accompli and that any attempt to ban them now would result in years of litigation.
"The city has turned a blind eye to its own regulations," Campbell said. "The lawyers tell me that when you go into court and you try to instill something that should have been instilled 20 years ago, the court is going to laugh at you and the judge is going to let the other side win."
Not everyone was convinced. Brian White, president of the Pacific Beach Town Council, recited Campbell's quotes from the campaign trail calling STVRs in residential zones illegal, and listed cities that have banned them.
"I'd like to know who is falsely advising you that a city cannot enforce its municipal code," White said.
Noting that input is still needed from city attorneys and the Planning Commission — with which she hopes to meet in August — to craft a final ordinance, Campbell said the timing is right because the City Council is eager to put the issue behind it.
"We're trying to do this before our current council leaves because they are so familiar with this," she said. "They are ready. They want to hear about it. They want to have a plan and they want to look at it and see if they want to pass it. ... I'd love to get to a vote by next week but I can't. As soon as we can, I'd like to get it to a vote."
OB Town Council Vice President Jon Carr put the haste for a short-term rental ordinance in the context of recent city pushes for a "Complete Communities" program to alter city planning and a November ballot initiative intended to waive the 30-foot building height limit in the Midway District.
"Why are all of these major land-use changes that are going to affect our communities for decades being pushed through in the 11th hour by an outgoing mayor when we have a consequential election coming up for mayor and city attorney?" Carr said. "We just kind of feel like this is being shoved down our throats right in the midst of a global pandemic."
With distribution of operating licenses, city fees and the formation of a dedicated STVR enforcement unit in the city Development Services Department still to be fleshed out, Campbell said the potential ordinance is a rare opportunity to finally resolve an issue that has long plagued the city.
For about five years, the vacation rental debate has pitted the rights of property owners to rent their homes against residents who have seen their once-quiet neighborhoods disrupted by tourists, leading to complaints about noise, trash and parking problems.
"Until we get this straightened out and until we have laws on the books, it's going to be a problem," Campbell said. "Once we have a law on the books that if you have bad renters you're going to be in trouble and lose your license, believe me, they will make sure that they have good renters; otherwise they're out of business."
'Parklet' applications
Denny Knox, executive director of the Ocean Beach MainStreet Association, reported 28 applications for "parklets," in which restaurants can extend service outdoors to chairs and tables placed on the street parking spaces in front of their businesses.
The city streamlined the program as the state retrenched from reopening indoor dining in light of a spike in coronavirus cases.
"Our restaurants are getting really, really creative," Knox said. "I'm very pleased with how upbeat our businesses are ... as hard as all this has been on them. My heart goes out to every single one of them."