Local happenings: Old Point Loma Lighthouse to be lighted purple and gold to mark 19th Amendment centennial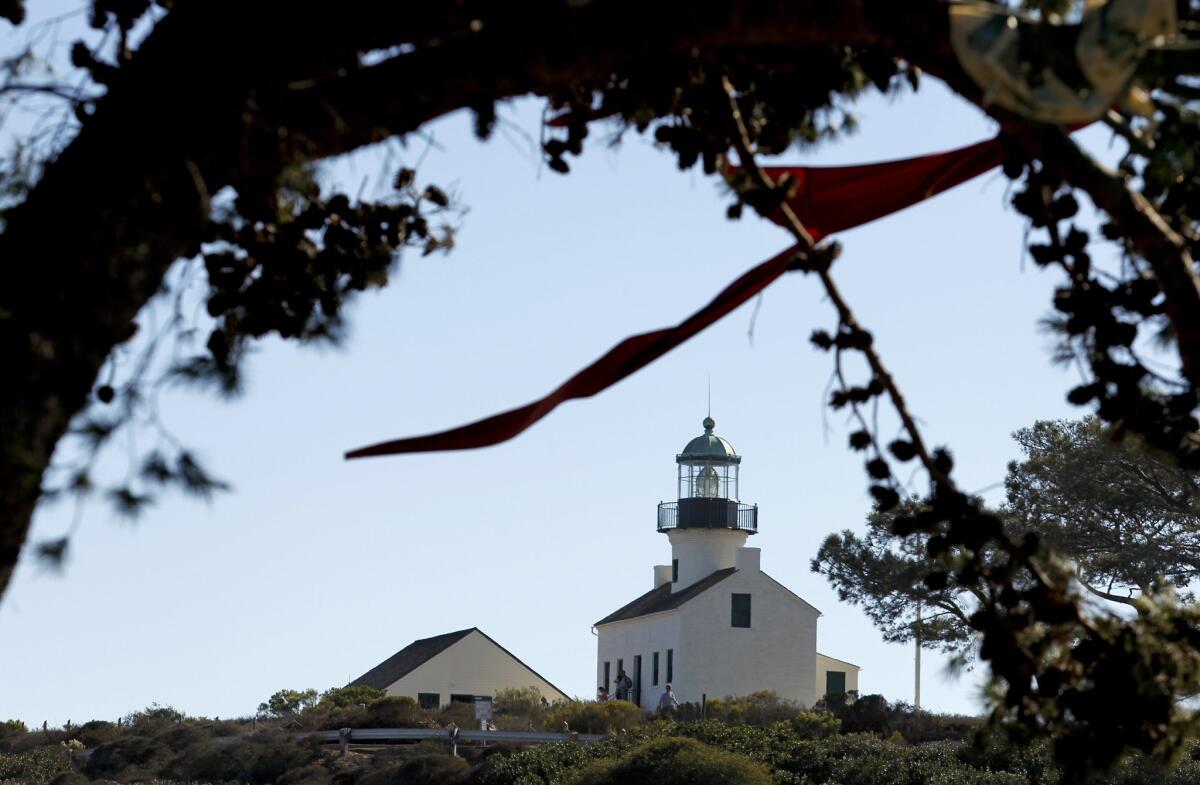 The Old Point Loma Lighthouse at Cabrillo National Monument will be bathed in purple and gold lights for four nights to celebrate the 100th anniversary of the 19th Amendment, which guaranteed women the right to vote.
The park will be open until 8:30 each night Aug. 21-23 and Aug. 26 for the light show, which will start at sunset (around 7:30 p.m.) each day. A slideshow of historic photos will be projected on one side of the lighthouse.
Many women were hired as lighthouse keepers across the United States, often when their husbands became ill or died. They were usually paid the same amount as their male counterparts for equal work, according to a Cabrillo news release.
The Old Point Loma Lighthouse, one of the first lighthouses built on the West Coast in the 1850s, never had a female lighthouse keeper, but women did serve as assistant keepers.
"From the 1800s, the Old Point Loma Lighthouse represents a story of equal pay for women in the United States, so we are using it as backdrop to illuminate other stories of women's history, including the ratification of the 19th Amendment," Cabrillo National Monument Superintendent Andrea Compton said in a statement.
The lighting event — called "Forward Into Light," a rallying cry for the women's suffrage movement — is part of a nationwide initiative to illuminate structures with suffrage colors of purple and gold. Purple signifies steadfastness to the cause, while gold represents the flame of the torch leading the way, according to the news release. 
Shuttered Con Pane bakery expected to come back to life in September
Con Pane, a bakery cafe at Liberty Station that abruptly closed in January following an immigration audit, is expected to fire up its ovens again in late September under a new deal with Cohn Restaurant Group.
David Cohn, who runs the 39-year-old restaurant group with his wife, Lesley, said there will be some cosmetic renovations and kitchen upgrades at the 5,000-square-foot venue at 2750 Dewey Road.
Con Pane owner Catherine Perez will stay on as a consultant through December to pass along her skills in artisan baking.
The Cohns first approached Perez two years ago about a partnership that would gradually transition operations to CRG, but the coronavirus pandemic put the deal on hold.
"When David and I first started talking, we were discussing everything from a partnership to an outright sale," Perez told The San Diego Union-Tribune. "After the closure in January, I decided to sell so I could explore different opportunities."
Filipino rice bowls coming to Liberty Station
Chef Phillip Esteban, a recent champion of Food Network's "Chopped," is bringing his Filipino rice bowl concept to Liberty Public Market at Liberty Station.
White Rice is expected to open in September, offering rice bowls based on classic Filipino dishes such as lechon kawali and tocino manok, Eater San Diego reported.
Thai restaurant opens in Ocean Beach
North Park Thai restaurant Soi 30th has opened a location in Ocean Beach called Soi OB at a former Subway at 1916 Cable St.
Chef/owner Khwanta Osanai is serving northern Thai specialties ranging from curries and salads to noodles and rice
dishes, including her signature crispy pork belly paired with barbecued pork, egg, cucumber and a salty-sweet sauce, according to Eater San Diego. The restaurant also has a variety of vegan and vegetarian options.
For more information, visit soiob.com.
Point Loma lawyer and legal analyst named chair of Voices for Children
AnneElise Goetz of Point Loma recently was selected chairwoman of the board of directors of Voices for Children, a local nonprofit organization certified in San Diego and Riverside counties to recruit and train Court Appointed Special Advocates volunteers serving children who are in foster care after experiencing abuse or neglect.
Goetz, a partner at Higgs Fletcher & Mack LLP, specializes in real estate, finance and health care law and is a TV legal analyst.
— Compiled by Point Loma-OB Monthly staff