Ocean Beach publishing house releases anthology 'Modern Metamorphoses' amid pandemic's changes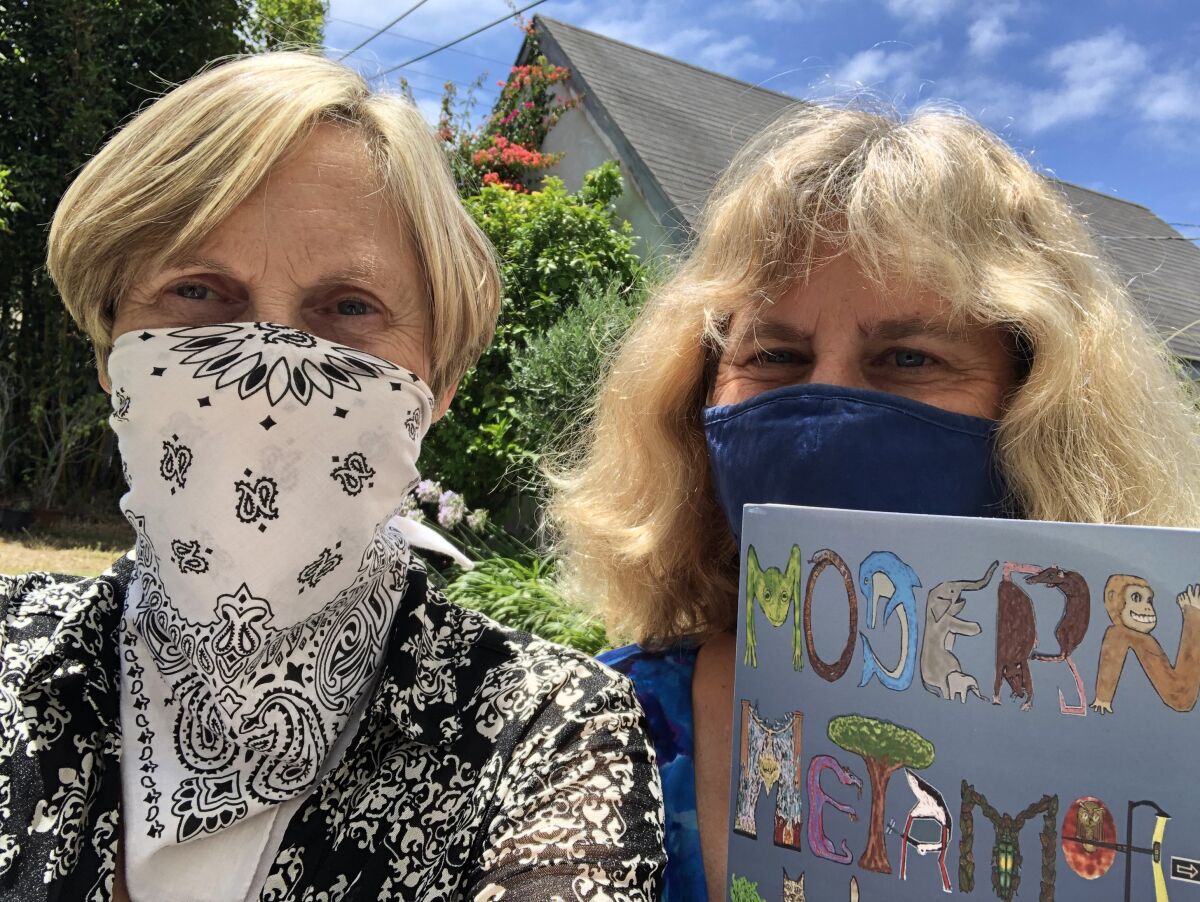 A dozen San Diego authors contributed to a book of short stories about transformation, published recently by Konstellation Press.
Change is inescapable. Whether good or bad, intentional or accidental, our reality can shift or shatter overnight. In the throes of a global pandemic and quarantine orders, many of us are adapting to drastic changes caused by the "new normal," possibly experiencing some sort of transformation in the process.
The current reality of COVID-19 may make the release of a new fiction anthology, "Modern Metamorphoses — Stories of Transformation," even more relevant.
"Obviously this [book] happened long before this pandemic, but every good story has some sort of transformation as a part of it," said Cornelia Feye, an Ocean Beach author who put together the anthology.
Feye is the leader of 2nd Friday Writers, a group of local authors who have been patching the anthology together over two years. The second Friday of every month, the writers gathered at the Point Loma/Hervey Library, where they would share, read and review one another's work. Through pages of drafts and hours of conversation, a central theme of transformation emerged.
"Somehow the transformations in this book are a little more dramatic, not just a psychological insight, but some of them actually turn into creatures, zombies, animals — that kind of thing," Feye said. "So there are quite some imaginative stories included in this collection."
A dozen local authors contributed a total of 20 stories, set in places from Germany to Hawaii. A few of the stories are based in San Diego, including "Float," "The Little Red Dot," "The Bouquet" and "The Third Ring."
Though imagination runs wild in these tales, there is one surreal plot that the 2nd Friday Writers couldn't quite predict: COVID-19. "Modern Metamorphoses" wrapped up its final stages at the beginning of 2020, right before the pandemic hit.
"We were kind of debating on whether to hold off and wait [on releasing the book]," said Feye, who in addition to assembling the writers and contributing her own stories, is the founder of the anthology's Ocean Beach-based publisher, Konstellation Press.
"But we finally came to the conclusion that maybe now is the best time to do it ... because transformation is inevitable. And also maybe now people are open to these kinds of stories and are ready for a little escapism and for an outlet into a different reality some of these stories take you to."
Two anthology writers — Lina Karoline Castillo and Max Feye (Cornelia's son) — lived in Point Loma but recently moved to Washington state and Berlin. The other authors traveled to the library every month from neighborhoods all over San Diego, including Tina Childers of Rancho Peñasquitos.
Childers, who grew up in Chula Vista, started writing in 2018 after retiring from a 25-year career in education in which she taught second-graders how to write their own narratives. Childers entered the 2nd Friday Writers group with a different story in mind but later abandoned it, developing a short dream she had into "Float," one of the anthology stories set in San Diego.
"The main character [in 'Float'] is feeling kind of down and she's looking for a vacation," Childers said. "A [website] pops up for an assisted suicide instead and she just goes to check it out. She was just searching on her computer — she was looking for a floating, tropical vacation and this other thing popped up and she kind of got sucked into it, pulled into the whole idea."
Emma hadn't been in her backyard since she had her dog Rusty euthanized three months ago. She sat and avoided looking at the holes that Rusty had joyfully dug. June gloom ruled the day. She texted her son Jason. "Hey how u doing? Did u start your class? How was camping trip?" She started filling the holes and thought about the happy times. Hours later Jason responded. "Fine. Yes. Good." Emma smiled to herself. That's Jason. She called her husband at work but he didn't pick up. She texted her other son Cody, even though a response was unlikely. "Hi Cody, how's work going?" Nothing. Loss blanketed her like the San Diego fog. Their Queensland heeler Rusty had shepherded her through the caregiving and death of her mom. His quiet presence had soothed her when everyone else thought it was time to get over it. Rusty was there when the kids began their own lives. Rusty was dead. Her husband was buried in work. It dawned on Emma that she was free for the first time in 20 years. She could take a solo tropical beach vacation. She could float, drink frothy drinks and decide what comes next.
— — Tina Childers, "Float," from the anthology "Modern Metamorphoses — Stories of Transformation"
"When I was writing, ['Float'] to me it seemed like sad story, but [the other writers] were laughing out loud when it was being read, so that made me change the direction of where it was going and how I wrote it," Childers said.
Her experience with 2nd Friday Writers — which she describes as "pretty intense, but very informative" — inspired a transformation in herself and her story. Though joining the group was initially intimidating to the novice author, Childers said the feedback she received was valuable in advancing her writing journey, as well as propelling "Float" into its final state.

A constellation of literary talent

Though many talented people fill the pages of "Modern Metamorphoses," the anthology would not have been possible without Feye, the leader of 2nd Friday Writers.
Originally from Germany, Feye moved to San Diego by way of New York. The art historian worked at the San Diego Museum of Art, Mingei International Museum and Athenaeum Music & Arts Library before self-publishing her first novel, "Spring of Tears." Her book was well-received — even winning the 2011 San Diego Book Awards mystery category — and she was inspired to start a publishing company to guide other authors on their literary journeys.
"I'm still learning but trying to share all that knowledge," Feye said. "Through years and years of doing this and navigating that system, I'm trying to share that [experience] with other authors — especially trying to support women authors."
Feye said she made a lot of mistakes when self-publishing her first book and is "trying to help other people avoid some of those pitfalls."
In 2017, Feye founded Konstellation Press with two other women. Feye is now the sole owner and has published more than 25 books. The publishing house's name is the German spelling for constellation.
Three of Feye's stories, including the flash fiction piece "Honey Wind," are published in "Modern Metamorphoses." The fictional travel stories, which involve elements of suspense and evoke the theme of transformation, stray slightly from her typical "art mystery" genre.
"All of my stories somehow center around art," she said. "Art is part of the plot, art is part of the clues to solve the mystery, and that's just what I know and that's just what I've been surrounded by most of my life and in my career."
The honey wind blows the curtains into the room, where I am trapped. They bunch up like a parachute in descent. Meltemi, the honey wind, licks up in the afternoon, starting gentle, later attacking with the ferocity of a wild game hunter. White sheets drying on clotheslines feel its fury. Clothespins save them from sailing to the street below. I wish I could sail with them. Suddenly, the wind changes its tune; sharp flapping turns into a hum like that of a bumble bee. Turtle doves gurgle close by; a Vespa passes in the narrow lane below; its engine amplified by whitewashed walls. If only I could escape on its backseat. The island is resting at this hour, siesta time, but I am restless. Close by the horn of a ferryboat blares in the harbor, on its way to the port of Piraeus. That's where the incident happened as I ran to catch a boat to Naxos. The reason I am a captive, listening to the wind and the turtle doves.
— — Cornelia Feye, "Honey Wind," from the anthology "Modern Metamorphoses — Stories of Transformation"
"Modern Metamorphoses — Stories of Transformation" is available for purchase at Amazon.com and at La Playa Books in Point Loma. The shop has carried many of Konstellation Press' books.
A free virtual event promoting the anthology will be presented by Friends of the Point Loma/Hervey Library and La Playa Books at 6:30 p.m. Wednesday, Sept. 30. The authors will talk about their stories and processes, with a Q&A to follow. Copies of the book will be available for purchase online. Register for the event at eventbrite.com/e/117051326669.