Point Loma-OB Happenings: New art, restaurants and more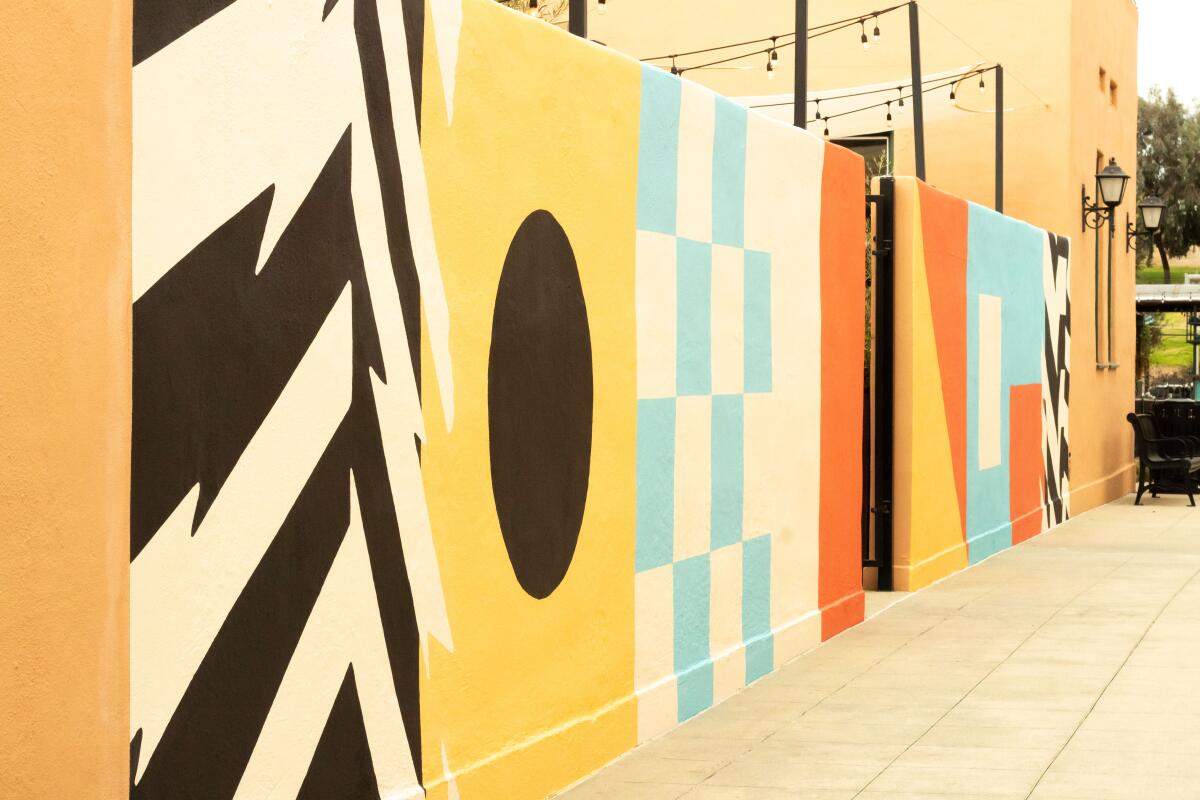 New mural joins 'Installations at the Station'
A mural by artist James Armenta is the latest addition to "Installations at the Station" at the Liberty Station commercial center.
The untitled mural, located between Moniker General and The Presley, uses maritime signal flags — a system of communication between vessels — and dazzle camouflage, a pattern used by ships in both world wars designed to shield a ship's direction and speed from enemies.
The mural was created as part of Intuit's "We Care and Give Back" program, which gives employees 32 hours each year to volunteer for causes close to their hearts.
"James has a longtime history in Liberty Station, having attended High Tech High through his middle and high school years," Lisa Johnson, president and chief executive of the NTC Foundation, said in a statement. "This mural serves as a symbol of hope to the arts community, and we are thrilled to feature this mural alongside our many other public art installations located throughout Arts District Liberty Station."
Liberty Station openings
Liberty Station has seen several restaurants and small businesses open recently, despite the COVID-19 pandemic and related restrictions. Among them are:
Now open:
Con Pane: Cohn Restaurant Group has revived Con Pane Rustic Breads & Cafe with its artisan breads, sandwiches, breakfast pastries and more, working with the bakery's original owner, Catherine Perez, to reinstate favorites and train the new culinary team.
Slurp: Bella and Gene Kim offer authentic Singaporean cuisine at this restaurant in Liberty Public Market. Slurp's offerings include cups featuring layers of broth, protein and noodles; rice bowls; and Shrimp Wonton Slurp and Duck Slurp.
New Bohème Collective: The Public Market's newest retailer, owned by Cindy Fletcher and Leah Niswonger, offers decor, rattan accessories, jewelry, sunhats and more.
Tortas el Chapulin: Mexican-style deli sandwiches are a staple here, with a lineup of tortas including Adoba Pork and the Cubana, with roasted Cuban pork, ham, pickles, swiss cheese and salsa verde served on toasted bread.
Rad Burger: Jacob Bartlett and Eric Gallerstein opened this food stall concept, specializing in smashed flat-top patties using meat and vegetarian options, along shakes and malts, including vegan shakes.
Coming this year:
White Rice: Chef Phillip Esteban is bringing this quick-service restaurant to Liberty Public Market with rice bowls that offer a fresh take on Filipino cuisine.
Pure: This acaí, smoothie and juice bar will feature fresh-squeezed beverages and healthy food items.
Cesarina to open Angelo bakery and pizza shop
Italian restaurant Cesarina has taken over an 1,100-square-foot space across from its location in Point Loma and will open Angelo, a bakery and pizza shop with full bar, later this year at 4060 Voltaire St. Angelo will have a small dining area and will be used for much of the preparation at both restaurants, including making fresh pasta, pizza, sauces and bakery items.
Point Loma artist takes first place in online exhibit
Artist Julie Anderson of Point Loma won first place in the exhibition "Values Matter" held this month on The San Diego Watercolor Society website. Anderson's painting "Love Triangle, Study" was selected by juror Laurin McCracken for the top honor out of nearly 300 entries.
"Figurative painting is not just about capturing a likeness. In this case, it is about capturing a moment," McCracken said in a statement. "It is a modest painting with a powerful story of family and love. The direct sunlight draws you right into the moment."
The virtual exhibit will run through Saturday, Jan. 30, at sdws.org, where the paintings can be viewed and purchased from the online store.
— Compiled by Point Loma-OB Monthly staff