Liberty Station's 'Installations at the Station' aims to make public art more accessible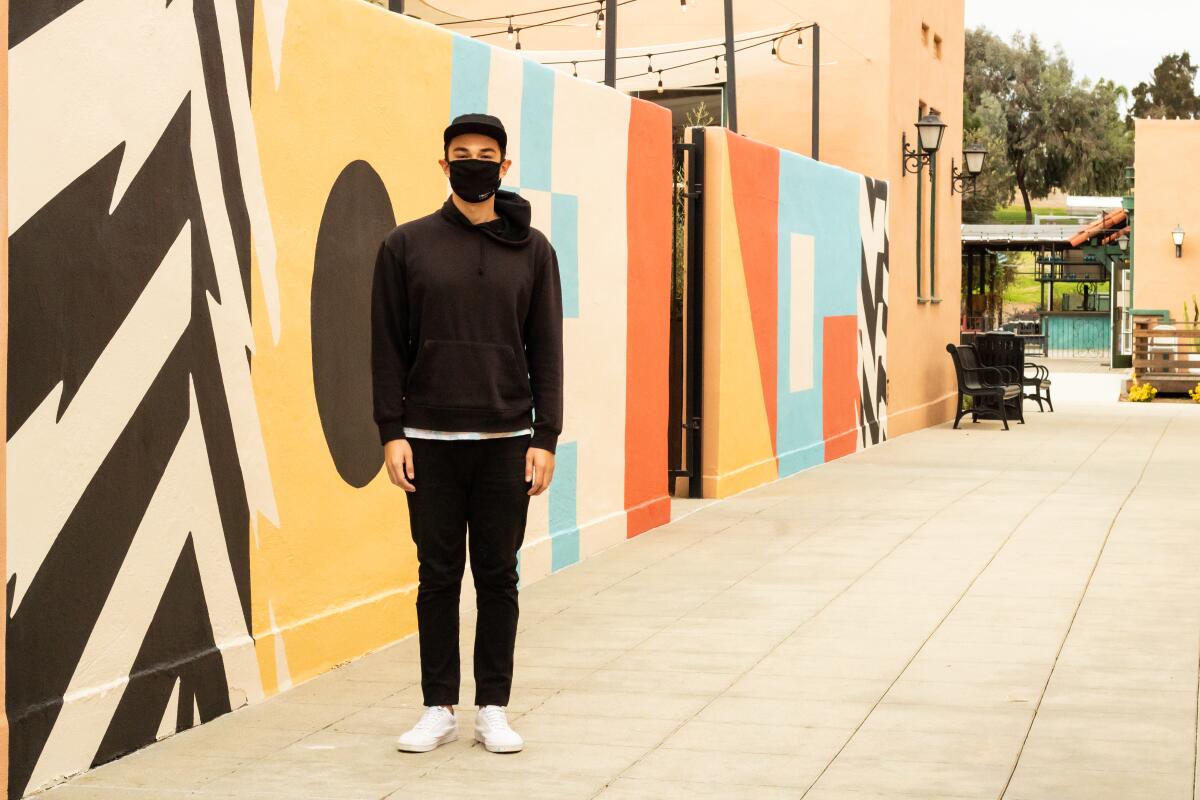 If you've ever spent time wandering around the Liberty Station commercial and cultural center, you've no doubt encountered pieces of art on display outside. What you might not know is that a fairly new project, "Installations at the Station," is responsible for some of those pieces.
Since 2018, the NTC Foundation's Art in Public Places Committee has commissioned pieces from local artists to display in the Arts District at Liberty Station, the former Naval Training Center in Point Loma.

For the record:
12:51 p.m. March 2, 2021This article was corrected to say that "Anchored in Hope" is Liberty Station's slogan, not the NTC Foundation's.
Two pieces installed in late 2020 are part of the project: "Transcending Perceptions" by Josemar Gonzalez with The AjA Project, and an untitled mural by James Armenta.
According to NTC Foundation President and Chief Executive Lisa Johnson, the installations make perfect sense at Liberty Station.
"We're an arts district, and art occurs everywhere," she said. "Our goal is to make art very accessible and demystify art, because sometimes people think, 'I have to go to a museum' or 'I have to go to a gallery.' And we don't want people to feel that way. So we do have fabulous museums and galleries where you can see and experience art, but around 2017, we decided that we wanted to really focus on an organized program for expanding our outdoor art. So we call that 'Installations at the Station.'"
Vicki Reed, chairwoman of the Art in Public Places Committee, feels that outdoor public art at Liberty Station is important not only to attracting people to the center but also as a learning tool.
"When you're just walking around the grounds and you come across something that's totally unexpected, that you had no idea that you were going to see, and it either fills you with a sense of wonder or makes you question something or it makes you look something up, I just think it's another way of seeing and another way of thinking about our world. I think it's very important," Reed said.
Johnson pointed out that outdoor art installations are a safe activity for these socially distant times.
"It's been great that we have this program during the pandemic, because one of the few things that you can safely do is wander outdoors," Johnson said. "So we've really taken the opportunity to even further highlight this because it is something safe people can do. Everybody wants to get out. So they can come, they can be very safely socially distanced from each other and explore and enjoy the outdoor art work. And it's free to wander."
Johnson said the effects of the pandemic dictated the scope of last year's "Installations at the Station" project. Normally the committee might choose three or more installations. In 2020 it installed two.
"The number of projects that we select is really based on our budget," she said. "And in the past, we've been able to grow that, but ... because of COVID, really our focus has been keeping our tenants in business and in their spaces, so we've redirected most of our program's financial resources toward supporting the tenants. We've invested almost a million dollars in rent relief in some form or another to many of our tenants."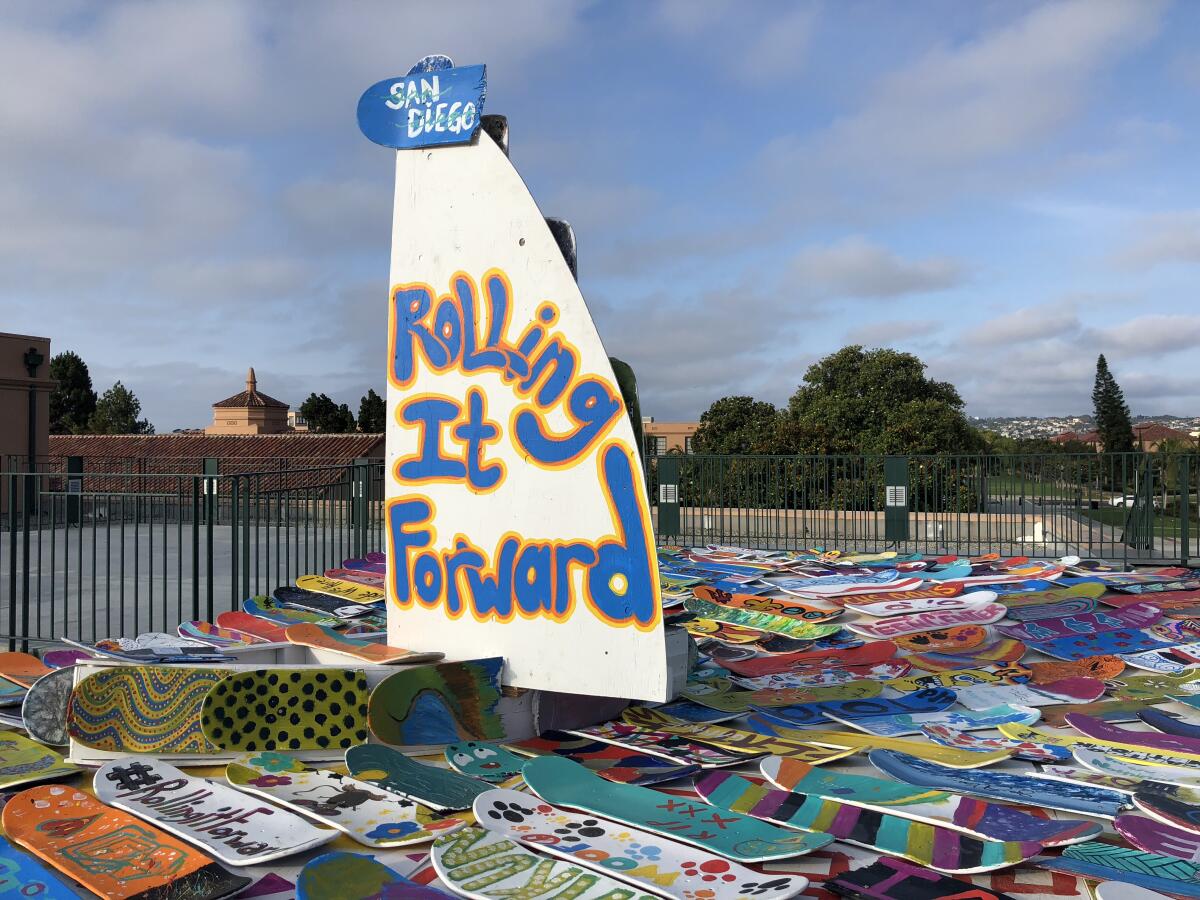 Reed said the installations are mostly left up to the artists, with a few guidelines.
"We're not really looking for any one thing," she said. "We're looking to see what the artist is wanting to create for Liberty Station. We want them to address the fact that it's in San Diego, all of San Diego, the region, including Baja, Tijuana. They don't have to address all of these things, but we say talk about the history of California, the history of San Diego, the history of the Naval Training Center. It's really up to the artists to decide what it is that they want to make."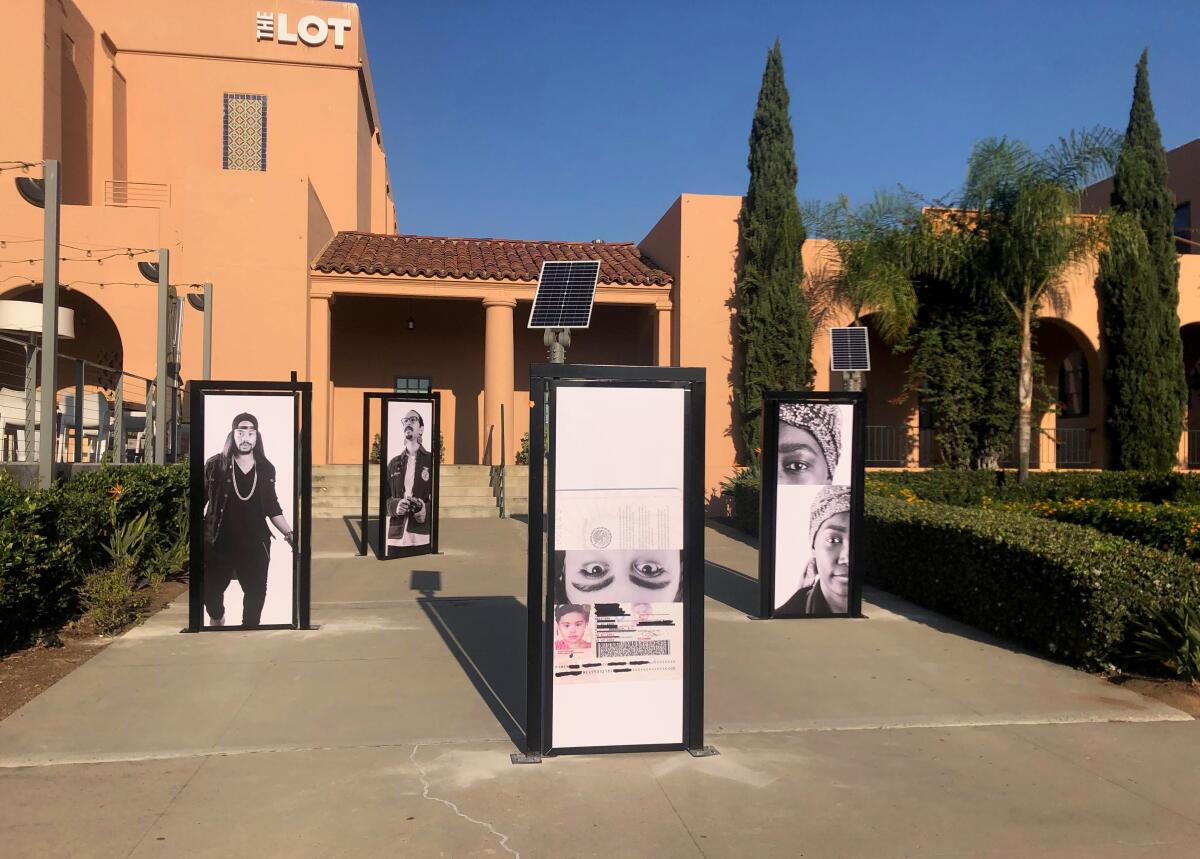 Gonzalez's piece, "Transcending Perceptions," was installed in October between The Lot movie theater and the Dorothea Laub Dance Place after a few delays, including some of the pieces being stuck at the border due to the pandemic. The installation, made in partnership with The AjA Project, a local nonprofit, features doors that contain images and narratives of people from communities that have been underrepresented in media, inviting viewers to question their own perceptions. The doors light up at night and project images into the surrounding landscape.
Gonzalez said the process of creating the installation included a series of workshops conducted by fellow artist Diana Cervera to identify subjects for the piece. He wanted to feature people like the ones he knows from his work as an artist in San Diego and Tijuana. It was important to incorporate people who might not normally have access to places like Liberty Station, he said.
"I like working with stories and storytelling and I know that NTC has a big history as a naval base," Gonzalez said. "San Diego is a military city as well. I thought about how important that history is and all the other stories that are not necessarily shared in that space. I wanted to create an installation that brought a conversation that I didn't necessarily pick, but I did want to emphasize the fact that the people that I wanted to be in these installations, the stories that I wanted to share, I wanted them to be from people that I've worked with, friends of mine in the artist community, that don't necessarily go to Liberty Station. They don't have access to get there, they don't have cars, many reasons. I figured that would be the ideal goal, to bring those stories there and create a monument in a way."
Gonzalez said he hopes people walk way from his installation with a feeling of love.
"The installation is a monument for love," he said. "I want people to take that, to understand that there's something beyond just the dominant narrative and what we presume of others. There's something more to that. And it can be very heavy and it can also be very loving."
Armenta's mural was installed in December between Moniker General and The Presley.
Art is more of a hobby for Armenta, a software engineer for Intuit. The mural came about as part of Intuit's "We Care and Give Back" program, which encourages employees to donate their time and volunteer up to 40 hours a year. Armenta's mural was made possible through a partnership with Intuit and the NTC Foundation.
"I hadn't taken advantage of that previously, but I thought, 'What a perfect opportunity during quarantine to do something outside of work and hopefully give back to the community,'" Armenta said.
Armenta is a San Diego native who went to High Tech Middle and High schools at Liberty Station.
"I have my own history with Liberty Station, so I have all these ideas as to what it is," he said. "I was there before Liberty Station was this sort of destination for tourists and locals alike."
Using Liberty Station's slogan, "Anchored in Hope," as a jumping-off point, Armenta created a mural reflecting the area's rich naval history. The painting features bright, colorful nautical symbols, including a bold black and white pattern known as dazzle camouflage, a form of camouflage that, instead of concealing a target, uses patterns to make it harder to gauge speed and range.
"Dazzle camouflage is a form of disruptive camouflage used in World War I and WWII. And it's just this really funky thing in naval and maritime history that is the opposite of what you'd expect," Armenta said.
Johnson said the installations have been popular with people who want to take photos to share on social media.
"We don't intend for them specifically to be Instagrammable, but social media is a great way to get the message out," she said. "To me, that's just people sharing what's going on. I think people really enjoy it."
"Installations at the Station"
Current "Installations at the Station" on display at the Arts District at Liberty Station:

"Transcending Perception"
Artist: Josemar Gonzalez, The AjA Project
Location: Between The Lot and Dorothea Laub Dance Place
Installed: October 2020
Description: "A series of doors composed of a variety of layers placed strategically, juxtaposing the images and narrative of communities that have been historically silenced and/or underrepresented by the media."

"Untitled"
Artist: James Armenta
Location: Between Moniker General and The Presley
Installed: December 2020
Description: "Merges classic nautical iconography, using maritime signal flags flanked by dazzle camouflage to communicate a message to viewers."

"Nikigator"
Artist: Niki de Saint Phalle
Location: Adjacent to Dick Laub NTC Command Center
Installed: July 2019
Description: The sculpture was moved from its original home at the Mingei International Museum in Balboa Park while the museum is being renovated.

"Facetime"
Artist: Miki Iwasaki
Location: Between Buildings 200 and 201, near Shop Mingei
Installed: August 2019
Description: "Three sculptures incorporating steel and wooden bench elements, representing the universal, primal need for shelter and spaces for face-to-face conversation."

"Tessellation #1"
Artist: Jason Xavier Lane
Location: Between Buildings 200 and 201, near Shop Mingei
Installed: September 2019
Description: "A sculptural monolith clad in three-dimensional, hand-cast concrete tiles. ... A bench of hand-hewn timber is inset within the sculpture to reflect Liberty Station's original 1920s grand post-and-beam roof construction and the legacy of naval shipbuilding."

"A Dime to Call Home"
Artist: Michelle Montjoy
Location: Archways along the North Promenade
Installed: October 2019
Description: "A collection of sea bags cast in cement, revealing bits of soft clothing and 'arms' knitted from nautical rope reaching up from each bag. This installation represents the transformations new recruits experience upon entering the military and its contrasts to home life."

"Sky Mosaic"
Artist: David Krimmel
Location: Barracks 14 and 15
Installed: April 2018
Description: "This 30-by-8-foot installation on an arcade rooftop walkway was created using 1,200 colored transparent tiles that ... 'flutter' in the wind. Inspired by the original tiles in Liberty Public Market."

"Rolling It Forward"
Artist: Jeremy Nuttall
Location: Roof of Building 202, above the San Diego Watercolor Society
Installed: July 2018
Description: "This structure represents a boat and rolling waves made entirely of community-painted skateboards. It builds on the concept of 'Pay it forward.'"

"Column A and Column B"
Artist: Hugo Crosthwaite
Location: Barracks 14
Installed: August 2018
Description: "This mural project is about presenting muralism as performance." Crosthwaite improvised a mural in public for 16 days. During that time, the public was invited to see him work and to ask questions.

For more information on "Installations at the Station," visit libertystation.com or ntcfoundation.org.

Source: NTC Foundation