Three members of Point Loma troop are among first female class of Eagle Scouts
For as long as it had been in existence, the Boy Scouts of America's prestigious Eagle Scout rank was limited to male members. But that changed in 2018, when the organization announced a rebrand, changing the name to Scouts BSA and making the decision to allow females to participate.
Now, the first female class of Eagle Scouts has been granted the honor, including three young women from Point Loma's Troop 555.
Kaya Hoffman, Eden Tillotson and Alienor Alexander are friends who are active in Scouts BSA, among other Scouting organizations. After the decision to allow females, the three jumped at the chance to join. They had grown up with male relatives and friends in Boy Scouts and were excited to have the opportunity to participate.
The trio helped found Troop 555, an all-female Scouts BSA troop. They've all held leadership positions in the troop and have helped shape it. And now they have achieved Eagle Scout rank.
Ken Stipanov, committee chairman for Troop 555, said that at the time of the troop's formation on Feb. 1, 2019, it had about 15 members. Kaya, Alienor and Eden were among the originals. Because Eagle Scout must be achieved by the time a member is 18, there was no time to waste in getting the three to that rank.
"They were about 16 at the time and they knew they had 24 months to complete their Eagle. They dug right in," Stipanov said. "They worked on their Eagle very hard. As part of that Eagle journey, it requires quite a bit of leadership positions and leadership skills. So they provided a real base of youth leadership among our population."
The three already had experience in other troops, including Girl Scouts, Venturing, Explorer and Sea Scouts. Venturing, Explorer and Sea Scouts all fall under the Scouts BSA organization.
Achieving Eagle rank generally takes at least two years, although the time can be extended if a Scout starts earlier. But because Kaya, Alienor and Eden would soon age out of the program, the race was on to reach Eagle status before their time in the organization ended.
"The Eagle Scout rank is a very difficult thing to achieve. And as one of the first females, I'm able to help pave that way for future girls," said Eden, a student at University City High School. "To earn the rank of Eagle, it takes years of hard work, but having joined the organization at an older age, I had to work even harder to earn it before I turned 18."
Earning Eagle involves holding leadership positions, volunteering and learning new skills and culminates in a service project for the community, a school or a religious institution.
Eden's project had to be completed during the COVID-19 pandemic, which ultimately helped shape the project. She initially reached out to two area organizations, New Neighbor Relief in Santee and St. Luke's North Park, because of their work with refugees.
"I chose those two organizations because I wanted my project to focus on helping refugees and asylum seekers, because later in life I want to serve as a doctor with Doctors Without Borders and serve in refugee camps," said Eden, who plans to go to UC San Diego to study human biology. "I wanted to find a way I could help that community now. When I reached out to them, they spoke to me about their need for masks, so that's how I found my central focus for my project."
She organized dozens of volunteers to make more than 1,000 masks, which were then distributed to both organizations.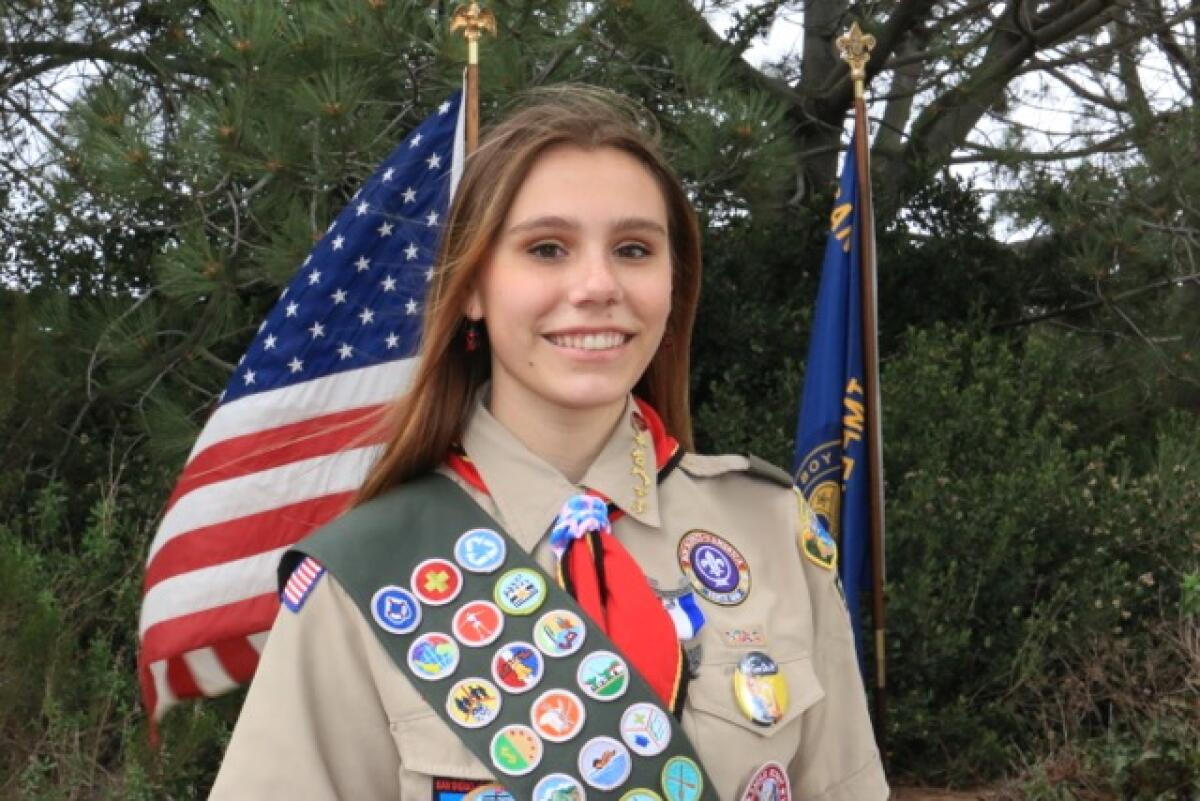 Alienor, who attends San Diego Met High School on the Mesa College campus, earned the Eagle rank for her project of establishing a butterfly garden for special-needs students at Creative Performing Media Arts Middle School in Clairemont. She and a group of volunteers made over the existing garden, painting colorful tiles and planting native and non-native plants for the butterflies to feed on.
"When butterfly season comes, the butterflies will lay their eggs and there will be butterflies inside the dome for the kids to see and learn about," she said. "Now the area is teeming and full of life and I'm very proud of how it turned out. It took awhile, but it turned out really well."
Alienor plans to attend UCSD and eventually go to law school to help victims of human trafficking, a cause she is passionate about. She said her experience with Scouting made her want to have a career that helps others.
Kaya, a student at High Tech High International in Point Loma, took a personal experience and used it as a way to help others for her Eagle project. In December 2018, her mother, Cory, learned she had breast cancer. Kaya chose to write a book titled "A Teenager's Guide to Your Parent's Breast Cancer Diagnosis."
"I wanted to do a project that meant a lot to me and that I knew could help people who experienced something like I did," she said.
Kaya ran focus groups that helped her come up with the concept of the book. She wrote, illustrated and published it herself. The book is now distributed in hospitals and through breast cancer awareness groups and is available online.
Kaya plans to attend Oregon State University, and though she's undecided about her course of study, she said whatever path she chooses will be focused on benefiting the world around her.
For Stipanov, watching Kaya, Alienor and Eden rise through the ranks has been very satisfying. He said he believes Scouts BSA instills more than just survival skills in its members.
"We talk a lot about camping and all the other stuff we do — the flags, the uniforms and all the activities. ... But really, those are just the techniques we use to teach character and integrity that lasts a lifetime," Stipanov said. "There's some statistic that says even someone who joins Scouts for 12 or 18 months gets infused with true American values and carries that throughout their lives. And these three young women are particular examples of that. When you ask them to do something, they do it. If there's something wrong, they tell you. There's no holding back. There's nothing other than pure trust and character."
For more information about Troop 555, visit troop555girls.org.