Point Loma's new youth services librarian, Dana Sanchez, celebrates her 'homecoming'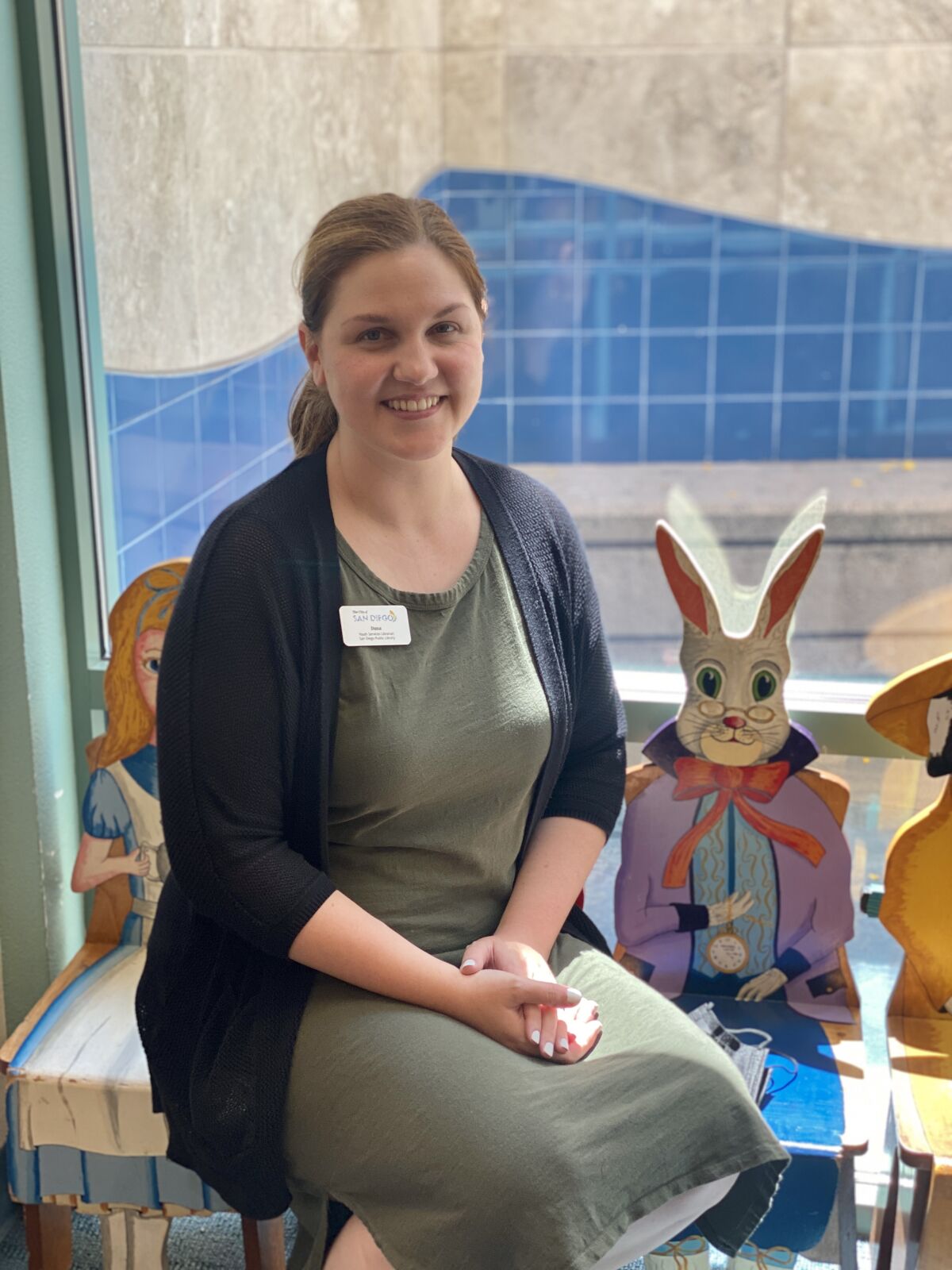 Dana Sanchez, the new youth services librarian at the Point Loma/Hervey Library, is continuing her library career right where it started and hopes to inspire teenagers to follow a similar path.
Sanchez, who had been the youth librarian at the La Jolla/Riford branch before transferring to her new post in July, takes over for Mark Harryman, who retired in October.
"It just kind of worked out perfectly for me to come here," said Sanchez, who lives in Point Loma with her husband and 10-month-old daughter a few blocks from the library.
"I get to walk to work. It's really fantastic, working in the community that you live in," she said.
Sanchez started her library career in 2015 as an aide at the Point Loma branch, so returning as youth services librarian is "a homecoming," she said. "Coming back here, it's so surreal, just walking around and being able to make those decisions for this community that I grew up in."
"It's a really unique opportunity for me personally and professionally to work here," she said.
Since her transfer, Sanchez has been working to finalize the Point Loma branch's in-person programming, which she plans to restart in September. All programming has been virtual during the COVID-19 pandemic.
"Starting from scratch, essentially, but it's really, really exciting. I get to really cater to the community," Sanchez said. "How I'm using my time right now is to get to know the community members and the families that come here on a regular basis, see what they want, when they want it and … what needs are we not meeting."
"I think mostly what people want is just to connect with one another again," she said. "They're just wanting to bring their kids back into the library or for the first time and experience some sense of normalcy."
Going to the library "is just something to look forward to," Sanchez said. "It's a very walkable community, and I know that for a lot of families, it's a stop along the way of their daily routine."
When in-person programs begin, library patrons can expect baby, toddler and preschool story times, along with arts and crafts activities. "We'll have some performers come in and do special programs, we'll do Lego Club, Chess Club, video game clubs, all kinds of clubs," Sanchez said.
"Another thing that I'm really hoping to do is welcome back a lot of volunteers," she said, and focus on teen volunteers, "making [them] feel welcome in this space and have a say in what services we provide their peers."
Sanchez herself was a teen volunteer at the Point Loma library while attending Point Loma High School, following in the footsteps of her mother, who worked for the Central Library in downtown San Diego.
"I'm a second-generation librarian," Sanchez said. "I never would have even thought to volunteer at a library if it wasn't already in my mirror. It's just something that I grew up with, so it was second nature to me.
"I think a lot of teenagers who are looking for opportunities to serve their communities or to get job experience don't know that libraries have volunteer opportunities, and I wouldn't have known that if it wasn't for my family."
She said she'll bring in more teens by "getting out there and making sure the library is represented at community events [and] connect with teens on a more one-on-one level and … maybe even help them become librarians one day."
Sanchez said the library is planning "a kind of idea lab, like a maker-space type of zone, to rework our old computer lab that's not in use right now. I want to revitalize the space a little bit more, bring some more energy back in, make it more flexible and dynamic."
She said she also plans to offer programming for the "huge military population here … new families that might have transferred into the community."
Sanchez, who has a bachelor's degree in art history from San Diego State University and a master's degree in library science from San Jose State, said the Point Loma library serves a wide variety of age groups, from babies to adults.
"We have an opportunity to really serve them here," she said. "Once I get the calendar up and running, [the library will] be as full as social distancing allows."
Being a librarian is "such a rewarding profession," Sanchez said. "You do a little bit of everything: you're kind of like social services and a counselor … you do everything. My favorite part has got to be community engagement and doing outreach, as well as the programming."
"I think a lot of people still think that libraries are quiet places that are just meant to hold information, and that's very outdated," she added. "Helping teens and children from a young age come into the library and have that warm, welcome feeling and get those positive memories and associations with learning and books and the library in general to help encourage them to become lifelong library users, and hopefully library advocates, is a big goal of mine."