OB Town Council candidate defends racially 'inflammatory' posts, saying they were meant to be humorous
Derogatory jokes about African Americans are among several past Facebook posts by Jim Musgrove that have been brought to light during his run for one of five vacant seats on the Ocean Beach Town Council board of directors.
The Point Loma-OB Monthly obtained screenshots of some of the posts from a resident upset about the "bigoted viewpoints."
Many past messages on Musgrove's Facebook page appear to have been deleted. Many that are there reflect common conservative views against mask mandates and in favor of the recall of Gov. Gavin Newsom.
But one past post in particular reinforced numerous stereotypes of African Americans.
The premise was a remake of the Walt Disney film "Snow White" along racial lines titled "Jet Black." In the post, the seven dwarfs are called Dealer, Stealer, Mugger, Forger, Drive By, Homeboy and Low Life, who "have no intention of singing 'It's off to work we go.'"
Musgrove, who was OBTC president for seven years during his first tenure on the board from 2003 to 2015, says he merely reposted the gag for laughs.
"That post was meant as a joke, period," he said. "I wasn't the one who wrote that article. I just reposted it. I didn't write the joke. I'm not that talented."
"I probably wouldn't do that again today," he said. "But am I going to apologize for something I did 15 years ago that was done in the total spirit of humor? No."
While Musgrove doesn't deny that the joke can be viewed as offensive, he maintains that reactions to it aren't universal and that others likely see the humor.
"As inflammatory as it may be to some people, there's probably an equal number of people that found it humorous because of the fact that it isn't necessarily true," he said. "Not all Blacks or Hispanics or any other ethnic group [agree as] one."
Another of Musgrove's posts showed a picture of a T-shirt containing an illustration of people being hit by a vehicle, with a message reading "All Lives Splatter: Nobody cares about your protest. Keep your ass out of the road."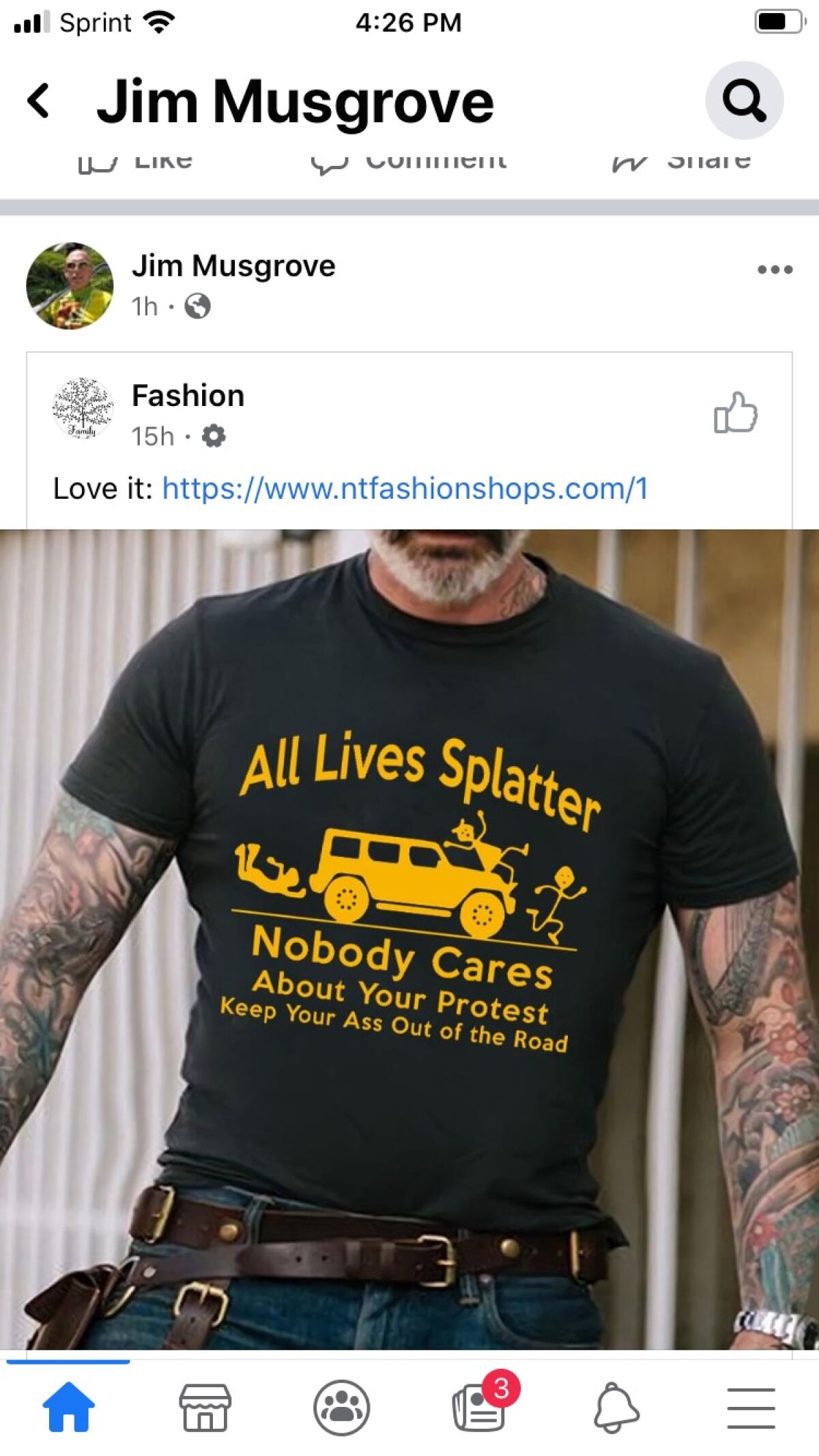 Musgrove said contemporary racial tensions are artificially sustained.
"Is it because there are people out there that are just trying to stir that pot?" he said. "I know a lot of Black people that don't see it that way. They feel that they're no different than you or I. The only thing different is the amount of [melanin] in their skin."
Musgrove, a high school student in Boston during riots in the mid-1970s over busing, offered a hypothesis about the evolving society.
"We as a society have become very soft and can be offended by anything," he said.
Musgrove said he hasn't been confronted by anyone over his Facebook posts and doesn't expect to be.
"Having been around here as long as I have [since 1976], many, many people know me and know how to get hold of me," he said.
With the board special election running until Sunday, Sept. 5, OBTC declined to comment about Musgrove's posts specifically, but President Corey Bruins issued a statement on the general topic.
"The Ocean Beach Town Council categorically condemns both visible and invisible discrimination and racism of any kind in any form," Bruins wrote.
Ironically, Musgrove decided to run for the OBTC board when it became embroiled in controversy after then-President Mark Winkie resigned in July when asked to do so by some board members over an undisclosed personal indiscretion. Three other board members subsequently departed in protest.
"When he left and the other people left, it created a gap, a void, in my opinion," Musgrove said. "So I wanted to try and help. I don't say [the Town Council] is off track, but I'd like to see it get back on a better path."
Musgrove said that if he is elected by OBTC members, he plans to gradually turn the board's focus back to events and volunteer work.
"Half the people of Ocean Beach don't even know the Town Council exists, which is unfortunate because they do so many good things as a group," Musgrove said. "But right now that's getting pushed aside by the bad publicity."