A Page from History: The illuminating tale of Point Loma lighthouse's 'misfit' lens
In custom pine boxes — not unlike primitive coffins — rests a Fresnel lens ordered in the mid-1880s for San Diego's then-new lighthouse. But this elusive lighthouse lens, designated H-L 330 by its Parisian manufacturer, Henry-Lepaute, never served its intended destination. Ultimately discarded as surplus, it appears that H-L 330 was delivered to the West Coast twice.
The U.S. Light House Board of 1882 had begun to act on the realization that the lighthouse at Point Loma, 422 feet above the sea, was ineffective. Fog and low clouds too often obscured its light from ever-increasing maritime activity at San Diego. A lighthouse closer to the sea was urgent, but the government then would bear the expense of two new light stations.
By March 1891, a harbor light at Ballast Point and a lighthouse at the lower tip of Point Loma (with a focal plane of just 88 feet above sea level) were in operation. The handsome Cape Cod structure on the hill no longer sent its beam to sea and would slip into disrepair.
Engineers dealt with frustration in the acquisition of the illuminating apparatus for the re-established Point Loma lighthouse. A lens had been ordered, yet before delivery was made to the Army Quartermaster's Depot in New York, it was routed to a world's fair in Paris.
Interestingly, exhibition of the amazing work of glass and bronze of Henry-Lepaute, and its lamp, at Exposition Universelle de 1889 occurred in the shadow of a defining demonstration of French technology, the Eiffel Tower. H-L 330 earned a gold medal and a bronze medal, as was later inscribed in marble on its pedestal doors.
H-L 330's first arrival at San Diego
In January 1890, Engineer Heap of the 3rd Light House District in New York noted that he had received the Point Loma lens from France and that funds were forthcoming to pay for it. On June 28 that year, Engineer Heuer of the 12th Light House District in San Francisco requested shipment of that lens. By Aug. 22, H-L 330 was on its way by steamer.
Meanwhile, in July, 37½ tons of ironwork for Point Loma's leggy tower rolled into San Diego from Trenton, N.J., on railroad cars. The load was hauled on "strong wagons" out to the point (no mention of strong horses). A concrete block 25 feet square and 14 feet deep was waiting to support the new lighthouse. But months would pass before an operational lens was fitted in the tower.
According to the San Diego Union in October, the superintendent of lighthouse repairs and his assistant arrived "to place the lens in the skeleton iron tower. … They proceeded to take some measurements." But the next day, Engineer Heuer noted in his district report, "Point Loma ... illuminating apparatus too large, new lens requested." Engineer Heap in New York reported to the Light House Board in Washington, D.C., that a "lens purchased from appropriation for Point Loma was bought to replace a lens [H-L 330] already sent there."
By now, the board was procuring a different lens altogether, H-L 329, which had been slated for Anclote Key, Fla. (It is not understood why that lens did not make its target location.) On Nov. 1, a letter was sent to Engineer Heuer from the 3rd Light House District stating:
"It is very unfortunate about the lens and apparatus for Point Loma. The mistake was made by its maker. On the section of the lighthouse lantern and watchroom which was sent him as a guide for making the lens apparatus and pedestal, the diameter of the area for the foot of the pedestal is clearly marked 13 inches and he has made the base of the pedestal 26 inches."
This would not allow sufficient clearance with the stairway into the lens room. Remedial options were suggested to fit H-L 330 at Point Loma, but, alas, it was sent away.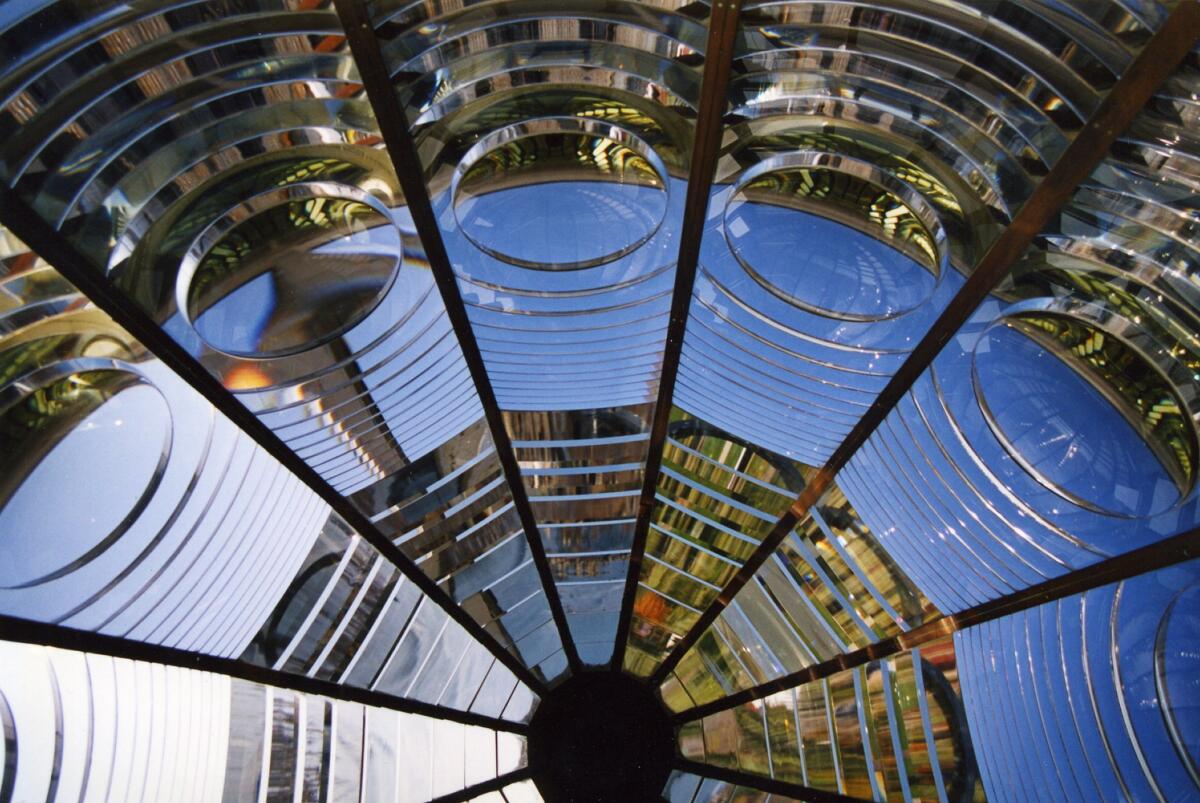 Derailed again
Delivery of Point Loma's optic was derailed again when its Parisian manufacturer requested H-L 330 be displayed at the 1893 World's Columbian Exposition in Chicago. Attempts at outengineering Paris' Eiffel Tower were successful with the introduction of the Ferris wheel.
Bridge builder George Ferris Jr. of Pittsburgh had posited that his steel wheel would boost attendance, but members of the fair board turned down the idea at first. Would such an enormous metal wheel ever work? Could it withstand winds on the Great Lakes? So the exposition opened without the Ferris wheel.
Attendance at the fair was disappointing and Ferris' giant steel wheel was then unveiled. It rose skyward 264 feet, and each of its 36 wooden gondolas held 60 passengers.
National archives place H-L 330 in the Mining Building. It had been loaned to the U.S. Geological Survey on behalf of Standard Oil Co., "a party in interest in the exhibition of the lamp."
When the exposition ended, H-L 330 stayed in Chicago, where a new lighthouse at the mouth of the Chicago River was under construction. Its lantern design could be altered to accommodate the dimensions of the pedestal base of Point Loma's "misfit" lens.
H-L 330's second arrival at San Diego
In the early 1960s, Chicago Harbor Lighthouse was automated and the fine old H-L 330 was removed from the tower and declared surplus. Author and former National Park Service historian Ross Holland, at the time assigned to Cabrillo National Monument in Point Loma, became aware of its status. He and Cabrillo Superintendent Thomas Tucker managed to have the lens forwarded, or shall we say, "returned" to San Diego. Two local newspapers confirmed its arrival in July 1968. H-L 330 (with some of its glasswork missing) was exhibited in the Visitor Center for several years before being placed in storage.
Where are they now?
Time left its mark on Point Loma's operational lighthouse. Rust jacking and seismic activity had caused a three-degree tilt of the ironwork, and rotation of the giant prismatic lens — a modern marvel of the 1890s — ceased on Veterans Day 1997. Attempts to restart and maintain rotation of H-L 329 failed. For the sake of preservation, the optic was removed from the tower in 2001. (You may see the entire lens and rotation mechanism at Cabrillo National Monument.) A small, rotating Vega-25 beacon was then installed on the exterior upper gallery railing.
The old rust-bucket lighthouse was given a full body alignment and facelift. A two-year, $2 million contract by the Coast Guard finance office was awarded to civilian contractor Neil Gardis of Ohana Industries Ltd. He and his team of three — Nickolas Bliler, Ryan Strack and Kevin Goodman of San Diego — completed the restoration in early 2020.
A VLB-44 array (an eight-tiered LED flashing beacon) was installed in the tower, replacing the workhorse H-L 329.
Alas, misfit H-L 330 never served mariners at the extreme southwest edge of the continental United States, its career spent instead at Chicago. Today it rests in safekeeping on the hill above its intended destination.
Karen Scanlon and Kim Fahlen are identical twin sisters and volunteers at Cabrillo National Monument in Point Loma. The historians and freelance writers co-authored the book "Lighthouses of San Diego," and Fahlen's photos of lighthouses are published internationally.