Pro-level players pitch pickleball hub in Ocean Beach
Two local advocates of the growing sport propose a regional pickleball facility with 25 to 50 courts at Robb Field. However, the city of San Diego says it 'has no plans' to do that.
Chances are, if you aren't playing pickleball, you know someone who is. Ocean Beach residents Mike Shinzaki and Stefan Boyland believe 50,000 San Diegans have already tried playing pickleball.
And they should know. They're pro-level pickleball players and ambassadors. They're also both instructors at Barnes Tennis Center in Point Loma.
Pickleball — described as a combination of tennis, ping pong and badminton — is the fastest-growing sport in the nation, according to the Sports & Fitness Industry Association's 2021 Topline Participation Report. In 2020, 4.2 million people in the United States played the sport, up from 3.46 million in 2019.
Celebrities and sports figures — including George Clooney, Leonardo DiCaprio, Bill and Melinda Gates, Ellen Degeneres, Reese Witherspoon, Jamie Foxx, Russell Wilson, Nick Foles and Kim Kardashian — are pickleball players.
In San Diego, there also appears to be plenty of pickleball passion.
"We manage a list of more than 4,000 local players," Shinzaki said.
While that may sound like a start to a thriving local pickleball culture, Shinzaki and Boyland are quick to point out what they consider a lack of suitable playing areas. Though courts are scattered throughout the county, "we calculate San Diego is at least 300 to 400 courts short of a supply-and-demand equilibrium," Shinzaki said.
The two believe the shortage of dedicated pickleball courts has not only hampered the growth of the sport but has led to thousands of upset local players and a major loss of income for San Diego in the form of tourism and tournaments.
"Seattle has 2.6 courts per 10,000 residents," Shinzaki said, "meaning San Diego would need more than 350 dedicated courts. Arizona, Utah and Florida are building courts by the hundreds."
The two are so passionate about pickleball that they say they have made it their life mission to ensure San Diego has enough dedicated pickleball courts for everyone who wants to play. To reach their goal, they have approached the San Diego city government seeking a partnership while simultaneously looking for private options.
"There are virtually no large plots of contiguous, flat, large spaces — at least 60,000-plus square feet — zoned for such a venture," Boyland said. "This project aptly belongs in a public park."
So the duo formed Pickleball SD with the vision of building and managing a regional pickleball facility with 25 to 50 courts. It would cater to all ages and skill levels, offering lessons, clinics and after-school programs and hosting local and national tournaments.
Scouting underused tennis facilities was an obvious choice for the proposed venture. The two have considered Balboa Park and Liberty Station, but they quickly set their sights on Robb Field in Ocean Beach.
"There are 25 tennis courts there, but even on a busy day, maybe only 10 to 12 are used. Instead of 100 to 150 tennis players over there, they could transition to Barnes and 1,000 pickleball players could be playing," Boyland said.
Shinzaki and Boyland, both self-employed, are offering to use their own money to make it happen.
In return for the city's permission to move forward, the men would build the facility, including repainting and resurfacing any current tennis courts into pickleball courts, and updating signage, fencing, seating areas and more.
"In our current formal proposal, as part of the exchange for covering construction costs, we want to operate the facility," Boyland said. "We would guarantee a rate for the next 10 years or the terms of the lease, and we would charge half the rate than the tennis club."
However, a statement released in early January by city spokesman Tim Graham seemed to hit a hard serve at the idea, at least for Robb Field.
"The city is aware of the proposed pickleball facility at the tennis courts located at Robb Field in Ocean Beach," according to the statement. "Currently, the tennis facility is operated by the Peninsula Tennis Association via a special use permit and this nonprofit organization has properly managed the facility for more than 50 years. The city has no plans to add a pickleball element to the Robb Field tennis courts and expects Peninsula Tennis Association to continue to operate the facility for the foreseeable future."
The statement also said the city has taken steps to expand pickleball opportunities in locations where there is both demand for the sport and availability, is evaluating other existing facilities that could integrate pickleball courts and is working with the San Diego Unified School District to see if pickleball courts could be incorporated at joint-use facilities.
The statement concluded with a list of pickleball courts throughout San Diego, including indoor, outdoor, dedicated, multiuse and private courts.
Scattering courts at existing facilities isn't the pickleball panorama Shinzaki or Boyland envision.
"We advised them that while this would not be harmful, it would not further the goal of a central large facility where events and a social element can be had," Shinzaki said.
He likened it to sprinkling individual bowling lanes around as opposed to building a bowling alley.
Though there's been some uncertainty about the origins of pickleball, it's often attributed to three dads on Bainbridge Island, Wash., in 1965. It doesn't take much equipment to play — paddles, small plastic balls and a hard surface.
Shinzaki and Boyland say pickleball has become so popular because players can learn the rules in about 10 minutes, it's fast-paced, suitable for all ages and great for casual and competitive players alike. Also, it gets people outside since most of the courts are outdoors, and it's suitable for social distancing. Most of all, they say, it's a fun social event where people can meet and form friendships.
Boyland and Shinzaki actually met through pickleball — about six years ago, Boyland took lessons from Shinzaki.
"It's a fun and competitive game, which I enjoy," Shinzaki said. "But what has really kept me around over time is the social aspect. I have met lifelong friends out of this, people of all ages and walks of life whom I never would've met otherwise."
Boyland said he played competitive tennis and "thought pickleball was a joke. Then I came to California from New York and played against some of the best people in the country. I got my butt kicked.
"It's for all people, and you get to really use your mind, not just your strength."
The two soon realized they wanted to be more than just players — they wanted to advocate for pickleball and help the sport grow.
Staying focused on their vision for a central pickleball facility, they have been meeting regularly with San Diego parks and recreation officials.
"There is very much a need for a large facility in this region," said Noli Zosa, a city Park and Recreation Board member. "I can't think of a better place to play than San Diego, especially since it is primarily an outdoor sport."
Zosa added that the sport has taken off during the COVID-19 pandemic, especially among senior citizens and aging tennis players.
"It's for the greater public good to have more pickleball courts. Other major cities are building facilities and we are lacking," he said.
In an effort to convince the city that there are large numbers of pickleball advocates, Shinzaki and Boyland are compiling a mailing list of players. As of January, they have more than 4,000 names. They've had a YouTube video made detailing their plans. They've also started a website and a Facebook page.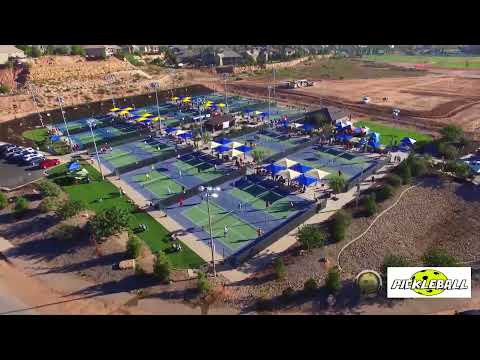 They have a formal meeting scheduled with District 2 City Councilwoman Jennifer Campbell's office in mid-January and a tentative meeting with the San Diego mayor's office, plus formal presentations to the Mission Bay Park Committee in early February and the Robb Field Community Recreation Group in early March. They expect to have hundreds of pickleball supporters at each presentation.
"San Diego city has told us that the process requires several entities to be on board in lockstep," Shinzaki said. "It would require a local CRG [a community recreation group overseeing a park space] to recommend the project. It would also require the support of the local City Council representative, along with time for public comments and support from the local community."
After those steps, the Park and Recreation Board would vote on the overall plan for a pickleball facility, he said.
But Shinzaki and Boyland acknowledge they have their work cut out for them.
"We're such a big city," Shinzaki said. "In reality, we need probably 1,000 courts. Stefan and I want to make a tiny dent in this growing issue and build 20 to 50 courts."
To learn more about the pickleball facility that Boyland and Shinzaki propose, visit pickleball-sd.com or facebook.com/groups/pickleballsddevelopmentproject.
Local pickleball locations
Here are locations of pickleball courts in Ocean Beach and Point Loma, according to the city of San Diego:
• Ocean Beach Recreation Center, 4726 Santa Monica Ave., three indoor courts, (619) 531-1527
• Barnes Tennis Center, 4490 W. Point Loma Blvd., three dedicated courts, (619) 221-9000
• Point Loma/Cabrillo Tennis Club, 3051 Cañon St., two outdoor courts, (619) 223-0887