A Page from History: The tales of Duckville still call
We'd like to take you all out to Duckville this weekend. Be a hoot, wouldn't it? Nice and quiet, catch some halibut maybe, tell some tall tales around the wood stove.
We'd like to, but no can do. Duckville isn't there anymore. Where was Duckville? That will be a tricky one to pin down, as it was a destination with no borders and no boundaries. Duckville was a place in time, a state of mind, a fishing line ... and, OK fine, a cluster of eclectic shacks and shanties perched precariously on the salt marsh of False Bay way back when.
If you've never heard the tales of Duckville, it is small wonder. The little community had dwindled significantly by the early 1920s, and after it literally washed away for the second time ... but, hang on, let's paddle back a ways.
We are going to refer here to False Bay — or Puerto Falso — and Mission Bay interchangeably because that's how they did it for 40 years between the time the name was changed via a contest in the 1880s until Mission Bay finally came into common parlance.
Get Point Loma-OB Monthly in your inbox every month
News and features about Point Loma and Ocean Beach every month for free
You may occasionally receive promotional content from the Point Loma-OB Monthly.
To fully wrap your head around this Puerto Falso/Duckville thing, you will have to try to imagine a time before the existence of the picturesque waterway we know today as the flood control channel. Right, the western terminus of the San Diego River. The channel makes it seem like Sea World Drive, and Mission Bay beyond that, are another part of town entirely.
It was not always that way. The Derby Dike was imagined and constructed in the 1850s, primarily to keep the river from flooding south through Old Town toward San Diego Bay. This had been the case on innumerable occasions over the millennia. The idea also was to keep the river from silting up San Diego Bay in favor of letting it continue to silt up False Bay, which, after all, was really an estuary.
But the Derby Dike, repeatedly rebuilt and enlarged, only delineated the south bank of the river. It extended from a point near Presidio Hill west to an indefinite point near the present-day location of the sports arena in the Midway District. This was little more than a half-mile, and it came nowhere near the ocean. It was nothing like the system of jetties and channels we know in the 2020s. There was no Ocean Beach Freeway and no Robb Field. Mudflats, sandy islands and deep channels punctuated the spongy geography.
Some folks on the north side of West Point Loma Boulevard in OB had docks in their backyards. Think about that. Famosa Slough is a remnant of that estuary, and there was frequently water as far south as Voltaire Street in the wide arroyo through Collier Park, now known as Nimitz Boulevard.
San Diego's wonderful historian Winifred Davidson, profiled in this column recently, painted Duckville as "a community of odd shacks beside wild marshes and along vagrant tideways."
In "Beach Town," OB's Ruth Varney Held recalled Duckville as "partly solid ground, some mudflats, and surrounded by waterways running through the bulrushes. It was a haven for waterfowl and for the men who liked to hunt them."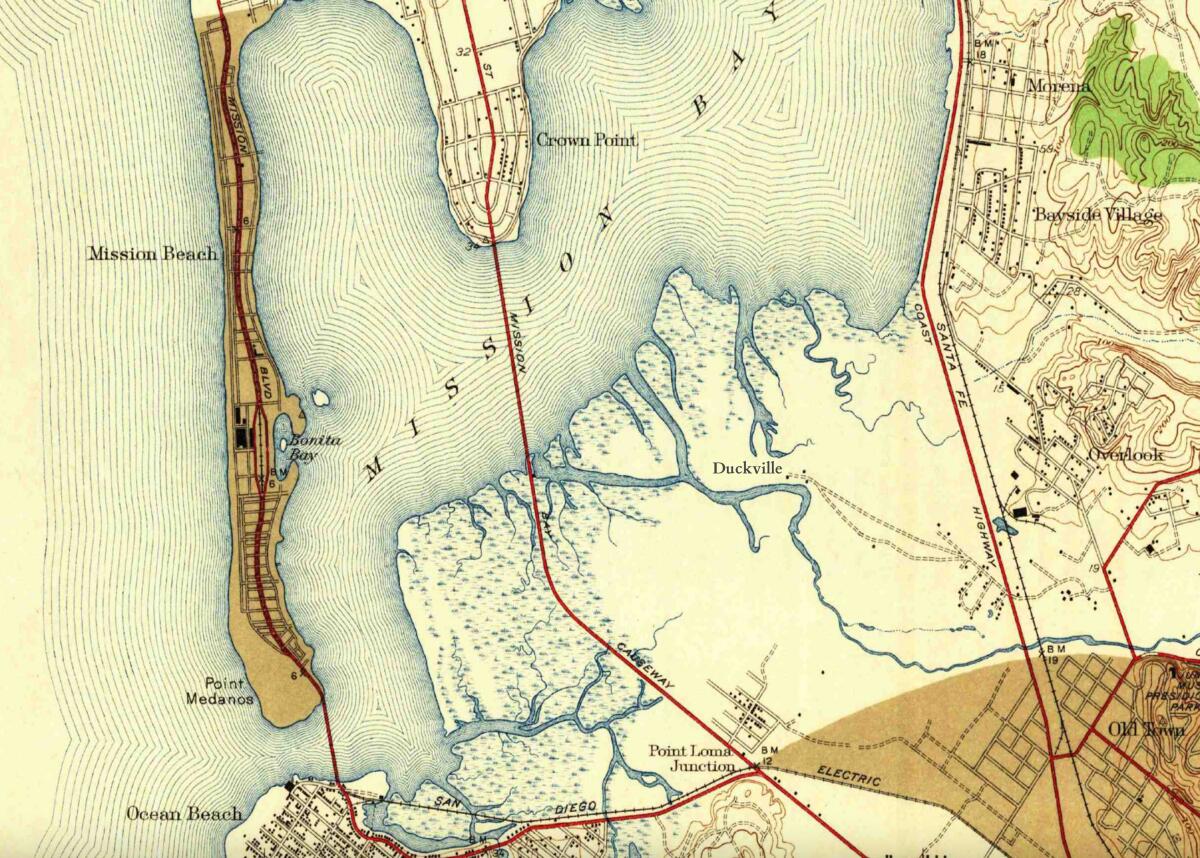 In certain circles, Duckville was referred to as "a celebrated suburb of Old Town," as well as "the chief port on False Bay."
John Davidson portrayed Duckville as "a little lost city within the borders of San Diego. A community of bachelors where only at rare intervals a woman, a ministering swamp angel, ventured. Not one of its residents went abroad unarmed, though for peace and goodwill, all were somewhat famous."
Herb Lockwood described Duckville as both "a highly respectable community" and "a full-fledged Shangri-La for the San Diego male seeking sanctuary from more civilized obligations."
To put a face on this outpost, and to find out why you never hear a bullfrog bellow on Mission Bay, we would like to introduce you to His Honor, Adalaska B. Pearson, mayor of Duckville. While "Ad," as he was known, was certainly not the first mayor of Duckville — perhaps some will know of the Sam Schiller administration back in 1906 — he was just about the most noteworthy, dedicated and remarkable mayor any community ever had. He also was president of the Duckville Dinner Club, as well as the superintendent of sewers, sidewalks and sandbars.
So how did tiny Duckville procure such a paragon?
Pearson came west from Iowa to Oregon by covered wagon with his family as a young boy during the Civil War. He went south to San Diego in 1879, and in 1881, he became the second member of the San Diego City Guard, forerunner of the California National Guard. He was a sergeant in that outfit until he was appointed constable in the new township of National (City) in 1887.
A crack shot, a market hunter and a lover of wild places, Pearson built a hunting shack on the tule flats beyond Old Town in 1890. He called his hideaway the Greenwing Teal, after the duck of that moniker, and made the place his permanent residence in 1912.
The first habitation at Duckville was a cabin built in 1885 by sharpshooter Martinez Chick along with his associates, W. Francis and W.J. Morgan. Charles May erected Duckville's second shack in 1887, the year both Ocean Beach and Pacific Beach were founded.
Duckville swelled to a dandy dozen dwellings by the turn of the 20th century, and by the time the Panama-California Exposition opened in 1915, Duckville was home to some 30 domiciles, literally out in the tules of False Bay. Many of Duckville's shacks had names such as Sprig Cottage, Sherman's Shack and, who could forget, the Hotel de Mallard.
Would you believe the city ran a water main out to Duckville? It did, in 1906. As you might imagine, it was a rather controversial undertaking. The water department wanted to know who was going to pay for water usage in Duckville, and who it would even bill. There were no formal street addresses in the community at the time.
After being debated for months, the project was finally approved to run a 1.5-inch line, off the Pacific Beach line, out to Duckville, with costs not to exceed $325. The project came in at a cool $296.
"For sweet decades," Lockwood recounted, "Duckville meant to many the good chill mornings in the duck blind, the happy jerk of a well-hooked fish on a line, and a dozen men singing around a red-hot pot-bellied stove. Then in 1916 it started to rain. It rained and rained and rained."
Though the San Diego River had flooded many times before and after, the great Hatfield Flood of 1916 stands as the high-water mark. Get it? "When the waters subsided, heads were counted," according to Lockwood. "Adalaska and the executive mansion were gone. A steam launch was obtained and a search party climbed aboard.
"In the middle of Mission Bay, a floating cabin was located with His Honor flapping [his] rattlesnake picture from the bedroom window. Soon the house and incumbent were back on the flats."
Then there was this from the Evening Tribune of Feb. 2, 1916: "House stolen by someone — Somebody has stolen a house, three skiffs, 12 sneak-boats — painted green — and a lot of decoy ducks that belong at Duckville, according to a report to the police by Ad Pearson. The house, said to belong to Chas. M. Rider, chief dispatcher for the S.D. Electric Railway, disappeared from a sandbar in Mission Bay, to which it had been moved in the recent flood. Pearson said three men were seen to tow it to Ocean Beach. The skiffs, sneak-boats and decoys evidently were stolen without anyone seeing them go. A junk dealer is said to have bought a flock of the decoys from [some] boys."
The mayor was not above promoting his little community, or himself. Nor was he a stranger to exaggeration. On Christmas Day in 1927, this festive feature appeared in the San Diego Union under the heading "Oyez! Oyez!" — "Mayor Ad Pearson of Duckville, who also is president of the Duckville chamber of commerce and chief of police, announces that he has made arrangements with Col. Lindbergh (as soon as he gets back from Mexico) to carry all mail by airplane to Duckville, making two trips daily.
"'Of course,' said the mayor, who is also harbormaster of Mission Bay, 'I shall release the colonel any time the United States government needs Lindy to rib up some friendly relations with any of our neighbors.'
"Mayor Pearson is very anxious to have new industries locate at Duckville and is negotiating with a hairpin factory back East. 'Bobbed hair has kinda put that industry on the fritz,' said the mayor, who recently elected himself superintendent of Duckville's lighting plant, which is a highly perfected solar and lunar system.
"And the mayor, who likewise is chief game warden of Duckville, explains that tourists must not confuse the croaking of spotfins with the bellowing of bullfrogs. The mayor, who recently appointed himself collector of customs for the port of Duckville, explains that frogs dislike seawater because it stings their eyes and makes them cry. That is why no one ever heard a bullfrog bellow on Mission Bay, the mayor says."
Now we don't want to give the impression that Ad Pearson, who also was the city attorney and superintendent of schools for Duckville, was some kind of an eccentric character. Nothing could be further from the truth. Nor was he merely a sportsman. Pearson was a gifted nature artist and writer. As a collector, he contributed many specimens to the collections of Stanford University and the San Diego Natural History Museum. His stories appeared in local and national publications.
According to Varney Held, a Pearson story in Forest and Stream — the leading conservation journal of the time — prompted Coronado founder and avid hunter Elisha Babcock to move to San Diego. In his day, Pearson was considered one of California's preeminent naturalists and ornithologists.
"For sweet decades, Duckville meant to many the good chill mornings in the duck blind, the happy jerk of a well-hooked fish on a line, and a dozen men singing around a red-hot pot-bellied stove."
— Herb Lockwood
In summer 1925, a controversy arose concerning a herd of seals in False Bay. Some anglers felt the seals were gobbling up more than their fair share of False Bay game fish. A movement was afoot to have the seals killed or somehow driven out of the bay.
Pearson came down strongly on the side of the seals: "In my opinion, these bay seals are a positive benefit to the bay. In my many years of close acquaintance with False Bay, I can say truthfully that anglers are taking as many and as large game fish in this bay today as they did at any time in its history. The presence of the seals has made no difference. The ocean is full of fish, but there are not many seals left.
"These seals should be allowed to live in False Bay in peace. They hunt their food in only a small portion of the bay. And I don't mind letting you in on a bit of nature wisdom — when you see the seals feeding, they are working the fish toward the beach in shallow water. By fishing ahead of the seals from the beach, one may catch a string without any trouble.
"In their play and frolic, the seals are an attraction that will keep shore boats and launches busy carrying tourists out to see the seals. At the present time, they are living within half a mile from Duckville. Most certainly I condemn any move to destroy these seals or to drive them out of the bay."
The mayor held sway. There was no seal hunt on False Bay.
Pearson kept extensive ledgers in his shack at Duckville, recording the movements of fish and fowl for darn near five decades. He also kept somewhat of an ad-hoc census of the community. Residents and visitors alike were allowed and even encouraged to share their comments and observations. His journals were up to date and the Greenwing Teal was neat and tidy when Pearson passed away at home on Feb. 25, 1929. He was 72.
Today, Famosa Slough exists as a State Marine Conservation Area, cut off from Mission Bay. The San Diego River channel and the Kendall-Frost Marsh Reserve, also protected habitats, are all that remain of the once large and lovely False Bay tidal estuary.
Pearson did not live to see any of the profound changes that have forever altered his little corner of the world. What would he have thought of the little airfield that replaced good old Duckville in the early 1930s? What might he have said about the causeway that brought automobile traffic right through the heart of Mission Bay? Or about the subdivision of Crown Point, the onetime wildflower capital of California? Or the dredging and sculpting of Mission Bay into the aquatic playground of San Diego? What about the military dump turned marine theme park, or the landfill the city operated in the mid-1950s right in the heart of Duckville? We can only wonder.
An excerpt from the San Diego Union of March 3, 1929: "The mayor of Duckville has gone. He went quietly and alone, without fear, leaving his house in order and a rich estate to be given his friends. The cabin where he lived, his guns, his nets, his fishing tackle, his paintings of duck and dog and quail, his decoys, his tools ... the skiff 'Mascot' ... will be treasured. A lovable memory ensures that. But a part of the estate goes to many a man not named in the will, for Ad Pearson, mayor of Duckville, bequeathed some part of his glowing love of the out-of-doors to every man who ever met him. Let us believe that he has found a new country, open and fair, unspoiled and peopled with old friends."
Eric DuVall is president of the Ocean Beach Historical Society (obhistory.org). Historical Society board member Kitty McDaniel contributed to this article. Basic membership in the Historical Society, a 501(c)(3) nonprofit, is $15 annually, tax-deductible.