A Page from History: OB's Wisteria Cottage has kept love on the vine for 115 years
Valentine's Day has come and gone, but any time is the perfect time for a love story. This is one love story that happens to involve several families, a cozy little beach cottage and a century-old wisteria vine.
The cottage, at 4761 Niagara Ave. in Ocean Beach, was built in 1907, making it one of OB's oldest homes. Known as Wisteria Cottage in reference to the now-spectacular wisteria vine planted by John Clarke in 1915, the little place has been well-loved over the many seasons by the Clarke, Titlow, Black and James families.
Ocean Beach was a bustling community when John and Minnie Clarke moved to the town in 1915. Why, OB must have been home to several hundred folks by that time. The very successful streetcar line, the Point Loma Railroad, was already in its sixth year of dependable service, and the fabulous amusement park Wonderland had put once-remote Ocean Beach squarely on the map.
Such was not the case when John and Minnie first visited OB a decade earlier. Interviewed on the occasion of their 62nd wedding anniversary in 1947, Minnie recalled that "when I first saw Ocean Beach, there were only three houses."
We do not mean to suggest that John Clarke was an odd fellow — quite the contrary. The career railroad man is described as "industrious and sober" — by none other than himself — in a letter he wrote to his prospective father-in-law in 1885. Yet an unusual symbol — three links of a chain — is stamped into the concrete walkway that leads to the porch of Wisteria Cottage. The symbol is repeated, neatly branded into the 1928 sidewalk on Niagara Avenue, just outside the garden gate.
The symbol — a unique imprint in Ocean Beach — indicates that John most likely was a member in good standing of the Independent Order of Odd Fellows, a fraternal organization long associated with selfless motives and service to less-fortunate members of the community.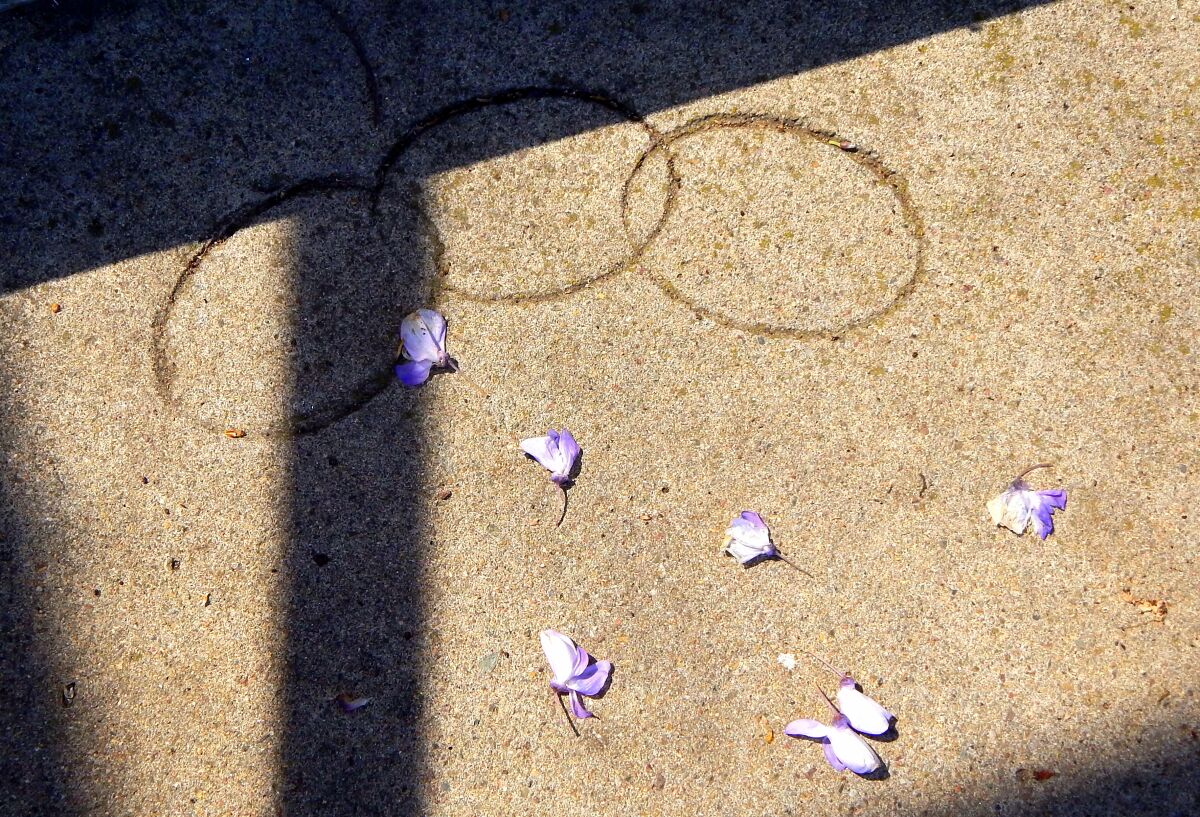 That comes as no surprise to great-granddaughter Judy Clarke, who now lives in the greater Seattle area. She remembers visiting her great-grandparents at Wisteria Cottage when she was a young girl in the late 1940s. "They were always so sweet," she said. "They were really just adorable."
Judy remembers sitting with her great-grandmother on one of the front porch benches. She remembers the cottage as "a tiny cabin" and fondly recalls the fragrance of the wisteria, which she called one of her favorite memories.
"I have my own wisteria story," she said. Judy moved to the Ballard section of Seattle some years ago and bought a small house with a very old wisteria vine growing along one fence. "I don't think that is what attracted me to the place," she said, "but it was a plus."
Judy recalled that the wisteria was quite overgrown and that "no one had really taken care of it for years." In her first year at the new place, she decided to thin out and shape her wisteria. Judy had only just started pruning when her fence fell over. "It was then that I realized that the wisteria had been holding the old fence up," she said with a laugh.
Get Point Loma-OB Monthly in your inbox every month
News and features about Point Loma and Ocean Beach every month for free
You may occasionally receive promotional content from the Point Loma-OB Monthly.
The Wisteria Cottage on Niagara sits on two lots, and there are several outbuildings on the property. Ocean Beach historian, storyteller and former Wisteria Cottage owner Ned Titlow revealed an amusing tidbit about the property in an oral-history interview recorded in the 1990s.
"The barn was built with wood that washed down [the river] in the flood of 1916," he said. "They [the Clarkes] went down with their wagon, picked up all this wood and came back and built a barn for their horses."
"We always called it a stable," said Titlow's daughter Carol Titlow Fujimoto. "It was really old when we moved in. It had a dirt floor back then."
Carol and husband Jim Fujimoto are the current owners of the property.
Carol said her family's association with Wisteria Cottage began in about 1950, when her aunt — Ned's younger sister Jane — and Jane's husband, Charles Black, bought the property from the Clarke family.
"My aunt and uncle had only lived there for a couple of years when they sold the place to my mom and dad," Carol said. "My uncle was a Navy officer and they got transferred around quite a bit."
In fact, the Blacks moved back to San Diego a few years later and rented their once and future home, Wisteria Cottage, from Ned and Shirley Titlow for the next 25 years.
Shirley Jensen moved to Ocean Beach from Nebraska with her mom and two sisters in 1933. She was 9 years old. The family lived next to Shirley's mom's beauty shop, Elenia's, on Newport Avenue.
At Ocean Beach Elementary School, Shirley met a boy named Ned Titlow. Now, we could tell you that "the rest is history" or that they lived happily ever after, and we would be correct on both counts. Shirley and Ned both graduated from Point Loma High School in 1942, and after World War II, they both attended San Diego State University. They were married in 1948.
Shirley was a serial volunteer, involved in community PTAs, Girl Scouts and Brownies and was a founding member of Peninsula Softball. She volunteered with the Peninsula Shepherd Center and with OB's Loaves & Fishes food pantry.
Ned joined his father's insurance firm following a WWII stint with the Marine Corps and continued to operate Titlow Insurance Agency until his retirement. Ned served as first president of the Ocean Beach Town Council when it came into being in the mid-1960s. A lover of history and a collector of local lore, he later served for several years as president of the Ocean Beach Historical Society.
As Ned was fond of saying, "When I came here in 1929, [Ocean Beach] had the feel of a rural community, really."
The Titlows remodeled Wisteria Cottage twice over the years, almost doubling the size of the once-tiny home. After they moved back into the cottage in the 1990s, Ned poured a concrete patio on the east side of the house and built the arbor that supports the renowned wisteria vine.
Carol said her parents would annually host a Fourth of July party "with flags, balloons, and food. My dad just loved having people around. He loved to show old photos and tell stories, but Mom is the one who did all the work."
Garden party
Carol and her sisters, Gail and Louise, remember that there was a lot of excitement around the old place when the Titlows first opened their patio and home to the public in the early 2000s for a fundraising event to benefit the Ocean Beach Historical Society. The Wisteria Garden Party has been held every other year, on average, since then. The ideal time for the fete is the third week of March, when the wisteria is in full flower, according to OB community activists and current cottage residents Pat and Susan James.
County pandemic protocols precluded the scheduled soirée in 2021, but the event is back on the calendar this year and is set for 1 to 4 p.m. Sunday, March 20. All are welcome. Non-alcoholic beverages and light snacks, as well as a band, are on the menu. As the Wisteria Garden Party is the only fundraiser that the nonprofit Historical Society presents, admission will be $20 at the door. Additional information may be found at obhistory.org.
Susan and Pat James have long been involved in Ocean Beach community activities. Their printing business, James Gang, helped start several local traditions. The couple also have been a central part of the OB Historical Society for more than 25 years.
Pat considers Ned Titlow to be his mentor as a historian, and he reluctantly took over for Ned as Historical Society president. "I didn't think I could do it at first," Pat said. "I loved the history, but I didn't even like to get up in front of people, much less run some kind of an organization.
"Ned asked me to give it a try for just a year. One year led to two and two years led to 14!"
Both of the Jameses consider themselves blessed to have been able to call Wisteria Cottage home for the past decade and to carry on the historical and community service tradition that goes with it.
The love the couple have for the old cottage is evidenced in their beautiful ornamental and vegetable gardens and the profusion of the wonderful wisteria.
"I know that my dad told Pat James that the wisteria didn't require any water," Carol said. "He thought that because he didn't water it. My mom did."
"It doesn't require much water. It almost thrives on benign neglect," Pat said, chuckling. "But we do try to take care of it.
"The wisteria is really kind of a magical thing. There is something about the way the light comes through it, and the fragrance is really amazing."
In 2021, San Diego's Save Our Heritage Organisation recognized Susan and Pat as Keepers of the Flame as part of the annual People in Preservation awards. The Jameses were honored for their years of work in historic preservation, their stewardship of Wisteria Cottage and their continued hosting of the Wisteria Garden Party.
Twelve hundred miles and more than a few decades away, Judy Clarke still thinks about her great-grandparents' little cottage in Ocean Beach. "Such a special place," she mused.
Judy keeps a portrait of John and Minnie, taken on their 62nd wedding anniversary, taped to her refrigerator. "Could they be any more precious?" she asked. "Just look at them."
Eric DuVall is president of the Ocean Beach Historical Society (obhistory.org). Judy Clarke, Carol Titlow Fujimoto and Susan and Pat James shared their stories and OBHS board members Kathy Blavatt and Kitty McDaniel contributed to this article. Basic membership in the Historical Society, a 501(c)(3) nonprofit, is $15 annually, tax-deductible.