'A wonderful occasion': The Village Lights are on in Point Loma
The Village Lights over Rosecrans Street light up Point Loma Village on May 9.
(Clark Anthony)
Rosecrans Street in Point Loma Village is pictured before the Village Lights were turned on overhead.
(Ashley Mackin-Solomon)
A crowd of Point Loma residents attends the celebratory lighting of Rosecrans Street with the overhead Village Lights.
(Ashley Mackin-Solomon)
San Diego Mayor Todd Gloria speaks at the "Light Up the Night" celebration May 9 in Point Loma.
(Ashley Mackin-Solomon)
Names of donors to the Village Lights project are engraved at the base of each light pole.
(Ashley Mackin-Solomon)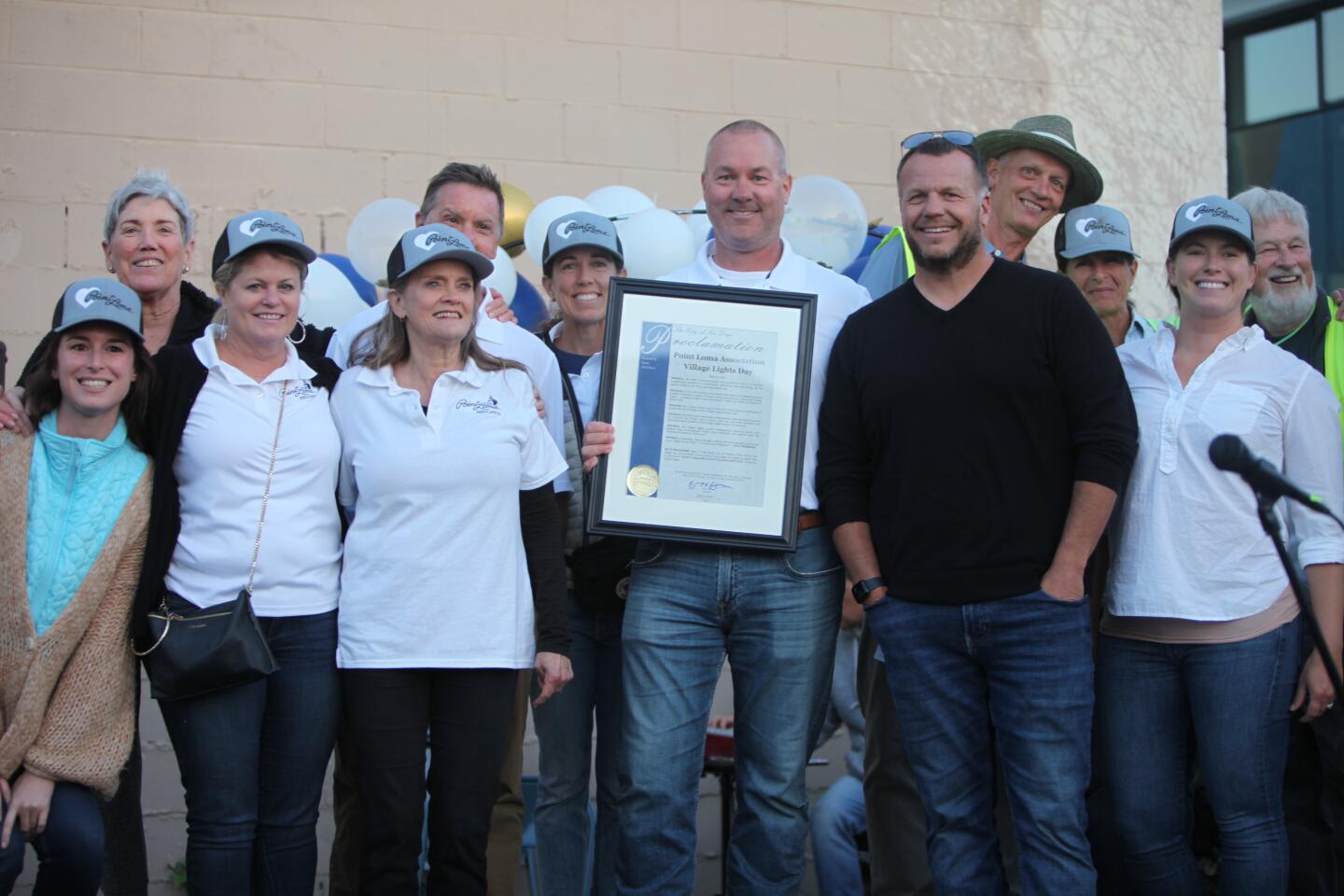 Members of the Point Loma Association show a proclamation from the city of San Diego honoring their efforts on the Village Lights project.
(Ashley Mackin-Solomon)
The Point Loma Association celebrated completion of its eagerly anticipated Village Lights project with a party called "Light Up the Night" on May 9 in the business district of Point Loma Village.
The display features a canopy of lights strung across two blocks of Rosecrans Street between Talbot and Canon streets.
The festivities kicked off with live music at the Point Loma Assembly building and at Jennings House Cafe. Guests also could participate in a scavenger hunt for prizes by touring local businesses open all evening.
San Diego Mayor Todd Gloria and San Diego County Supervisor Terra Lawson-Remer, whose District 3 includes Point Loma, were in attendance to watch the lights go on.
Get Point Loma-OB Monthly in your inbox every month
News and features about Point Loma and Ocean Beach every month for free
You may occasionally receive promotional content from the Point Loma-OB Monthly.
Mike McCurdy, chairman of the Point Loma Association, said: "This project has been in the works since 2018 and I know a lot of generational Point Lomans that have been thinking this would be an amazing thing to have for the next 20 to 30 years. … We agreed this would be a great addition to Point Loma to give our community the village it truly deserves. … We hope the lights create a more community feel and bring more people to [the area] for years to come."
Village Lights, funded through private donations and government grants, also incorporates engraved pavers and plaques that commemorate local residents and donors. Construction on the project began in September.
After months of construction and installation, the Point Loma Association's Village Anchor Lights project is expected to be completed by the end of 2021, according to Chairman Mike McCurdy.
The PLA, a nonprofit community service and advocacy organization, was given a proclamation from City Councilwoman Jennifer Campbell, whose District 2 includes Point Loma.
Lawson-Remer and her predecessor, Greg Cox, were credited with jump-starting the project with a $60,000 grant.
"This is just such a wonderful occasion, such a momentous accomplishment, and it's these kinds of events that bring us together as a community," Lawson-Remer said. "I am just so impressed at the dedication and perseverance of the team that put this together and all the hard work and contributions that so many of you brought to make this a reality."
Gloria said placing the lights over the street "really does change the ambiance."
"You all care deeply about this neighborhood and it shows in so many ways … and this is the latest addition to that," he added.