Point Loma High's Wilson twins double their success on and off the soccer field
Senior center midfielders Caitlin and Corrine Wilson were both named to the all-CIF San Diego Section girls soccer first team this year and are co-valedictorians at their school.
Twin siblings competing alongside each other in sports is a rare occurrence but one that comes with double the advantage.
Twins have an inherent camaraderie and cooperation that drives them to succeed, perhaps most notably in doubles tennis with Mike and Bob Bryan.
It's also apparent in Point Loma High School seniors Caitlin and Corrine Wilson, both center midfielders for the Pointers' girls soccer team.
The girls, both co-valedictorians at their school, were instrumental in driving the team's success this season, when it went 12-6-4 overall and reached the state regional semifinals.
Both were named to the all-CIF San Diego Section girls soccer first team. Caitlin was chosen the San Diego City Conference female Student Athlete of the Year for academic and athletic performance.
Get Point Loma-OB Monthly in your inbox every month
News and features about Point Loma and Ocean Beach every month for free
You may occasionally receive promotional content from the Point Loma-OB Monthly.
Their mother, Grace Wilson, said they found their way to soccer at a young age, despite her intentions.
"I actually tried to dissuade them from playing soccer," Grace said. "I wanted them to play doubles tennis because with twins, what more could you ask for? But they were steadfast about wanting to play soccer. They played several sports, they're naturally good athletes. And I think being such good students helped them with strategy."
Their coach, Jose Garcia Jr., said they have extra motivation that sets them apart from other players.
"On the field, they led by example," Garcia said. "As a coach, I could depend on Corrine and Caitlin to run the whole field when the rest of the team was getting tired. Their soccer intelligence far exceeds anything I've seen while coaching. They were always positive and motivational for the team. They set a really high bar, and the rest of the players followed their lead."
Caitlin said their sibling rivalry was a healthy way to promote their accomplishments.
"There's been a lot of fights and bickering, but there have been a lot of good moments as well," Caitlin said of her relationship with Corrine. "Because we have a good relationship, we can yell at each other without getting upset. We're doing it out of love and respect for each other."
Corrine agreed, saying their dynamic has proved advantageous on the field.
"I think we're very competitive with each other, but we want to win for the whole team," she said. "When I see her battling hard, that makes me want to play as best I can for her, too."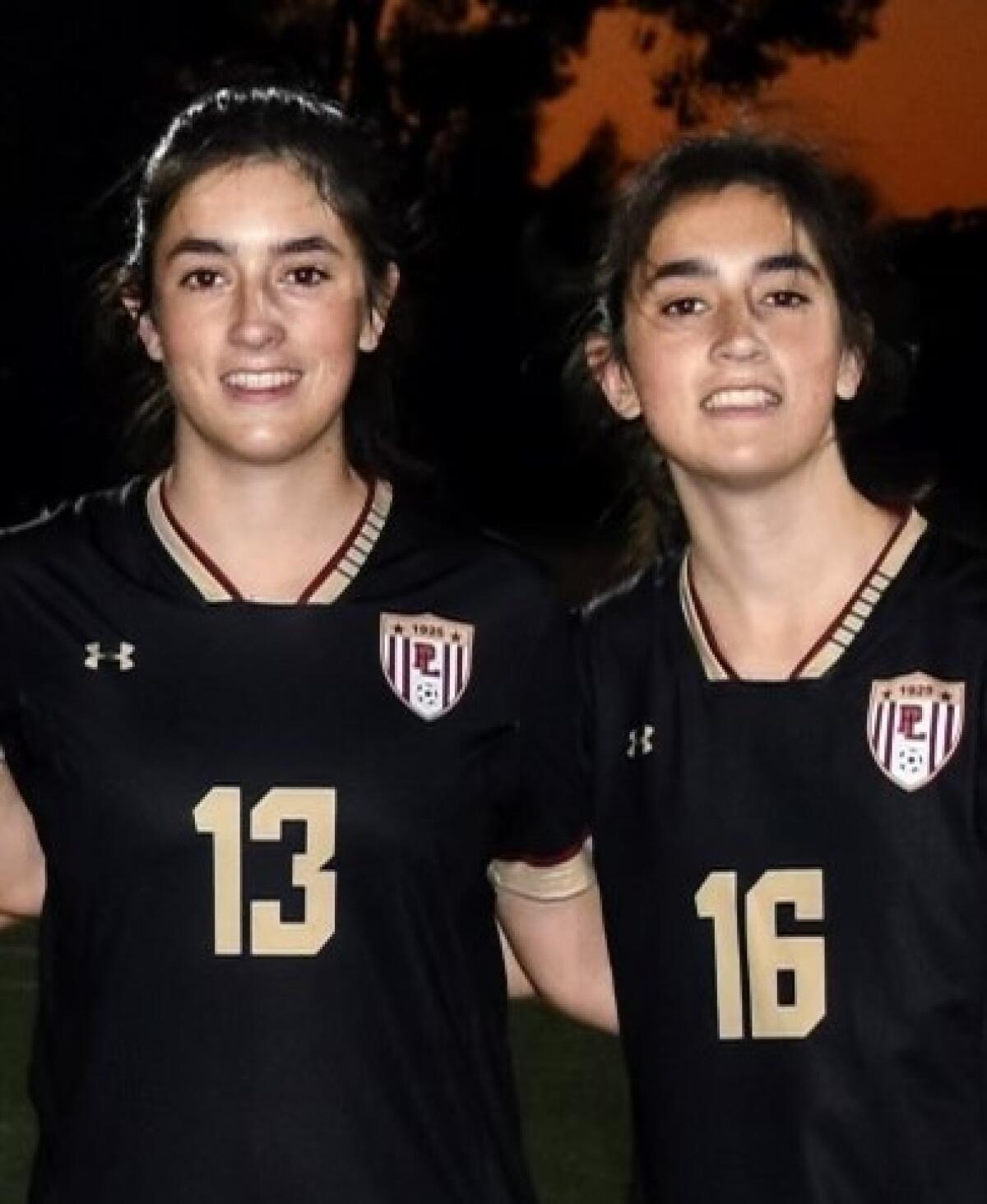 "They are competitive but they help each other," Grace said. "They don't want to get ahead at the expense of someone else. I think having a good frame of mind where you want to do well but also want to help the next person to do well is a beneficial way of looking at things and will ultimately make them successful because it makes them happier. That's what they did on the soccer field."
Part of their drive to succeed was the knowledge that their senior year would be the last hurrah alongside friends with whom they had played for years, some as early as elementary school.
"I think they were always great players, but ... this was the last time they would play with friends on the high school team," Grace said. "That bonding experience outside of soccer that they brought to the field really propelled them."
Caitlin agreed, saying: "I think on the field, since we were such good friends, we were able to give each other critiques without anyone being too upset. Off the field, we would always hang out outside of school. We got lunch together, we would go to the movies together. We didn't want it to end."
One of the other core members of the team is midfielder Erin Denny, with whom the Wilsons had played since elementary school. Erin was chosen to the all-CIF San Diego Section second team.
"She really helped us and added a lot of good chemistry. She definitely deserves recognition," Corrine said.
Garcia noted a particular bond among the three players.
"That trio played together when they were younger, they all played four years, more than any grouping of players on the team," he said. "They all understood each other well, and they made a great trio in center-mid."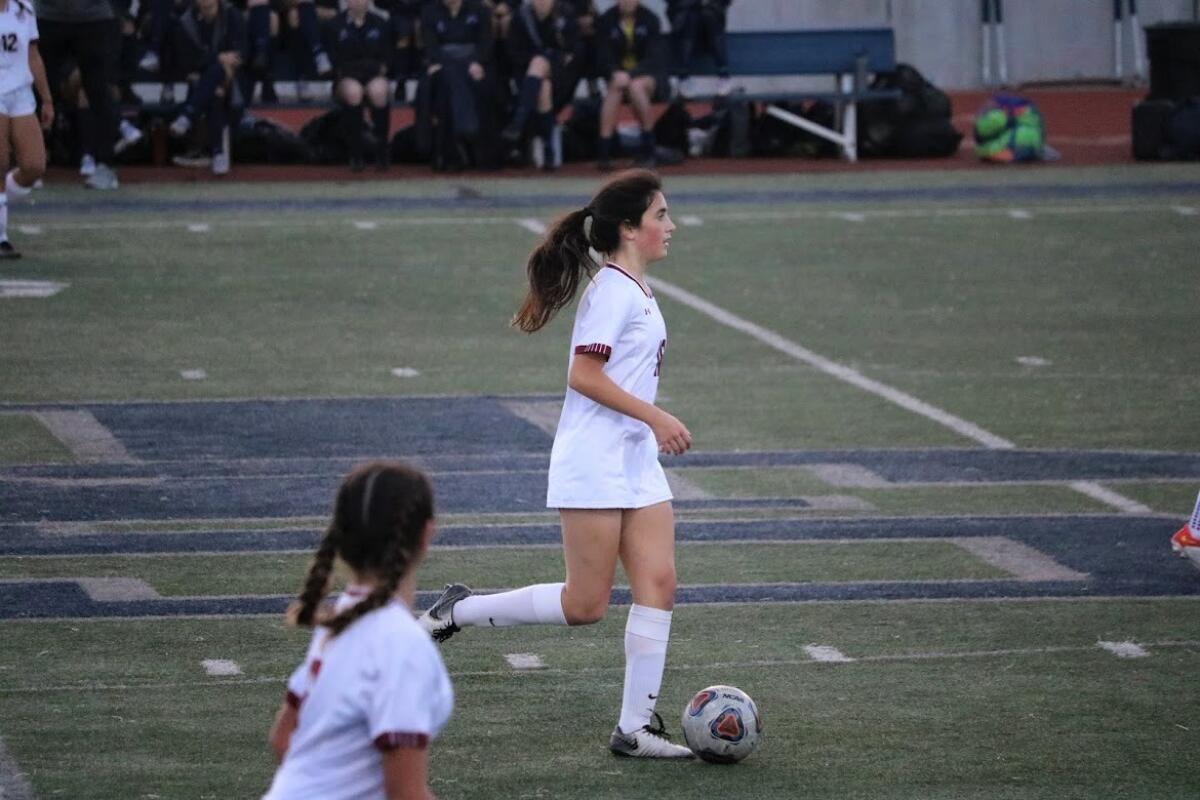 In addition to competing for Point Loma all four years, the Wilson twins reached for a higher level through the Elite College National League beginning in fall 2020.
"We definitely developed more between junior and senior year, especially because of the level at the ECNL," Caitlin said. "We noticed we were better when we went back as seniors after that point."
Corrine said playing with the club gave them more opportunities to hone their craft and leadership.
"When we were playing in ECNL, we were playing against better players, which overall helped us to match their style of play, which helped us match up with the top teams in our league," she said. "Some of the techniques the club used we brought over into high school, and that was a large part of our success in the playoffs."
Garcia took notice as well, saying their tenacity was an example for the rest of the team to follow.
"Because they were playing at a higher level, they would push each other as well as everyone around them," he said. "Every training session, every practice really raised the level of the team. They have this knack of not wanting to lose in anything they do."
Battling through injury
During the season, Corrine suffered a strained groin muscle, but she pushed through the setback.
"I wasn't really going to let anything come between me playing or my team making the playoffs," Corrine said. "I could still pass and run and everything else to help my team. Even though it hurt, I would do it because that's how much I wanted my team to win."
"I have a good relationship with my students and athletes," Garcia said. "As long as the athletic trainer clears them to play, I leave it up to the girls. There was never a game where Corrine didn't want to play. Once she started she never looked back. ... It was really amazing. It's that willingness to go that extra mile for the team. It was definitely unique to see."
Onward to college
The Wilson sisters are committed to attending UC San Diego after they graduate from Point Loma High in June. They will study bioengineering.
"It's a great school for academics, but the coaches for the soccer program have given us a great opportunity to improve ourselves," Caitlin said.
Corrine said she's excited for the opportunity to grow at the college level.
"It's one of the top universities in the nation for STEM [science, technology, engineering and math], but on the soccer side, talking with the coaches you can tell they really care about the players and want to have a good relationship with them," she said. "I feel like that's one of the main reasons I'm excited to play there."
The twins also hope to keep their sibling bond strong.
"I think in college that's one of the rarest experiences to be able to play with your best friend and sister," Corrine said. "I think that's really special."