A Page from History: Westgate Park was a whole new ballgame for the old PCL Padres
Baseball season brings memories of San Diego's former minor-league ballclub, the pretty two-lane path through dairy farms known as Friars Road and the little ballpark out in the country called Westgate Park.
In the little town where I grew up, the advent of summertime always meant that baseball was back. At least it did for me.
I was 8 years old in 1962. Man, I couldn't wait for baseball season to start. We didn't have a major-league team in our vicinity, but we did have a minor-league team — a Triple-A team, in fact — that was pretty good.
My dad, a charming gentleman and a splendid fellow in many respects, was not remotely what anyone would consider a sports fan. Naturally, I was a sports nut. But the fact that the man did not give a hoot about baseball didn't seem to inhibit his ability to enjoy watching a ballgame in person. I think he liked the atmosphere and ambiance of the ballpark — not to mention the hot dogs and ice cream bars. He was a confirmed fan of both.
It also might have been the fact that the ballgame was a very cheap ticket. A big spender like himself could take a couple of kids to the ballpark for a dollar. So, two or three times a summer we would load into our old Chevy station wagon and make the drive into the country to the little ballpark where our local team played. It was only a 30-minute jaunt, and it sure was pretty. I liked that winding two-lane road, shaded by those tall eucalyptus trees, past the dairy farms and out to the ballpark. Bales of hay marked the perimeter of the parking lot, and I have a memory of a cow looking over one of those bales, chewing leisurely and regarding us as we piled out of the old wagon.
A foul popup would land with a loud bang on the tin roof that covered most of the grandstand, and kids my age and older would scramble trying to figure out where the ball was going to roll off. Never in my life have I had the good fortune to wind up with a foul ball. Not once.
Get Point Loma-OB Monthly in your inbox every month
News and features about Point Loma and Ocean Beach every month for free
You may occasionally receive promotional content from the Point Loma-OB Monthly.
I'm sure many of you have already divined that our little town was Ocean Beach. That minor-league ballclub I loved so much was the Pacific Coast League's San Diego Padres. The pretty two-lane road through the dairy farms was, and still is, known as Friars Road, and that little ballpark out in the country was called Westgate Park.
We had moved to San Diego in 1958. That happened to be the same year the Padres abandoned the wind, splinters and termites of creaky old Lane Field and moved into their new ballpark in pastoral Mission Valley. Westgate Park had been a longshot and a very bold move. A new ballpark on any scale had not been built with private money anywhere in the country since 1950.
Even more significantly, 1958 was the year the Brooklyn Dodgers and New York Giants moved to California. With the big-league clubs moving west, the continued existence of the Pacific Coast League seemed precarious.
Financier and wheeler-dealer C. Arnholt Smith of San Diego's U.S. National Bank and Westgate-California Corp. had purchased the Padres from Bill Starr three years earlier. Attendance had been on the wane at Lane Field and Smith's investment in the new modern ballpark out in the country was a $5 million gamble that the team and the league would indeed have a bright future.
Bill Swank, a San Diego baseball historian and author of many San Diego baseball books, referred to Smith as "a pivotal figure in Padres history."
"Smith was a good businessman and a savior for the Padres," Swank recalled.
Isn't Smith the guy who tried to move the Padres out of town, and didn't he end up in the slammer? Yes and yes. But this is not that story.
As laughable as it may sound in the era of Petco Park and Snapdragon Stadium, San Diego Union Sports Editor Jack Murphy wondered in December 1957 "if the public will cotton to the name of the Padres' new park in Mission Valley. The fancy new quarters will be known as Westgate Park, linking it to the company that owns the club, The Westgate-California Tuna Packing Co. Possibly some will resent the commercialization of the name."
But by the time the park opened four months later, Murphy had become a firm convert. The Dodgers spent their first few West Coast summers playing in an oddball configuration at L.A.'s cavernous Memorial Coliseum. And in a column titled "L.A. has major-league team, San Diego major-league park," Murphy crowed: "In the event the Los Angeles Dodgers forget what it's like to play in a real ballpark, they have a standing invitation to inspect the Padres' new facilities in Mission Valley. It would be an understatement to describe Westgate Park as the finest stadium in minor-league baseball. ... Not even Yankee Stadium or Boston's Fenway Park can surpass the comforts and conveniences of the Padres' new home on Friars Road."
Swank remembers the 8,500-seat Westgate Park as "a beautiful ballpark. You never sat behind a pole at Westgate Park."
Common in ballparks of the era were garish advertising signs along a clapboard outfield fence. Such had been the case at Lane Field. Not at Westgate Park.
"The eucalyptus trees and that grassy hill behind the chain-link outfield fence made Westgate a great park for a hitter," Swank told me.
There were no bleachers at Westgate Park, but fans sometimes got to sit on the grass beyond the outfield fence. We did a couple of times, and it was quite a treat.
The Westgate Park scoreboard featured giant images of Breast O' Chicken Tuna cans, one of the products of San Diego's Westgate Cannery. That scoreboard was iconic and the tuna was popular. One innovation that did not catch on, however, was the notion of "Tunies" — a hot dog-shaped tube stuffed with tuna that was served like a hot dog. The Tunies were a swing-and-miss and were soon deep-sixed.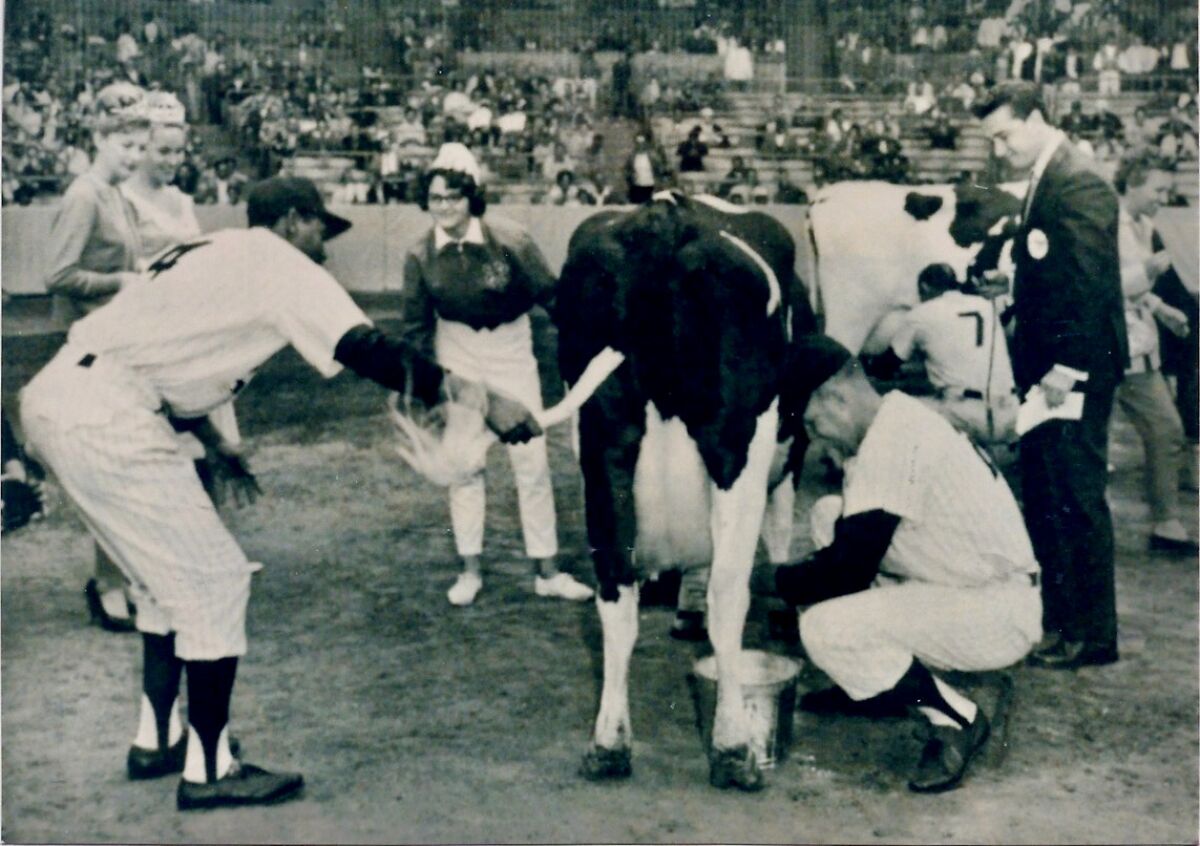 I was already a serious Padres fan as a 7-year-old — a second-grader. I've mentioned that my dad was no baseball fan, but he was a ham. By that I mean he was an amateur radio operator — in this case meaning non-commercial.
He'd always be in our basement in his "Ham Shack" building elaborate radios and conversing with his cronies around the Pacific Rim on one of his ham rigs. We had a big crazy antenna on the roof of our garage that he was sure our neighbors hated. The point here is that he had made me a crystal set, a simple radio that requires no power source. It just pulls the radio signal out of the ether. This one was in a little masonite box. Having no power per se, it had no external speaker. You needed a pair of headphones like the Korean War surplus set he let me use — big black Bakelite earphones with a leather head strap. This thing brought in only one station, KOGO-AM — the Padres' station. If I went to bed and turned out the light, I could listen to the Padres! It was the best thing ever.
KOGO carried all those PCL Padres games, home and away, and it wasn't until sometime in the past decade that I learned, to my surprise, that the broadcast team, the "two Als" — Coupee and Schuss — had not traveled with the team. The road games had been "re-created" using an almost pitch-by-pitch teletype feed. I had heard of big-league announcers doing that in the old days, but I never thought that applied to our games.
"Nobody re-created games better than Al Schuss," veteran San Diego sportscaster Bob Chandler told me. "Most radio announcers hated doing it, but Al loved it. I remember Al coming into KOGO, setting up all his notes and scorecards on a card table and re-creating a doubleheader."
Simple sound effects were used to simulate the sound of a bat hitting the ball or the ball landing solidly in the catcher's mitt. A DJ or producer would play crowd noise at appropriate times. Chandler asked me if I hadn't wondered why the fans in Tacoma, Wash., seemed to be cheering when the Padres scored. I had been completely buffaloed.
The Westgate Park Padres were blessed with some great players and fine executives. Hall of Famer Ralph Kiner was the Pads' general manager during the transition from Lane Field to Mission Valley. Dapper Eddie Leishman succeeded Kiner and guided the Padres to three PCL pennants between 1962 and 1967. Leishman was able to switch the Padres' major-league affiliation from the Chicago White Sox to the Cincinnati Reds in 1962, bringing a ton of future Big Red Machine talent to the Padres.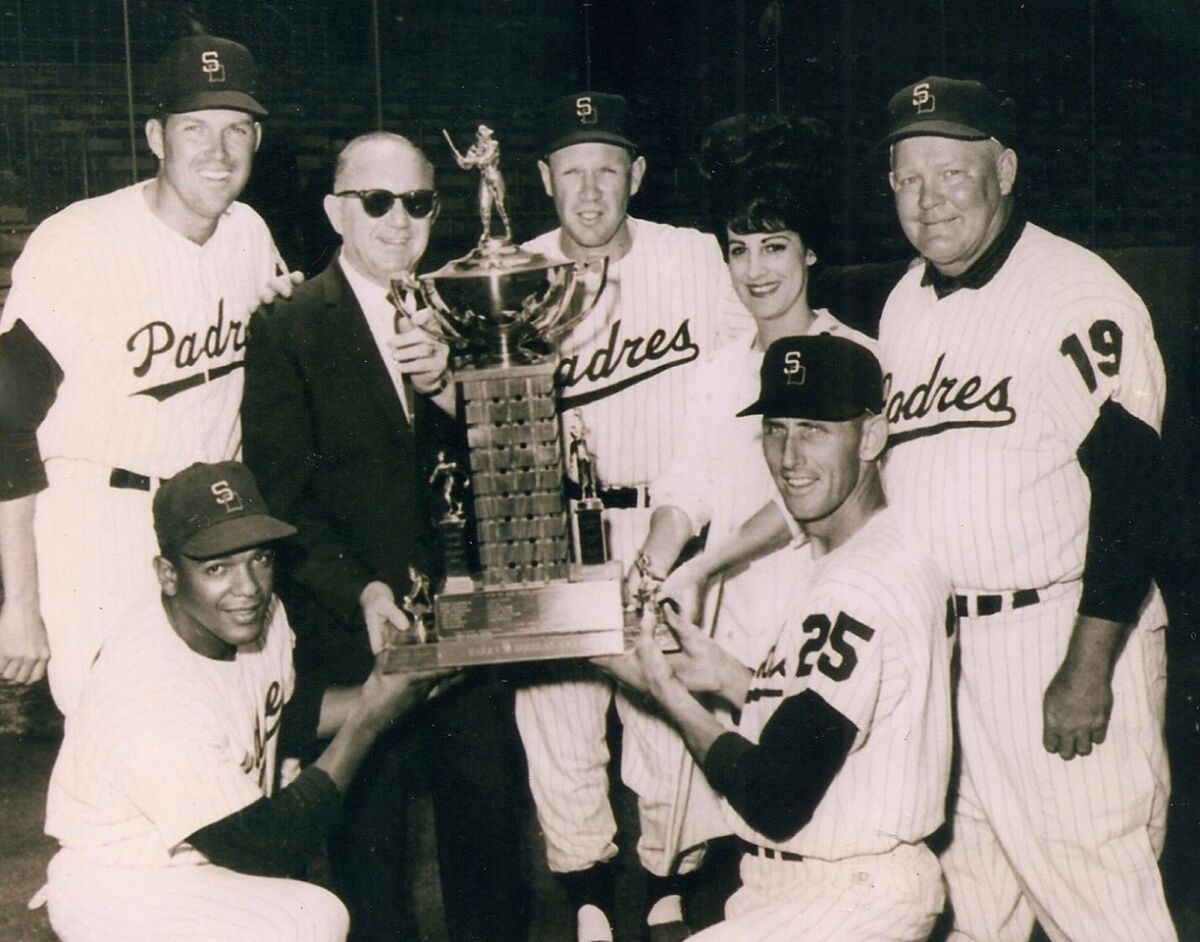 I always followed the former minor-league Padres who went on to successful careers in the majors. I remember a local kid, a first baseman-outfielder named Deron Johnson. I had his baseball card at one time. Swank told me that Johnson was ready to give up baseball and become a tuna fisherman when a big year with the Pads in 1963 propelled him to an excellent big-league career with the Reds and Philadelphia Phillies.
Future Hall of Famer Tony Perez spent the 1964 season knocking baseballs out of Westgate Park before going on to play more than 20 years in the bigs. Big bopper Lee May followed the same trajectory the next season.
Slick-fielding shortstop Tommy Helms and outfielder Cesar Tovar were a couple of other Pads who ended up doing great things with the Big Red Machine.
My favorite Padre of that era was middle infielder Chico Ruiz. The speedy Ruiz was the best bunter I have ever seen. He would bunt his way aboard and the Westgate Park crowd would start chanting "Go-go-Chico!" Ruiz swiped 50 bags for the Pads in 1963. One story has it that Camino Ruiz in Mira Mesa is named for him. Swank says he hasn't been able to authenticate that, and I wasn't able to either. I'd sure like to think it were true.
In 1968, the Padres moved a little farther down the road to the big ballpark, San Diego Stadium. The following year the National League Padres replaced the old minor-league club in Mission Valley and played there for 35 seasons before moving downtown in 2004.
Beautiful Westgate Park gave way to the Fashion Valley mall after only a decade as the finest ballpark in the minor leagues.
If this kind of thing moves the needle for you and you haven't been down to the eighth floor of the San Diego Central Library yet, you are encouraged to do so. You'll find the Sullivan Family Baseball Research Center, the largest baseball research collection outside of Cooperstown, N.Y. The center is a collaborative enterprise between the San Diego Public Library and the Society for American Baseball Research, Ted Williams chapter.
Swank told me that people often ask him what he considers to be the greatest era in baseball. "The greatest era in baseball is when you were a kid learning the game," he said. "Childhood memories are indelible and will remain with you all your life. That is why you want to write about the Westgate Park Padres. You were a kid!"
Swank spends his offseasons as San Diego's favorite Santa Claus. Chandler still plays golf with former Padres second-sacker Bobby Klaus, and I still listen to almost all the Padres games on the radio. I may be a cockeyed optimist when it comes to the Pads, but between you and me, if they don't win, it's a shame.
Eric DuVall is president of the Ocean Beach Historical Society. OBHS board member Kitty McDaniel contributed to this article. Membership in OBHS, a 501(c)(3) nonprofit, is $25 annually. Visit obhistory.org.