A Page from History: Navy Radio Point Loma was on early wave of wireless telegraphy for West Coast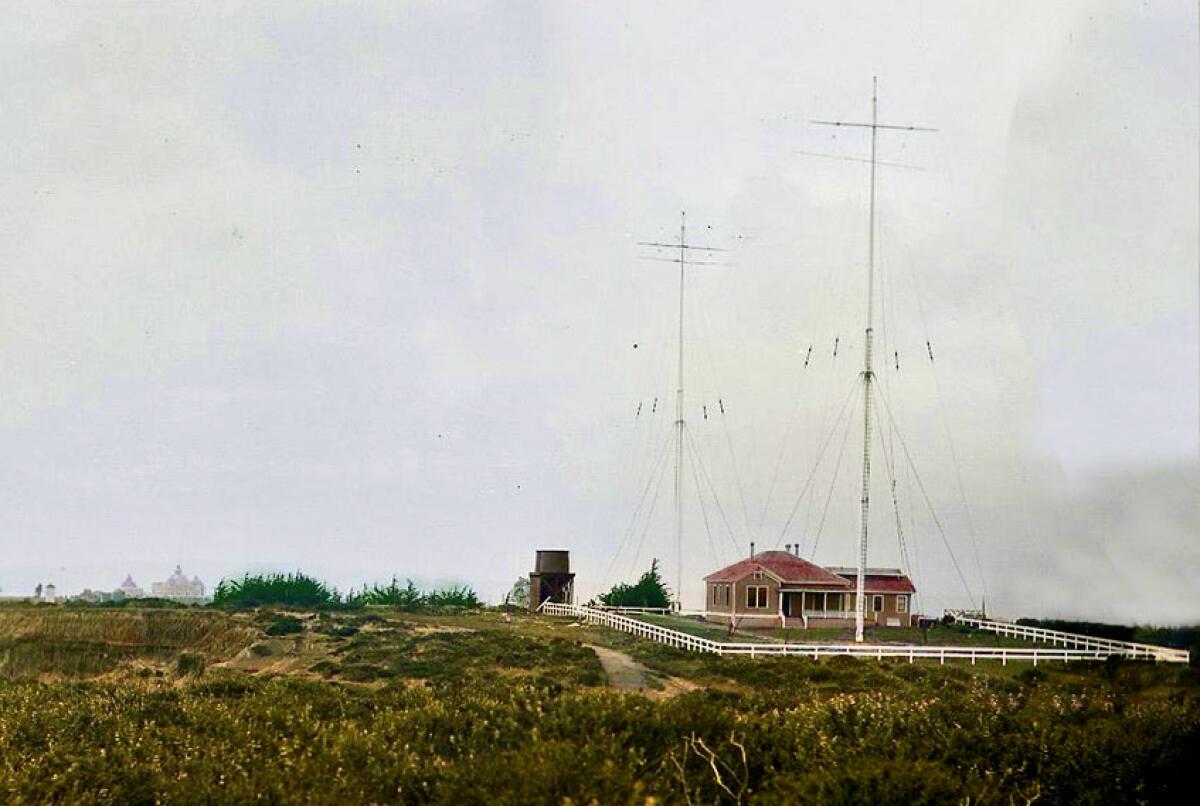 What began as an isolated little outpost took on a significant role in the development of the wireless electronic communication industry.
As you blithely cruise your electric bicycle past the gates of Naval Base Point Loma, you really don't notice the offices of NIWC (Naval Information Warfare Center) Pacific, do you? How about the water tower? Hard to miss the water tower. It is right where Catalina Boulevard becomes Cabrillo Memorial Drive, a wide spot in the road and a high point on the Point.
This rugged and lovely ridge once played a significant role in the development of the wireless electronic communication industry during the infancy of radio.
Any number of Navy commands, labs and R&D facilities have called this hilltop home over the past 80 years. You may have heard of some of them — NOSC (Naval Ocean Systems Center), NEL (Navy Electronics Laboratory) ... you may have even heard of NRSL (Navy Radio and Sound Lab).
But there was a time before San Diego was a Navy town at all, when the neighborhood demographics included mainly coyotes, skunks and jackrabbits. A time when the only structures on top of the Point were the remarkable glass domes of the Lomaland Theosophical community, the fantastic obelisk marking the new Bennington Monument, and the old, decommissioned Point Loma Light.
Get Point Loma-OB Monthly in your inbox every month
News and features about Point Loma and Ocean Beach every month for free
You may occasionally receive promotional content from the Point Loma-OB Monthly.
As you will no doubt recall, California became a state in 1850. In 1852 by executive order, President Millard Fillmore set aside most of the Point Loma Peninsula, some 1,300 acres, as a U.S. military reservation. San Diego was a very remote destination in those early decades, so when a wireless telegraph station was proposed for the top of Point Loma in 1905, there was plenty of real estate to work with. But not much of it was needed. A small bungalow and a couple of outbuildings painted yellow on a half-acre plot commanded a remarkable 360-degree view.
This humble, isolated outpost was certainly no garrison. There were no fences to speak of, and if you were to ride by, you would have had to have a horse.
Several sources recount a bumpy nine-hour trek by overloaded horse-drawn wagon from the Santa Fe wharf downtown along rutted, muddy roads to the top of the hill. The payload included a Massie spark transmitter and attendant hardware that would put the Point Loma wireless telegraph station on the air.
Though the station was not scheduled to be commissioned for another month, and the Point Loma location was to be one in a chain of Navy wireless stations along the West Coast, Chief Petty Officer Robert Stuart's first test call was answered almost immediately by the Mare Island station in Vallejo. This 500-mile contact set a Navy wireless overland distance record by some 400 miles and marked the first of many firsts for the Point Loma station.
Writing in the San Diego Historical Society Quarterly in January 1963, Edward Stevens recalled being an enlisted man aboard the Navy cruiser Chicago, one of just seven vessels that made up the very early 20th-century Pacific Fleet. On the afternoon of April 18, 1906, Stevens copied the following message from San Diego Mayor John Sehon via the Point Loma wireless telegraph station (call letters at the time TM) to Rear Adm. Caspar Goodrich, commander of the Pacific Fleet aboard the Chicago: "Your wireless message received. First earthquake shock in San Francisco about 5:15 a.m., report very great destruction in San Francisco and bay cities. Hundred buildings business section razed. Streets blockaded. Water mains generally over city broken and fire department rendered helpless. Report second and third shocks, third being most severe. Fire followed immediately over city generally. Attempted to check fires by blowing up buildings with dynamite. Palace Hotel reported down entirely and three or four hundred dead in ruins. Hobart Building has fallen on post office. Examiner building badly wrecked. Call Building a complete wreck. Reported that military authorities have been requested to assume charge city. Requests made for transports to take dead bodies to sea for burial. All direct communications to San Francisco down. Message being sent by steamer across bay to Oakland. Impossible to estimate loss of life. Frightful force of earthquake felt along Market Street." SEHON Mayor.
The new little Point Loma station had been able to get through to the Chicago and to Navy brass when other transmitters had not. Telegraph lines had been destroyed by the great earthquake and no communication was getting in or out of San Francisco. In the modern age, when everyone packs a microcomputer in their pocket and information overload is literally at our fingertips 24/7, it may be well to reflect on what a game changer the advent of wireless telegraphy was.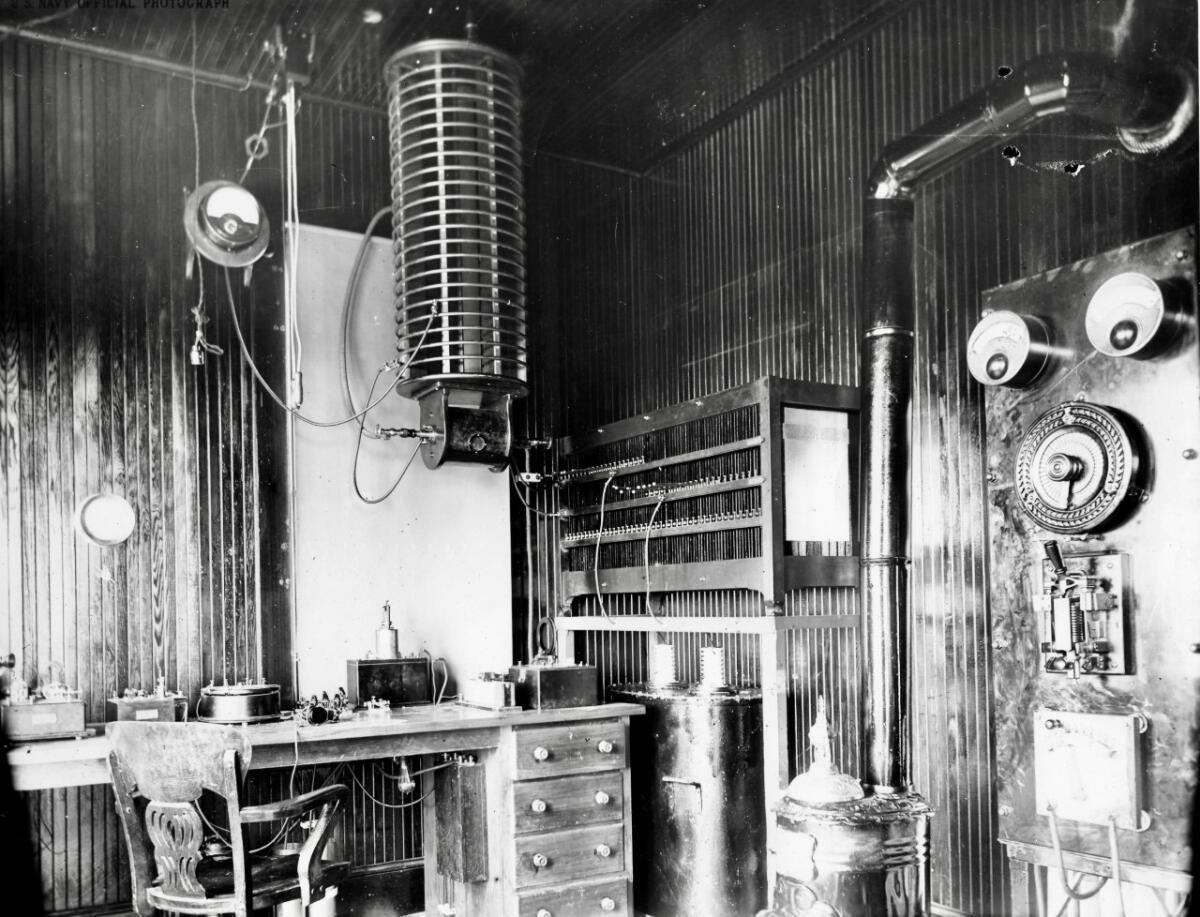 The first years of the 20th century were not far removed from the days of the carrier pigeon, and as wonderful as the telegraph was, it only went where wires had been stretched. Ships at sea could only receive communication at their next port of call ... if it had a telegraph office.
In 1899, the Navy had hired Guglielmo Marconi, the father of wireless telegraphy and the inventor of radio, to test his invention in a ship-to-shore environment. The first Navy wireless message successfully connected the steamship Conce with the Highland station in New Jersey, with Marconi as the operator.
A chain of wireless telegraph stations down the East Coast, across the Caribbean and up the West Coast was soon established. Most stations were installed near lighthouses so the signals could be sent largely over water. The initial tasks assigned to the Point Loma station were the "transmission and reception of messages between naval ships and shore, handling of commercial messages with merchant ships and relaying messages between naval shore stations along the coast." The station handled 3,000 messages in its first year.
In his history of naval communications in the 11th Naval District of San Diego, George Todd tells us that the first petty officer in charge of the Point Loma station was R.W. Moore, electrician second class.
"Of course, at that time there were no radiomen. It was customary to take telegraph operators and instruct them in electrical fundamentals or to take Navy electricians and train them as operators. The early operator was necessarily self-sufficient. He had no technicians to fall back on and had to know his installation from A to Z. No excuses were accepted for not keeping his station on the air. This doctrine developed a group of sailor communication experts whose pride in service was the highest."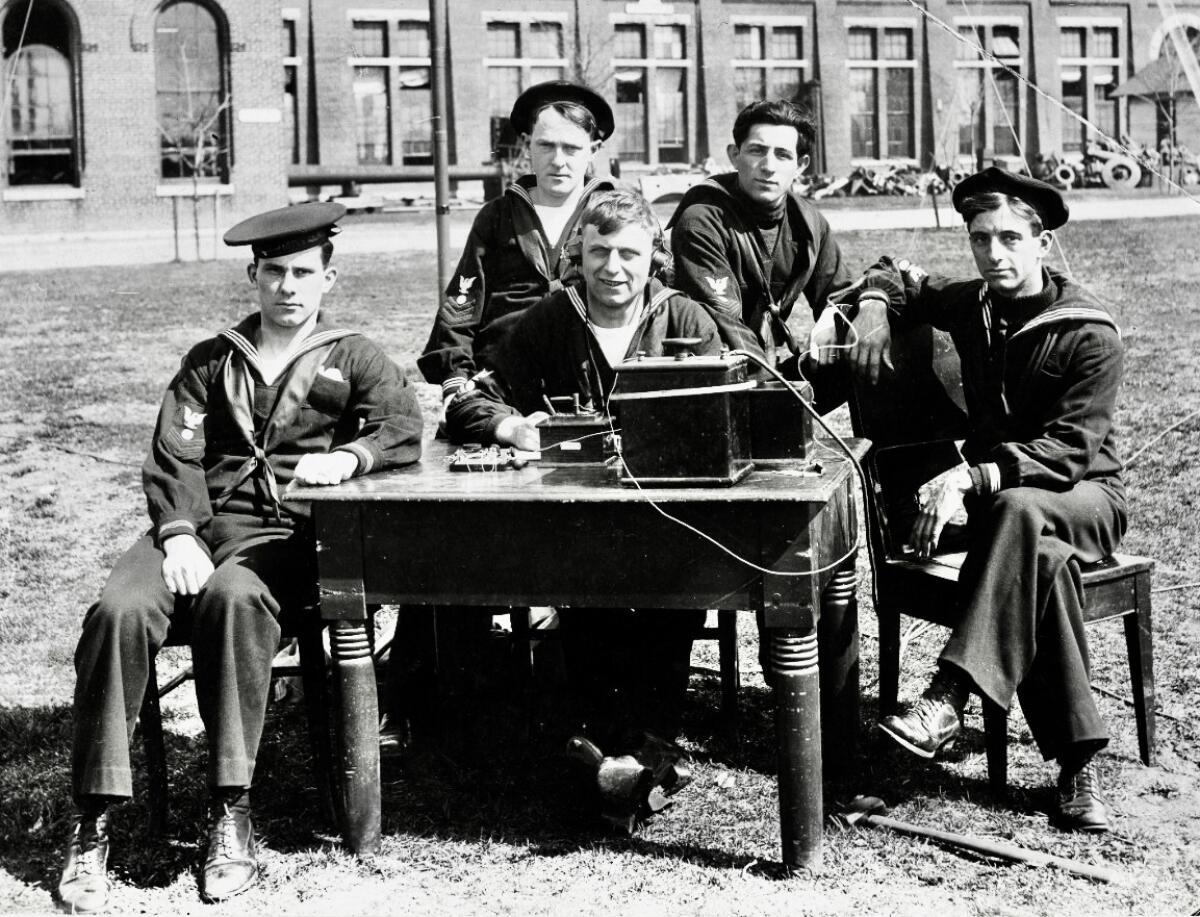 Writing in Westways in 1952, Jerry MacMullen reported that the Point Loma station operators' self-sufficiency included doing "their own cooking, and when roads to San Diego were impassable because of rain, it was a good thing that rabbits were plentiful and a few shotgun shells provided dinner. Turkey, too, was not unknown at the station, to judge from occasional complaints by the late Katherine Tingley, who presided over the nearby Theosophical Institute and probably was right in suspecting that birds which vanished from her coops eventually found their way into the Navy's communication system."
At this time inventor Lee de Forest was experimenting with combinations of crystal and triode detectors in receivers of what he called a radiotelephone. The de Forest company's first customer was the Navy — 26 vessels of Teddy Roosevelt's "Great White Fleet" were outfitted with de Forest's equipment.
De Forest's finest invention, and one of the greatest advancements in the history of communications, was the three-element Audion vacuum tube, or "talking light bulb." Chief electrician A.R. Rice installed an Audion-type detector at the Point Loma station in 1908. The station was a central player in the great ship-to-shore radiotelephone experiment with de Forest aboard the USS Connecticut, the flagship of the Great White Fleet. A successful communication between Point Loma's Massie spark transmitter and the Connecticut, en route from Hawaii to New Zealand — some 2,900 miles across the Pacific — set another wireless distance record.
In December 1912, the Naval Radio Service was created and the term "wireless" was dropped from Navy communications. New call signs were assigned to all ship and shore stations, and the Point Loma station became NPL, or Navy Radio Point Loma.
On Jan. 14, 1915, the San Diego Union reported that "all official communications from the Navy Department to commanders of United States warships and shore stations on the Pacific coast are being received by the Navy radio station at Point Loma direct from Washington, according to Commander Cleland Davis. Commander Davis said the transmission of naval intelligence from Washington to the Pacific coast by way of the Postal and Western Union telegraph lines has been entirely abandoned and that the establishment of day and night radio service between Point Loma and Arlington marks an epoch in the history of the development of radiotelegraphy in the United States Navy."
NPL operators said the incoming signals from Washington, 3,000 miles away, were loud and clear.
In 1916, more than a month of torrential rains burst both the Sweetwater and Lower Otay dams and washed away towns, railroad tracks and telegraph lines. San Diego's only connection with the outside world was NPL. Press dispatches from soggy San Diego carried the byline "via Navy Radio Point Loma."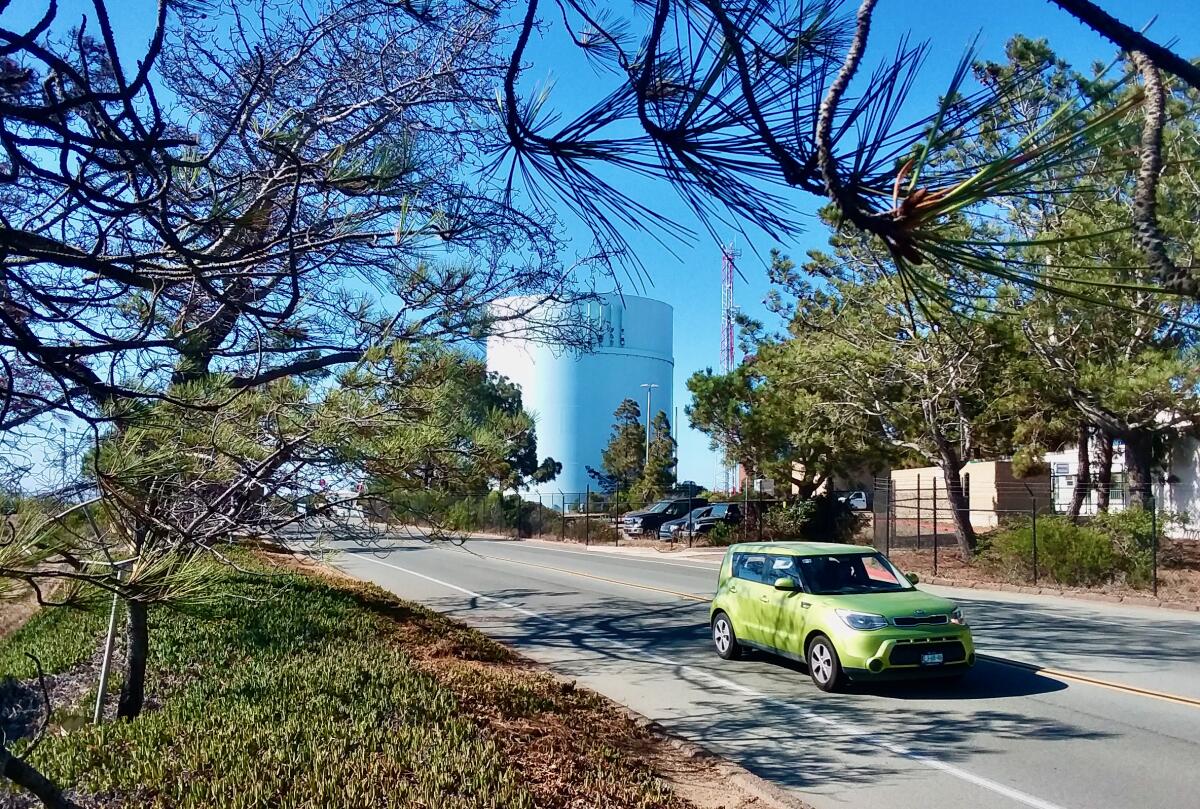 As the United States entered World War I in April 1917, a military fence was erected on the north side of the NPL compound and a detachment of Marines was assigned to the station for two years. The new Chollas Heights transmitter went online in May 1917. That station also was soon fenced and had its own company of Marines until June 1921.
As the San Diego metropolitan area saw the growth of the naval community between the wars, NPL remained the primary receiving station, with as many as four receiving antennae. The Chollas Heights station, with its three 600-foot towers, became the primary transmitting station and was at one time the most powerful such station on the planet.
Transmissions were still originally keyed from Point Loma. In 1918, NPL offices were moved to North Island and then to the Navy Building, formerly at the foot of Broadway, after its completion in 1922. NPL command moved back to Point Loma and finally to the Imperial Beach Navy facility.
NPL remained an important receiving station until the late 1940s.
One sunny Sunday morning in December 1941, NPL operators took down the following transmission: "Air raid on Pearl. This is no drill."
"For the next 60 hours," MacMullen tells us, NPL operators "served the whole Pacific Fleet, stepping in to replace the bombed facilities of Pearl Harbor Navy Yard. And while weary operators struggled under the increased load of message traffic, there was other hectic activity atop Point Loma. For just as a bright young scientist of bygone years dreamed of an electric lightbulb which could talk, so a younger generation of electronics people had tackled the problem of reflecting waves which would warn of approaching aircraft. Scientists, both civilian and Navy, manned the experimental radar equipment in shacks overlooking the sea.
"Now the research people have taken over completely, and on a pleasant summer afternoon in 1949, the flag was hauled down momentarily to mark the passing of Radio Point Loma, whose buildings were turned over to the Navy Electronics Laboratory. One of the Navy's leading electronics experts, R.B. Stuart, hauled down the flag."
It had been Stuart, you will recall, who as a young chief petty officer had first raised the flag and had keyed the first transmission from the little wireless telegraph station 43 years earlier.
Eric DuVall is president of the Ocean Beach Historical Society. Nick England of navy-radio.com and Westways archivist Morgan Yates contributed to this article. Membership in OBHS, a 501(c)(3) nonprofit, is $25 annually. Visit obhistory.org.