Point Loma-OB Happenings: Halloween events, Get It Done audit, SDUSD test scores, new gallery, playhouse
News and events briefs
Liberty Station hosts Halloween happenings
Point Loma's Liberty Station commercial and cultural center is the scene of Halloween spookiness with several events:
Haunted mini golf
Tappers Mini Golf & Cocktails at The Loma Club is hosting a "Haunted Tappers" takeover on the Gopher Course through Halloween, Monday, Oct. 31, with nine holes of golf open to all ages each day (no reservations required).
Adults also can get a special $20 ticket price that comes with one round of putt-putt and one house-made fall sangria. 2960 Truxtun Road, (619) 222-4653, tappersgolf.com
Pumpkin patch
The Goff Family Pumpkin Patch is open through Oct. 31 at 2830 Perry Road, at the putting green just inside Liberty Station's north entrance across from The Presley restaurant. The patch also hosts movie nights, story times and costume contests and has a tap truck that dispenses beer and wine. Hours are 9 a.m. to 8 p.m. Sundays through Thursdays and 9 a.m. to 9 p.m. Fridays and Saturdays. (619) 708-5905, gofffamilypumpkinpatch.com
Halloween trivia
The Liberty Public Market food hall invites guests to a Halloween-themed trivia night from 6 to 9 p.m. Tuesday, Oct. 25.
Plus, market-goers can play "How Many Bottle Caps?" through October, submitting their best guess at Bottlecraft for a chance to win a $100 Liberty Public Market gift card. 2820 Historic Decatur Road, (619) 487-9346, libertypublicmarketsd.com
Movie night
After sunset on Sunday, Oct. 30, Stone Brewing will present a free outdoor screening of the 1993 Disney film "Hocus Pocus." Guests can bring lawn chairs and blankets. 2816 Historic Decatur Road, (619) 269-2100, stonebrewing.com
Costume party
Corvette Diner's annual all-day Halloween costume party on Sunday, Oct. 30, will invite guests to dress in their best disguise, whether scary, silly or sweet. 2965 Historic Decatur Road, (619) 542-1476, dinersd.com
New audit says San Diego's Get It Done app needs work on accuracy and clarity
A new audit says the city of San Diego must improve the accuracy and clarity of its Get It Done app to reverse a recent dip in customer satisfaction with the app, which enables people to report potholes, graffiti and other problems.
The 6-year-old app often gives customers inaccurate, incomplete or confusing information about when the problem they reported will be solved and when there has been progress toward that goal, the 48-page audit states.
The audit also recommends that San Diego catch up with most major U.S. cities and other large cities in California by establishing a centralized 311 phone intake option for complaints and service requests.
Phone calls remain the public's preferred option for reporting problems. The city receives nearly 1 million requests by phone per year, compared with about 300,000 annual Get It Done requests.
In response to the findings, city officials agreed to make all recommended changes to Get It Done, including giving customers estimated completion dates for reported problems, along with interim progress reports.
The city also will create new training programs so employees give more accurate information, and create procedures for supervisors to review communications between city workers and people who submit Get It Done requests.
But most of the changes won't be made until next summer or the end of 2023, the audit says.
City also launching equity study, making changes to avoid false "closed" reports for complaints
City officials rejected the audit's recommendation to establish a 311 system, contending that a central phone line for complaints would further erode customer satisfaction by making it easier to submit complaints the city can't quickly solve.
Officials said they need to improve city services and the capacity to respond to complaints before confronting what they expect would be a sharp increase in the number of complaints coming in. — The San Diego Union-Tribune
Test scores show SDUSD student achievement took hit during COVID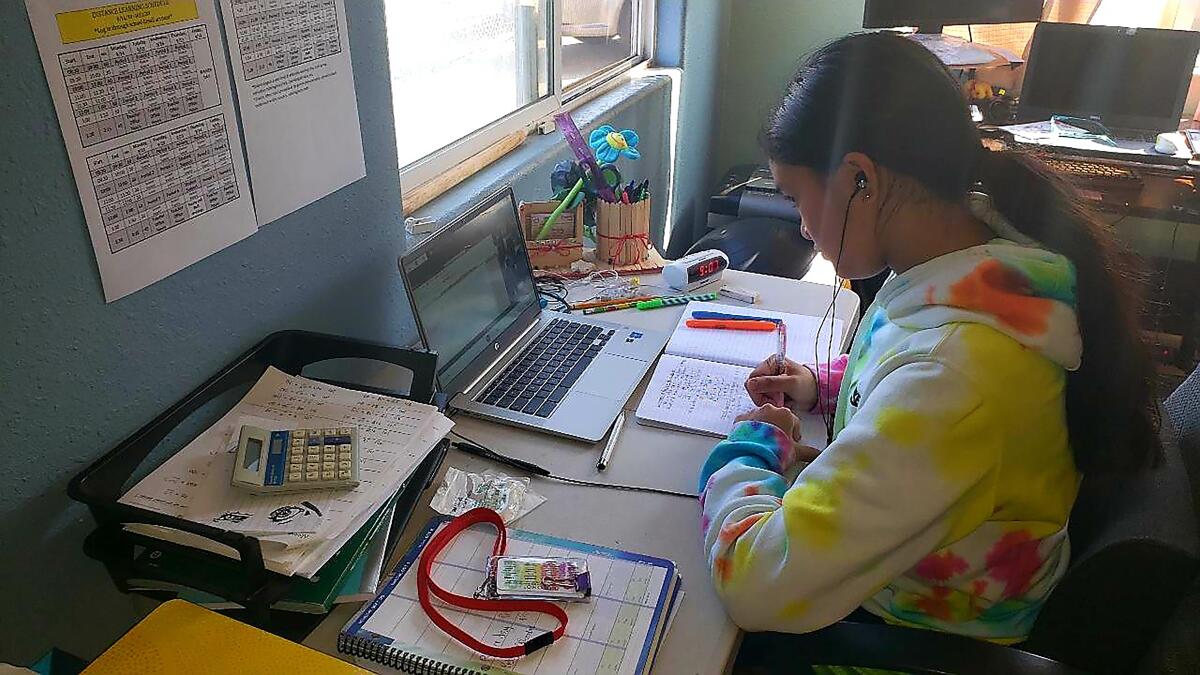 Student academic achievement in the San Diego Unified School District fell in the first two years of the COVID-19 pandemic, mirroring a national trend, according to state standardized test scores the district published Oct. 10.
About 53 percent of San Diego Unified students who took state tests, called the CAASPP, in spring this year met or exceeded standards in English language arts, a 4 percentage point drop from 2019, the last year for which comprehensive state testing data is available.
The drop was steeper in math — 41 percent of students met or exceeded standards, a 7 percentage point drop from 2019.
Only students in grades 3-8 and 11 take the tests.
SDUSD's results represent the first districtwide picture of how the pandemic's disruptions affected student achievement. San Diego Unified was closed to general in-person instruction from March 2020 to April 2021 and was one of the last local districts to reopen.
The state canceled testing in 2020 due to the pandemic, and in 2021, districts were allowed to choose between using the state's standardized tests and their own tests. — The San Diego Union-Tribune
New gallery in Point Loma to present inaugural exhibit
Elizabeth Tobias and Wes Chester will present the inaugural exhibit of their WE Gallery titled "Portraits from the Anthropocene, Part I: Body, Energy, Space, Time" beginning with a reception at 5 p.m. Friday, Nov. 4, at 2650 Truxtun Road, Point Loma.
WE Gallery is a project-based gallery established this year by Tobias and Chester to promote their "belief that art and beauty possess an inherent power to uplift, enliven and transform humanity," according to a news release.
The exhibit, which will run through Saturday, Jan. 14, will feature works of artists Ellen Dieter, Shahla Dorafshan, Alyssa Junious, Kathleen Kane-Murrell, Linda Litteral, Kathy Nida, Katie Ruiz and Perry Vasquez.
For more information, visit elizabethtobiasarts.com/we-gallery.
'24 Experiment' returns to Point Loma Playhouse
After a two-year pandemic break, Point Loma Playhouse is bringing back its experimental theater program "24 Experiment: San Diego" on Friday and Saturday, Nov. 11-12, at 3035 Talbot St.
Twenty-four actors, 24 writers and six directors will get together to form six teams who will write, direct, rehearse and perform six short plays — all within 24 hours. The plays will be performed before a live audience Nov. 12. Audience members can vote for their favorite plays for awards.
Artists must be 18 or older and pay a $24 registration fee. To participate, call (619) 800-5497 or visit pointlomaplayhouse.com. — The San Diego Union-Tribune
— Compiled by Point Loma-OB Monthly staff
Updates
9:18 a.m. Oct. 17, 2022: This article was updated with new information about the Goff Family Pumpkin Patch.