At first community meeting, Midway Rising's sports arena redevelopment plan is met with cheers and jeers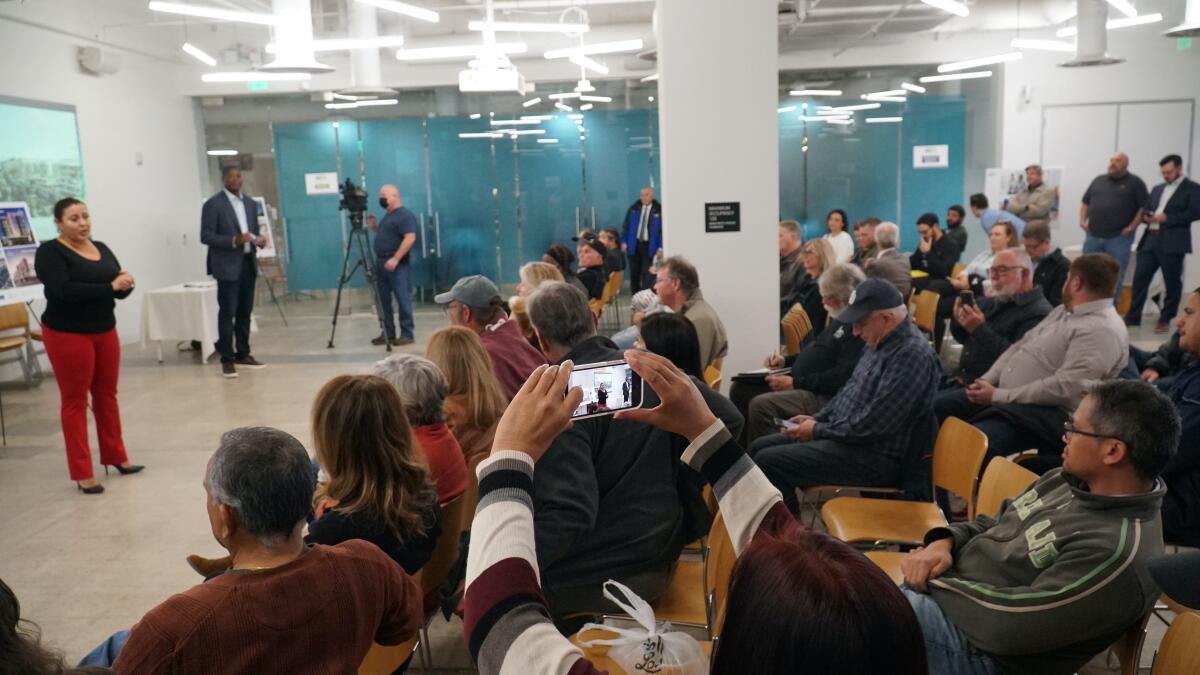 The development team fields questions about traffic, parking and other project logistics.
A crowd of about 100 people gathered Feb. 8 to pepper executives from Midway Rising with questions about the group's proposed 48-acre development that stands to replace San Diego's aging sports arena and reshape the broader Midway District.
The workshop-style event — held at the Education First International Language Campus on Kenyon Street, about a half-mile from the arena — marked the first of the quarterly community outreach meetings required by the development team's negotiation agreement with the city of San Diego.
People attending the meeting were eager to voice their opinions. One couple even heckled the night's opening speakers, in spite of a format engineered to encourage structured dialogue at different stations set up around the room.
A man interrupted Venus Molina — chief of staff for City Council member Jennifer Campbell, whose District 2 includes Midway — after she thanked people for showing up and expressed enthusiasm for the project's promised 2,000 affordable residential units. "Affordable to who?" the man jeered.
The mostly civilized affair carried on with Shelby Jordan, project lead and an executive with sports and entertainment venue operator Legends, providing an overview of how his team, Midway Rising, was selected by City Council members in September to lease and redo the city's land at 3220, 3240, 3250 and 3500 Sports Arena Blvd. After the introductory remarks, people were invited to talk with project representatives at themed stations — housing, community benefits, arena, community plan and mobility — and write down comments for further consideration.
"Community engagement and input on key issues such as traffic, parking and site mobility is crucial to our team," Jordan told The San Diego Union-Tribune. He called the community meeting "a big success, with many more dialogues to follow."
"We are committed to working with all San Diegans to shape a transformative project that delivers thousands of new homes and entertainment options for our city," he said.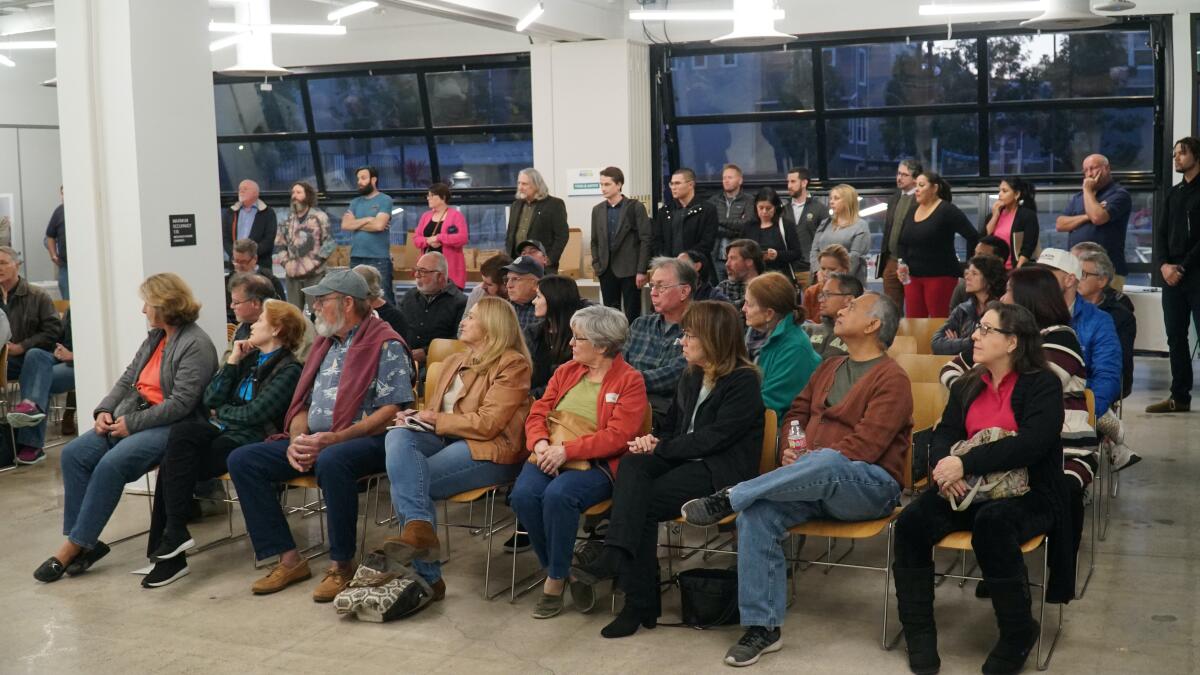 Midway Rising includes Legends, market-rate housing developer Zephyr and affordable-housing builder Chelsea Investment Corp. The group's plan calls for 4,250 apartment homes, a new 16,000-seat arena, a 200-room hotel, and 20 acres of plaza and park space.
In December, the city and the developer executed an exclusive negotiation agreement, creating a two-year window for the parties to finalize lease terms for the site and arrive at a detailed development deal. The contract obligates the developer to submit information such as project financing specifics by set dates. It also solidifies Midway Rising's commitment to build at least 2,000 affordable residential units, meaning those that are deed-restricted for families making 80 percent or less of the area median income.
Milestone starts the clock on a two-year period that requires Midway Rising to produce important material at set dates and not deviate too far from its winning bid.
"Simply because we were selected in September doesn't mean we're going to put a shovel in the ground tomorrow," Jordan said at the community meeting. "We still need to go through the due diligence to prove this project out and ensure that it's viable and [to] work a deal out with the city."
Jordan was joined at the event by Jim Andersen, Chelsea's head of development, and Nico Gemigniani, representing Zephyr. The trio leaned on experts from Midway Rising's bench of consultants, which includes Kimley-Horn for traffic and planning efforts and Gensler for arena design, to staff tables and help explain the particulars of the project.
Penny Maus, who heads San Diego's real estate department and is the city's lead negotiator, and Charles Modica, the city's independent budget analyst, attended the gathering as observers.
Zephyr Chief Executive Brad Termini, whose donations to Mayor Todd Gloria's election campaign were viewed by some as creating a conflict of interest during the selection process, was not present.
"This first meeting was a really great opportunity for the wider public to connect with the Midway Rising team and learn more about the milestones to come as the project moves forward," said Dike Anywio, who chairs the Midway-Pacific Highway Community Planning Group. "The format really helped me visualize which facets of the project the attendees were most interested in learning about. Housing and transportation were by far the busiest stations, and that reflects the community's priorities."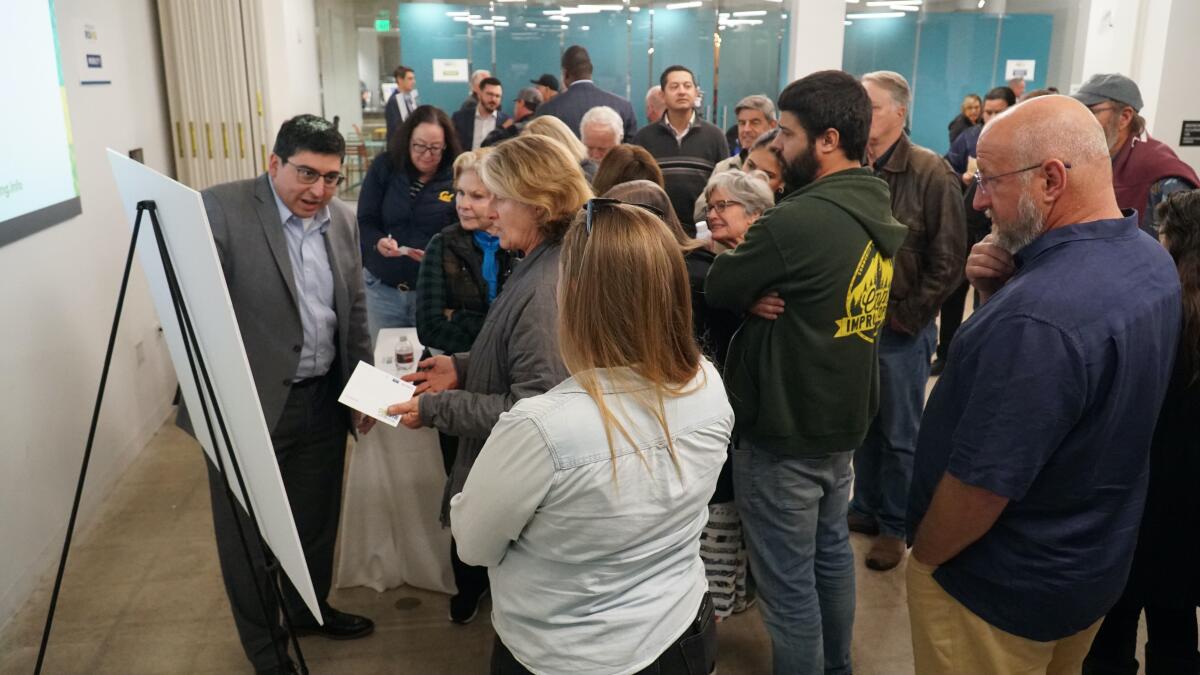 Those in attendance had mixed feelings about a project of Midway Rising's magnitude, with some worried about the traffic implications of having thousands of new neighbors. Others were skeptical of the project's ability to change conditions in the Midway District, where frequent tents on Hancock Street and Sports Arena Boulevard speak to the city's growing homeless population.
"I wanted to hear the dressed-up language, because everything's about language today," said Stephanie Goldman, a Midway District resident who attended the meeting with her husband, Ken. "Like, it's all cherries and butterflies. Oh, isn't that wonderful? $7 billion [in economic impact] here. This amount there. Everybody's going to have jobs. It's going to be wonderful. And the reality is, that's not reality."
"As the city moves the homeless out of downtown, they send them here," she added. "It's horrible over there on Hancock."
She said she fears the proposed project would exacerbate both the area's homelessness and traffic issues. "Anybody who drives here, who lives here, you have to manage what time you can leave and what time you can come in. Rosecrans [Street] will never get lighter. Midway [Drive] will become a nightmare."
"The format really helped me visualize which facets of the project the attendees were most interested in learning about. Housing and transportation were by far the busiest stations, and that reflects the community's priorities."
— Dike Anywio, chairman of Midway-Pacific Highway Community Planning Group
Others were more enthusiastic about the prospect of change in the neighborhood, known for its congested thoroughfares, strip clubs and suburban-style shopping centers.
"This is wonderful. It's the next step in the evolution of what urbanized San Diego is developing into," said Jim Linthicum, a retired executive at the San Diego Association of Governments who lives in Point Loma. "People look at their situation of what they see today. And then they compare it to what it was when they first came to town ... and they say, 'I really liked that.' What you have to see is an area is going to evolve, and so what's it going to evolve into?
"This is the first step of what this whole sports arena, Midway area will evolve into. It's been stagnant for generations. It's gone from drive-ins to shopping centers, and now this is the next evolution of it."
Linthicum also offered a suggestion to improve traffic in the area. Old Town Avenue should be connected to Barnett Avenue — traversing Naval Base Point Loma and the Old Town Complex and going over the train tracks and Pacific Highway — to give commuters another way in and out of the community, he said.
Questions about building heights, parking capacity and offsite roadway improvements were some of the most repeated refrains, according to project executives who concluded the event by summarizing what they heard at each of the workshop stations. The top questions were mostly left unanswered, however, with Jordan and Andersen citing the team's need to complete a detailed review of the site before making final determinations.
Several people complained about not receiving enough notice in advance of the meeting and asked the development team to better publicize future gatherings.