Enforcement of sidewalk vending ordinance gets mostly positive reviews in Ocean Beach
In addition, work has begun on redevelopment of the deteriorated beach-access stairs at Bermuda Avenue.
The Ocean Beach Town Council's February meeting consisted of updates on several local issues, including full enforcement of San Diego's sidewalk vending ordinance, which began in coastal communities in early February and has helped to clear many vendors along the OB beachfront and around Newport Avenue.
"We still have a few that keep setting up, but for the most part, the vast majority of them down at the wall have gone away," according to Denny Knox, executive director of the Ocean Beach MainStreet Association, which manages the local business improvement district.
Some locals see the regulations as long overdue, while some vendors say they're unfair.
Though city park rangers are the primary enforcement arm of the vending ordinance along the coast, San Diego police officers have accompanied them during the initial phase of the enforcement in case of disturbances, according to Community Relations Officer David Surwilo.
"We're still supporting the park rangers in regard to the ordinance being enforced for vendors down at the foot of Newport and in the community as a whole," Surwilo said. "They've been extremely effective. They're doing a great job."
The ordinance, which includes rules for vendor permits and health and safety, was first passed by the City Council on March 1, 2022, and given final approval May 17. It took full effect in most of the city June 22. But restrictions on where and when sidewalk vendors can operate could not be enforced at first in coastal communities while awaiting review by the California Coastal Commission.
The commission agreed in August to withdraw its review and allow enforcement in the coastal zone, which began Feb. 1.
Get Point Loma-OB Monthly in your inbox every month
News and features about Point Loma and Ocean Beach every month for free
You may occasionally receive promotional content from the Point Loma-OB Monthly.
Knox commented on the years of effort by city and local officials and others to get an ordinance enacted and said there's some distance to go before the issue is settled entirely.
"We do have some work to do in the long run," she said. "I would say that we've got a little more order down there at the pier and a lot less trash."
Among the snags that have appeared is the inability to report illegal vendors to responsible parties on the city's Get It Done app, said Manuel Reyes, the Ocean Beach representative for Councilwoman Jennifer Campbell.
"We still don't have a Get It Done report link or platform," Reyes said Feb. 22. "Eventually it will. ... For now, you can use the email askparks@sandiego.gov. Or, of course, email me [mareyes@sandiego.gov]."
Bermuda stairs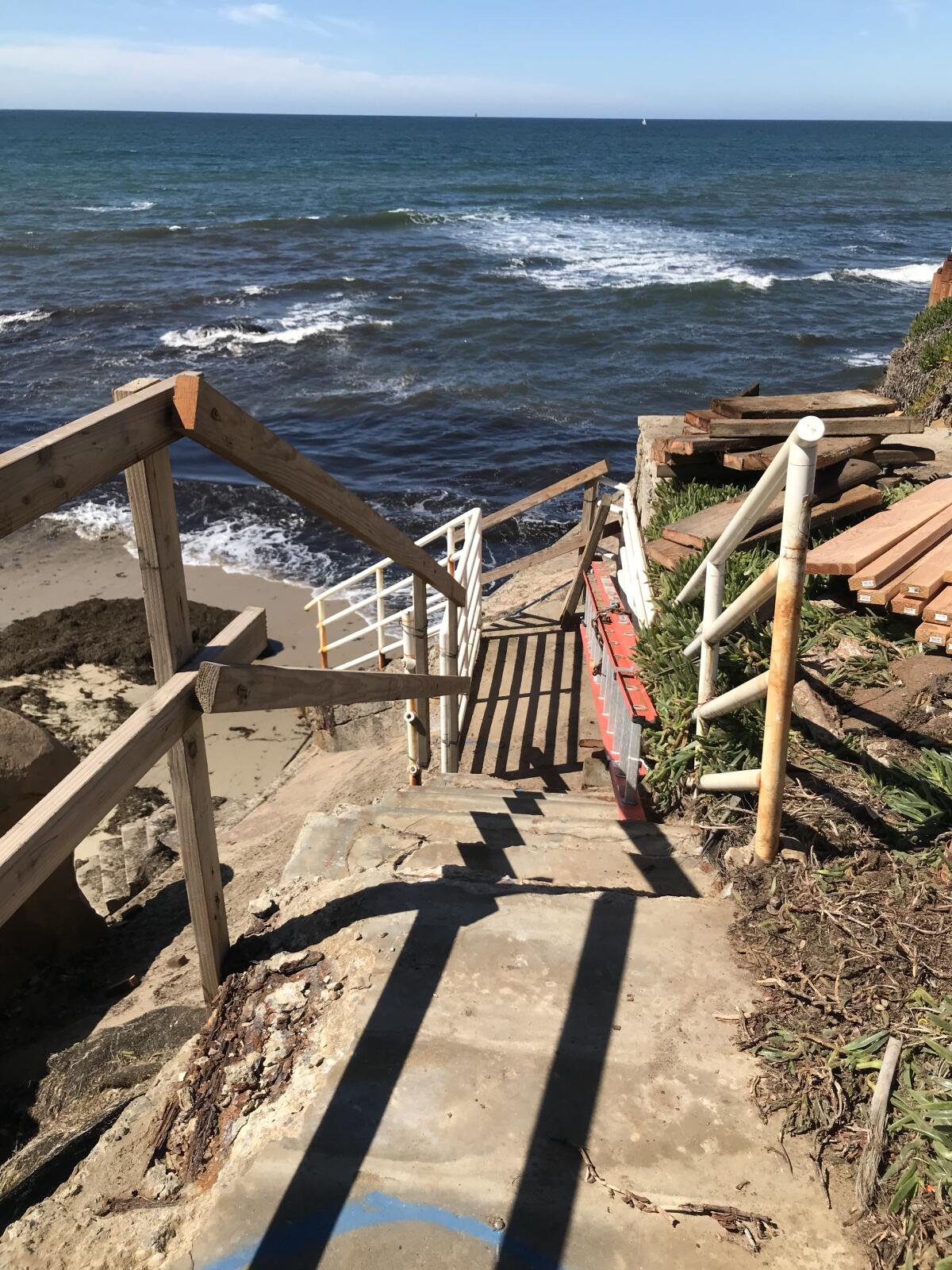 Reyes also said work has started on redevelopment of the deteriorated beach access stairs at Bermuda Avenue and that the contractor has 198 business days from Feb. 13 to complete the project, provided the weather cooperates.
Excluding weekends and holidays, the expected completion date is Dec. 4.
OB Elementary School news
Ocean Beach Elementary School Principal Marco Drapeau said the school will retain its current staffing level in the budget for the 2023-24 school year.
In addition, Drapeau said, the school again qualified for Title 1 allocations, with 42 percent of students coming from low-income families — just above the 40 percent requirement. The program provided about $62,000 in funding this school year.
"For a school our size, it's an incredible amount of money," Drapeau said. "If it went away, we would really, really have some issues."
"The school will be adding a new classroom serving the needs of students with moderate to severe disabilities," he added.
"We used to have this classroom on campus years ago and it got shifted away. Now it's coming back. We're going to be hiring a teacher for that and at least one full-time assistant in there."
Town Council finances
Town Council President Corey Bruins said OBTC is waiting to receive the final bills as well as some donations from its holiday events before compiling and releasing an annual report detailing finances of its Ocean Beach Community Foundation.
In 2021, the Town Council acquired the foundation, which is designated as a 501(c)(3) nonprofit under the tax code, which allows donations to be tax-deductible. OBTC is a 501(c)(4) and donations cannot be deducted, Bruins said.
"C4s have the flexibility to do more lobbying and spend more money on political activism, whereas C3s are extremely limited in what you are allowed to say and do," Bruins said. "So when you're hearing things like the bank balance for our C4 and it sounds like it's staying around $20,000, that's because ... we're using the 501(c)(3), that fiscal organization, to run all of our events and things like that."
Bruins said the structure mimics a similar model used by the Clairemont Town Council, whose past president worked with OBTC to develop the two-tiered financing system.
"We're very grateful to have a C3 where we can accept tax-deductible donations, because for many years that wasn't an option," Bruins said.
New board members
Three new OBTC board members attended the February meeting — Nathan Freischlag, Mandy Havlik and Shelly Parks. They and incumbents Bruins, Gary Gartner, Tracy Dezenzo, Stephanie Kane and Aaron Null were elected earlier in the month.