On the Menu: Into the Little Lion den on Sunset Cliffs Boulevard
If you're lucky enough to be surfing at Sunset Cliffs or strolling through the quaint Ocean Beach neighborhood on any given morning, you might stumble on the Little Lion Cafe, a hole-in-the-wall hidden treasure owned and operated the past eight years by sisters Jacqueline and Anne-Marie Coulon.
Jacqueline's bailiwick is the front of the house, and Anne-Marie is the chef who staged at Chez Panisse, owned a thriving catering company and small local produce farm and now whips up creations in the back of the house.
The sibling team is supported by mom Janet, who writes the restaurant's weekly newsletter; dad Jim, who slugs through the nitty-gritty numbers; and older sister Dominique, the marketing and social media ace.
Get Point Loma-OB Monthly in your inbox every month
News and features about Point Loma and Ocean Beach every month for free
You may occasionally receive promotional content from the Point Loma-OB Monthly.
All have become part of the family culinary legacy that began more than a half-century ago with grandparents Arelene and Don Coulon, who established the Belgian Lion, a classical French dinner spot in Ocean Beach. Jacqueline recalls spending a chunk of her childhood sitting in her Catholic school uniform at her grandparents' bar, where her
dad would drop her off after classes to do homework for several hours a day.
"I grew up in a restaurant ambience," Jacqueline said. "My culinary-driven childhood was pretty magical, but I didn't realize how special this was until I reached adulthood."
The family foodie tree that blends its Flemish heritage with California cultivation continues to branch out with award-winning chef and first cousin Nathan Coulon, culinary director of Jimmy's Famous American Tavern in Point Loma, and his mother, the sisters' Aunt Michele, who launched Michele Coulon Dessertier in La Jolla.
The Little Lion Cafe may be small in square footage — packing in five tiny tables inside and seven outdoors, earning the distinction of "coziest ambience in Ocean Beach" from the OB MainStreet Association — but it receives loads of accolades and attention in many other respects.
The cafe's owners started with a very little budget and furnished and decorated the diner "in a hodgepodge that comes together," Jacqueline said, thanks to the acquisition of heirlooms, gifts of knick-knacks, trinkets and other items from
customers, creative repurposing of woods, and snagging a still life of fruits, a French baguette and Belgian pottery for five bucks at a local antique mall. The artist, George Coulon, coincidentally has the same surname — "perhaps a long-lost relative," Jacqueline mused.
"The Little Lion is genuinely little. We don't have grand ambitions to be restaurateurs, but maybe down the road we'll have a Little Lion and a Dandelion."
— Jacqueline Coulon
The cafe, which serves breakfast and lunch, "wouldn't serve anything we wouldn't really enjoy ourselves," Jacqueline said. "Close your eyes and point at the menu — everything is pretty ... special."
Growing up in the Coulon kitchen, it was basically the law to concoct all dishes from scratch. "Every time Anne-Marie cooks or bakes from her binder of family treasures, you can taste the love," Jacqueline said.
For the award-winning Eggs Benedict, "we use pasteurized eggs poached to perfection topped with hollandaise made from scratch every morning over a sliced baguette, with a side of Belgian fries," Jacqueline said. "These creamy-fleshed Kennebec potatoes are first boiled then twice fried so they are so soft inside and crispy outside, they could practically do a Flemish folk dance in your mouth."
The Benedict can be accessorized with lump king crab cakes freshly prepared daily, crispy bacon, tomato and avocado, or sauteed greens with onions and garlic.
The Egg Strata — baked in a cast-iron skillet with either a blend of goat cheese, leeks, spinach and pesto or shakshuka (savory, spiced potatoes), bacon and aged cheddar — is reminiscent of a frittata with an Eastern European twist.
The toast options range from avocado and crispy chickpeas to prosciutto and basil buttermilk.
Of course, the waffles are a no-brainer. "After all, we're Belgian, and we'd lose our birthright if we didn't include them on the menu," Jacqueline said.
The recipe hails from the sisters' favorite Fannie Farmer cookbook growing up, pumped with active yeast to make them light and airy, and topped with house-made whipped cream, organic berries and a robust maple syrup.
Jacqueline's favorite lunch picks include the plant-based taco, layering a flash-fried corn tortilla with roasted sweet potatoes, quinoa, black beans and cashew cream drizzle, and the Bistro Burger, using a steakhouse beef patty, heritage-bred bacon and melted hatch chili cheese, dressed with organic avocado, tomato, lettuce, house-made ketchup and aioli, along with a side of Belgian fries.
Desserts rotate seasonally, such as the brown butter puffed rice treats and matcha shortbread cookies. The vanilla bean chia seed pudding with whipped coconut topping, organic berries and shaved almonds has its own fan club.
Little Lion offers a Monday Meal Prep for $100 posted in the newsletter for pre-orders and pickup service with 10 to 12 items that change weekly, including bowls, snacks, salads and healthy drinks.
Customers also can get Friday Take Home Dinners — "enough to host a six-person dinner party" — that also changes weekly, with dishes priced a la carte, Jacqueline said. A sample menu might include French onion soup, goat cheese salad, duck sausage with white bean cake, beef stew and a classic chocolate cake.
In addition, the Little Lion Supper Club that was popular pre-COVID has returned with pop-up dinners, announced in the newsletter, in which guests can have a communal meal from a fixed menu, usually on Thursday evenings.
To wash it down, there's a selection of local and Belgian beers and a short list of wines. The mimosa, with a healthy pour of French brut champagne topped with organic orange or grapefruit juice, is the Lion's No. 1 seller. The Golden Latte, which blends steamed oat milk with a mixture of vanilla bean paste, cinnamon, turmeric and ginger, is one of Jacqueline's top picks, along with the Matcha Green Tea Latte.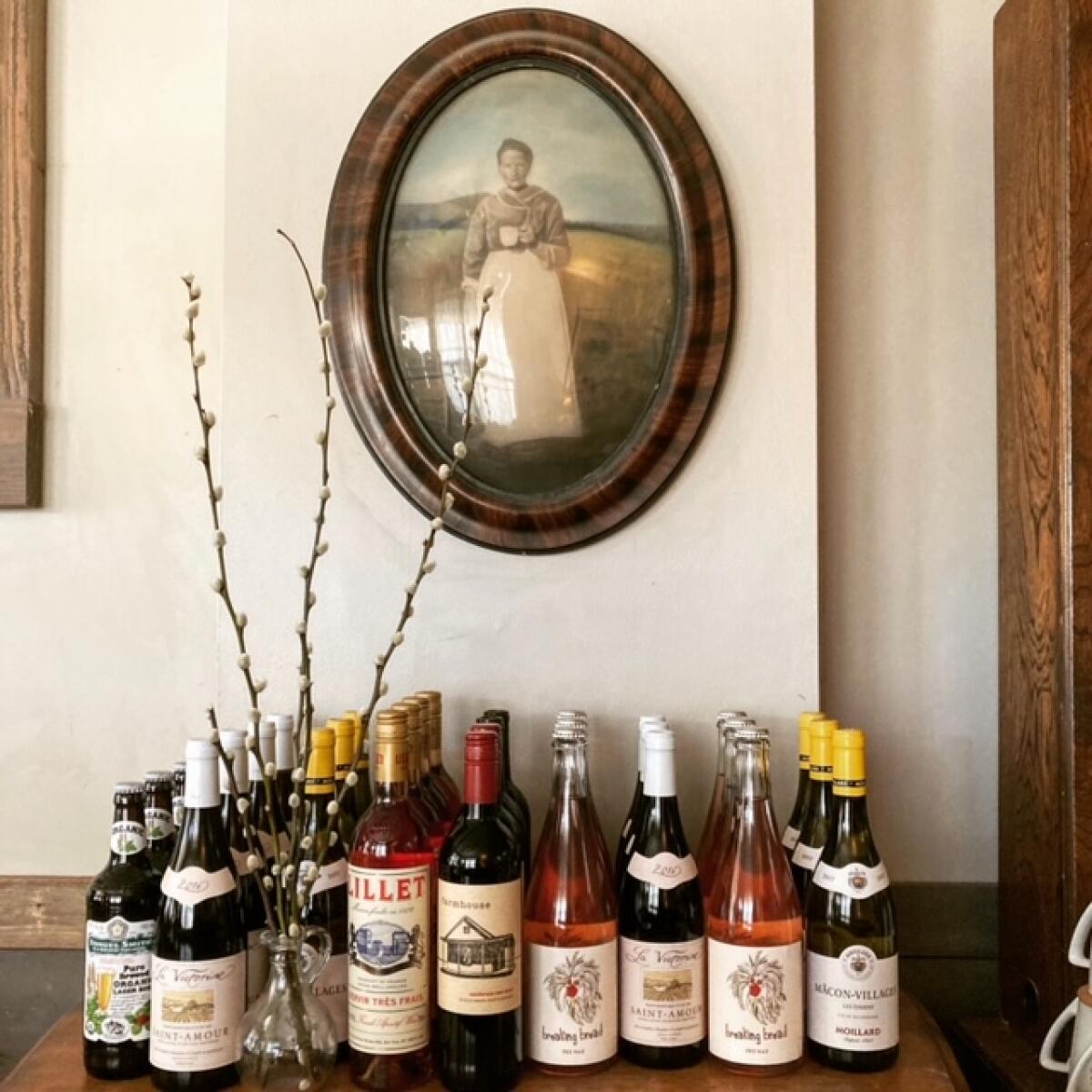 Jacqueline, who said she has never paid for an ad, likes to operate "under the radar so our 30-seat restaurant can accommodate our loyal guests." Customers include neighborhood folks, ocean-gazers who amble in at random, and seasonal tourists from nearby vacation rentals who return year after year. There also are lovely chardonnay-drinking older ladies and tie-dye-shirted teenagers on skateboards.
The majority of Little Lion's employees "come to us through a special connection," Jacqueline said, like the pantry chef who works the cold side making salads along with toasts with the baked goods her father supplies from his Bread & Cie shop in San Diego.
What's down the pike for the Coulon duo?
"The Little Lion is genuinely little," Jacqueline said. "We don't have grand ambitions to be restaurateurs, but maybe down the road we'll have a Little Lion and a Dandelion."
Little Lion Cafe
Where: 1424 Sunset Cliffs Blvd., Ocean Beach
Hours: 9 a.m. to 2 p.m. Wednesdays through Mondays, with after-hours order pickups
Information: thelittlelioncafe.com, (619) 756-6921, littlelioncafesd@gmail.com
Recipe
Cream of celery root soup
"We grew up eating a lot of celery root because our grandparents used it often at the Belgian Lion, as well as family dinners," Jacqueline Coulon said. "This soup reminds us of holidays at our grandparents' table."
Ingredients:
• 3 tablespoons grapeseed oil
• 4 cups peeled and chopped celery root
• 1⁄2 cup chopped white onion
• 2 garlic cloves, minced
• 1 russet potato, peeled and chopped
• 1 cup heavy cream
• 3 cups chicken stock
• 2 cups spring water
• Salt and pepper, to taste
Instructions:
• Heat grapeseed oil in a large pot over medium heat. Add celery root, onion and potato to pot and sauté until vegetables are lightly golden. Add minced garlic and cook for one minute.
• Increase heat to medium high and add cream. Stir. Continue cooking until cream is reduced by half and mixture has turned golden.
• Add stock and water. Simmer for 15 minutes, stirring occasionally. Make sure vegetables aren't sticking to the bottom. If so, reduce heat slightly. Celery root should be tender at this point. If not, cook for a few additional minutes. Let cool slightly.
• Fill a blender halfway and process until smooth. Work in batches until the entire soup is pureed. Season to taste with salt and pepper.
• Soup can be made ahead and reheated gently.
— Courtesy of Little Lion Cafe