Idea to use six Peninsula Tennis Club courts for pickleball could be a net loss for Point Loma High tennis
If the six courts — half the number at the club in Ocean Beach — are repurposed, PLHS tennis players and leaders fear they'll have no place to go.
A proposed temporary repurposing of six tennis courts into pickleball courts at the Peninsula Tennis Club in Ocean Beach could leave out a major group of players — the Point Loma High School tennis teams.
Six tennis courts may not sound like a lot to someone not involved in the pickleball vs. tennis drama that continues in San Diego. In Point Loma and Ocean Beach, as well as other places in the area, court usage has become a battleground of sorts.
At the center of controversy are six of the 12 tennis courts at the Peninsula Tennis Club at Robb Field. With both tennis and pickleball growing in popularity, court space is at a premium. For pickleball especially, wait times can be lengthy.
Get Point Loma-OB Monthly in your inbox every month
News and features about Point Loma and Ocean Beach every month for free
You may occasionally receive promotional content from the Point Loma-OB Monthly.
Though pickleball bears a resemblance to tennis, it is played with a paddle instead of a racket and also includes elements of badminton and ping pong. The court is less than a third the size of a tennis court, and the ball is hollow and perforated.
While tennis and pickleball advocates agree that more pickleball courts are needed, they disagree on whether some of the Peninsula courts should be repurposed.
Peninsula's tennis courts have been coveted by pickleball players the past couple of years. Stefan Boyland and Mike Shinzake, who co-founded the Pickleball Association of San Diego, have been unequivocal in their belief that those tennis courts are underutilized and perfect for conversion.
Two local advocates of the growing sport propose a regional pickleball facility with 25 to 50 courts at Robb Field. However, the city of San Diego says it 'has no plans' to do that.
To address the rising demand for pickleball courts, PTC submitted concepts in October to the Mission Bay Park Committee that included a dedicated pickleball center with 14 courts and a clubhouse. The committee, which advises the San Diego Park and Recreation Board about development, use and policies regarding Mission Bay Park, voted to support accommodating pickleball somewhere in Mission Bay Park, though an exact location wasn't specified.
However, recognizing that it could take years to build a new facility in San Diego, many pickleball advocates want to bypass the lengthy approval and construction process and focus on repurposing tennis courts that already exist.
"We think Peninsula is the least-utilized of the tennis courts in the city of San Diego, and that's why we are targeting them," Boyland previously told the Point Loma-OB Monthly.
He said six tennis courts at Peninsula could be converted into 18 pickleball courts in about five weeks with "some repainting of the courts and some other minor changes."
Boyland said recently that "we will give them back" when the pickleball center is ready.
Peninsula Tennis Club in Ocean Beach, the city of San Diego and private pickleball facilities are working to address the citywide issue.
But the tennis club says it needs those courts and that if they were repurposed, not just club members would lose tennis time but the Point Loma High teams as well.
"Tennis agrees with pickleball that there are not enough pickleball courts," said PTC President Todd Sprague. "But that is not enough reason for pickleball to take away tennis courts."
Point Loma High School players fear they may lose their tennis club if they lose access to the six tennis courts at Peninsula.
Freshman Noel Allen, who plays second singles and sometimes first singles for the Pointers girls varsity team, said she first picked up a tennis racket when she was 4.
Both her grandmother and her father played, she said, and "tennis has always been part of my life. I just love it."
With no courts at the school, Noel joins her teammates on the Peninsula courts by 6:30 a.m. during the girls tennis season. The early hour is the only time the students can use all 12 courts for their practices.
"It's tough, but we do what we can to make sure we can practice. We want to be the best team we can be," she said. "It's a huge commitment, but it really taught me a lot about time management and what I was willing to do for something I love."
Noel said she hopes to play tennis through all four years of high school and possibly into college.
"Losing the courts would make me feel awful," she said. "If they are taken away, we wouldn't have anywhere to practice or play games. We might not even have a team."
Point Loma High sports officials say they have been trying to find options other than PTC for their players and have been coming up empty-handed.
Manual Diaz, the school's athletic director, said PTC has been the home of the PLHS tennis club since the school courts were converted to parking spaces more than 20 years ago.
"Outsiders don't always understand [that] our high school facilities are very limited," Diaz said.
"We support a plan to create dedicated pickleball courts at Robb Field, but not at the expense of our student-athletes," he said. "To take away tennis would take away the 60 to 80 kids that really have a passion for this sport. Not having those six tennis courts would mean we would have to find other venues, and we can't. We have tried."
The 23 tennis courts at the nearby Barnes Tennis Center in Point Loma often come up as a possible option for PLHS. But Diaz said Barnes is in a similar situation.
"High Tech High [School] students already use Barnes, and they cannot take on two high schools at the same time," he said.
The Point Loma High tennis program consists of about 40 girls and 20 boys. Over the past 20 years the teams have garnered several league titles.
Even with the availability of the Peninsula Tennis Club, the teams struggle to find court times, Diaz said.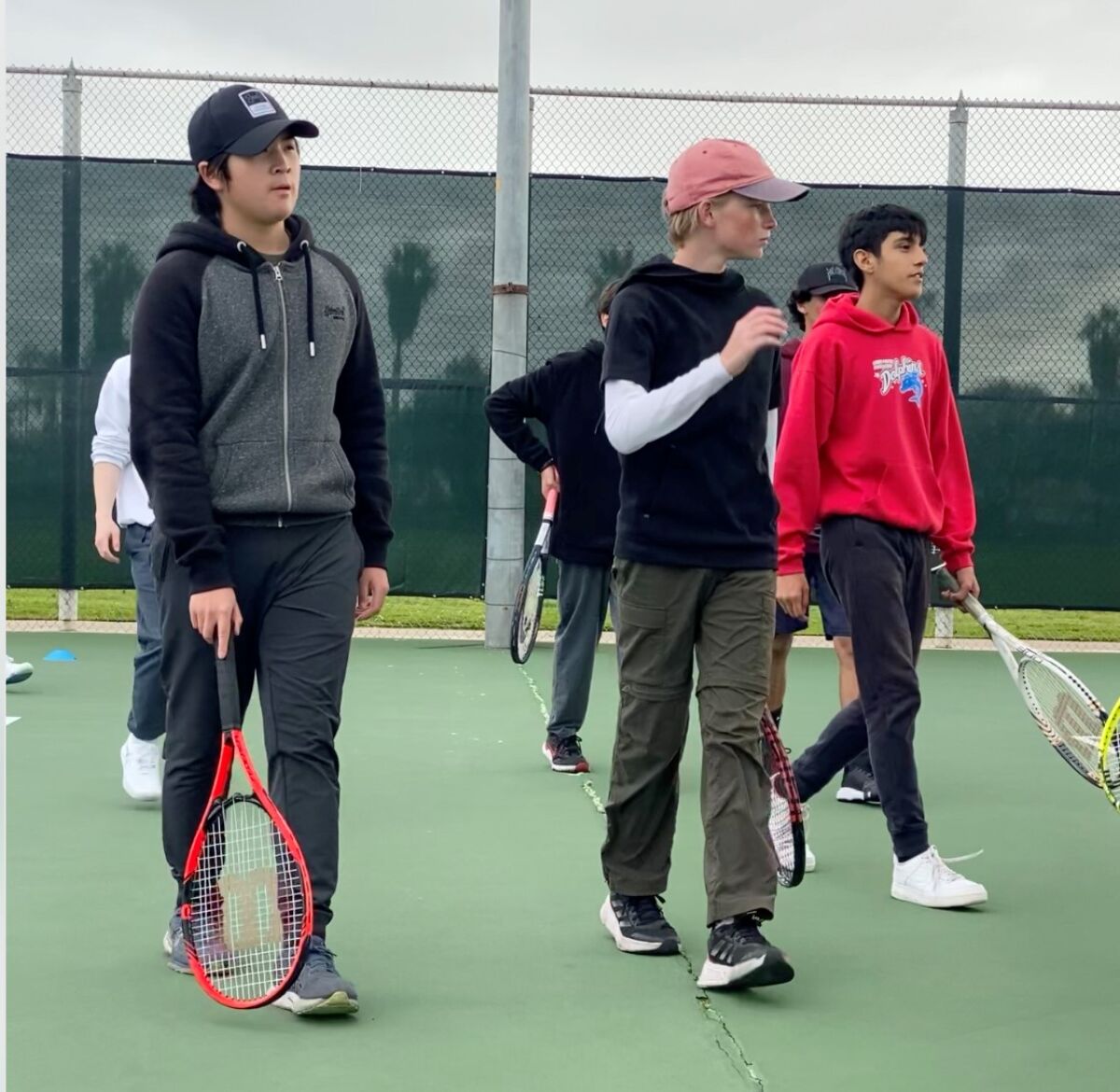 In a letter to the San Diego Parks & Recreation Department in February 2022, Diaz wrote that the PLHS girls tennis team uses the Peninsula courts from late August until November and the boys team uses the site from February until May. "PLHS uses the courts an average of six to 10 hours a week, depending on if they host home matches," he said.
Keith Barksdale, head coach of the school's boys and girls varsity tennis teams, said "it's very important for the students to have a place to practice and play matches. It would give us a peaceful mindset just knowing that we have a place and a home."
It has fallen on Bridgette Anderson, the booster club president for PLHS tennis, to try to find alternate courts. The booster club raises funds to help pay for uniforms, balls, extra tennis court usage and other items not in the school's budget.
Anderson doesn't play tennis or pickleball and became involved with the high school tennis program after her daughter, Rennie, joined.
"It's not that we don't want pickleball," she said. "A lot of parents play pickleball while their kids play tennis, and it creates a lot of family closeness."
However, she said, the school tennis players need the courts at the Peninsula Tennis Club.
In her search for alternative spaces, Anderson has become acquainted with practically all nearby facilities, and none will work for the PLHS teams, she said.
Correia Middle School has tennis courts but doesn't meet several requirements of the California Interscholastic Federation, which governs high school sports statewide, she said.
"The Balboa courts are already in use by two other high schools; two other sets of courts nearby only have four courts each and Point Loma Nazarene [University] only has six courts," Anderson said.
"Mission Bay has the courts, but they use them at the same time we do, so that doesn't help."
CIF specifies that schools have a minimum of six courts to play league matches.
If the high school players were to split up and use courts at various places, it would be difficult for many of the parents to try to get multiple kids to multiple facilities at the same time, Anderson said. She added that many of the teenagers aren't old enough to drive alone yet.
Dual-use courts, in which lines are painted so a court is usable for both tennis and pickleball, also are not an option, she said.
"Making the courts dual use ... means CIF says we can't use them," Anderson said.
But Boyland and many of his fellow pickleball backers believe there is no need for the students to search for more courts.
"Point Loma students can simply go across the street from PTC and use the facilities at Barnes," Boyland said. He added that he believes the court usage there is exaggerated and that plenty of tennis courts are available.
But Barnes officials insist there isn't enough court space for PLHS and that they have to turn down requests to accommodate more students.
"We are pretty much full all the time. We have no more space for what the high schools need," said Ryan Redondo, the tennis center's general manager.
He said Barnes also hosts various other programs as well as several tournaments.
"We have waiting lists for all our programs," Redondo said.
In addition, Anderson said, the higher rates Barnes charges mean it isn't an option for PLHS, given the funds it has available.
Redondo said his facility isn't against pickleball and pointed out that four new pickleball courts were built recently and would be available for play as soon as the weather permitted.
PTC has provided court space to the PLHS tennis program for as long as Duncan Depew, Peninsula's director of tennis, can remember.
"The kids have been established here for years and have a huge history here," Depew said. "We've always had a low fee for them, especially when they first lost their school courts and there wasn't any money."
Depew said a lot of other youths play at his facility, as well as overflow from Barnes.
Young players use the courts in the early mornings and in the afternoons after classes for practices and matches.
"It's quite a tight squeeze, especially during the week when they have matches," Depew said. "It's often 25 kids or more; the girls will use eight courts at a time if they're available.
"The kids have been a fixture here and they're part of the club. Many of the kids grew up playing here and so did their parents. My own son and daughter also went to PLHS and played here."
"We want pickleball," he added, "but we don't want to have to take away tennis courts that are being used for tennis."
But Boyland said the students don't need the courts year-round, noting that "the seasons for the boys and the girls are only about two months long each."
He also pointed out that many of their matches are on the road so aren't played at Peninsula.
"Enough courts can be cordoned off at PTC for those very select times and hours when they play," Boyland said. "And most high school matches are done by 5 p.m. and the club is open until 7 or 8 p.m."
Boyland acknowledged that Barnes Tennis Center is busy, but like many pickleballers, he believes Barnes and Peninsula "can work together when they want" — for example, by staying open additional hours or staggering times so the loss of six courts wouldn't hurt the PLHS teams.
Longer hours also would benefit pickleballers, if pickleball courts were available, as well as tennis players, Boyland said.
Pickleball and tennis players alike are encouraging the public to contact the San Diego Parks & Recreation Department and the mayor's office to make their opinions heard.
Noel also hopes that she and her teammates will be considered.
"I feel like when it's just adults talking about their opinions, it doesn't really capture how we feel," she said. "It does impact us, too. I care about it and the team cares about it."