A Page from History: A return to Wonderland, Ocean Beach's short-lived 'enchanted' amusement park
The park, the first of its kind in San Diego, opened in 1913 with popular rides, attractions, a zoo, towering buildings and music galore.
The Ocean Beach streetcars were packed and running every 20 minutes instead of the usual hourly train. An anticipatory buzz among the passengers made for a jolly jaunt from downtown San Diego out to the beach via the "direct route" around the bay and up the canyon to Voltaire Street in Ocean Beach.
The little beach community was already a popular picnic destination, and since the streetcar line had been completed, weekends might see hundreds of people rolling down the sand dunes and wading in the ocean. Even more folks would show up on Independence Day, of course, but no one had ever seen anything like the crowd on the Fourth of July in 1913.

For the record:
1:57 p.m. March 15, 2023This article was updated to correct that the Pitzer House is in Claremont in Los Angeles County.
The stop at Bacon Street, a sandy little crossroads where the route of the Point Loma Railroad turned south, had acquired the highfalutin name of Wonderland Station. From there it was an easy one-block stroll west to the extraordinary and elaborate entrance to San Diego's first amusement park, the remarkable Wonderland. Eight to nine acres of advertised excitement and family-friendly fun had lured an estimated 35,000 people to Ocean Beach.
More than 20,000 paid a dime to pass through Wonderland's turnstiles. To put those figures in perspective, over half the population of San Diego County turned out for the opening of Wonderland. Ocean Beach at the time was home to a mere 300 year-round residents. Five years earlier, that statistic would have been in double digits.
The opening of Wonderland meant big things for the beach town, and in little OB, business was booming.
The streetcar wasn't the only way to get to Wonderland. Buses and unregulated jitneys helped shuttle the thrill-seeking throngs.
"For the ritzy people who had automobiles, the ads said there was 'room for parking," recalled "Beach Town" author Ruth Varney Held. "What an understatement! Ocean Beach had lots and lots of open space."
Wonderland by night
Then-7-year-old Ruth had witnessed a sneak preview of Wonderland's magic the previous evening. A fabulous fireworks display, the "Battle in the Clouds," staged by renowned Italian pyrotechnician Signore Paglia, began in the afternoon and continued after dark.
"A great cheer went up when Mayor Charles F. O'Neall threw the switch," Ruth remembered. "Twenty-two thousand lights outlined the white buildings and lacework towers. ... The band played 'America,' and thousands poured in through the gates. To a little girl standing across the street with her family, it was an enchanted place."
Enchanted indeed, if not downright spectacular. The towers of Wonderland could be seen for miles, as could the Blue Streak Racer (also known as the Race Through the Clouds), the largest roller coaster on the West Coast. The gigantic Giggler and the colossal Shoot the Chutes were likewise impressive.
Not all the attractions were open on the Fourth — the park's grand opening would not be for three more weeks — but there was something there for everyone. Wonderland boasted an outdoor band shell and roller-skating rink with 2,500 pairs of skates to rent, plus a bowling alley, a carousel, a large children's playground and a heated saltwater plunge.
The most impressive buildings at Wonderland might have been the opulent Wonderland Casino — a dining and entertainment venue — and the enormous and splendid Waldorf Ballroom.
Castles on the sand
Before you ask, let us assure you that such a fabulous funfair had not simply washed up at the mouth of the San Diego River one balmy summer morning. Not at all.
Lot No. 1 of the Ocean Bay Beach tract, north of Voltaire and west of Bacon Street to the sea, had been purchased by Wilson Chamberlain shortly after the Point Loma Railroad came to town. Chamberlain had spent a reported 9,000 1909 dollars on a bathing pavilion on the beach. Photographic evidence of that pavilion remains undiscovered. Mind you, these were days before anyone could have imagined that a special beach just for domestic dogs might be a fashionable concept in the neighborhood. Nor were there yet any of the many excellent jetties that we now know and love in Ocean Beach.
The persistent Pacific tides being what they are, you may not be surprised that Chamberlain's plunge nearly washed away that first season. While some might have taken that as an omen of things to come, Chamberlain was of a more optimistic bent.
Three years later, executives of the Thompson-Snow Amusement Co. sold the property of their popular Luna Park, originally known as Chutes Park in Los Angeles, and moved their operation to remote Ocean Beach — Chutes and all. In early 1913, the Ocean Bay Beach Co. was incorporated with Chamberlain, Herbert Snow and E.C. Hickman as principals.
Permits for the construction of Wonderland were obtained just a month later. The company engaged Los Angeles architect Robert Hall Orr to design the 16 buildings of Wonderland.
In his long career, Orr was known primarily for designing large bank buildings and churches, including downtown San Diego's First Presbyterian Church. Orr also is known for the Pitzer House fieldstone California bungalow in Claremont in Los Angeles County.
Wonderland construction workers sank 890 pilings into the Ocean Beach sand to support massive platforms on which the ballroom and the Casino were built. These underpinnings proved to be quite worthy over time. The ballroom's dance floor measured 125 by 150 feet and was made of solid maple. Price tag: $6,500. The floor was said to be able to accommodate 800 dancers.
Two two-story entrance buildings with 65-foot towers were arranged perpendicular to each other on the northwest corner of Abbott and Voltaire streets. From the westernmost corner of the large triangular Casino building rose another splendid Wonderland tower.
Some 200 workers toiled around the clock to have the park ready for Independence Day.
At the zoo
Many attractions and staff members from Luna Park came with General Manager Snow to Wonderland. Most prominent and popular among those holdovers were park floor manager Col. Larry Bradley and the inmates of the Luna Park Zoo. Those critters became the nucleus of the Wonderland Zoo, a rather remarkable menagerie. The zoo's roster included several types of wolves, an "Arizona coyote," a pair of black bears and the only hyena on the West Coast.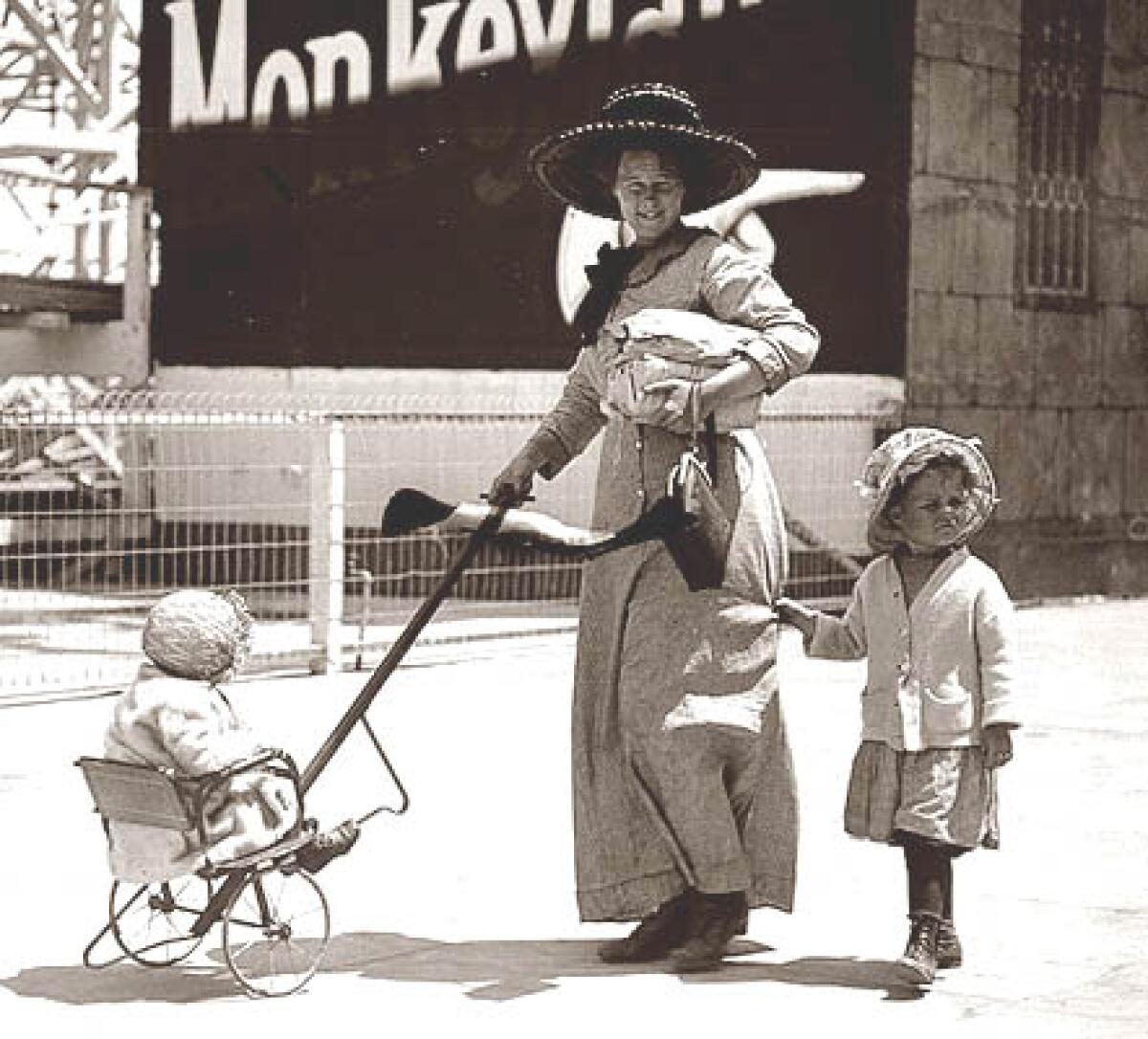 Wonderland's big cats included five lions, starring the "untamable lioness" Sultana, one puma, a California bobcat, two California mountain lions and two leopards. The "outlaw leopard" King was reputed to be one of the largest leopards ever exhibited in the States.
Marvelous Monkeyland was a favorite of most visitors. Its population was made up of 350 monkeys of 56 varieties. Entertaining and rascally Mr. Spider supposedly was the "oldest monkey in captivity." The precocious baboon couple, Mr. and Mrs. Cooper, got a kick out of showing their butts to Wonderland visitors, and there were Zip "the millionaire monkey" and Sally, "the world's greatest chimpanzee." Cigarette-smoking Sally executed costume changes by herself with ease and traveled in her own custom railroad car.
Popular Porky, the "world's largest porcupine," notoriously tipped the scales at 178 pounds. An ambitiously chubby adult Homo sapien would have been proud to approach that weight 110 years ago.
A very rare baby kangaroo born at Wonderland made her debut on Christmas week 1913. Two raccoons also were displayed at Wonderland, but when you have found twice that many in your Ocean Beach kitchen more than once, it doesn't seem so remarkable. But they weren't as common out on the dunes back in the day.
Music was everywhere at Wonderland. The Royal Marine Band played on the bandstand and in the ballroom, looking sharp in their military-style uniforms. A women's orchestra entertained in the Casino, and youth bands, choral groups and smaller combos performed frequently throughout the park.
Wonderland was designed as a family-friendly facility. Bradley guaranteed that women and children would find the park to be "safe, wholesome and clean." There were to be no vulgar displays on the dance floor either.
"There will be no 'turkey-trotting' or 'bunny-hugging' in our ballroom," Bradley declared. He added that any misguided "mashing" over by the Foolish House also was formally frowned on.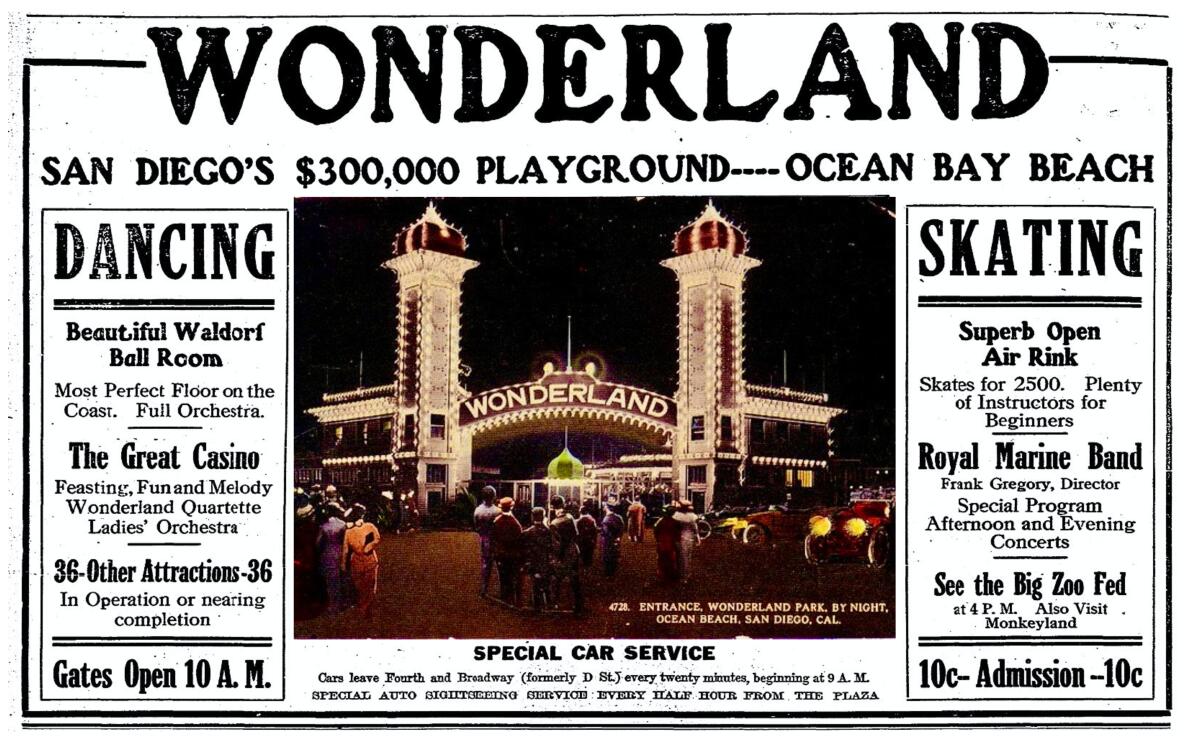 Wonderland was open through Labor Day 1913. It opened again for Halloween and between Christmas and New Year's.
Special programs and spectacles included the balloon ascensions of the illustrious aeronaut Professor Young, performing stunts 2,000 feet above the park.
Horace Poole, a forerunner of the Human Torch, leaped from 70 feet up into 5½ feet of water, completely enveloped in flames.
In summer 1914, diminutive daredevil aerialist Tiny Broadwick, a 5-foot, 85-pound teenager, jumped from a hot air balloon 4,000 feet high and floated to the sand using several small parachutes the size of umbrellas.
That summer also saw the San Diego Butchers' Association grill 5,000 pounds of beef as part of a bodacious free barbecue at Wonderland.
Ocean Beach historian Jonnie Wilson likes to tell the story of a young couple who got hitched in the Lion's Den at Wonderland. "Charles Sanders and Hazel Shaw tied the knot in a steel cage with 6,000 of their closest friends looking on," Wilson told me. "The only other people in the cage were one lion tamer and a justice of the peace ... and three ferocious feline attendants!
"Don't you think getting married is scary enough as it is?"
The summer of 1915 saw events such as a Kelp Costume Contest at Wonderland. The San Diego Union reported that 5,000 people turned out to see "many pretty girls dressed in natty bathing suits made principally of kelp."
"First prize was awarded to Mrs. C.N. Bartlett, second to Mrs. R.C. Cline, third to Miss Tiny Broadwick and fourth to ... ."
Tiny Broadwick?! Man, that girl got around!
Time and tide
The opening of the two-year Panama-California Exposition in San Diego in January 1915 didn't do Wonderland in, but it did leave the park grasping for, well, kelp.
A popular opinion is that Wonderland was broadsided by the big expo in Balboa Park, but such was not the case. Wonderland was built — really, overbuilt — in such a large and lavish fashion in anticipation of the coming exposition. It hoped to take advantage of the expected exposition crowds — to share the wealth, as it were. But that did not transpire as planned.
The Ocean Bay Beach Co. had invested $350,000 to $375,000 in Wonderland, and even with two spectacularly successful seasons under its belt, it was financially sinking below the waves.
In March 1915, Wonderland and adjoining properties were sold to meet the company's debts.
Wonderland creditors formed the Mission Bay Corp. to assume the park's liabilities. The Union reported that C.H. Wagner bid $100 for the park itself, which included its $150,000 mortgage. Col. D.C. Collier, representing the Mission Bay Corp., paid $40,000 for the adjoining property.
The Mission Bay Corp. also took over the park's bonds and zoo animals. The critters, which Collier valued at $15,000, were sold to the city of San Diego for $2,500, only $500 of which was ever collected by the Mission Bay Corp. The animals were moved to the Isthmus of the Panama-California Exposition and were later acquired by what would soon be known as the San Diego Zoo.
Several subsequent operators tried gimmicks such as free admission to attract folks to Wonderland, but the results were disappointing. The huge flood of 1916 undermined and destabilized the great roller coaster. The ride was dismantled and rebuilt on the Pleasure Pier in Santa Monica, where it operated successfully for a decade.
Wonderland's two entrance buildings lost their towers and were moved across Abbott Street and north a block, where they joined a third Wonderland building, a garage that had served as a Wonderland firehouse, to form a rather eclectic apartment building once known as The White House and later as HQ of the International Male clothing catalog. True story.
In 1917, Collier, in a letter to the U.S. secretary of war, offered the grounds and buildings of the Panama-California Exposition, the grounds and remaining buildings of Wonderland (the Casino and ballroom) and the unimproved expanse of Collier Park in Ocean Beach to the War Department for training purposes. The department took him up on the exposition grounds at Balboa Park.
By 1920, only seven years after Wonderland opened, the once-iconic installation had almost completely disappeared.
Then on July 4, 1926, "a new and unique resort community," Ocean Village, opened on West Point Loma Boulevard. One hundred tiny "English-style cottages" had been built on the still-sturdy platforms that once supported Wonderland's Casino and Waldorf Ballroom. The nicely appointed cottages came with or without kitchens, and a modern coffee shop completed the mini resort.
Ocean Village was available by the day, week or month and ran as a successful motel for a couple of decades.
But by the mid-1950s, Ocean Village had fallen into disrepair. The property was condemned in 1958 and the remaining cottages were sold or demolished. Quite a few of the cottages stayed in OB in a variety of incarnations for many years, and half a dozen may well be here still.
The remainder of the property that was once Wonderland was eventually subdivided and became residential Ocean Beach. Quite a few neighborhood bungalows stand on concrete where happy Wonderland visitors once walked. I'd like to tell you where, but it's a secret.
For years there was a mysterious little lane in north OB called Chamberlain Court. The street sign is long gone and the court no longer appears on maps.
If you happen to know that one or would like to hazard a correct guess (of course, certain parties are ineligible), I'll buy you a burrito.
Eric DuVall is president of the Ocean Beach Historical Society. OBHS board members Jonnie Wilson and Kitty McDaniel contributed to this article. Membership in OBHS, a 501(c)(3) nonprofit, is $25 annually. Visit obhistory.org.