Locals offer suggestions for Ocean Beach Pier replacement as San Diego begins public meetings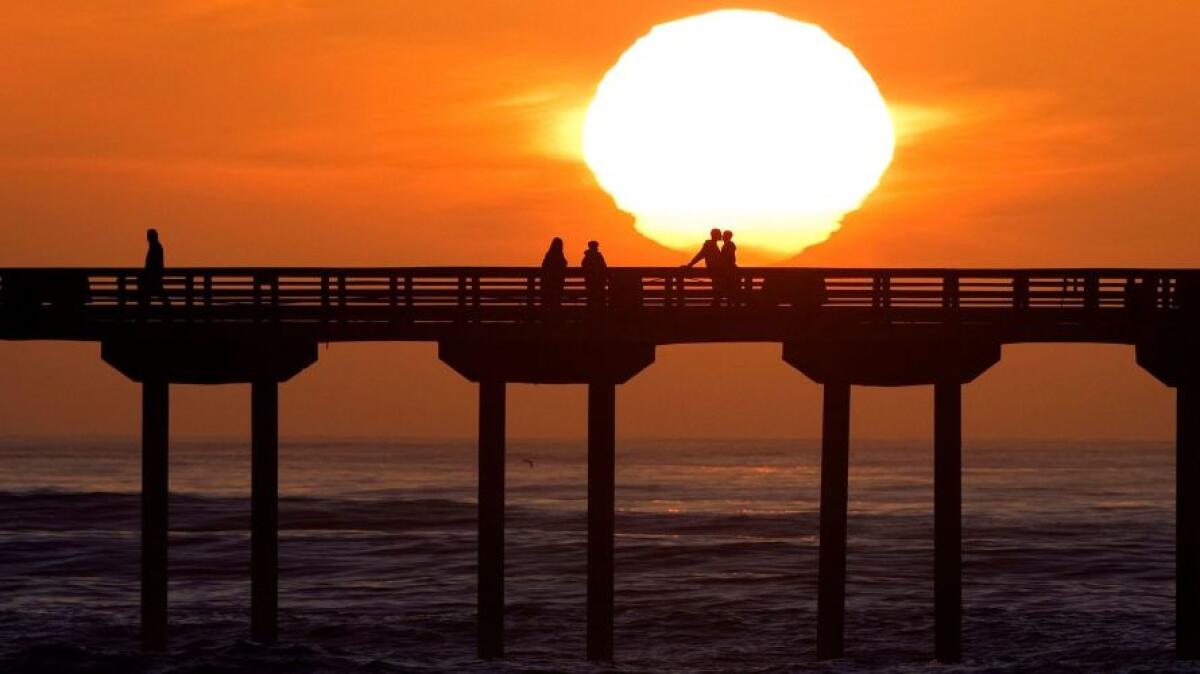 Most in attendance at the first gathering seem excited by the prospect of a new pier, with recommendations including two levels, murals, an artificial reef and a museum or cultural center.
For the past two decades, the Ocean Beach Pier has been ravaged by storms, large waves and age-related wear and tear to the point of needing serious refurbishment.
With the city of San Diego exploring replacing the 57-year-old pier with a new model, city officials are holding a series of public meetings to gather input on the pier's future.
Get Point Loma-OB Monthly in your inbox every month
News and features about Point Loma and Ocean Beach every month for free
You may occasionally receive promotional content from the Point Loma-OB Monthly.
The first was held April 1 at Liberty Station in Point Loma, with a robust turnout of more than 100 people. The meeting began with a brief presentation about the importance of the pier as a cultural staple and an economic driving force for the city.
The pier hosts more than 500,000 visitors per year, according to the Ocean Beach MainStreet Association.
Along with its bait and tackle shop and cafe, the pier helps draw people to nearby storefronts on Newport Avenue.
"If you look at the logos that all these businesses have here in Ocean Beach, especially the brick-and-mortar businesses, almost all of them have the pier — it's iconic," said Denny Knox, OBMA executive director. "We don't want Ocean Beach to lose such a fabulous asset."
The then-standard materials used to build the pier actually shouldn't have been able to last as long as they have in the ocean environment, officials said. After 23 years, it needed significant repairs, and saltwater corroding the steel reinforcements has led to frequent safety issues.
Though the pier has undergone periodic repairs, that has only put off the inevitable need for replacement, officials said.
A study begun in 2018 and completed in 2019 by Long Beach-based engineering consultants Moffatt & Nichol said the pier had "reached the end of its service life." It outlined three options:
• Repair the existing damage at a cost of about $8 million
• Rehabilitate the pier (cost of up to $50 million)
• Tear down the pier and build a new one ($60 million to $65 million)
The price tag for a new pier is now expected to be higher because of inflation and other factors.
Ocean Beach community leaders have expressed preference for a new pier with modern materials, saying it would last longer (75 years or more) and be more cost-effective than a major overhaul.
The Ocean Beach Pier has been a landmark for the coastal community since it first opened in July 1966.
Additionally, a new pier would be more elevated to protect against future sea-level rise and reduce the possibility of damage from big waves.
Based on the findings of the Moffatt & Nichol study, San Diego determined that pursuing pier replacement is the best option considering "the ongoing costs of repairs, the need to modernize the existing facility and the anticipation of future sea-level rise," according to a city statement.
The city is now working with Moffatt & Nichol on what is called the Ocean Beach Pier Renewal project, which is in the preliminary engineering and planning phase and still needs to go through other phases, including permitting, design and construction.
A community task force was formed to ensure that local voices are heard during the process.
The engineering and planning phase is expected to be completed this fall.
The April 1 public meeting featured interactive workshops in which a group of architects brought out a model of the pier and all of Ocean Beach. There also was a station where people were asked to reflect on their memories of the pier. Answers ranged from "jumping off the pier as a Junior Guard" to "surfing riptide right."
Another station asked residents what the pier means to them. The resounding answer was "community."
Most residents at the meeting said they're excited about the potential a new pier holds. Some suggested it have two levels to make it more accessible to fishermen. Others recommended murals and better seating areas. One resident said leftover concrete from the existing pier could be used to create an artificial reef.
The overarching opinion was that the new pier should highlight the history of the Ocean Beach-Point Loma area. One commonly shared idea was that it have a museum or cultural center.
According to the pier project's timeline, three more public meetings will be held this year, with another to be held in the third quarter of 2024. The project team also will visit farmers markets and other events in Ocean Beach to gather additional input.
Once a preferred alternative is decided, a detailed project schedule and cost estimate will be prepared, according to the city. Currently, $8.4 million in state funding is designated for the project, and the city will pursue other state and federal grants, according to a statement.
The city has said it would like to begin construction on a new pier by 2026.
However, opposition arose in November in a lawsuit filed by the Animal Protection and Rescue League, an animal-rights and environmental group, seeking to block the city's $8 million agreement with Moffatt & Nichol to start working on the pier replacement plan.
Leslie Wolf Branscomb, senior public information officer for the San Diego city attorney's office, said the case is ongoing, but she had no further comment.
The suit alleges the city "failed to follow basic transparency rules or to consider environmental factors as required by state law" in proceeding with the study.
The 1,971-foot Ocean Beach Pier has been a landmark in San Diego since its opening in 1966, conceived as a fishing spot with no fishing license required and no limit on daily catches. However, it has been closed to the public since January because of damage to railings caused by large waves during this winter's storms.
That has been a repeat occurrence at the pier the past several years. Damage from rough surf in January 2021 required repairs to railings and plastic pipes containing electrical wiring that fully and then partially closed the pier until July 2022.
The city also needed to make repairs and upgrades in 2019 after waves from a winter storm ripped off part of the railing.
— San Diego Union-Tribune staff writer Emily Alvarenga contributed to this report.
Updates
11:02 a.m. April 8, 2023: This article was updated with additional information, comments and photos.