Macrame art installation pays tribute to Liberty Station's military ties
Artist Cat Chiu Phillips is tying together naval legacy with culture in one of her latest pieces, a recent addition to Liberty Station's public art.
"Tied" is part of "Installations at the Station," a series of 13 artworks curated by the nonprofit NTC Foundation. The seven-piece macrame installation in the Arts District pays homage to the military history of Liberty Station, a commercial and cultural destination in Point Loma that once was Naval Training Center San Diego, founded 100 years ago.
"Tied," displayed on a wall painted in Navy blue at Barracks 5, is made with repurposed paracords and standard knotting techniques used by service members, such as square knots, clove hitches and running bowlines. Stars, bars and color schemes denote military rank.
"Two of the tapestries are woven to resemble ribbon bars, often worn by military service members," Phillips said. "Though these service ribbons do not re-create a particular order of precedence or order of wearing, it represents reverence and gratitude for our armed forces."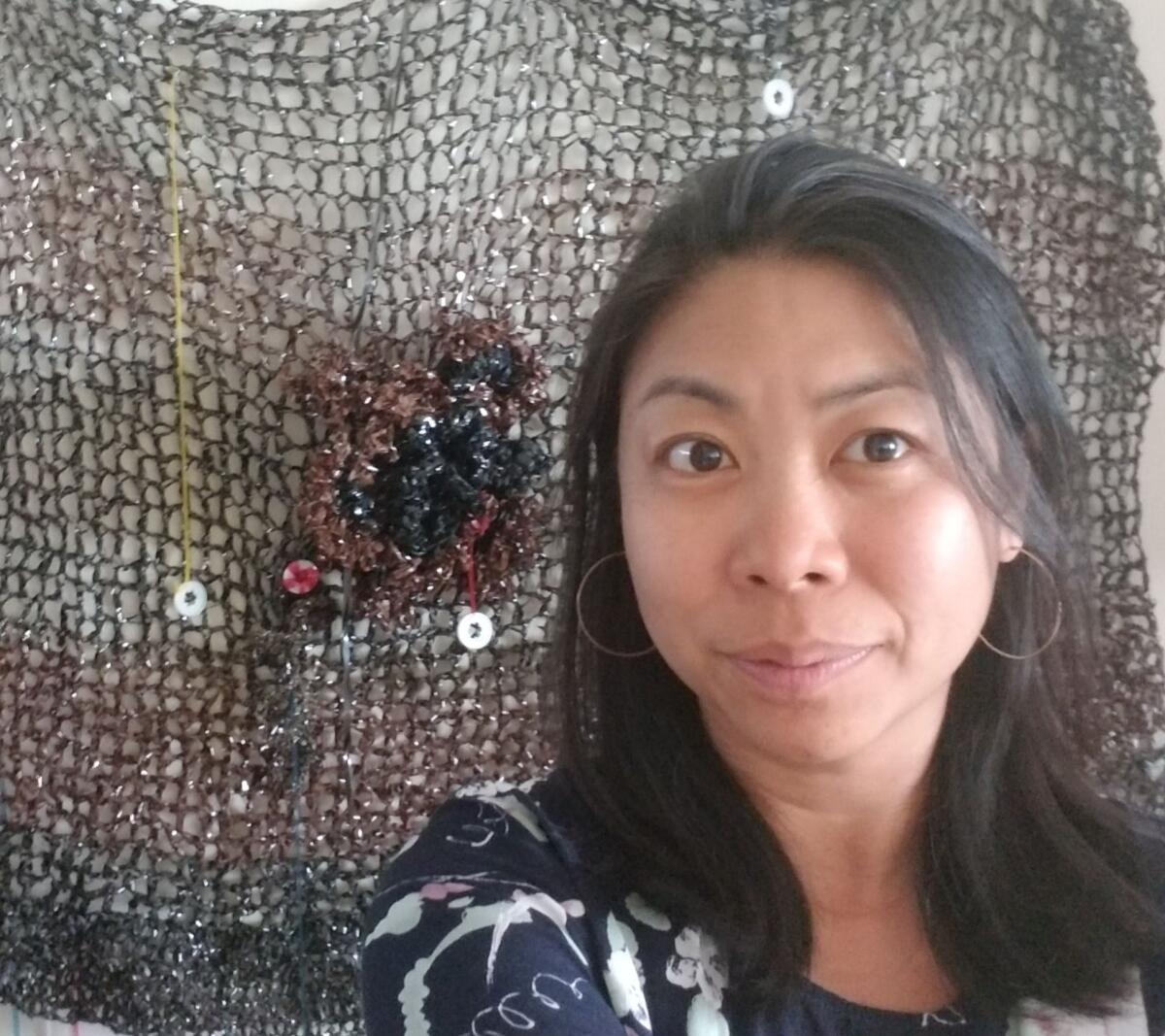 As a textile artist, Phillips utilizes crochet, embroidery and macrame to weave a message through her art.
"I've always had this affinity for tactile mediums, things that are handmade," Phillips said.
That affinity can be traced to Phillips' upbringing in Manila, Philippines, where she lived with her family before immigrating to the United States as a child.
"[In the Philippines] we used to have rolling brownouts in the middle of the day, and that's how I ended up being confined at home during the summer with all the thunderstorms," Phillips recalled. "That's how all the traditional handicrafts started — keeping ourselves occupied. My aunt would teach us embroidery and crochet, more traditional work.
"I left [the Philippines] when I was in about fifth grade, so maybe my perspective is different from other people's."
Get Point Loma-OB Monthly in your inbox every month
News and features about Point Loma and Ocean Beach every month for free
You may occasionally receive promotional content from the Point Loma-OB Monthly.
Phillips said she witnessed the tenacity of people living in poverty in the Philippines, and she uses repurposed materials in her work to signify the resourcefulness of people enduring such struggles, according to her website, catchiuphillips.com.
Apart from Liberty Station, Phillips' installations have been featured at San Diego's Balboa Park, San Diego International Airport and Claremont United Church of Christ in Los Angeles County.
She also has worked in residencies across the country, including one in New York City for the Lower East Side Ecology Center, where she was able to expand her use of repurposed materials.
"I was really interested in post-consumer products, and that's where I started using plastics," Phillips said. "They asked me to work with all the plastics they had, and a lot of electronic waste couldn't be recycled, like VHS tapes, cassette tapes, they would just go to a landfill. To me, the idea of nostalgia to see this and understand, there's that tie to memory making."
By using such materials, she said, her art is able to bring a sense of nostalgia and encourage an intergenerational discussion between those who have an emotional tie to the materials and those who are unfamiliar with them.
Since 2018, the NTC Foundation's Art in Public Places Committee has commissioned pieces from local artists to display in "Installations at the Station." Committee chairwoman Vicki Reed said the art can be wide-ranging but must represent local history in some part.
"Local history could mean all of San Diego or the Baja region or the Navy," Reed said. "I know we have two works right now that discuss the issue at the border."
Reed said the committee was intrigued by Phillips' art.
"Macrame, crochet, embroidery, these are all things people can identify with," Reed said. "It's images that also deal with the Navy, yet it's also highly artistic. She's talking to her fellow artists about colors and kinetic and the color system. It's almost optical, and there is a relationship between the colors and the shapes. If you see the work in person, it really pops out."
"Tied" was first installed in January, but toward the end of April, one of the seven pieces of the installation — one serving as a representation of military ribbons — apparently was stolen, though details about its disappearance are shaky.
But rather than see it as a setback, Phillips said she views it as an opportunity.
She said she will be working with students at Carlsbad High School to make "something new but in a way that is similar."
"Memorial Day is coming up and it's a teachable moment," she said.
Phillips is gearing up for a summer residency in Toronto, as well as preparing a piece for the ENVZN Urban Art Takeover in Logan Heights in September that will use repurposed traditional Filipino barong attire.
The NTC Foundation's Art in Public Places Committee is looking to install two more pieces at Liberty Station by the end of the year and is taking applications from artists through Monday, May 15. For more information, go to bit.ly/3MgqgVj.