A Page from History: Ocean Beach lifeguards to the rescue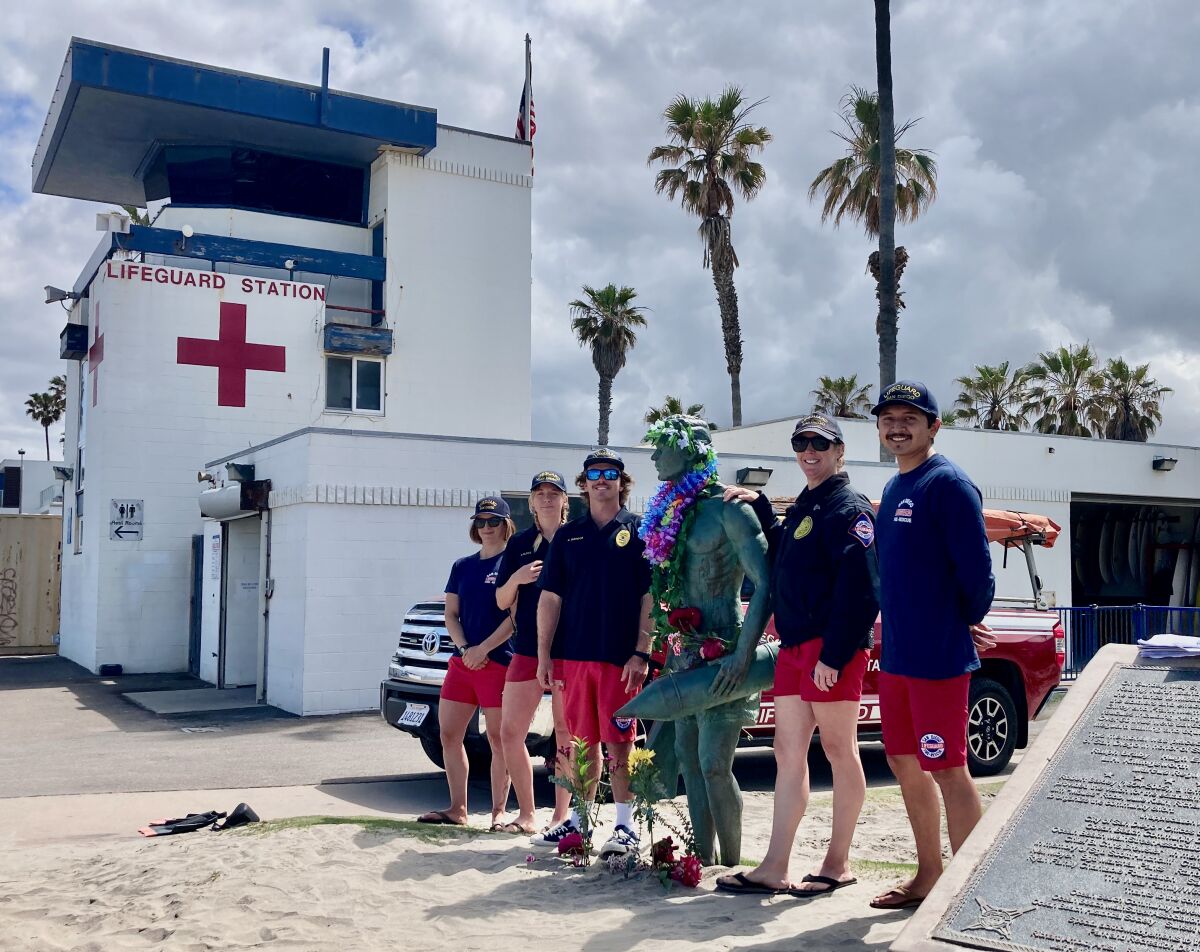 Treacherous surf resulted in the drownings of 13 people on May 5, 1918. But the heroics of local guards and many others saved 60 more.
San Diego police lifesaver Louis Chauvaud was worried he might have his hands full that Sunday. Balmy conditions on May 5, 1918, almost guaranteed a large crowd at Ocean Beach. To top it off, the fancy new bathhouse, Benbough's, at the foot of Newport Avenue, was offering free bathing suit rentals as a promotion.
An estimated 5,000 beach-goers showed up for a day of fun in the sun. Large crowd, swiftly moving currents, big surf and rough, dangerous conditions to be juggled by one lifeguard. What could possibly go wrong?
Chauvaud (pronounced sha-VOH) had posted several warning signs, particularly toward the north end of the beach, and had directed the proprietors of all three OB bathhouses to warn their customers to stay in waist-deep water near the central area of the beach, where they could be seen.
Get Point Loma-OB Monthly in your inbox every month
News and features about Point Loma and Ocean Beach every month for free
You may occasionally receive promotional content from the Point Loma-OB Monthly.
Chauvaud, 25, was a savvy and experienced lifesaver and swimming instructor who had assisted OB's first police lifeguard, Walt Field, for several seasons at Ocean Beach.
Calvin "Spade" Burns, 19, of Ocean Beach had a date to go dancing with a young lady later that day. Burns, who had served one summer as a lifeguard at Tent City in Coronado, spent his Sunday morning, as he sometimes would, at the San Diego Rowing Club.
Navy machinist's mate Henry Peter Hanson, from Seattle, was stationed at Rockwell Field, North Island. Hanson was an excellent and confident swimmer who enjoyed making the trip to Ocean Beach as his liberty allowed. Just two weeks before, Hanson had helped six swimmers, including several of his fellow North Island sailors, out of the tricky OB rip currents. His skill and bravery were commended by his superior officers. He returned to Ocean Beach on that Sunday.
Slender Ocean Beach teenager Alfred "Sniffwoof" Wilson was known as one of the strongest swimmers to regularly frequent the OB surf. He also happened to be best pals with Joe Varney, older brother of "Beach Town" author Ruth Varney Held. Joe and Sniffwoof, 17, dressed in their Sunday best, strolled down to the beach that afternoon to do some people-watching.
While the beach throng that day was largely made up of families, many of the adventurous swimmers were soldiers on leave from Camp Kearny, the new Army training facility at Miramar, established the previous year as the United States entered the First World War. Chauvaud later testified that the large number of soldiers in the water seemed to exacerbate the already difficult situation.
In the middle of the afternoon, as several large sets rolled through, the surf conditions changed within minutes. Strong and sudden rip currents took the legs out from under surf bathers in even knee-deep water.
Ruth tells us that Chauvaud "spotted a group of about 20 soldiers heading for a dangerous area over toward Wonderland Point." In other words, the north end of Ocean Beach, which was both the entrance to False Bay and the mouth of the San Diego River. Remember, this was long before the flood control channel, jetties and Mission Bay Park. Roughly 75 percent of the surf rescues at OB had happened in that dangerous locale over the previous several seasons.
Chauvaud "tried to wave them back, but they paid no attention. He shouted at them. But they went on, not about to listen to this civilian. He blew his whistle, waved and yelled again, but their leader laughed and plunged in, followed by the others. They were barely waist-deep when a sudden rip current swept them out beyond their depth."
Further down the beach, dozens of swimmers were quickly pulled out past where they could touch. Chauvaud also was knocked off his feet and was suddenly grabbed by several flailing bathers and pulled under.
Many on the beach, hearing the frantic cries for help, rushed into the surf and were themselves pulled out. Police patrolman Frank Merritt a sometime lifesaver, grabbed several bystanders to help him pull a lifeline out into the surf.
Sniffwoof abandoned his coat, tie, hat and shoes and plunged in after Officer Merritt. It was later reported that Sniffwoof rescued four rip victims by himself. In all, more than 40 civilians risked their lives to help retrieve floundering surf bathers.
Hanson, reprising his heroics of a fortnight before, swam out repeatedly to rescue several people before he also disappeared in the high waves.
Merritt, Chauvaud and police patrolmen Glen Freese and Frank Gilroy tried to launch the several available lifeboats, but the boats were repeatedly swamped and failed to get through the surf line.
"Fire Chief Louis Almgren drove to the San Diego Rowing Club, yelled for swimmers and raced out to the beach with a group that included Spade Burns, arriving in time to save some of the last of the drowning men," according to Ruth.
New San Diego Police Chief S.P. McMullen told reporters that he had made a tour of San Diego beaches with several officers that day and had found small crowds and safe conditions in La Jolla and Pacific Beach. But crossing the fishing bridge, the officers immediately noticed the trouble at OB.
"The crowds onshore hindered the work of the lifesavers, persisting in milling around the unconscious men rescued by the lifesavers," the chief observed. "Mob ropes were lacking, but the police succeeded in establishing 'hand lines' that served fairly well. Servicemen and civilians, holding hands, managed after a fashion to keep the crowds a short distance from the bodies."
Throughout the chaotic afternoon and evening, 60 swimmers were rescued as lifesavers collapsed exhausted on the beach. The lifeless bodies of two Camp Kearny soldiers, Hugh Burr and Charles Humphrey, had been pulled from the waves, but as many as a dozen others remained missing.
The San Diego Evening Tribune, Monday, May 6, 1918: "Under orders of Police Chief S.P. McMullen, all bathing at Ocean Beach is stopped and will not be resumed until the Police Department is convinced that equipment absolutely guaranteeing the safety of the bathing public is provided.
"The orders are published today following the drowning of 13 men at the beach yesterday afternoon. Two bodies were recovered and the remainder of the 13 are listed as missing this morning, their clothes and personal effects still being unclaimed at the bathhouses where they secured their suits yesterday. There were some unfounded reports that other bodies were recovered during the night, but at a late hour, the police reported officially that only two were given up by the sea."
As you might imagine, the blame game kicked off early the following day. Initially the bathhouse operators, Messrs. Rankin, Watrous and Benbough, were accused of negligence. All were found to be in compliance with state and local laws in providing the lifesaving equipment required at the time.
Benbough and Rankin maintained that they had indeed admonished their patrons about the dangerous conditions, as lifeguard Chauvaud had directed. Fingers were pointed at the military command. It was opined that the service should provide their own lifeguards if soldiers were just going to blow off the direction of lifeguards who were San Diego city police. Camp Kearny brass weren't having it.
Business leaders came under scrutiny. It was alleged that real estate promoters had removed Chauvaud's warning signs. It didn't look good to imply that the beach wasn't safe, even though it obviously wasn't.
At an inquest several days later, freak tides were ultimately blamed, though the lifeboats of the bathhouses and city police were castigated as inadequate, obsolete and finally next to worthless when they were needed most. Both Chauvaud and McMullen declared that Ocean Beach could be a safe swimming beach given more guards and better, up-to-date equipment.
Meanwhile, Ocean Beach remained off limits to all swimmers until June.
The San Diego City Council next heard testimony from famous waterman and lifeguard George Freeth. Freeth was well-known from Hawaii to New Jersey as a swimmer, swimming instructor, early surfer and wave-breaking lifeguard. One of Freeth's best-known proteges was no less than Duke Kahanamoku.
Freeth, who had been working at Coronado's Tent City, recommended ditching the soggy, heavy hemp ropes the police guards had been using in favor of much lighter and stronger wire cable. He recommended double-ended surf dories to replace the useless-in-the-surf rowboats.
His other innovations included a collapsible tripod reel for the lifesaving line that could be transported anywhere on the beach, a tubular float or buoy that could support several swimmers (for years known as "the can"), and a sand-going motorcycle with a sidecar equipped to carry equipment that he called the one-minute lifesaver.
A demonstration of all the new equipment was held at OB on May 19, just two weeks after the tragedy.
The San Diego Union reported that "the City Council is considering the advisability of appointing Freeth superintendent of beaches and giving him charge of all the bathing beaches and lifeguards around San Diego."
On June 14, six weeks after the mass drownings, the body of Henry Hanson washed up on Mission Beach. The heroic sailor had rescued five swimmers and returned to the surf to attempt to rescue a sixth when, exhausted, he foundered in the surf. His body was the last of the missing men to be accounted for.
Strong, robust and popular, Freeth contracted the Spanish flu in early 1919 and succumbed to resultant pneumonia in April of that year, less than a year after the Ocean Beach tragedy. The Congressional Medal of Honor winner was only 35.
Just south of the Ocean Beach lifeguard station stands a 1960s-era OB lifeguard. Motionless, he scans the surf for bathers in trouble. With his fins and rescue buoy ("the can") in hand, he is ready to go, but he stays put. Cast in bronze, the work of former OB lifeguard turned sculptor Richard Arnold is a memorial to the 13 drowning victims of 1918 and a monument commemorating the commitment and dedication of the men and women who have watched over San Diego's beaches for the past century. The statue, erected in 2013, was the brainchild of former OB guard and Superior Court Judge Bob Baxley.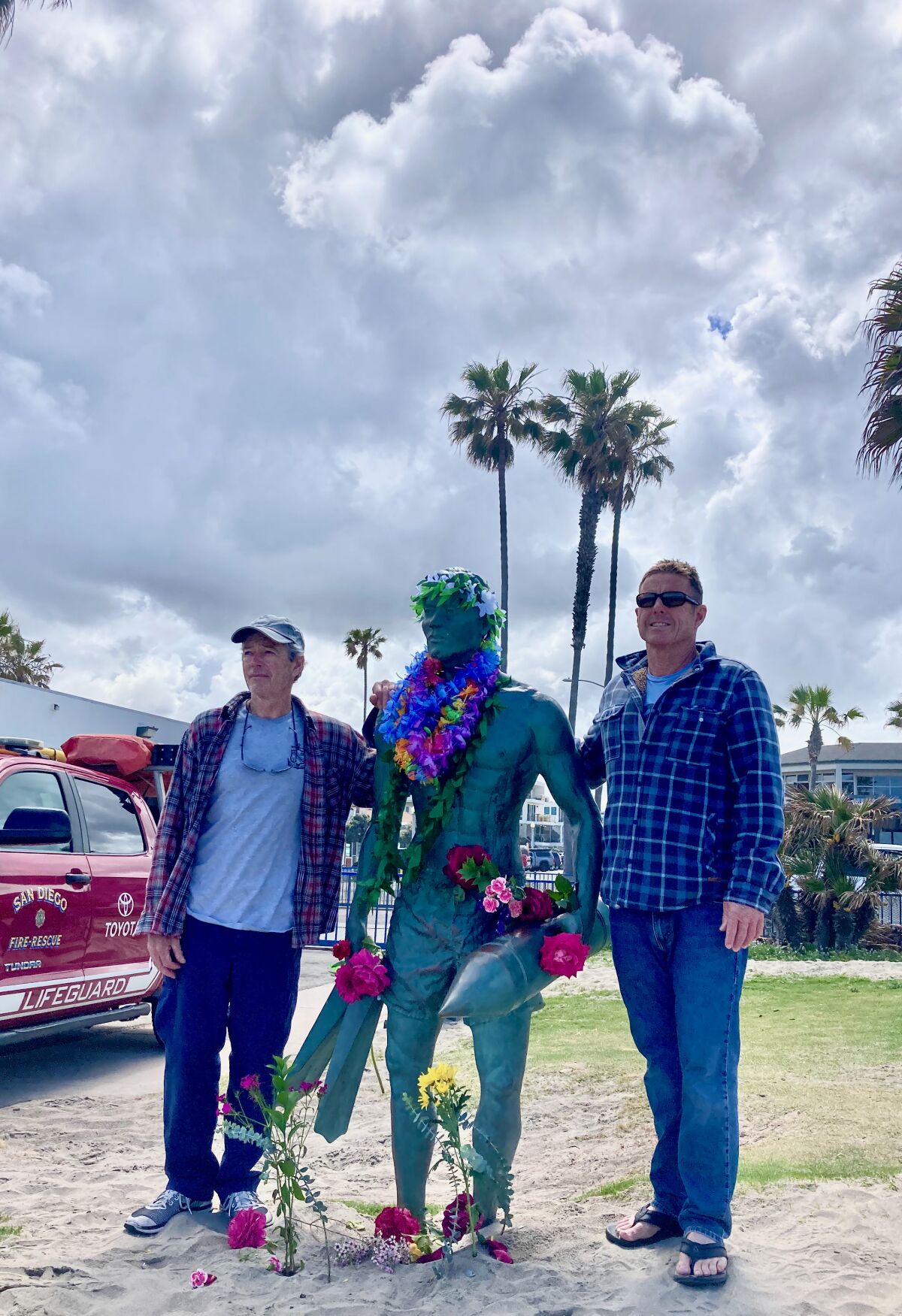 On May 5 this year, the Ocean Beach Historical Society's Pat James and myself headed to the lifeguard monument to see what was shaking. There, quite by accident, we encountered San Diego lifeguard veterans Darrell Esparza and Rick Strobel. Esparza, a former lifeguard sergeant now retired, and Strobel, an active lifeguard lieutenant, are longtime friends, both with more than 30 years of public service. Both are passionate about the stories, adventures and traditions of the lifeguard service.
Both Esparza and Strobel have loved the job. "When you love a job so much, it is really not like work," Esparza told me.
Both cited a special camaraderie that develops when you know your buddies are going to be there backing you up. Strobel says Freeth's innovations completely changed the focus of the profession, from life savers, chiefly performing rescues, to life guards, focusing on teaching water safety and prevention.
"You can imagine what the beach used to look like before the jetties," Strobel said. "Sand bars and shifting channels at the mouth of the river. It was really an alluvial fan [an accumulation of sediments that fans outward from a source], kind of like Tijuana Slough. And OB catches all the swells."
Strobel thinks real advancement of the craft came with more guards, more equipment and real training. Real respect was hard to come by for a gig in which you show up for work barefoot in a bathing suit.
"Lifeguarding has gained quite a bit more respect since the '80s," Strobel said. "Support has never been better."
A century ago, very few people were proficient swimmers. Last summer, 11,000 area kids went through San Diego's Junior Lifeguards, a four-week program that includes inner-city kids. From police officers working part time as lifeguards in 1918, San Diego guards became part of the Parks & Recreation Department in the '90s and are now a division of San Diego Fire-Rescue.
Strobel describes a diverse agency with 100 full-time guards, 225 seasonal guards and a $25 million budget. "We perform 7,500 rescues annually on average and 50 to 60 coastal cliff rescues," he told me. "It is a 24-hour service. We perform swift-water rescues, we respond to sinking vessels. It is a great job, whether you work seasonally for a couple of years or it becomes a career. Most people I talk to tell me it was the best job they ever had."
Esparza said it has always stuck with him that "when you save a life, you are really changing history, if you think about it."
Things to read and go to
For more about the 1918 Ocean Beach drownings and/or more lifeguard stories, check out "Beach Town" by Ruth Varney Held, "The Lifeguards" by Bob Baxley, "Help! San Diego Lifeguards to the Rescue" by Michael Martino and this year's "Cradle of Bitchin" by former OB lifeguard A. Lee Brown.
Brown and longtime associate sculptor Richard Arnold will present "A Return to the Cradle of Bitchin," a program presented by the Ocean Beach Historical Society and the Point Loma High School Alumni Association, at 7 p.m. Thursday, May 18, at Water's Edge Faith Community church, 1984 Sunset Cliffs Blvd., Ocean Beach. The program is free, and you are invited.
Eric DuVall is president of the Ocean Beach Historical Society. Membership in OBHS, a 501(c)(3) nonprofit, is $25 annually. Visit obhistory.org.