'Allow yourself to dream': Ocean Beach and San Diego look to ratchet up planning for new pier
The second in a series of community workshops to gather ideas is scheduled for Saturday, June 10, at the Liberty Station Conference Center.
A project by the city of San Diego to plan and build a replacement for the iconic 57-year-old Ocean Beach Pier, which an engineering consultant says has "reached the end of its service life," was the sole topic of the Ocean Beach Town Council's May meeting.
The OBTC jettisoned its typical agenda to focus exclusively on the pier in preparation for the second in a series of community workshops presented by the Ocean Beach Pier Task Force along with project consultant Moffatt & Nichol. The workshop will be from 2 to 4 p.m. Saturday, June 10, at the Liberty Station Conference Center, 2600 Laning Road, Point Loma.
There will be free ice cream and fishing poles for the first 20 children who attend. Ten adult fishing poles will be auctioned.
Get Point Loma-OB Monthly in your inbox every month
News and features about Point Loma and Ocean Beach every month for free
You may occasionally receive promotional content from the Point Loma-OB Monthly.
The purpose of the Town Council's meeting was to stimulate attendance at the June 10 session, as well as suggestions for possible attributes of a new pier that could be included when specific designs are drawn.
"Right now we're in the idea-generation stage," said OBTC President Corey Bruins, a member of the pier task force. "Just allow yourself to dream, because we're not committing to any of these things happening. We're just creating a library of ideas that we can work on. We're not thinking about feasibility. We're not thinking about how much things cost. ... We have a really incredible opportunity in the process of imagining the future of this pier ... what we want, what we don't want."
James Nagelvoort, director of San Diego's Strategic Capital Projects Department and the city's technical lead on the pier effort, presented a brief history of the 1,971-foot-pier, the longest concrete pier on the West Coast, and its deteriorating condition.
To prime the audience for the June 10 meeting, Nagelvoort asked people to consider concepts for the pier that could open doors to investments that would partially fund the project. He offered a wide array of examples including retail, power generation such as wind and solar, educational facilities for institutions such as UC San Diego, and even the military.
"There's a lot of money in military," he said. "I'm not suggesting we launch missiles off your pier, but ... could we look at, think of ... a private-public partnership? Is there something there to be able to do to help pay for that? We're brainstorming. I don't know where this goes."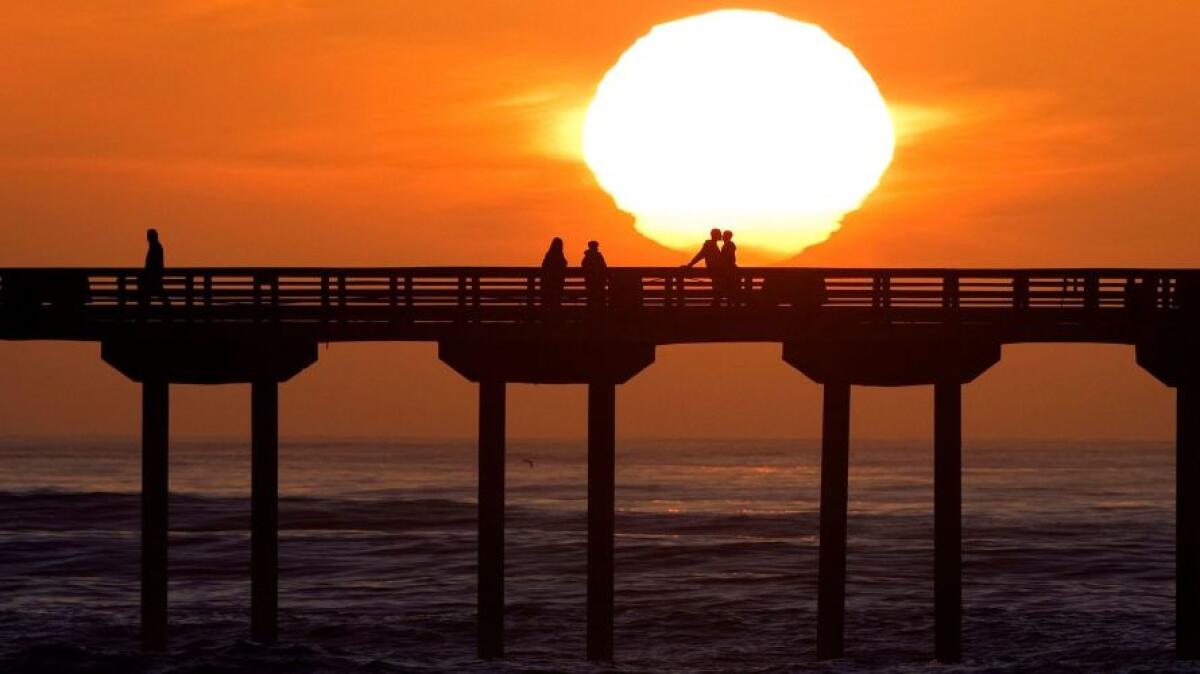 On April 1, during the first of five planned community meetings on the subject, most residents said they were excited about the potential for a new pier.
Some suggested that it have two levels to make it more accessible to fishermen. Others recommended murals and better seating areas. One resident said leftover concrete from the existing pier could be used to create an artificial reef.
A popular opinion was that the new pier should highlight the history of the Ocean Beach-Point Loma area. One commonly shared idea was that it have a museum or cultural center.
"We have a really incredible opportunity in the process of imagining the future of this pier ... what we want, what we don't want."
— Ocean Beach Town Council President Corey Bruins
According to the city's timeline for the pier project, which is being called the Ocean Beach Pier Renewal, the June 10 public workshop will be followed by two more this year and another in the third quarter of 2024. The project team will visit farmers markets and other events in Ocean Beach to gather additional ideas.
Community members also can provide input online at surveymonkey.com/r/OceanBeachPierRenewal.
Nagelvoort said he couldn't quote a price for a new pier since it would depend substantially on the features to be decided. But he noted that Moffatt & Nichol's engineering study, completed in 2019 and released publicly in 2021, estimated the construction cost alone at $65 million. The study said "corrosion in the reinforcing steel has initiated and the structure will continue to degrade unless corrective action is taken."
The price tag for a new pier is now expected to be higher because of inflation and other factors.
Ocean Beach community leaders have expressed preference for a new pier with modern materials, saying it would last longer (75 years or more) and be more cost-effective than a major overhaul.
Additionally, a new pier could be more elevated to protect against future sea-level rise and reduce the possibility of damage from big waves. The latter have caused the pier to be closed to the public since January because of damage to railings during last winter's storms, and rough surf has resulted in several other repairs in recent years.
Because of the hefty expenditure, much of the initial funding would have to come from federal and state sources, Nagelvoort said.
"We are demanding our consultants to look at the ideas you're pitching [with] what lines up with grants," he said. "Once you start pulling money together, then you start looking for private donations. You start looking for investment. ... Even the [original] pier came together by getting big donations — fed, state — and then eventually it started to look for private. So that's going to be part of the package moving forward."
Nagelvoort added that a new pier would compel the city to also upgrade supporting infrastructure such as roads, parking, water and sewer systems and more, as well as fulfill regulatory obligations such as environmental protections and disabled accessibility to accommodate more visitors.
"There are going to be a lot of rules that are going to force us to make other improvements to make that pier accessible," he said. "But it is also going to make that pier more attractive to more people, and [by doing so], I think it means more investment."
The ideas and desires put forward by the public June 10 will be collated and turned into a plan and renderings by Moffatt & Nichol, Nagelvoort said. They will be unveiled at the next community meeting in October for further public input.
"That might be one of the most important meetings," Nagelvoort said. "That is where they take all those ideas and they try to put them into a couple of proposal alternatives. The cost estimate will be rough. This won't be detailed, down to the penny type of design work, but it is going to give a general idea about the ... pros and cons."
Having preferred alternatives in hand will enable the city to lobby for funding from Washington, D.C., Sacramento and elsewhere.
"They need a drawing and they need details so they can go shop around," Nagelvoort said. "That's what we're trying to get. ... Our end goal here is to work together and get a project that the community supports, that has the elements in the pier that might make us competitive chasing various grants, state and feds."
The project will run required environmental impact reviews and permitting in tandem with the development of a definitive pier replacement plan. Because of the uniqueness of the project compared with a library or road, the city will tender a design-build contract in which the designer and contractor operate as a joint venture.
The city likely will structure any agreement as a "cost not to exceed" contract to prevent cost overruns on the massive undertaking, Nagelvoort said.
"To get a cost that you don't exceed, they may not build all that you want," he said. "At some point, we know we're going to have to deal with the fact [that] if we get some money but not enough, we're going to have to come to grips with 'Do you build what you can build?'"
Nagelvoort provided a rough timeline for completion of a new pier, contingent on funding and project scope.
"You're looking at a project that is probably going to go for five years, and most of it's not construction," he said. "Most of it is getting through all the permits."
City officials have said they would like to begin construction by 2026.
Structural engineer Ralph Teyssier, a member of the pier task force, said there's an enormous difference in the process since his father, Leonard, won the contract to build the OB Pier for $900,000 in the 1960s.
"This is the first time that I can think of — and I grew up in San Diego — that the public is going to weigh in on developing this park resource," Teyssier said. "It's the public that gets to decide everything about what they want. We get to dictate. ... We want to get as much of San Diego involved in this as possible because this is really a great opportunity."