Short-term rentals remain a problem despite new San Diego ordinance, Ocean Beach leaders say
Letters to the city have requested changes to the law to try to prevent more of what neighborhood advocates call adverse effects.
A little over two months since San Diego's ordinance regulating short-term rentals went into effect May 1, the impacts are being realized in coastal communities like Ocean Beach, where community leaders say the law has already engendered unwanted consequences.
Letters to the city have requested amendments to try to prevent additional such effects, but City Council staff has been hesitant to restart the process.
Get Point Loma-OB Monthly in your inbox every month
News and features about Point Loma and Ocean Beach every month for free
You may occasionally receive promotional content from the Point Loma-OB Monthly.
The ordinance was authored largely by City Councilwoman Jennifer Campbell, whose District 2 includes Ocean Beach and Point Loma. The law was intended to regulate and reduce the number of short-term residential vacation rentals in San Diego, and Campbell's staff communicated with community representatives during the drafting.
But Andrea Schlageter, chairwoman of the Ocean Beach Planning Board, said problems have arisen since the council first passed the ordinance in February 2021.
"When we were going through this, we were specifically told by the powers that be that this would reduce the numbers of short-term rentals," Schlageter said. "The mayor looked me dead in the eye and said this would reduce the numbers, but it's allowed people to enter the market that had no interest before."
One of the more notable examples is property owner Michael Mills, who acquired more than 100 short-term rental licenses. While the ordinance limits a host to one license, the ordinance doesn't specifically require a host to be the property owner. Mills asked people in his social networks to put their names to the applications for two-year licenses to operate at his Ocean Beach properties and in doing so was awarded some 110 licenses, at $1,000 each.
The tenants claim they were given illegal rent hikes and eviction notices. Landlord Michael Mills now acknowledges he erred in not giving a reason for the evictions.
Mills says he didn't do anything wrong by recruiting hosts. And in interviews with The San Diego Union-Tribune, several of those people agreed with him and added they were willing, even eager, to lend a hand.
"Michael Mills is not the only property owner doing this, but it is the most egregious example in Ocean Beach," said Tracy Dezenzo, chairwoman of the Ocean Beach Town Council's advocacy committee and treasurer of the OB Planning Board.
Campbell's chief of staff, Venus Molina, said such amassing of licenses was addressed through administrative regulation. The city treasurer's office, which awards and regulates STVR licenses, sent notices to the people whose names were listed on license applications requiring additional notarization and proof of compliance training.
"When we wrote the ordinance, we left kind of like a piece to say 'OK, this is the bones, and all of the meat will be done through administrative regulations,'" Molina said. "We're working with the city attorney's office and the city treasurer's office to figure out how to prevent something like this from happening and what we can do to mitigate things that we didn't anticipate."
The ordinance groups short-term rentals into a four-tier licensing system:
• Tier 1: Home-share (a room or rooms) or whole-home rentals totaling 20 days or less per year
• Tier 2: Home-share rentals totaling more than 20 days per year
• Tier 3: Whole-home rentals totaling more than 20 days per year
• Tier 4: Special tier for Mission Beach, which allows whole-home short-term rentals in a manner consistent with recommendations from the Mission Beach Town Council
Whole-home rentals for more than 20 days out of the year are capped at 1 percent of the city's more than 540,000 housing units, or about 5,400. However, in Mission Beach, which has a long history of vacation rentals that predates the rise of online home-sharing platforms, the cap is 30 percent of the community's total dwelling units, or nearly 1,100.
Some Ocean Beach neighborhood advocates say another consequence that has accompanied the rollout of the ordinance is its impact on the housing stock.
In a letter to Mayor Todd Gloria and all members of the City Council in February 2021, the OB Planning Board recommended license caps for individual neighborhoods rather than general areas.
"The way [Campbell] wrote it, she said that if 100 percent of the license requests come from Ocean Beach, 100 percent of licenses would go to Ocean Beach," Dezenzo said. "What we were trying to push for was a limit by community planning area. We knew most of the requests for licenses would be coming from beach communities."
As of June 28, more than 5,100 licenses had been issued across San Diego for the short-term rental of entire homes where the owner or permanent resident does not live onsite. Ocean Beach had 497 whole-home licenses, plus 103 of other types of STVR licenses, for a total of 600. Only Mission Beach, Pacific Beach and La Jolla had more whole-home and overall licenses.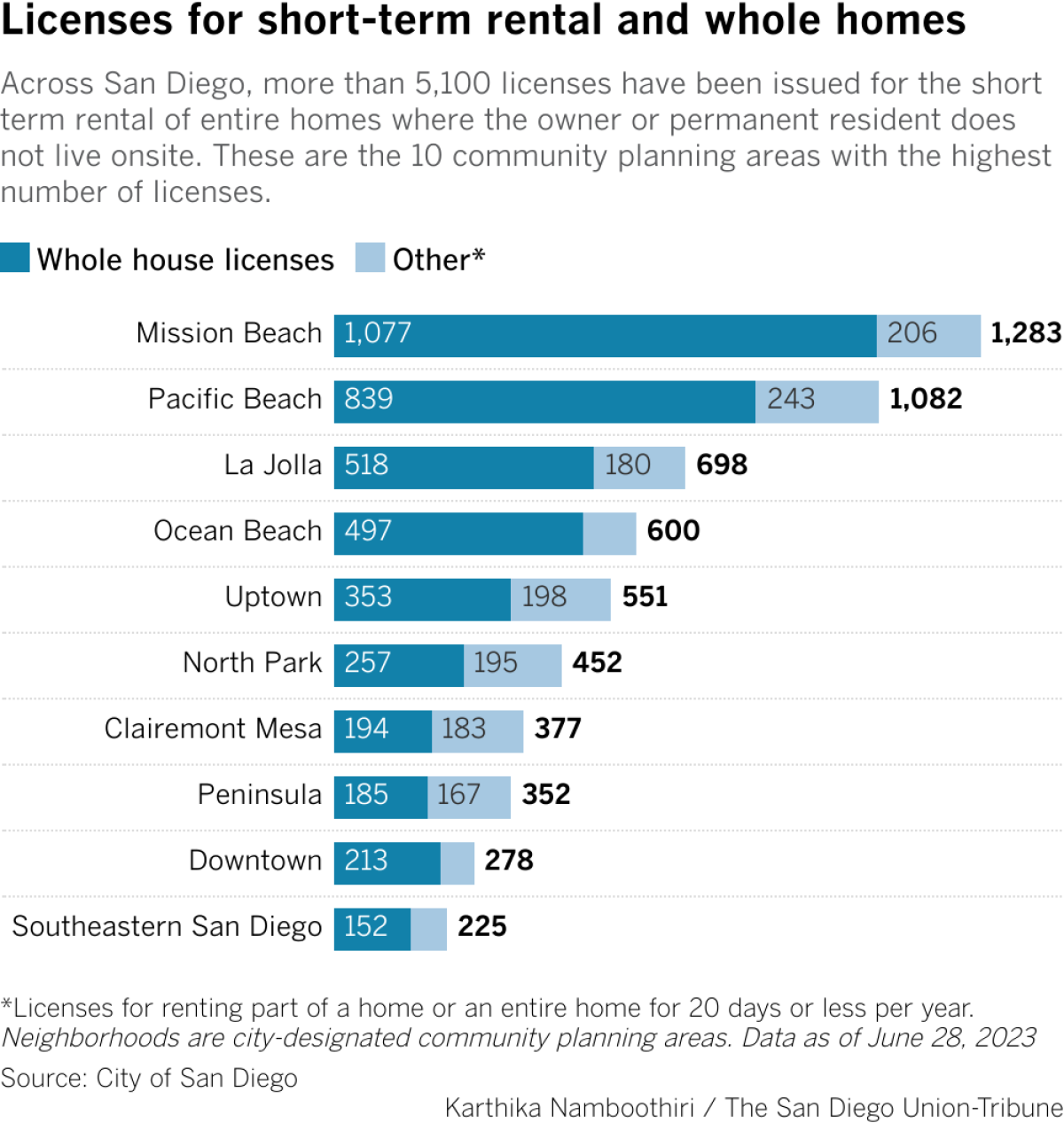 For perspective, Ocean Beach has fewer than 200 hotel rooms.
Molina said Campbell and her staff anticipated a much higher number of applications and licenses.
"We capped the short-term vacation rentals because there were so many out there and it was very competitive," Molina said. "To our surprise ... we didn't get the 5,400 applications we thought we would get."
According to the city's website on short-term rental occupancy, 4,091 Tier 3 licenses (which don't include Mission Beach) had been issued as of June 30, with an additional 1,328 licenses available before reaching the cap of 5,419.
The city had expected demand for licenses to outpace the cap and that a lottery among applicants would be necessary, but that didn't happen.
Still, Schlageter said there is a significant impact on the community.
"I continue to hear people say that this impacts only a negligible amount of housing in San Diego, [but] I think anyone who has been kicked out of their house by Michael Mills would disagree with you," Schlageter said.
Some residents told the Union-Tribune that they had seen new vacation-rental notices popping up on buildings owned by Mills and that some tenants received 60-day move-out notices around the same time.
Mills denies that he's removing tenants to convert properties into short-term rentals.
Still, Schlageter said "600 fewer units [in Ocean Beach] is not negligible. It affects people's very life and the way they live day to day if they are housing-insecure. Even the removal of just one unit of housing is not negligible."
Molina said the city bears no responsibility for people being displaced from their homes to make way for short-term rentals.
"When people call and say they were displaced from their homes because it's being converted into a short-term vacation rental, that is a private matter," Molina said. "If you want to change your house and rent it long-term, or if you want to make it a short-term rental, that's your prerogative. ... That is between you and your tenants. That is something we are not involved with."
But Schlageter said the fallout from the situation threatens the vitality of the community.
"If there are no more residents in Ocean Beach, there is no more OB Christmas Holiday Parade, there is no more street fair, there is no more Oktoberfest or St. Patrick's Day, because they're run by volunteers in the neighborhood who are trying to keep their neighborhood alive," Schlageter said. "If we continue to allow the tourism industry ... to hollow out and take over San Diego, the things that make it attractive will no longer exist. It only exists with people in their neighborhood that love it and want to make it the best."
The Town Council's advocacy committee wrote another letter to the City Council on June 7 reiterating the request to limit Tier 3 licenses by neighborhood and asking that the ordinance be amended so licenses are limited to a percentage of the units at one property. The letter also requested that penalties and license revocations be linked to the property owners, not just the hosts listed on the license.
Molina said the city does not intend to rewrite the ordinance at this time, pointing to the bureaucratic process it would need to go through again.
"If we change the ordinance, it has to come back to [the City] Council and it has to go back to the [California] Coastal Commission for approval," Molina said. "It would take another two to three years."
Molina said officials need to "let the dust settle" before making adjustments to the law.
"People have been waiting for an ordinance like this for 15 years," she said. "I've always said this ordinance is not perfect. That's why we have an annual review to look at what needs to be modified. We just need to let this work itself through. ... We want to see what else comes up."
Rebecca Louie, president and chief executive of Wakeland Housing and Development Corp., a nonprofit that develops affordable housing and houses about 460 formerly homeless people in communities throughout Southern California, said the prospect of short-term rentals cutting into the Ocean Beach housing stock is "maddening."
"We're in an extraordinary housing crisis — for every 10 people that we can get housed, 13 more fall into homelessness," Louie said. "We should be doing everything we can to preserve our housing stock."
A deal is in motion for Wakeland and the city of San Diego to buy a 13-unit apartment building at 2147 Abbott St. in Ocean Beach from the OB Community Development Corp., or CDC, to use as housing with supportive services for homeless people.
The property, appraised at about $4.5 million, has been owned by the CDC since 1997 and is zoned for low-income housing. It has been vacant since January 2022.
"It's kind of a win-win for the community because it will provide much-needed low-income housing," said Mark Winkie, president of the Ocean Beach CDC. "If you know anything about Ocean Beach and Point Loma, there is hardly any low-income housing at all in our community. Also, the revenue generated by the sale will go back to the CDC, which we can use for a lot of the community enhancement and development initiatives we have on our list."
Among those are redevelopment of Veterans Plaza and installing a playground and fitness area at Saratoga Park.