On the Menu: Stella Jean's Ice Cream in Point Loma is a spot to chill out this summer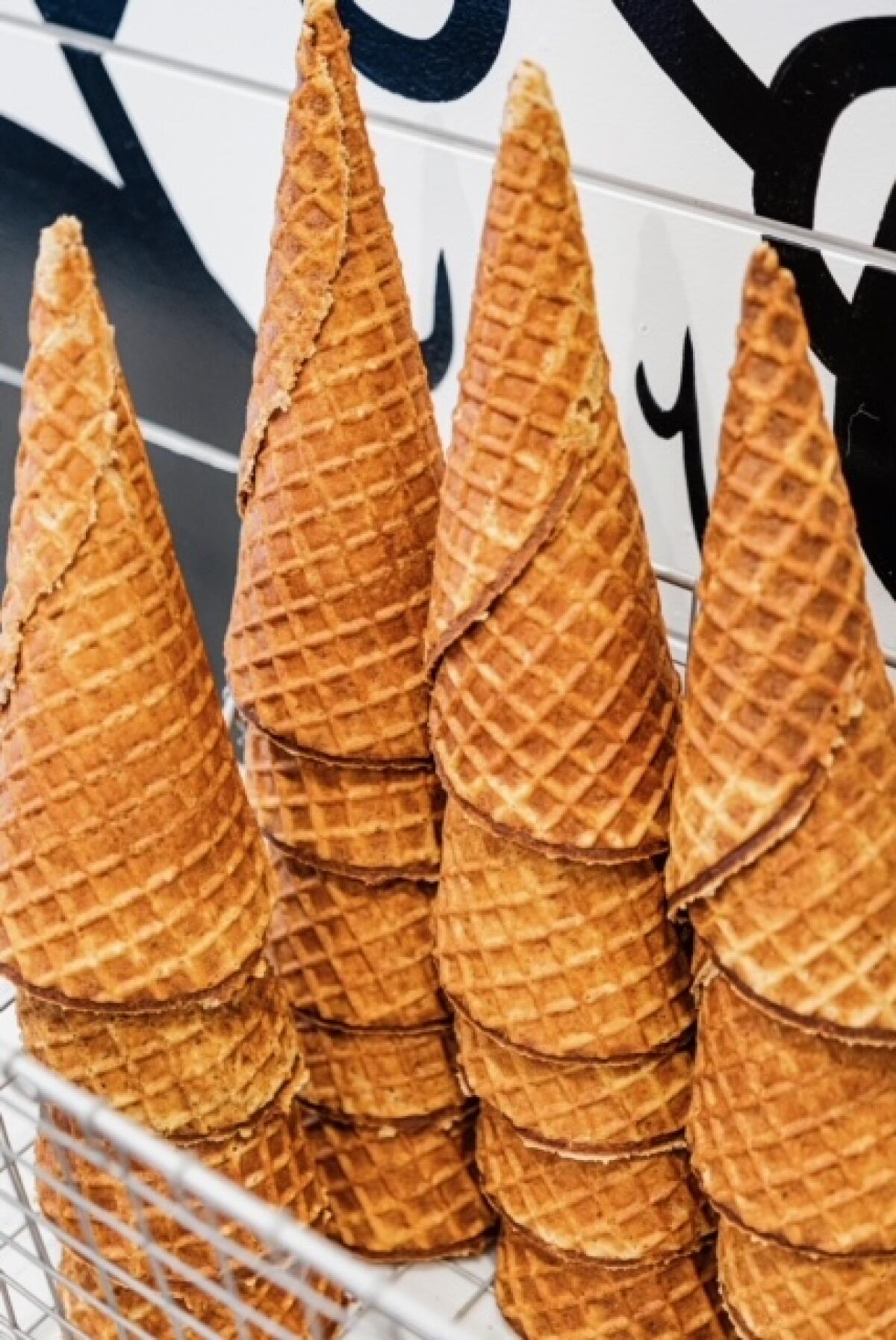 If you're a certified frigophile, use a sweltering summer day — or any day — to check out Stella Jean's Ice Cream scoop shop in Point Loma (others are sprinkled throughout San Diego County and beyond).
The quaint red-brick storefront at the corner of Voltaire Street and Catalina Boulevard pulls you inside to a fun, bright and bubbly ice cream parlor blending modern and classic elements and dripping with the colors of strawberries and cream, vibrant lemon, sassy sage and crisp white on the ceiling beams and shiplap wood-paneled walls.
But the eye-popping colors in the glass display case make your jaw drop and enzymes crank up, while the aromas of freshly baked buttery pies from the adjacent sister business, Pop Pie Co., trickle in. The two brands complement each other in flavors and seasonality and transform the humble pie a la mode into a high-brow dessert.
Get Point Loma-OB Monthly in your inbox every month
News and features about Point Loma and Ocean Beach every month for free
You may occasionally receive promotional content from the Point Loma-OB Monthly.
Co-founders, life partners and self-proclaimed ice cream junkies Steven Torres — a former small-business banker — and Gan Suebsarakham — a trained pastry chef who started experimenting at home with flavors influenced by his Indochinese roots — launched their flagship Pop Pie Co. store in University Heights in 2016, then tag-teamed it with Stella Jean's two years later when the adjacent space became available. Locations in Pacific Beach, Kensington, Costa Mesa and Point Loma have added to the collection, with South Park and Carlsbad coming down the pike soon.
Stella Jean's is named after a friend's deceased dog who became so beloved by Torres and Suebsarakham that they wanted to immortalize her in their ice cream treats. They are all small-batch, locally crafted premium ice cream containing 16 percent butterfat with milk from Scott Bros. Dairy of Chino, whose cows are raised with home-grown feed and without the use of growth hormones.
"We believe the dairy we use and the creativity behind our flavors set us apart," Torres said.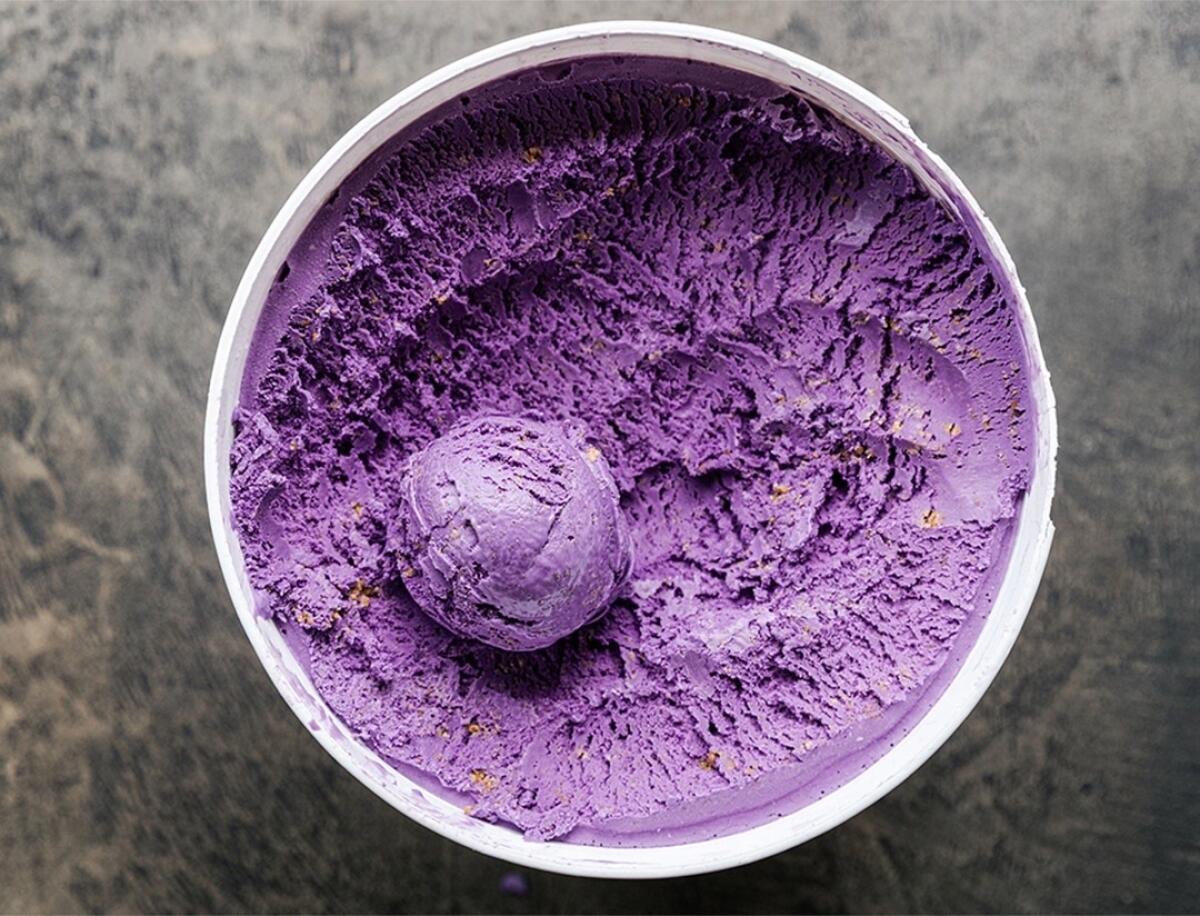 "Gan being Thai and me being Cuban/Mexican reflect in our menu, as you will see flavors inspired by Southeast Asian and Latino cultures," he said. "We do, of course, also make classic flavors very well and always with a bit of a twist."
Stella Jean's offers "always" flavors that are year-round, as well as "for now" seasonal flavors that change every few months.
The vibrant purple Ube + Pandesal Toffee, the shop's bestseller, blends the exotic flavors of the jewel-toned Japanese ube yam with a buttery Filipino sweetbread that's made into a toffee crumble layered throughout the ice cream.
For a sweet campfire smokiness, S'mores incorporates crushed dark chocolate-covered graham crackers folded into a torched marshmallow ice cream base, with a handful of mini marshmallows thrown into the mix for extra oomph.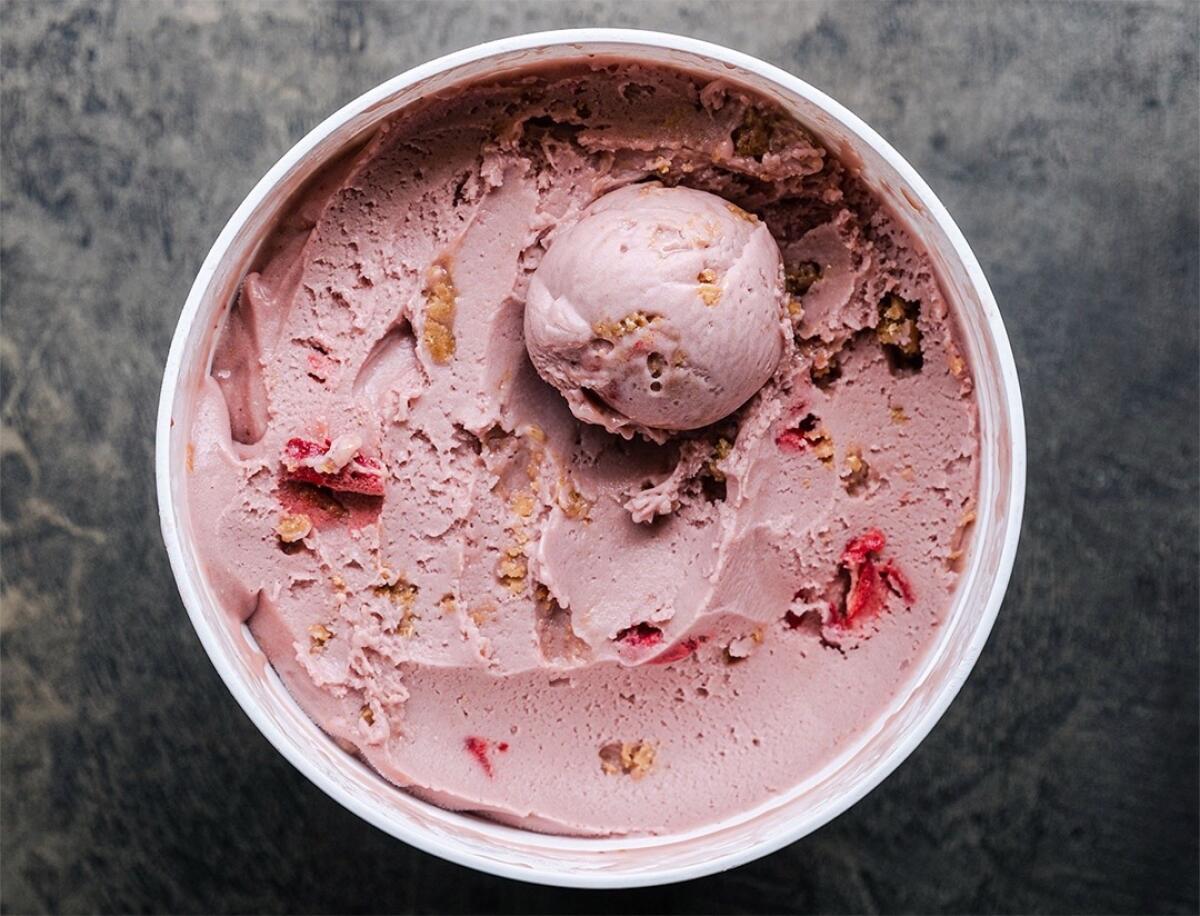 There also are vegan choices such as Strawberry Oat Crumble and Chef Gan's signature Mango Sticky Rice, a labor-intensive creation that features mango sorbet marbled through a vegan pandan ice cream. Both are "always" flavors on the menu.
The spring and summer lineup includes Thai Tea + Brown Sugar and Calamansi Creamsicle, both vegan and gluten-free, Tahini + Miso Caramel (gluten-free) and tropical Guava Cream Cheese.
Torres relishes the Brown Butter Pecan — "It's rich, buttery, nutty, simple yet complex and full of flavor," he said.
"Gan absolutely loves our Madagascar Vanilla base, which we make with a high-grade Madagascar vanilla bean paste," he added. "He believes a good vanilla flavor sets the tone for everything else we create."
Stella Jean's signature waffle cones are made in-house with a blend of gluten-free flour and flax meal, brown sugar, cinnamon, pure maple syrup, coconut milk, vegan butter and a pinch of sea salt that pairs well with all ice cream flavors.
Or you can double your dessert pleasure by adding a heap of Madagascar Vanilla or the ice cream flavor of your choice to a slice from Pop Pie Co. Torres gives a shout-out to the Salted Caramel Apple Crumble loaded with fresh diced apples, a hint of orange zest and a sprinkle of house spices nestled in the signature all-butter crust and blanketed with an old-fashioned oat crumble.
Or for a lip-puckering zing, try the smooth and creamy, light-textured Key Lime Pie topped with a cloud of whipped cream and zest.
If you really want to impress your ice cream-loving friends, you can rent the mobile ice cream pushcart that Torres features as part of Stella Jean's catering service for weddings, baby showers, birthday parties and other events. Customers can buy 1.5- and 3-gallon sizes. Otherwise, Stella Jean's doesn't sell its ice cream in bulk (pints are the biggest size available at the scoop shops).
"We're a small-batch ice cream shop utilizing real ingredients to produce the best ice cream flavors and experiences we possibly can," Torres said. "We also strongly believe in being responsible neighbors in the communities we serve."
For a side of ocean breezes, you can hang out on the dog-friendly patio alongside seasonal tourists, locals and denizens of all ages. "Anyone and everyone," Torres joked. "Who doesn't like ice cream?"
Stella Jean's Ice Cream
Where: 4195 Voltaire St., Point Loma
Hours: 8 a.m. to 9 p.m. Sundays through Thursdays, 8 a.m. to 10 p.m. Fridays and Saturdays
Information: (619) 539-7052, stellajeans.com, poppieco.com
Recipes
Salted Caramel Apple Piescream
(Serves one or two)
Instructions:
• Assemble in a deep bowl two scoops of Madagascar Vanilla ice cream atop one slice of warm Salted Caramel Apple Crumble Pie.
• Top with whipped cream, caramel sauce drizzle and a dollop of old-fashioned oat crumble.
— Courtesy of Stella Jean's Ice Cream
Honey whipped cream topping
Ingredients:
• 1 cup of heavy cream
• 1 tablespoon of honey (orange blossom, wildflower, chestnut or your choice)
• ½ teaspoon extract (almond, vanilla, mint or your choice)
• Dash of fine sea salt
Instructions:
• Place bowl of electric mixer and beaters in freezer for one hour.
• Add ingredients to chilled bowl and beat on medium speed for one minute.
• Increase speed to high and whip until stiff peaks form.
• Place a dollop of whipped cream on an ice cream sundae, a pie slice or another favorite treat.
— Courtesy of Catharine L. Kaufman