Locals bring horror sequel 'Slaughterhouse II' to life
The movie, which is wrapping up filming in San Diego County, is produced by Ocean Beach's Jerry Encoe and features Point Loma resident Mary Grondona.
Not often does a movie get a sequel more than three decades later, but that's exactly what's happening for the 1987 horror film "Slaughterhouse."
The feature-length follow-up, "Slaughterhouse II: Death Metal," has a cast and crew from San Diego, and much of the filming is happening in Campo in San Diego County.
Jerry Encoe of Ocean Beach is producing the film and Point Loma resident Mary Grondona is playing the role of Ashley.
"It has been so exciting," said Grondona, who will be a senior next school year at Francis Parker School in San Diego. "Everyone has been so welcoming."
Get Point Loma-OB Monthly in your inbox every month
News and features about Point Loma and Ocean Beach every month for free
You may occasionally receive promotional content from the Point Loma-OB Monthly.
For Grondona, the chance to take part in the film has been a highlight of her acting career. She knew from a young age that acting was her calling, and after performing in plays throughout elementary and middle school, she decided to attend Francis Parker for the private school's theater club.
"During high school, I have done a lot of different shows and gotten several leads," Grondona said. "Over time, I wanted to figure out how to do screen acting, so I started taking classes and got an agent. I heard about this role through Mr. Encoe because his wife was my tutor. She knew about my passion for acting and let me know to audition."
In addition to acting, Grondona has helped with social media for the film's promotion, which has sparked a new area of interest.
"I think now being on both sides of production, I have noticed I am more at ease being behind the camera because it is not as much pressure," she said. "It is a lot of fun, even though I know it might not always look as much fun as acting."
Being the youngest on the set means Grondona has gained work-specific skills from those around her, both onstage and off.
Encoe has been one of her leaders and teachers. The former Navy video producer hopes the film's momentum is picking back up after many years off.
"The film has kind of become a cult classic," Encoe said. "We started planning the sequel over the past several years and we found the location in Campo ... and started getting things started."
Though the original film debuted decades ago, in recent years "so many younger people have been able to get the ... film on demand and I think there is a lot of new interest," Encoe said.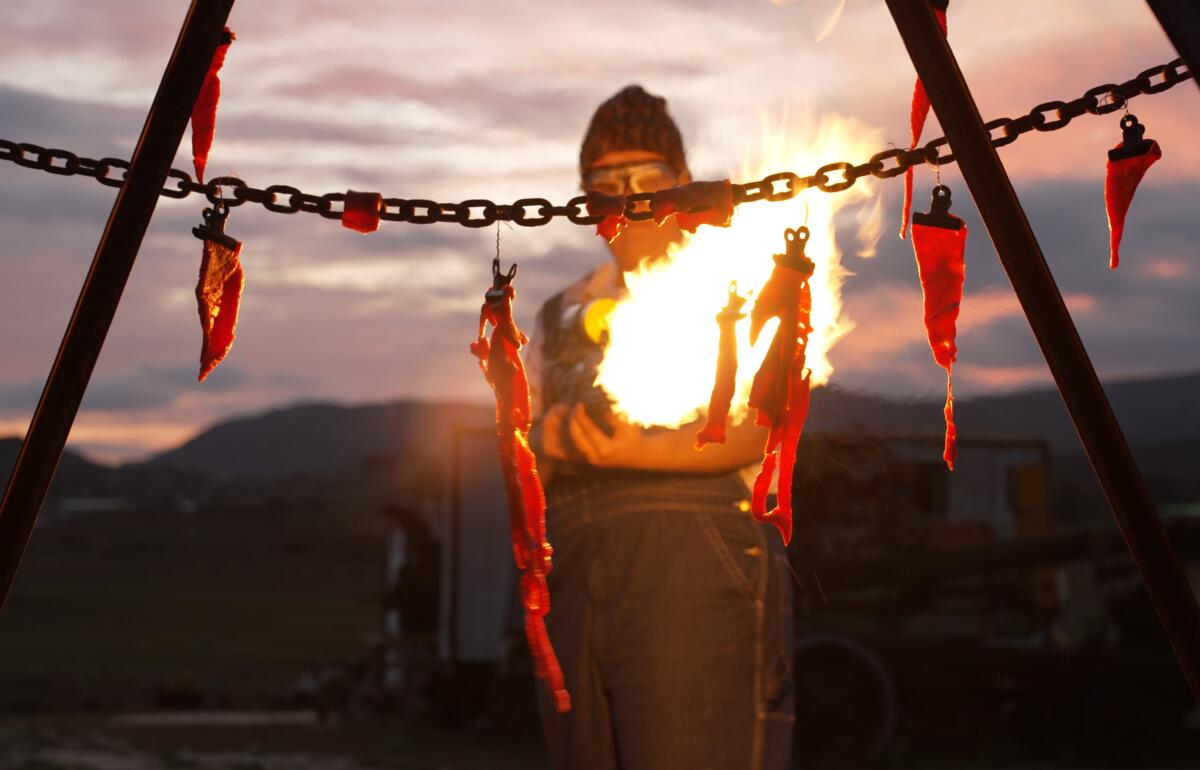 Local investors, friends, family members and others who poured money into the first "Slaughterhouse" were eager to raise funds for the sequel, he said.
"Without people like that, we would not be where we are today, and especially not filming at the locations we are," Encoe said. "I think there are one or two people who invested that I don't know, but other than that, it is all really close friends and family."
With filming set to wrap up in mid-July, Encoe and Grondona are eagerly awaiting what's next for "Slaughterhouse II: Death Metal."
Encoe hopes the movie will appear on streaming services, and Grondona plans to continue marketing for the film on social media.
"It has been 24 hours a day for the past couple of months, and I am excited to get a little break," Encoe said. "I am looking forward to getting this completed and seeing the finished product here and getting it distributed. And who knows, maybe there will be a 'Slaughterhouse 3.'"