A Page from History: A salute to the former Naval Training Center on its 100th anniversary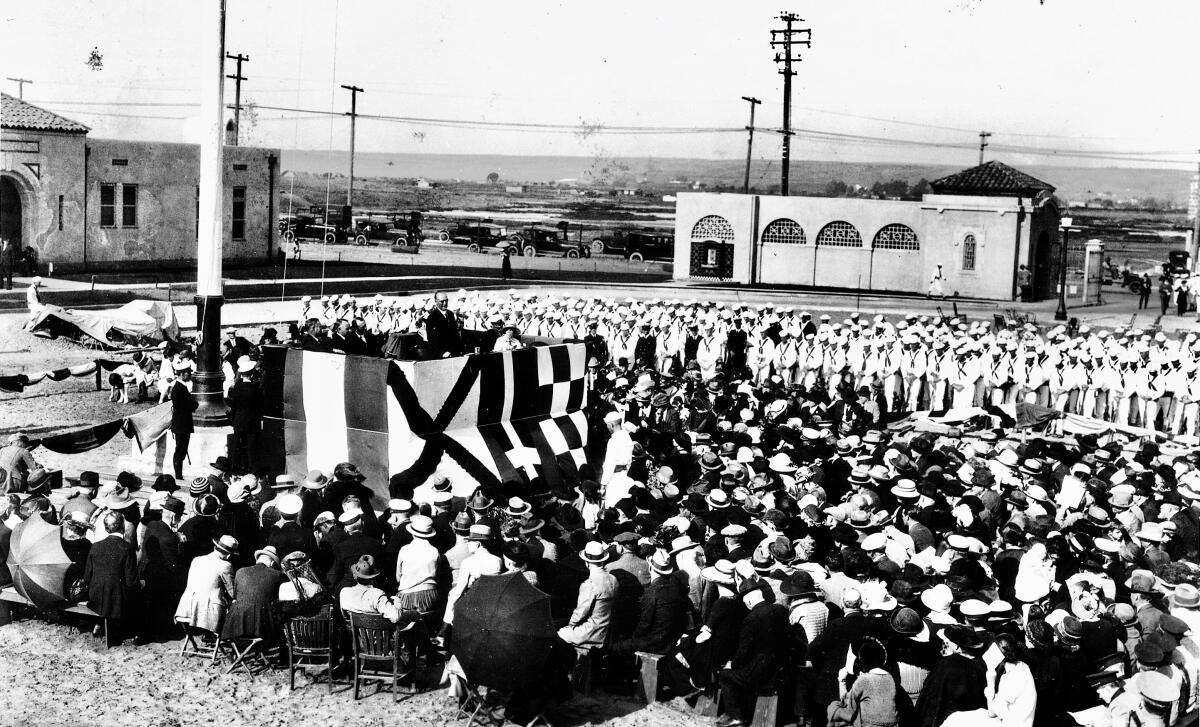 The base that 'really made San Diego a Navy town' was a community effort spearheaded by local Congressman William Kettner.
This year is the 100th anniversary of the establishment of the former Naval Training Center — now the Liberty Station commercial and cultural complex — in Point Loma. Here is its story, told in a multi-part series.
The first time I was ever on the base at the Naval Training Center was in 1964. The Cold War had heated up to a sultry simmer, but U.S. involvement in the Vietnam "conflict" had yet to reach full scale.
The base was jumping, and jollity seemed to be the pervasive mood. To be clear, those were just the impressions of a Cub Scout on a field trip. But what a great field trip! We were there in the morning, so it must have been a Saturday.
Get Point Loma-OB Monthly in your inbox every month
News and features about Point Loma and Ocean Beach every month for free
You may occasionally receive promotional content from the Point Loma-OB Monthly.
A big, gregarious sailor named Gary had been detailed to take us on a walking tour. Gary did not seem like a tour guide at all, just an enlisted man in dungarees and a blue work shirt like they used to wear. He was enthusiastic and funny, so we liked him right off. He seemed to know everyone on the base, and guys shouted at him and waved to us as we walked around. I don't remember if he revealed what his regular gig was, but we had the feeling that he probably preferred joking around with a bunch of grade-school boys to actually working that morning.
Gary showed us the gym and a great-looking indoor pool. We saw some big World War II-vintage guns. We double-timed it across the parade grounds, known as Preble Field, to the boat channel to see some small watercraft docked there. We toured a big recreational building with dozens of pool tables and a swell modern bowling alley.
He took us to see the USS Recruit, the famous non-sailing, landlocked training ship. While you may have heard the faux vessel referred to as the "USS Neversail," in my recollection the sailors and just about everybody else always referred to it as the USS Neversink. I would like to tell you that we were able to board and commandeer the Recruit, but we strive for accuracy here.
The USS Recruit helped break in sailors at the Naval Training Center in Point Loma between 1949 and the base's closure in 1997.
We were trooping down a long arcade when Gary opened a door and ushered us into a huge mess hall and straight to the end of the chow line. "Grab a tray, fellas," he told us. So we did. We had no idea we were going to get lunch out of the deal!
Elementary school cafeteria food in no way prepared a Cub Scout for the great grub they fed the recruits at NTC. These guys were having spaghetti and meatballs with garlic bread! And everybody got a brownie the size of an index card. I was amazed by that. Turns out NTC was famous for the excellence of its chow.
The population of the base was in the 25,000 range in those days, down from its Korean War peak of close to 40,000. But it was still a bustling, self-contained small city, nestled on the east side of Point Loma.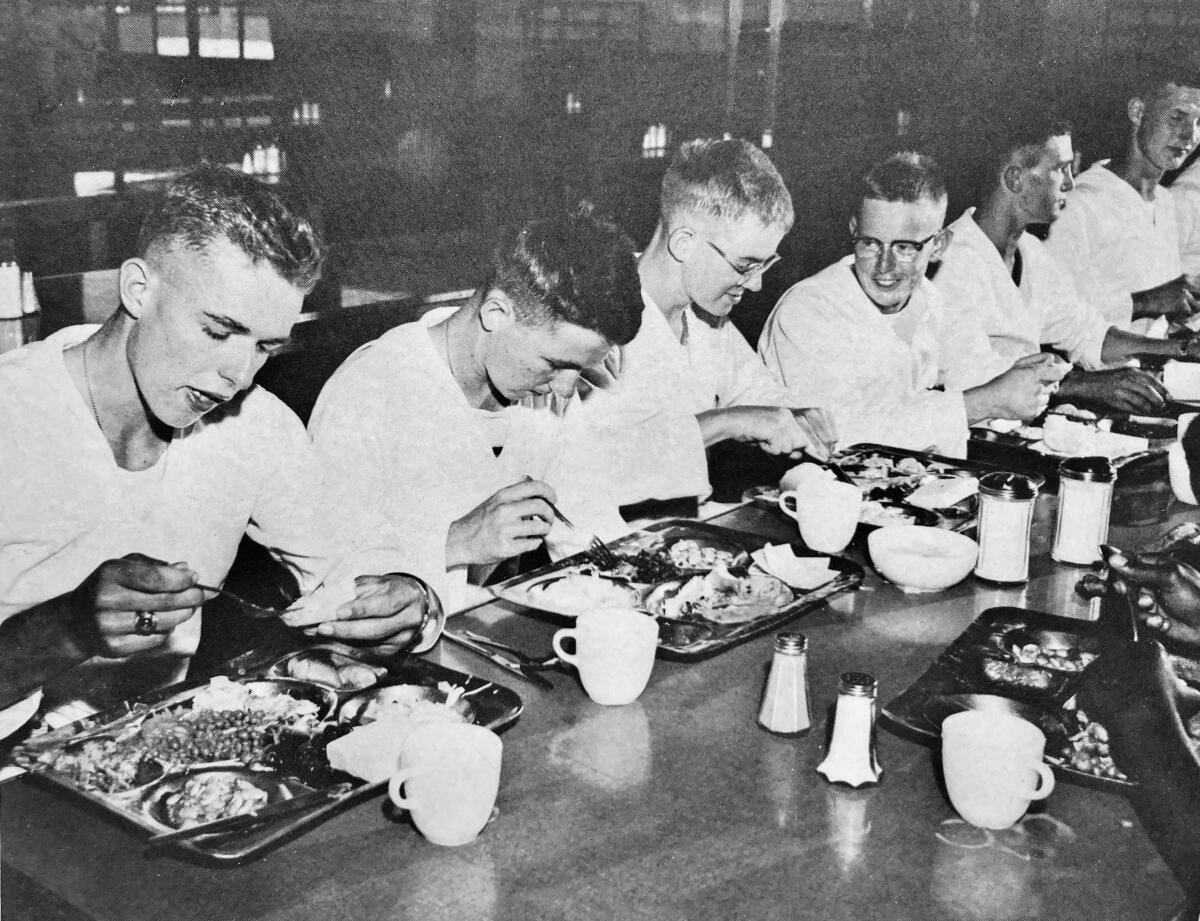 Foundation of the base
To get our bearings on how NTC came to be, we will need to sail back a solid century. We will be delighted to introduce you to San Diego's dynamic congressman, William Kettner.
Kettner was a San Diego insurance man, civic booster and board member of the Chamber of Commerce. Earnest and affable, he made friends and won admirers easily. He routinely referred to people as brother (or sister), earning him the approbatory nickname "Brother Bill."
Kettner, the lone Democrat on the Chamber of Commerce board, was urged to run for Congress by his largely Republican colleagues because it was felt the region "needed a San Diego man in office."
The 11th Congressional District that elected Brother Bill in 1912 should not be confused with present-day districts. The 11th at that time comprised San Diego, Imperial, Riverside, Orange, San Bernardino, Inyo and Mono counties — 49,000 square miles, an area roughly the size of Ohio.
Another tidbit that might test your 2020s credulity is that Kettner worked productively with and became well-respected by colleagues on both sides of the congressional aisle. Can you imagine such a thing?
The Riverside Enterprise once referred to Kettner as "the gettinest congressman California ever had." That superlative has remained largely unchallenged for a century.
He is most widely remembered as "the man who brought the Navy to San Diego." While that appellation is not strictly accurate, its aim is true. The Navy had gained a beachhead in San Diego with the installation of the coaling station at La Playa in 1904 and the establishment of the Navy Radio facility (NPL) just up the hill on the crest of the Point in 1906. Even though the "Great White Fleet" had visited San Diego on its cruise up the California coast in 1908, the city was not yet a Navy port, much less a Navy town. San Diego's harbor was much too shallow to comfortably accommodate large vessels.
Within days of his election, and weeks before being sworn into Congress, Kettner was dispatched to Washington to confer with the U.S. Board of Engineers about San Diego's harbor needs. Back to San Diego and back again to Washington, Kettner prevailed on the admiral of the Navy, Thomas Dewey, who wrote a detailed letter to the Senate Commerce Committee promoting San Diego's wonderful yet shallow harbor for potential Navy use. The result was an appropriation of $249,000 (1912 dollars) to dredge San Diego Bay.
Nothing is ever as simple as it may sound reported decades after the fact, particularly regarding congressional appropriations. It was this unusually heroic bit of prestidigitation, however, that provided the lifeline that pulled San Diego's Navy future up on dry land.
In August 1915, the San Diego Tribune reported that "Congressman William Kettner slipped a sleeper into the last rivers and harbors bill that authorizes dredging of San Diego Bay from the whistling buoy to the sloughs of south San Diego."
Kettner later recalled that "during my term in office there were three surveys granted and the Congress appropriated at four different times something over $1,100,000 for San Diego. The result has been that the largest ships of the Navy may now come over the bar."
In his eight years in Congress, Kettner was largely responsible for the establishment of Camp Kearny (now Marine Corps Air Station Miramar), North Island Naval Air Station, Marine Corps Advance Base (now Marine Corps Recruit Depot), San Diego's Navy Hospital and 32nd Street Navy Station and the Broadway Navy Supply Depot, recently demolished.
But "this is the base," said former NTC Foundation Executive Director Alan Ziter, "that really made San Diego a Navy town."
Kettner's friendship with Assistant Secretary of the Navy Franklin D. Roosevelt may have helped grease the skids that pulled a West Coast naval training facility out from the gloom of foggy Goat Island in San Francisco Bay in favor of the sunny eastern shore of Point Loma.
Roosevelt had visited both the Panama-California Exposition and San Francisco's Exposition in 1915, and according to Kettner, "he was really delighted with San Diego. He made the statement that he found at Goat Island among the Navy boys so much sickness that it was quite distressing, and practically assured me that if I should make some effort to remove the base to San Diego, I could have his support."
Three San Diego locations were considered: an area of marshy False Bay tidelands in the Duckville neighborhood, a parcel near the south end of the Silver Strand, and a 135-acre property owned by the San Diego Securities Co. along the shore of Loma Portal. The latter option was heavily favored by Kettner ally Navy Capt. Arthur McArthur.
A.P. Johnson of the San Diego Chamber of Commerce is credited for raising $290,000 from the San Diego community, including donations of $15,000 from John D. Spreckels and $10,000 from George Marston to purchase the property. The city of San Diego then donated 142 acres of adjacent tidelands — property largely underwater — and Kettner was able to place both deeds in escrow with the secretary of the Navy "to become absolute property of the United States just as soon as the Congress made the proper appropriations to start the buildings onsite."
It should be noted that before the Exposition there was certainly no waiting line to get into San Diego. Kettner found in Congress a general unfamiliarity with his home district, hearing it frequently referred to as Santiago. To get the Navy to seriously consider a new training station in such a place, the general feeling in San Diego was that some form of inducement would likely be in order. Something like several hundred acres of free bayfront property, for example.
You won't be surprised to learn that the Navy did look favorably on that proposal. The one snag was that with the entry of the United States into World War I, the need for a West Coast training facility was immediate and not several years down the road.
Enter frequent Kettner collaborator, our old friend Charlie Collier. In an April 1917 letter to the secretary of war, Park Commissioner Collier, on behalf of the city of San Diego, offered the buildings and grounds of the Exposition (Balboa Park) to the Navy as a training facility for the somewhat discounted rate of $1 per year. Shortly thereafter and for the next two years, Balboa Park became a naval training station, anticipating the coming of NTC.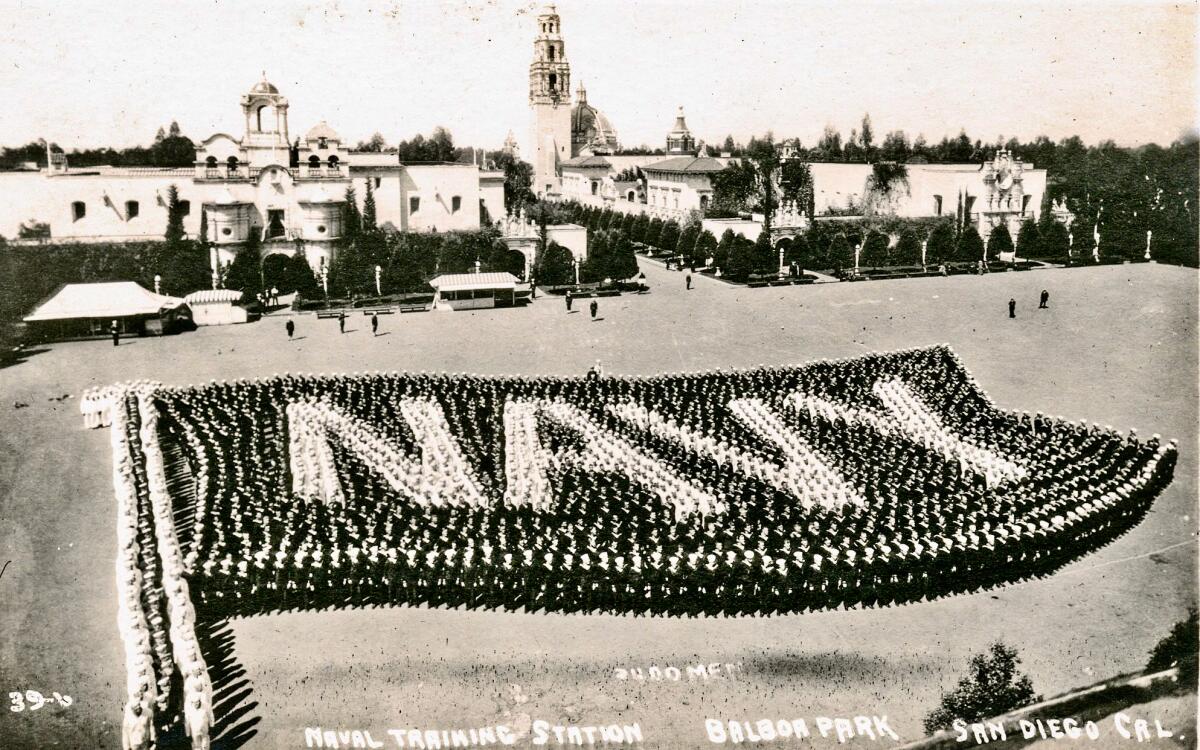 Here we will leave this brief introduction of Brother Bill with the comments of San Diego business mogul Spreckels. Spreckels was notoriously reticent to speak in public, yet he joined many San Diegans who welcomed the freshman congressman home following his first term in office.
"I am glad to be a part of a body of citizens to do honor to William Kettner," Spreckels said. "I like him because he is loyal. ... I, myself, always reward a man who has been loyal in my interests, and William Kettner should have another term in Congress for proving his loyalty to the district which he represents. I'm sorry he is not a good old-fashioned Republican, as I am. However, for a Democrat, he comes nearer being a Republican than anyone I know."
'Cradle of the Navy'
On the first of June 1923, a small commissioning ceremony — what would now be referred to as a soft opening — was held at the new Naval Training Center San Diego. At that time the station consisted of the new main gate and guardhouse, a headquarters building, a firehouse, a mess hall, four barracks and a dispensary.
Nearly five months later, a post office, eight additional barracks and four separate officers' quarters had been completed when the station was officially dedicated on Navy Day, Oct. 27, 1923. The San Diego Union of the following morning declared that "San Diego's $4,000,000 naval training station, consecrated to the training of American youths in not only the attributes of citizenship but of sterling patriotism and undying loyalty to their country, was formally dedicated with inspiring ceremonies."
San Diego Mayor John Bacon referred to the training station as "the Cradle of the Navy" and observed that the new facility placed "a great responsibility upon the citizens of the community."
Former Congressman Kettner praised the work of the Chamber of Commerce, William D. Stephens, A.J. Johnson and Franklin Roosevelt in bringing the training station plans to fruition.
Capt. David Sellers, the first commandant of the station, told the large crowd that he was proud to be a citizen of San Diego. Sellers cited the fact that "it was the citizens of this city that donated the land on which the training station is located."
"'It is particularly gratifying to us that the land came to us in this manner," Sellers said, "as it showed conclusively that we were wanted."
To be continued ...
Eric DuVall is president of the Ocean Beach Historical Society. Membership in OBHS, a 501(c)(3) nonprofit, is $25 annually. Visit obhistory.org.