Childhood in Ocean Beach helped brew craft beer marketer's career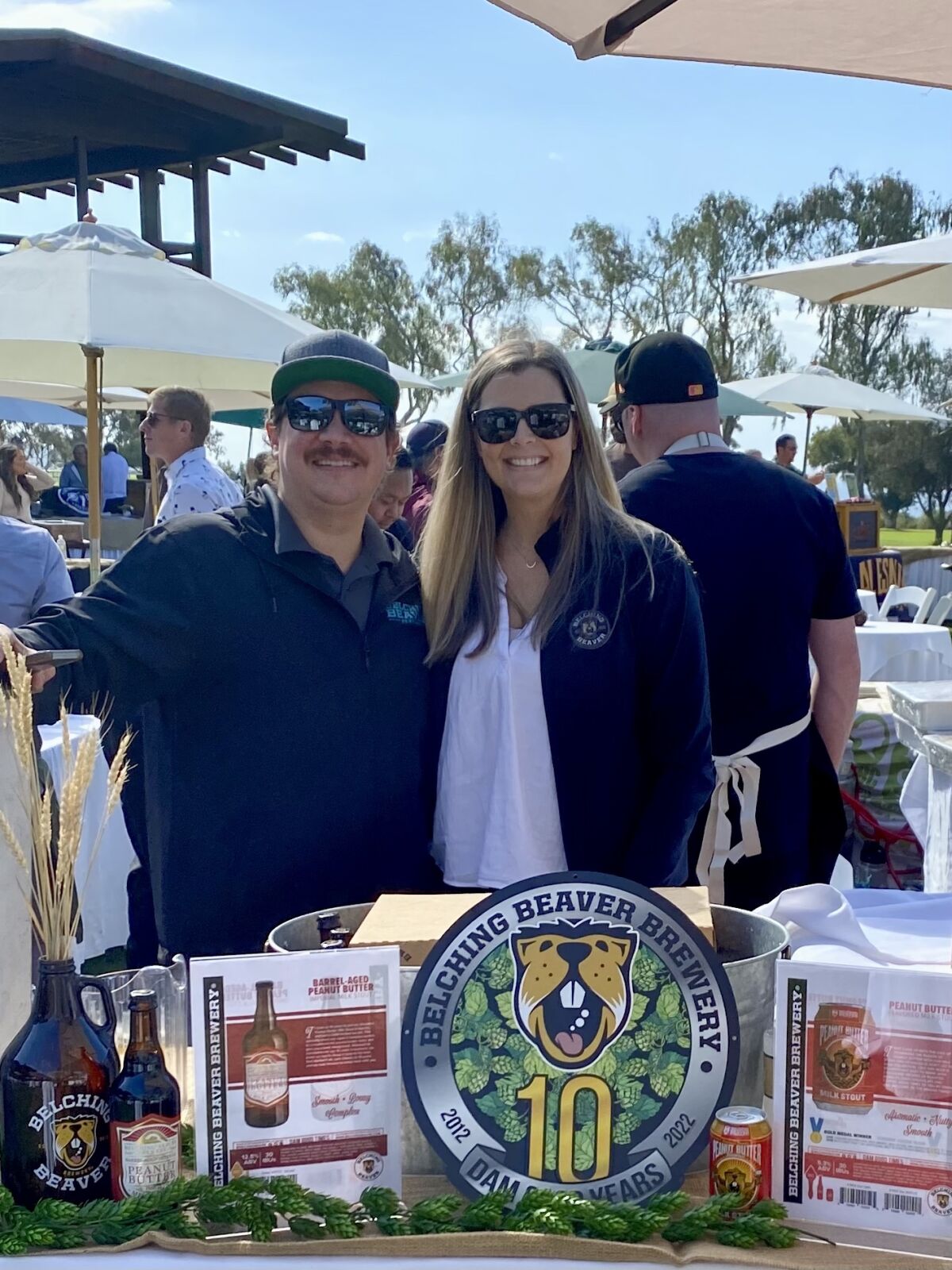 Haley Smith, director of marketing at Belching Beaver Brewery and board president of the San Diego Brewers Guild, says she still considers herself an OB girl.
Downing a crisp, cold, craft beer made locally while enjoying the coast and weather in Ocean Beach is something that just can't be emulated anywhere else.
At least not according to Haley Smith.
The 2023 board president of the San Diego Brewers Guild — a nonprofit that promotes producers and distributors of craft beer — has both a personal and a community connection to craft brews, especially those from OB.
Smith also is the director of marketing and national accounts at Belching Beaver Brewery, which has four locations in San Diego County.
Get Point Loma-OB Monthly in your inbox every month
News and features about Point Loma and Ocean Beach every month for free
You may occasionally receive promotional content from the Point Loma-OB Monthly.
Smith, 35, grew up in OB. She referred to her childhood as "the most unique environment you can have."
As a youth, she hung out on the beach, got to know people from all walks of life and learned about the businesses around her. She said it unknowingly prepared her for the career she now has as an adult.
"I was born and raised in OB; I grew up on Orchard Street. Every day of summer in my childhood was spent going to Tower 2 and Bermuda Street Beach," Smith said.
"My parents still live there — they both grew up in OB. They both graduated from Point Loma High School, as well as myself and my three sisters," she said.
The family's OB legacy goes back even further, as Smith's grandmother used to work at a pet store on Newport Avenue.
Smith said she had no idea she would wind up working in the craft beer industry.
Her husband, Troy Smith, Belching Beaver's brewmaster, "was introduced to the craft beer industry way before most of us," she said. "But he actually wanted to get into construction management."
Troy Smith also grew up in OB and went to Point Loma High. He and Haley were high school sweethearts.
"We've known each other since we were 15 years old," Haley said. "We dated in high school and went to the same college."
Though she and Troy have different roles, Haley said they enjoy working together and helping to build the brand. It's worked out "really well for us," she said.
Belching Beaver, which opened in 2012, offers beers including blondes, triple IPAs, sours, barrel-aged, and milk and imperial stouts.
Finding ways to please multiple tastes might be traced to Haley Smith's youthful days in OB.
"Hanging out at Tower 2, we would come across all kinds of characters," she said. "To be honest, it teaches you to be able to accept people and learn to work with everyone."
Working with others also means recognizing the depth of knowledge of craft beer fans in San Diego, which is known as the "Capital of Craft."
"Living here, fans of craft beers are exposed to so many different beer styles; they are very educated," Smith said. "They know how the different kinds of beer should taste, they know what they like, and when the seasonal beers come out, they are much more in tune with them because they have so many kinds to try."
"Craft beer has really taken on a new life of its own," she added. "In San Diego, we're not afraid to try out new ingredients or cool, fun flavors, especially in OB."
At Belching Beaver Brewery, developing new campaigns is one of Smith's favorite things.
"I love the creative process of launching a new beer, how we can showcase it, what makes it different and the campaign behind it," she said.
Though her favorite campaign is often "whichever one we are working on now," Smith said she has a soft spot for one of Belching Beaver's past efforts, "Give a dam."
With a beaver as the company mascot, the campaign was a crowd favorite.
"There are not a lot of beavers in Southern California," she said. "But they are important. We donated $10,000 to the charity WildLife2000, which helps with beavers."
"[San Diego craft beer fans] know how the different kinds of beer should taste, they know what they like, and when the seasonal beers come out, they are much more in tune with them because they have so many kinds to try."
— Haley Smith, president of San Diego Brewers Guild
Smith described products such as Tropical Terps as Belching Beaver innovations.
"It's a beer brewed with terpenes and it's extremely exciting for craft beer in general. It heightens all the flavors and aromas and is very tropical," she said.
Other products in the works include a cannabis-flavored beer. "That will be interesting," Smith said.
Connections to the Ocean Beach community have contributed to the success not only of Belching Beaver but also other local craft breweries, she said.
"People in OB like to support the people in their community. They like being able to talk to the brewery founders and the brewers," Smith said. "Put the locals first. They are loyal and you will succeed."
The Smiths have a 2-year-old daughter, Brynn, and Haley is pregnant with "baby girl No. 2. It's been a wild ride," she said with a laugh.
Even though Haley has been living in Carlsbad since 2013, she still considers herself an OB girl and wants to make sure her daughter continues the family legacy.
"All of our friends are from Point Loma and Ocean Beach and we're here all the time. We are die-hard OBceans," she said. "I now take my daughter to Tower 2 in the summer and will make sure she knows all the places on Newport Avenue."