People in Your Neighborhood: Point Loma artist finds herself in demand for local mural projects
Through social media and word of mouth, Diane Lehman's popularity has grown among homeowners and other clients.
Most artists know how to use their skills to produce artwork their clients love.
But helping others discover what they want in the first place may be an even tougher task.
Clients of Point Loma artist Diane Lehman say she is able to do just that, and her popularity as an artist for hire is growing, thanks to social media and word of mouth.
Get Point Loma-OB Monthly in your inbox every month
News and features about Point Loma and Ocean Beach every month for free
You may occasionally receive promotional content from the Point Loma-OB Monthly.
When Jill Johnson and her husband, Sam Alvis, moved to Point Loma from the Bay Area five years ago, Johnson turned to social media to find an artist to paint a mural in her living room.
Before the couple bought their home, it had been remodeled in neutral colors, Johnson said.
"I've always loved color, and the house was not my style at all," she said.
The home is now filled with colors and murals, with much of the work done by Lehman.
When Johnson began her online search for a muralist, she knew where she wanted the mural but had only a vague idea of what she wanted.
"A lot of folks responded to the [social media] post, but it just wasn't quite what I wanted," Johnson said.
Her luck changed when Lehman came along.
"She sent me some photos of other stuff she had done, and I liked her work," Johnson said. "And it turns out she lived just down the road from me."
Lehman said her history of working with different people has honed her sense of what they are looking for artistically.
"I have worked with a range of people. For some, you have to take the ball and run with it. Others know exactly what they want," she said. "I'm pretty easygoing and can usually figure out what people want."
For the mural, Johnson decided she wanted some painted flowers to adorn a wall near where she had placed a big blue pot outside her home.
It didn't take long for Lehman to complete the project. "I love it so much!" Johnson said.
"Adding a mural is a really inexpensive way to make a home feel more modern and give it a face lift," Lehman said.
Johnson was so pleased that she's had Lehman back to work on several other projects, including a mural for the home gym that features a dark teal wall painted with oversize off-white magnolia blooms and green leaves — providing a balance with the metal and hard lines of the exercise equipment.
"It's just spectacular," Johnson said.
Johnson said her husband painted a "rusted and awful" kegerator blue outside the home, and it was "beautiful" once Lehman painted flowers on it.
Lisa Danaher also has had Lehman work on multiple art projects for her home.
"There is nothing artistic Diane can't do," said Danaher, who lives in Sunset Cliffs. "I've known Diane since she was a young girl and just starting out in art. She's always had this artistic sensibility. She was producing art at an elementary school age."
Lehman's skills have been enhanced by learning at home and abroad. She studied architecture and art at Catholic University of America in Washington, D.C. Afterward, she lived in Barcelona, Spain, and earned a master's degree in project management.
"It was in Barcelona that I was first introduced to large-scale art," Lehman said. "It was a trend there long before it was a trend in America."
Once back in the States, she taught art and art history, including at the Academy of Our Lady of Peace in San Diego.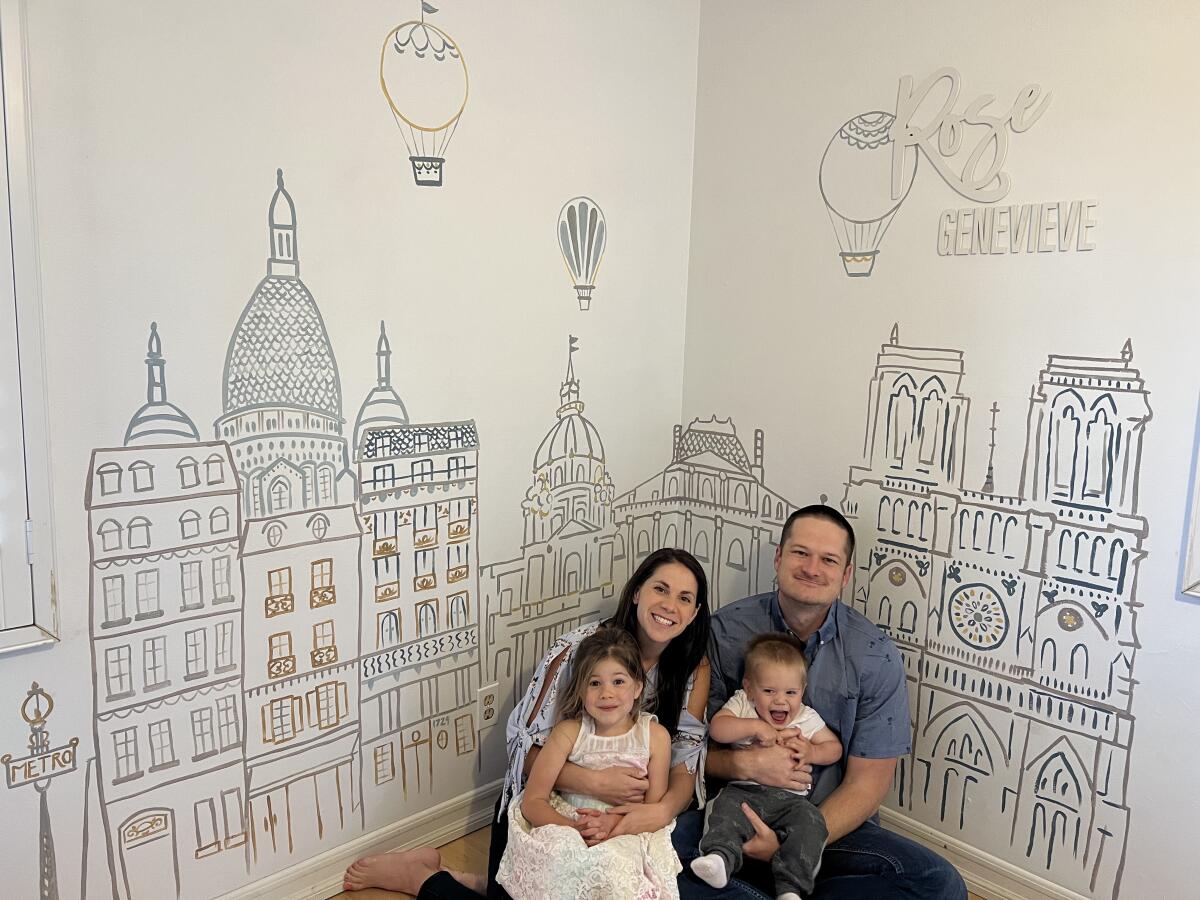 Lehman became a stay-at-home mom after having two children. Rosie, 4, now attends preschool, while William, 1½, sometimes naps beside his mother as she works.
Her husband, Billy, a software engineer, also is able to work from home.
Lehman said she has posted examples of her art on social media, often resulting in more commissions.
"Diane is really talented, really reasonable and wants to use her art degree," Johnson said. "She's ... an amazing painter."
Danaher, also a teacher, worked with Lehman at the same school for a time, leading to a gift Danaher still treasures.
"When I was retiring from teaching full time, Diane was commissioned by my department to do a painting of the school
for me," Danaher said. "I still have it and it is beautiful."
Danaher once asked Lehman to update a bedside chest.
"She not only returned it quickly in just the perfect color, but she went the extra mile," Danaher said. "She found a really cool color and painted the inside and also found a couple of decorative knobs for it."
"She's so intuitive as an artist that you don't want to change anything," Danaher added. "She knows exactly what you are looking for and she gives you exactly that."
For another project, Danaher wanted some work done on canvas prints she had purchased that she felt were a bit flat.
Lehman added some color to the works and modified them so the paint looks thicker in places. Danaher said she is so much happier with the prints that she now wants to display them more prominently.
"I've known a lot of really artsy people and sometimes they don't always follow a schedule or maybe they just aren't as
organized. Diane is an amazing blend of left brain and right brain in one person," Danaher said. "She is organized beyond belief. She will have it ready when she says it will be ready."
Lehman said she suggests that homeowners send her pictures of where they want a project to go and some of their ideas for it.
"I usually make the sketches and go from there," she said, adding that she will streamline the process by texting samples and ideas. "It can be customized to just what you imagine."
She said she recently worked with a business owner who was going to buy ready-made art for several rooms in her
office. "But she is now having me paint several of the rooms instead," Lehman said.
"It actually is taking way less time and effort than hunting for the perfect art and is prettier and more welcoming," she said.
Though she loves painting big walls, she also paints a lot of canvases, since the larger projects can be harder to schedule as the mother of two young children.
Customers who order artwork from Lehman might even get a little something extra.
"William is always kissing and tickling the paintings before I ship them," she said.
To see more of Lehman's work, visit muralsbydiane.com or instagram.com/muralsbydiane.