Point Loma's Debbie Russell writes about family secrets and finding resilience
Her first book, 'Crossing Fifty-One: Not Quite a Memoir,' shares her stories to help not only herself but also others in similar situations.
Though most people would prefer their lives to be smooth sailing, it often doesn't happen that way, says Point Loma resident Debbie Russell, a legal prosecutor turned writer.
Not surprisingly, many people find dealing with family issues especially difficult, she says.
Russell's personal story involves family secrets, tricky family relationships and resilience in the face of it all.
She writes about it in her recently released first book, "Crossing Fifty-One: Not Quite a Memoir."
In doing so, she feels she's not only able to help herself but also others who find themselves in similar situations.
Get Point Loma-OB Monthly in your inbox every month
News and features about Point Loma and Ocean Beach every month for free
You may occasionally receive promotional content from the Point Loma-OB Monthly.
"Everyone thinks everyone else's family is humming along, but it's not," Russell said. "You are aware that something is not quite right, but as a child, you try to project an image that everything is fine."
In 2016, her father, Ralph, was losing his battle with Parkinson's disease and entered hospice care. Long interested in the family history and genealogy, Russell felt she was running out of time to learn more about her father's family.
Her mother, she said, was "throwing up barriers" to that quest.
Struggling with her father's illness, the little she knew of her grandfather — who died before she was born — and her grief in anticipation of her father's death, she began therapy.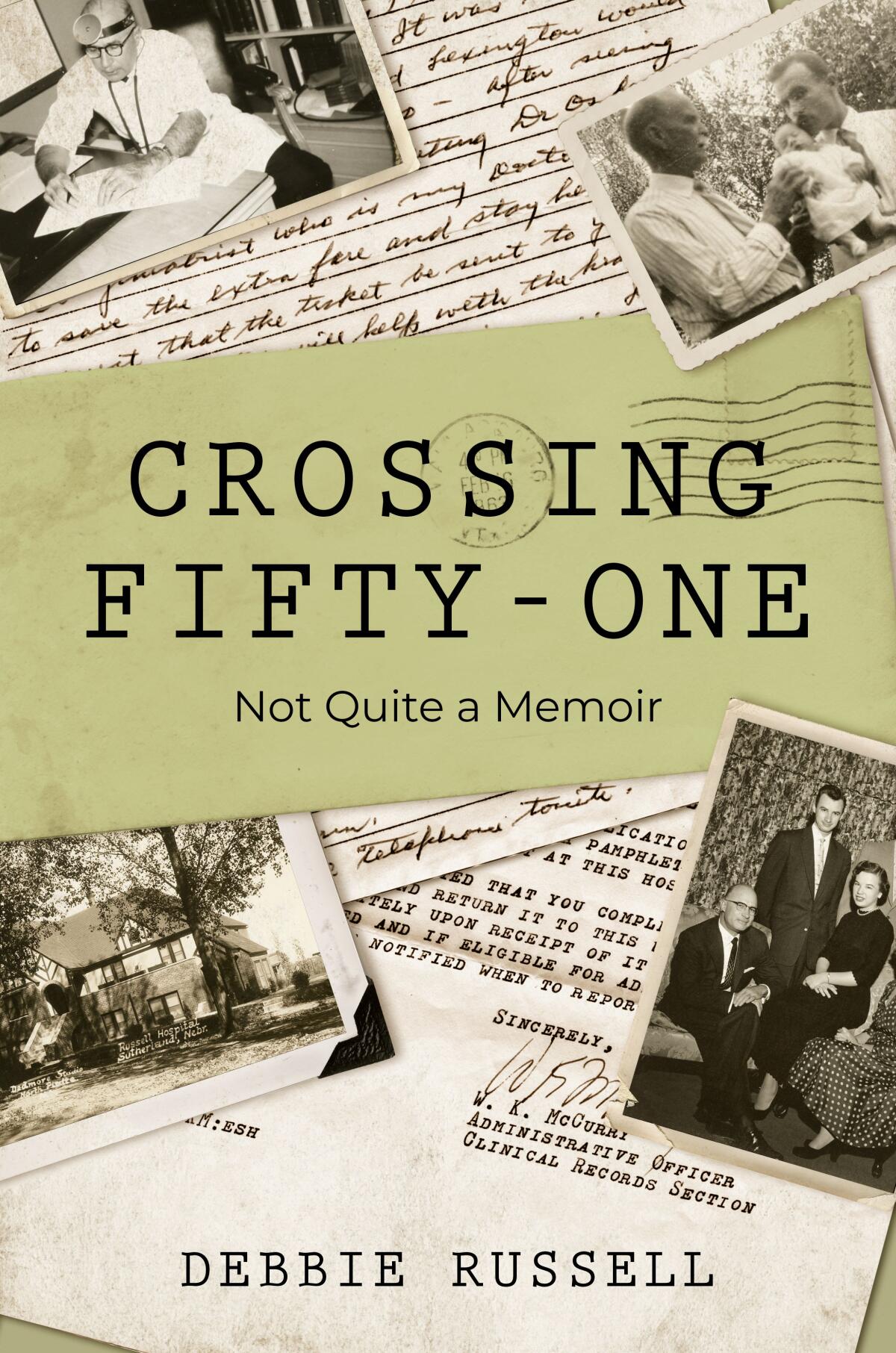 Russell splits her time between Minneapolis and Point Loma, where she was born and still has family.
Much of the book revolves around her grandfather, also named Ralph, who was a prominent San Diego doctor.
In 2005, she was stunned when she stumbled across a file of letters from her grandfather's stay in addiction treatment.
In 1951, he risked everything to voluntarily enter a locked federal facility known as a "narcotic farm" that treated people for addictions to opioid pain medications and barbiturates.
"No one in the family had ever mentioned it," she said. "The letters revealed a loving and strong family dynamic in a time when communication by letter was typical.
"My grandfather was so curious about his condition and how he ... got to where he was. For a well-known doctor to do what my grandfather did — for four months — was unheard of back then."
With all the letters he wrote and saved, Russell felt he wanted to have a record of what he went through.
Her grandfather made it clear that he planned to stick it out until he was deemed ready for discharge, and she marveled at his ability to live the life of a prisoner for four months.
"I feel like it's my job to bring this out," she said. "I need to channel this from my ancestor I never really knew."
Russell realized that many of her father's memories were from experiences he shared with his father.
Her father was "creative at heart," she said, and struggled with jobs that limited him and boxed him in. She said he performed at San Diego's Old Globe theater when he was young, and she believes he wanted to be a theater director.
"The hope of my grandfather was that my dad would become a doctor," Russell said. "But my grandfather supported whatever my dad wanted to do. It was very rare for the time."
Russell said her father was only 31 when his father died at age 59 of an asthma attack. Despite their closeness — and her dad's devastation — it was never discussed, she said.
Part of what she wanted to celebrate when writing about her father was "his ability to unconditionally love my mother and us kids," Russell said. "He got that from his parents, because that's how they treated their children."
But the dynamic between her mother, Joanne, and her father's side of the family wasn't as harmonious.
"In her own mind, she was estranged from my dad's side of the family," Russell said. "As a result, we never talked about them or about my grandfather."
Growing up, she wasn't close to her mother, she said. "I think I just confounded my mother, as I didn't want to be a housewife or have kids. She didn't know what to do with me."
When she was 3, her family moved to Wisconsin, where her mother's family lived.
It wasn't until 1983, when she was a high school junior, that she was able to reconnect with the San Diego side of her family.
"It was the best time I ever had," she recalled of a visit. "My aunt lives in Point Loma, and from her house, you can see the bay from the east and the ocean from the west. As a kid, it was astonishing."
Until then, she said, she didn't know how much her father missed San Diego and his family.
Since her father's death, she hasn't had contact with her mother. But she was able to become much closer with her aunt.
"We all deserve to be happy. Sometimes that requires we curate our lives so that we are supported by those who love us for who and what we are and not what they think we should be."
— Debbie Russell
Russell sought professional help for her struggles when she was 51 — the same age her grandfather was when he sought help for his.
She said her advice to others facing difficult family relationships is to find their own "family of choice."
"Our culture requires us to maintain relationships with people that aren't good for us, just because they are family," Russell said. "I don't like to promote estrangement, but why would you accept behavior from a family member that you wouldn't accept from anyone else?"
She said she also has learned to accept support from others.
"Even just one person that will accept you unburdening yourself can make a difference and get you through the rough times," she said. "We all deserve to be happy. Sometimes that requires we curate our lives so that we are supported by those who love us for who and what we are and not what they think we should be."
Though her book has been out only a couple of months, she said she's pleased that it has made it easier for others to share their stories.
She finds her time in San Diego especially meaningful.
"My frame of reference is Point Loma, Coronado, Sunset Cliffs — it's just very different than the other parts of San Diego," she said. "It has a magical hold on me and I get there as often as I can."
She also spends time restoring her property and training her two retrievers.
Russell will sign copies of "Crossing Fifty-One" beginning at 1 p.m. Wednesday, Aug. 9, at the Point Loma/Hervey Library, 3701 Voltaire St.
For more information about Russell or to order the book, visit Debbie-Russell.com.